MSR Carbon Reflex 2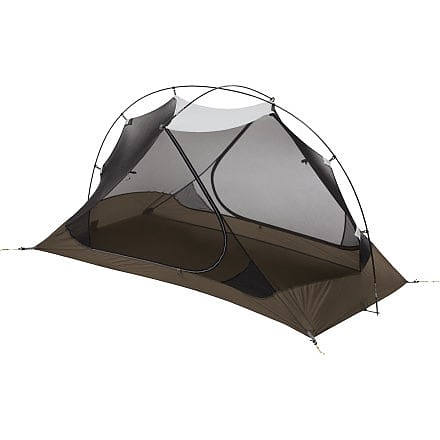 Lightweight and surprisingly sturdy three-season tent.
Pros
Very lightweight
Two vestibules
Very weatherproof
Cons
Price
Tight quarters for two
UPDATE (01/24/2018): Another trip on the OT in the books and this tent continues to shine. Familiarity brings faster setup times, continued protection from the elements and the feeling of Home. Went through a night of rainfall with high winds and another night of high winds and the tent was rock solid. It continues to amaze me how light this tent is and how well it does in the adverse conditions. 
I've had this tent for three years and used it annually for a winter backpacking trip in Arkansas. We have relatively mild winters in Arkansas in general. However this year we hit the trailhead in 15-degree weather with snow on the ground. I was very concerned about this tent.
I do have the footprint as well. The footprint only covers the tent floor it does not cover the vestibules. It would really be nice if the footprint would at least cover the No Zipper Vestibule if not both. 
The tent kept me dry 100%. It has performed flawlessly over the last three years, above my expectations. It has kept the rain and snow outside the tent flawlessly during this time. Inside there is a door for the No Zipper Vestibule. There are two small storage containers on the inside and a decent sized storage pocket.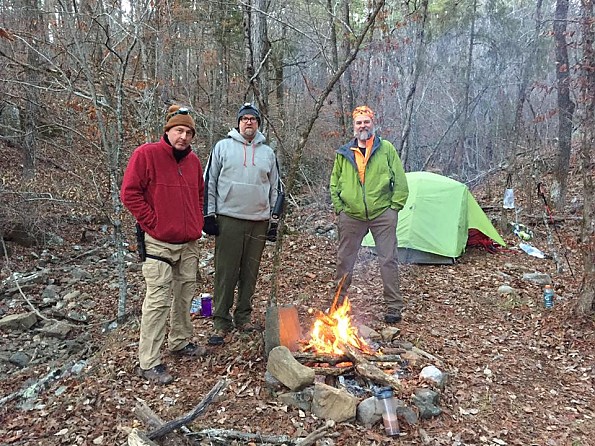 It's slightly complex to put up and take down compared to your usual dome tent. But the tradeoff is a much lighter package.
A few recommendations are:
Buy the footprint. The floor material is pretty thin and a double layer gives you some peace of mind. The foot print clips onto the fly with grommets to place the ends of the poles.
Stake out the footprint first. Then run the poles through the grommet holes and clip on the tent.
Toss on fly, use all of the velcro tabs to secure it. Guy out and stake the fly. 
In very cold weather the condensation on the inside of the fly has been considerable. My best advice is to shake off the fly in the morning. Then fold the icy side on the inside so if there is some melt it it is contained within the fly. 
It's not a perfect tent, there is no such thing. It's held up better than my expectations.
I do prefer freestanding tents. They are just easier and faster in general to set up. But when I pull this out of the backpack to set it up I'm always surprised by how light it is. When I wake up, I'm always surprised that, despite the weather, I'm warm and dry, though there may be considerable condensation on the inner fly. 
Source: bought it new
Price Paid: $350

Tent body super light, packable, and easy to set up. Fly sticks to itself like Saran Wrap, hook/Velcro closure awkward reaching the lowest one from inside tent. Worried about leaks. Poor MSR customer service regarding fly stickiness issue.
Pros
Lightweight
Packable
Easy setup
Cons
Fly design
Fly quality
Cost
Bought the updated 2016 version in May, set it up inside. Was challenging because it is not freestanding. Fly was stuck to itself so badly, when I would get a section unpeeled and work on a different section, the other section would re-stick like Saran Wrap. 
Allowed it to air out for several hours, packed it up, and took it out a couple weeks later into the boonies. Tent was very easy to set up, stakes are strong and light. Fly had same stickiness problem, which made it super frustrating in a light breeze with mosquitoes in mass swarming my face. 
Plenty of room for me sitting and lying down and a lot of my stuff (I'm 5'5"). Lowest hook on fly was hard to reach from inside the tent, had to lean out and put one hand in the dirt to unhook it in the AM. There is a flap over the fly opening that cuts down on headroom getting in and out under it as well.
I woke up to a lot of condensation in my tent next AM, and I'm not sure if it was the tent or a water bottle that leaked inside. Did not have rain, so I can not comment on waterproofness, and am curious to see if the hook-Velcro-hook-Velcro system on the fly opening is sufficient enough to keep rain out (it didn't look like it sealed well).
I emailed MSR a total of two times hoping to replace the fly or get a tip on making it less sticky, but after a month of no reply and needing a reliable tent for the summer, I returned it to REI.  REI never did get a footprint in stock, and when I asked them why, they told me they were going to stop carrying the tent...seems suspicious! 
Eventually got an email back from MSR, telling me an old fly that is exposed to a lot of heat would be sticky. It was brand new!!! No answer to my question to fix the stickiness. Just told me I could send it in, were not clear about what would happen. 
Too late for that. Wish they were more helpful, I might have kept it since the weight, packability and ease of set up for the tent body were great.  
Source: bought it new
Price Paid: $499

i've had this tent for almost four years and have used it all over the place.
recently spent 8 night camping on the north shore of oahu.  it really didn't stop raining the entire time.  flash floods everywhere. roads were closed.  lots of people without power because of utility poles washing away.  emergency vehicles all over the place.  the inside of our tent was always nice and dry. 
we had a few days that had steady 30mph winds with pretty frequent gusts of over 45.  tent stood like a champ.  had it guyed down in every way imaginable and it was very solid. 
some days the rain was just steady monsoon style all day long with no wind.  just rain. and more rain.  and more rain.  we would take day trips to different parts of the island just to try and find areas that weren't drenched.  each night when we would get back to our site and everything in the tent would be bone dry.  everything under the vestibules was bone dry.  no footprint.
no condensation issues whatsoever.  ever.
far more liveable after 8 ultra rainy days than imagined with myself and my girlfriend - who wasn't very happy about the rain - but was being a good sport considering the situation.
the stash pockets in the tent aren't huge, but there are four of them and they hold a lot more than they look like they do.
the zipper in the tent to the doorless second vestibule is cool, but it would be cooler if it were just another door instead.
the easton poles are ridiculously light.  they still look brand new & it's been camped in well over 100 nights.
i'm 6' and can easily sit up.  there's lots of extra room at my head and my feet when laying down.
this is also a great solo tent.  quick set up and take down. very light.  lots of room for anything you'd be backpacking with.
i really can't say enough good things about this tent.  i was pretty blown away at how well it handled the constant wind & rain.  i've always known it was a nice tent.  it's now clear that it's a great tent that has exceeded my expectations in multiple ways and has proven worth the expensive price tag.
if you're hesitant about getting a non-freestanding tent.  so was i - everything will be OK.
Source: bought it new
Price Paid: $450

This a nice little 3 season tent. Be forewarned it is on the small side. I'm 6' and have more than adequate head/foot room, the tent has plenty of headroom (for a small tent). Where it's small is in width.
My wife and I fit fine w/ two 20" pads, but there isn't a whole lot of room to spare after that- the 50" shown on the MSR diagram is a little misleading- there is a taper in the middle of the tent and it's closer to 46" there. Some folks might be a little uncomfortable that close to each other.
the tent pitches quickly and easily, you'll especially like the snap in corners for the fly- very nice touch, the stake tensioners are also very nicely designed.
the stakes are very well designed and beefy (while still being light).
I've used the tent in both windy (35-40mph gusts) and wet (short heavy rain and longer moderate rain)- the tent is very stable (this is w/o the optional guy lines) in the wind and left us completely dry in rainy conditions.
the tent ventilates well and even with the "hatches fully battened down" it had very little moisture under the fly, w/ the vestibule even slightly opened no moisture.
it has two vestibules- a small one away from the door that accessed by zipper and a larger on in front of the door- the rear one is suitable for boots or other smaller items- the front protects two medium sized packs nicely.
the tent weighs 2 lbs 15 oz if you leave the main stuff sack, two of the stakes (they're used for the optional guy lines) and guy lines home.
buy the optional footprint and when there are no bugs you can pitch it w/ just the footprint and fly (stake and poles too) for a under 2 lb shelter.
All in all a very nice tent. The only reason not a 5 is it is a little tight on the width.
Design: 3-season two walled, non freestanding
Sleeps: 2
Ease of Setup: easy/fast
Weight: 2 lbs 15 oz (w/ some of the non-essentials left behins)
Price Paid: $400

Expensive, but... AWESOME. Extremely well thought-out tent, great for summer camping when it's warm (completely mesh sidewalls are awesome), still works well in the cold wind/rain/snow/apocalypse. OK, I've never actually camped out in an apocalypse, but I'm sure it would probably do better than most tents.
Easy to set up but won't stand without being staked down. Have used it throughout southern Appalachia and the Pacific Northwest in all conditions except blizzard to great satisfaction.
Did I mention the whole thing with rainfly & footprint compresses into a 6 inch cube? I have sat 3 people in my tent during the rain and all of us had enough headroom.
This is a great tent for somebody interested in a lightweight tent that can withstand more extreme conditions. The price is high but the quality does not fall short.

Design: 3 season not-freestanding
Sleeps: 2
Ease of Setup: very easy
Weight: 2 lbs 13 oz
Price Paid: full

An expensive tent and really sized for one with gear. Have had it out three weekends with Boy Scouts.
Pros
Very light
Easy to set up
Cons
Unknown durability and lifespan of the carbon fiber poles
Cost
I used this tent for the first time in Apr 12 during a wet weekend with Boys Scouts.  I purchased the seperate ground sheet at an additional cost. For the price paid for the tent, this should have been included. 
The corners of the tent were setting up off the ground, which allowed some rain to get between the tent and ground sheet. Had some moisture come through the bottom of the tent. Not what I expect to see from a tent with a price above $500. 
Could not see any evidence of a hole in the material. Have treated the bottom of the tent with a can of Tectron. If it leaks again, REI will be getting this tent back. Have been out twice more in dry conditions.
Source: bought it new
Price Paid: $499 plus additional for ground sheet

OK, I checked out the reviews on every site I could find and I saved up the 500 dollars for this baby, then had to wait for REI to get it in stock before I could get it. So I take it out for my long 80-mile hike and it breaks.
This is like the fourth MSR tent I have owned and I so wanted it to work. I liked the door, the rectangle floor design, the weight, everything about this tent I thought was great. Then on the seventh night the long carbon fiber pole breaks on me and the repair part duct taped into the broken section is too long and can't bend at the correct angle, hence the tent will not setup right and the fly wall touches the inner tent and condensation wets my sleeping bag.
I end up finishing my hike a day early because of it. So the tent went back and I now own a Big Agnes. I wish someone could combine the best of these tents. 
Update: December 21, 2011
Well I found the tent at the REI scratch and dent sale so I bought it back and sent the pole off for repair and now am very happy with the tent and MSR.
Price Paid: $500

Your Review
Where to Buy
Help support this site by making your next gear purchase through one of the links above. Click a link, buy what you need, and the seller will contribute a portion of the purchase price to support Trailspace's independent gear reviews.
You May Like
Specs
Price
MSRP: $499.95
Current Retail: $376.99
Historic Range: $129.95-$629.95
Reviewers Paid: $350.00-$500.00

Recently on Trailspace