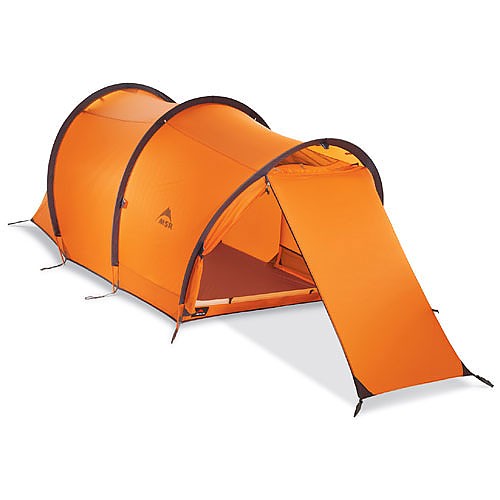 Specs
Price
MSRP: $479.95
Historic Range: $334.95-$549.95
Reviewers Paid: $300.00-$339.00

Reviews
3

reviews

5-star:

2

4-star:

0

3-star:

1

2-star:

0

1-star:

0
This tent is great because it is lightweight, but I have modified it for UK conditions.
Pros
Lightweight
Large
Visible
Well made
Cons
The tent struggles in certain UK (Scottish) conditions
I bought this tent as a lightweight replacement for an old MSR Fusion 2 which I had for some time. The MSR Dragontail is an amazing lightweight visible tent for most conditions in England, Wales and Scotland. It is very large and can easily fit two people, a dog and packs.
I have taken to sleeping inside the tent with a lightweight bivvy bag because I have found that the rain comes in through the ventilation flaps which have 3 toggles for closure (mine is the 2010/11 version, the newer 2012 version has a fine zip to close the vent flaps, this may be better but I would worry about the zips freezing up).
There is a fine piece of rubberized wire or simular (nylon rods?) which creates the rigidity so the vent flap fits flush to the tent fly when closed. I have had to strengthen the rubberized wire (nylon rods). 
Currently I am experimenting with a lenth of rubber tube filled with silicon (Heavy). I did this because when the tent has been packed incorrectly or in a rush the rubberized wire (nylon rods) mishape, which means they do not fit flush to the fly when re-pitched, hence letting the rain in.
The modification improves this issue and allows the flaps to become more rigid and stronger in wind and more durable when packing. Alternatively I think doubling up the rods may also help, if one can get hold of a similar material.
This issue may be a bigger issue in Scotland than parts of the U.S. and other parts of Europe. In Scotland it is very common to get sustained heavy rain from most directions (vertical, horzontal, even rain travelling upwards)
The newer version of the Dragontail may have this issue ironed out.
Love the tent though :)
Bought this tent on ebay without researching it too much. Ever since I have become MSR addicted.
This is an awesome tent. All my friends are jealous. I have used it in all kind of situations. First time was on my roof deck in Boston in a really bad rainstorm. Wanted to make sure it stood up to par, and it sure did.
The tent new does not come with to many lines and stakes, but that is easy to find cheap. It has plenty of attachment points which makes it easy to secure properly. I upgraded with some snow stakes and ice screews for winter camping which have been usefull. The snow stakes are also really good on sandy ground.
The tent is very spacious and works well for me since I'm 6.4". I have never felt cramped up length or width vise in this tent with two people in it. It's a bit hard to get out of in the middle of the night but, I think most tents are anyway.
The orange color is very nice making great light conditions once you are inside the tent. The ventilation is good. When I have used it in the winter I have found condensation to build up but I think this would happen in any tent during the conditions I have had. It's been about -20C with no wind in the forest with lots of snow. I think the ground had not hardened up properly and a lot of ground heat was leaking up, since it also got quite foggy outside. I should try to find a place with some draft to put the tent in those kind of conditions, since being wet is much worse then some draft.
I have the pre-2011 model and they have updated exactly what I would have suggested. Quick hooks for attaching the archs and placing a zipper instead of snaps for closing the ventilation hatches. Still the tent is very easy to set up, but when it is cold or windy it is easier with the quick clasps. And if you are experiencing severe side wind rain the ventilation hatches might let in some water, even though shut, but the zipper update should take care of that.
When I tried it the first time I had severe side wind, it got little bit wet on the feet, but it was ok. It could have been from pitching the tent in the hard storm as well and I just let water in with my clothes or when I had the door open.
For organizing stuff in the tent there are two large mesh pockets by the feet which are excellent for storing a flash light to use when you get in and keep small stuff and your glasses when you need to get up for a toilet brake in the middle of the night. There are some hooks in the roof at the head part which are good for hanging a flash light or your watch in. But still I got some stuff to hang in the roof for extra organization.
The opening fly of the tent provide ample with space for storing stuff, but as I said can be a bit hard to exit if you are tall. It has zippers on both sides so you can also use it for roof in light rain to cook or hang out under. Use your hiking poles to lift it up with and some extra guide lines and you can make some good roof and wind protection set up. And if you are out in the snow and it is deep you can dig a little trench outside the entrance to make it easier to exit and make a nice area to hang out and prepare your food in.
For the price and how good this tent is I give it 5 stars.
Hope you enjoy and stay dry!
Price Paid: $300

This tent is what MSR says it is, and more.
I didn't expect this tent to be as large as it is. Still it is packed small, and light. I camped in the Adirondacks with it in late February, with a torrential, cold rainstorm in the morning. The Dragontail was very dry and comfy. I didn't want to get out of my sleeping bag.
It was quick and easy to set up,and rock solid stability. No condensation,which could spell disaster in the winter.
At 6.4, the Dragontail is a godsend,and I hardly notice it in my pack. I recommend this tent to all.
Design: 4 season,two person.
Sleeps: 2
Ease of Setup: quick and easy
Weight: loads of space in a light 5lb. tent.
Price Paid: $339

You May Like
Recently on Trailspace