MSR Folding Spoon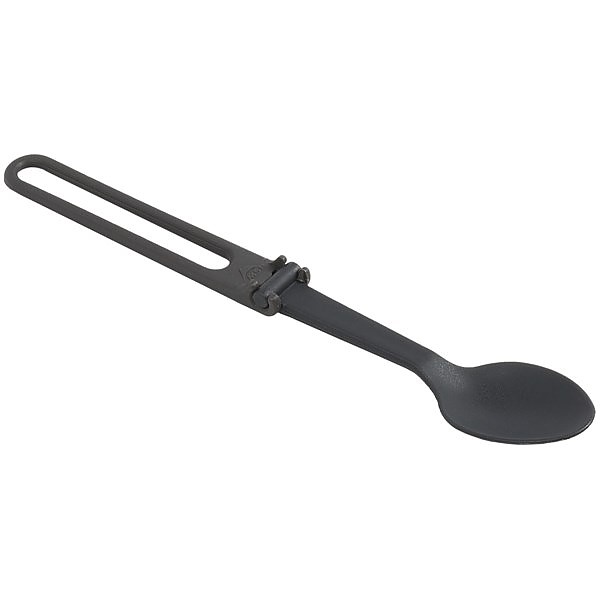 Short enough to nest inside a cookset. Long enough to hit the bottom of your freeze-dried meal. MSR's folding spoon solves both these problems, offering a utensil as packable as it is functional. I prefer plastic utensils to metal, and the nylon these are made of is easy on the teeth and doesn't conduct heat. A nice upgrade from the run-of-the-mill camping utensil.
Pros
Folds to half its size
Easy-on-the-teeth nylon construction
Long enough for freeze-dried meals
Won't scratch non-stick cookware
Quiet against metal cups, pots, and pans
Highly affordable
Doesn't conduct heat like metal utensils do
Cons
Food can get stuck in hinge assembly
Not as durable as titanium in terms of heat-resistance
Before I defaulted to a titanium mug, I upgraded (or downsized, however you see it) from a 2L GSI Pinnacle Pot (part of my Pinnacle Backpacker Cook Set) to an MSR Stowaway 1.1L Pot. 
The only downside was the smaller, 1L pot had too small a diameter to fit my LMF spork (6.6" x 1.5"). As much as I love that spork - and trust me, I do - I knew I needed to find a replacement. 
It usually helps to search within the brand, and you've a pot from a manufacturer, the utensil best-sized for it will come from that same manufacturer (whether or not they're marketed as part of a set).
The local REI offered two folding utensils from MSR: a spoon and a fork. The only reason I didn't buy their folding spork? That was my only shopping trip before leaving on my trip and they'd none in stock. To make the obvious first point, no, it doesn't have the tines a spork does, but you'll be able to eat a lot more soup with this spoon than you would the fork. 
Luckily, they did have the MSR 1.1L Stowaway Pot in stock. Picked one up, cracked it open, and - sure enough - their folding utensils would fit inside without a problem.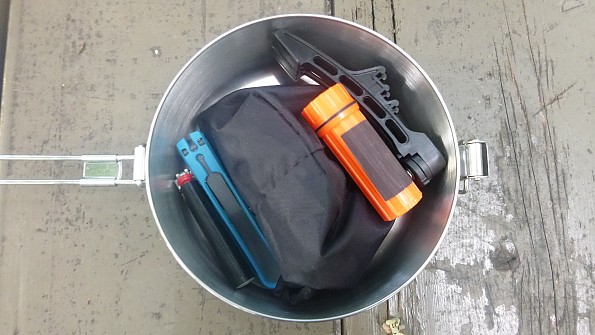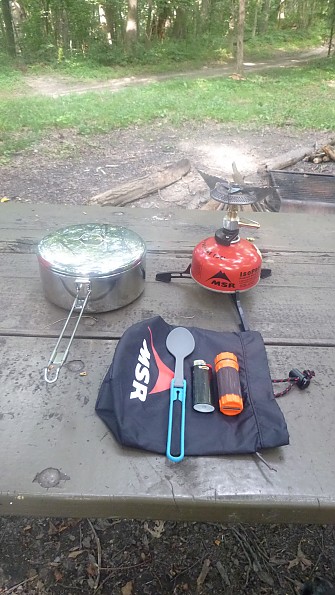 Folded, it measures 4.3" x 1.5" x 0.6"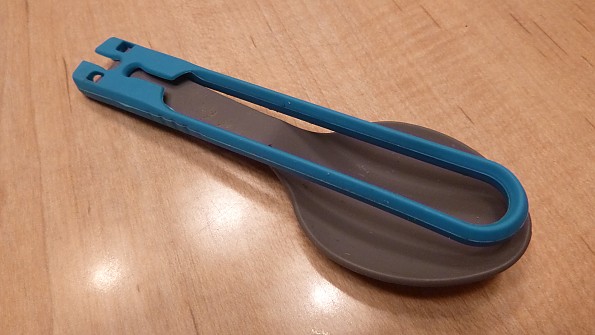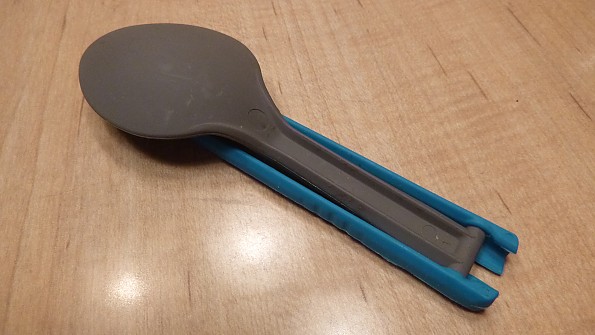 Open, 8" x 1.5" x 0.6"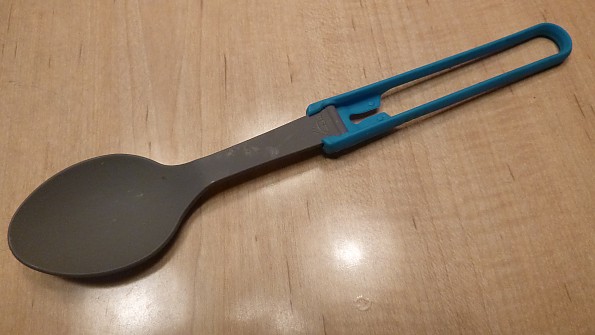 Which brings me to my second point:
This wasn't the only spork I tested when seeing which would fit inside the MSR pot. A few did, actually (including SP's Ti Spork). However, the others were one-piece, fixed utensils.
While I needed a utensil small enough to fit inside the pot, I also wanted one long enough to hit bottom on my freeze-dried meals. At 8" long in the open position, it successfully reaches far enough in the bag so you're able to eat without getting food on your hand.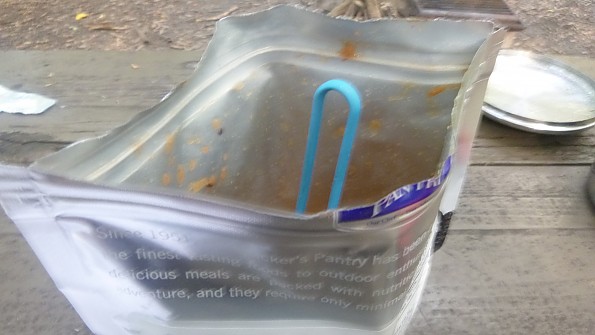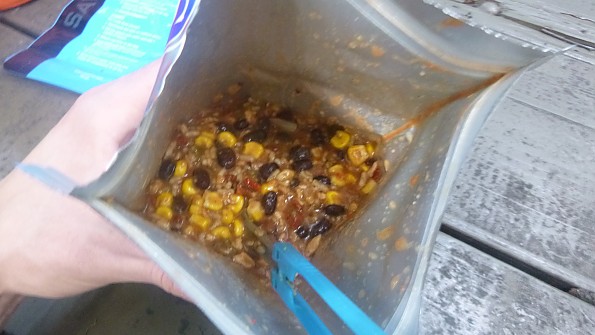 Features? Well, one: it folds to half its size. That's kind of the main selling point, here.
It utilizes a "pinch-to-open," locking hinge design that keeps the spoon to 2 pieces. The handle, and the spoon end. To open: unfold the spoon outward until fully extended and lock it into place. To close: pinch the sides inward to disengage the "lock," and fold it inward.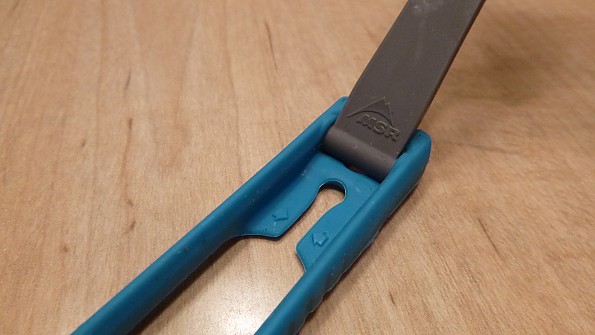 I appreciate the locking design because it keeps the spoon stable and rigid while eating or cooking with it. Never once while using it did it seem flimsy, weak, or like it may self-disengage.
While the folding functionality isn't something I can compromise on, I did find it annoying that food (rice grains, in this case) would get stuck inside the hinge assembly.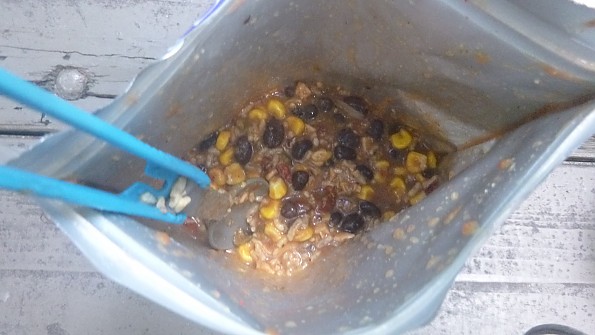 Sure, cleaning the hinge out is easier than having to go through a handwashing routine. But still, it's added work. 
It's more a material than it is a feature, but I feel the nylon construction is worth a positive mention:
A.) It's easier on the teeth (I prefer and defer to plastic utensils)
B.) It won't scratch non-stick cookware
C.) It won't rattle like hell against your pan and sound like some kids celebrating New Year's Eve out on the street
The spoon, too, makes mixing and scooping easier, and makes this a piece of servingware in a pinch, or even a cooking utensil to stir a pot.
The overall "bowl" size of the spoon is smaller than, say, a SP Ti spork.
It's best for solid food, and probably not very efficient for eating soup. While it will make your meals last longer (and take longer to eat), some may see the smaller spoon size as a problem. However, bottom line, is that it does improve the packability, with a smaller overall profile and a shallow bowl (packing flatter than some spoons).
Would I leave it sitting in a hot pot, or resting on the side of one? No. No, I sure wouldn't. After experiencing some edge melting on my GSI accessories, I've since learned it's best to avoid contact like that altogether, despite however brief it may be. Upon coming home from my last backpacking trip, I've found the nylon on the front edge of the spoon has started to fray. I never leave my utensils sitting in the pot while I'm cooking. Moreover, I only boil water for either coffee or freeze-dried meals, so the only time I'm stirring anything with this is either when mixing instant coffee granules or the contents of a FD meal. I've had this same problem with the plastic utensils included in GSI's Crossover Kitchen Kit, and while those were replaced free of charge by the manufacturer, I have to say this will be my last purchase of a plastic or nylon utensil. Since I use a titanium pot without a non-stick coating, I can now use metal utensils without worrying about damaging the cooking surface.
Additionally, I wouldn't suggest using this utensil for cooking, or any application in which it's exposed to high temperatures for an extended period of time. Being made from plastic, it has a tendency to become flexible and lose its rigidity.
The only thing LMF has over this utensil? Weight.
The LMF spork comes in at 0.2 oz, while MSR's weighs-in at 0.35. 
If you're enough to a gram-freak that the extra 0.15 oz makes you break a sweat, well, it may not be the utensil for you. However, if that's the only sacrifice in owning this spoon, it's a great one. Certainly one that'll be hitting the trail again with me. 
And, hey - it's only $3.95. Heck of a lot cheaper than any of those titanium ones!
4 stars, because I should be more worried about picking my teeth after a meal than the hinge of my utensil. The depth of the spoon "bowl" - call it that - seems a little on the shallow side to me, but that may come down to personal preference. I suppose if you really wanted to eat soup as quickly as possible, you'd just sip it straight from the container. Just know that, with this spoon, you won't be breaking any land-speed records for eating soup quickly.
Source: bought it new
Price Paid: $3.95

I have the spoon and spork version of these utensils. Both are great. They weigh .46 ounces and measure 4 5/8" folded, 8 3/4" unfolded. They come in a choice of 4 colors.
I have wanted a spoon that is longer than my regular lexan spoons (6 1/4") for some time. The reason is that I use the Freezer Bag Cooking method when on the trail and I don't like to get food from the bag all over my hand while I eat. But, the 8" titanium spoons need to be stored in a space 8" long and where they can not be bent. They wont fit in a pot, so you have to find a spot else where. Most other extendable spoons are less than 8" long. Enter the MSR spoon.
I use mostly pint size freezer bags for my meals, and with the spoon my hand never enters the bag. Also, it folds to fit inside my pot for carrying on the trail ( I use a SnowPeak Solo set or a Brunton IB cookset if not alone). This protects the spoon from breakage as well as keeps all my kitchen things in a neat modular set.
I was concerned that food would get caught in the hinge on the folding part of the spoon, but with 10 trips that has not proven to be a problem. The eating surface is sufficient without being too big (a bit over teaspoon size, well under tablespoons size).
The only drawback that I can see to this spoon is for those who actually cook on the trail as opposed to boiling water to rehydrate their food. If used to actually cook there is a definite possibility of melting or at least warping. This should be considered.
 If you are wanting a compact spoon that extends to a long size, this spoon could be just what you are looking for.
Price Paid: $4.95

Perfect fit for my pot.
Pros
Long handle
Compact
Sturdy
Had a spork which broke when I tried to fit in my cook pot. This spoon fits easy in my pot and my fairshare mug. When it's fully extended it easily gets to the bottom of my fairshare mug without hand getting in the mug like the spork. It seems durable enough (it is plastic).
Source: bought it new
Price Paid: $4.95

Your Review
Where to Buy
Help support this site by making your next gear purchase through one of the links above. Click a link, buy what you need, and the seller will contribute a portion of the purchase price to support Trailspace's independent gear reviews.
You May Like
Specs
Price
MSRP: $4.95
Current Retail: $4.89
Historic Range: $2.73-$4.99
Reviewers Paid: $3.95-$4.95

Recently on Trailspace