MSR Front Range Tarp Shelter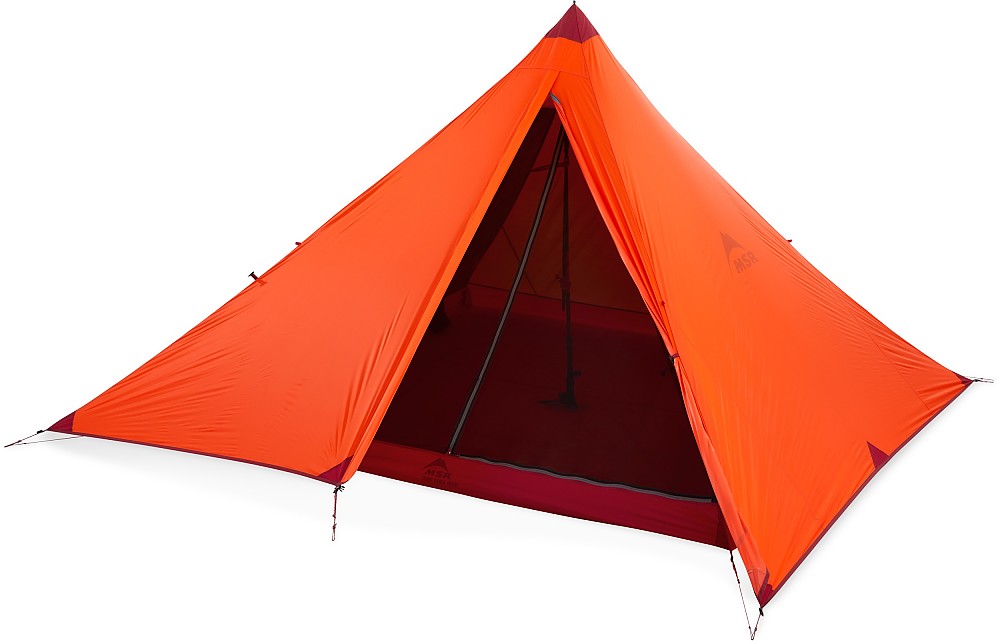 This all-season pyramid tarp shelter is both lightweight and spacious, providing the best of both worlds for weathering a storm, or overnight hiking trips. Just over 1.5 pounds, this shelter uses trekking poles as the center-support which is approximately 5'4" at the apex.

MSR's Front Range Tarp Shelter is a floorless design (Bug/Floor Insert available separately, 1lb 15oz) that is ideal for a wide range of outdoor enthusiasts—day hikers that want an emergency shelter, overnight backpackers, or thru-hikers that do not want to compromise living space. Four people can shelter in an emergency, but this is ideally a three-person tarp once gear is considered.
Cons
Learning curve—Not for beginners
Large footprint limits campsite options
Gap at bottom of shelter can allow excessive air in
Single wall shelters can develop condensation
The MSR Front Range Tarp Shelter can easily be classified as multi-use, considering its size and weight. Any four-season shelter that can accommodate three people and their gear, weighing in under two pounds will be sure to turn some heads. MSR says "Light enough to carry as a solo shelter, dining hall, or emergency shelter. MSR sells an accessory Bug/Floor Insert available for wet and buggy terrain." 
Mountain Safety Research (MSR) is one of the most widely recognized companies in the outdoor industry. This industry giant began in 1969, creating safety equipment for climbers in the Pacific Northwest. Over fifty years later, MSR has expanded their product range from tents to snowshoes, stoves, water treatment, cookware, and more. MSR is committed to "transforming lives through technology" with their Global Health division, with a goal "to empower communities with the tools that lead to greater health, independence, and quality of life."
To quote MSR: "Whether you're taking advantage of spring's longer days or building a winter basecamp, the ultralight Front Range makes these sufferfests a little more Type 1 fun." 
Specifications:
MSRP: $279.95 USD
Fabric: 20D ripstop nylon (1200mm Xtreme Shield polyurethane and silicone)
Number of doors: 1
Weight: 26 oz.
Freestanding: No
Capacity: 4 people
Number of Stakes: 5 included (guy lines, stakes not included)
Poles: Uses 2 lashed ski/trekking poles (5' accessory pole not included, $39.95 USD)
Colors available: Orange
Floor area: 81 sq. ft.
Floor dimensions: 108 x 108 in / 9 x 9 feet
Interior peak height: 64 in / 5'4"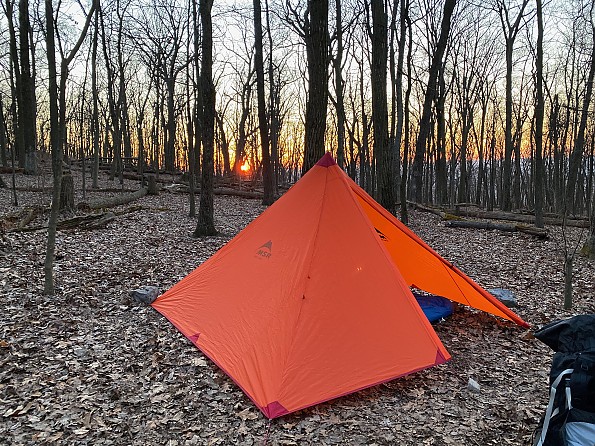 This four-season shelter was designed with winter in mind—"Steep canopy sheds snow and water and features Xtreme Shield waterproof coating for long-lasting durability."

Features
MSR has done a great job designing this versatile four-season shelter. Although this tarp shelter is of minimalist design, many considerations are featured. This lightweight shelter has reinforcements where needed at stakes-out points and corners.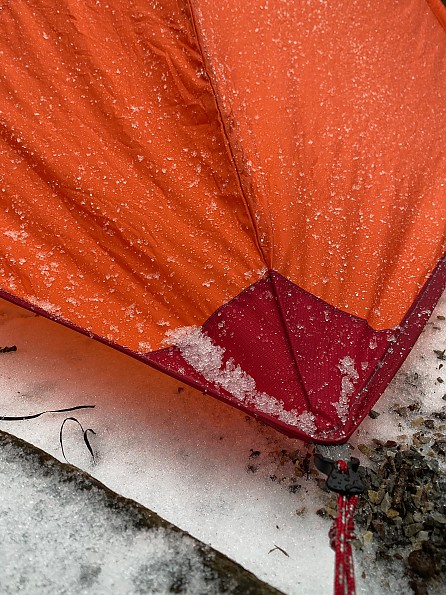 The zippered door fully opens at both sides, and has a strong buckle to prevent opening when secured.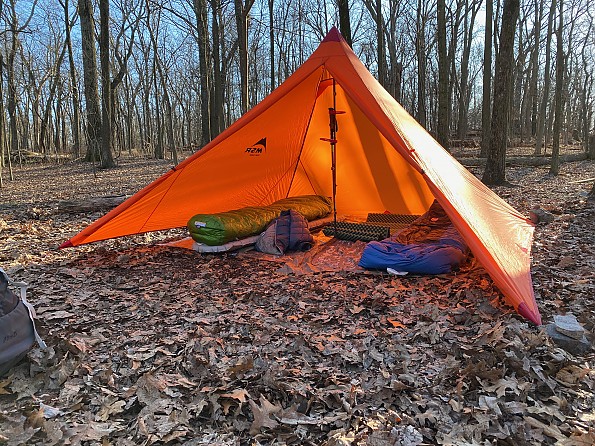 Per MSR, "Zippered door rolls back completely on both sides for sweeping views and easy entry." Like many conventional tents and shelters, a loop and toggle allow the doors to easily stow.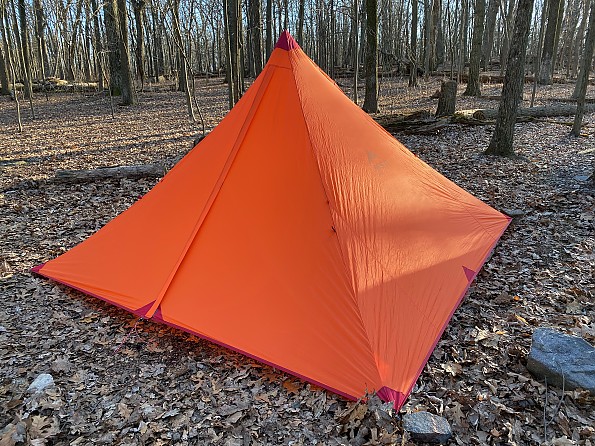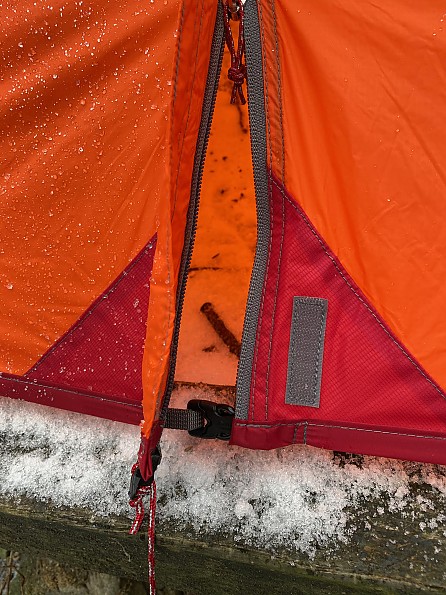 A single air vent allows adequate ventilation, while not allowing too much wind in from the windward side of the shelter.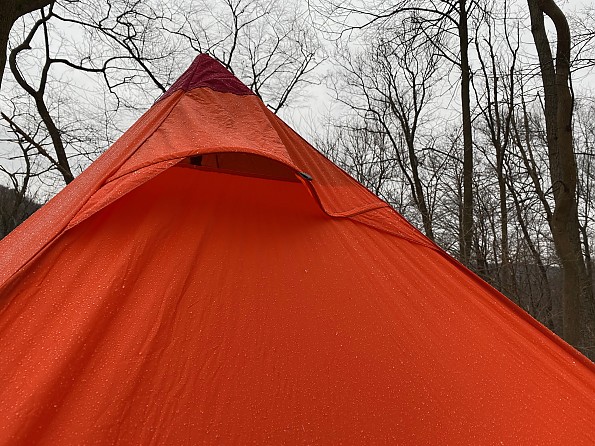 Stake-out points have adjustable lines, with reflective material for easy staking and location.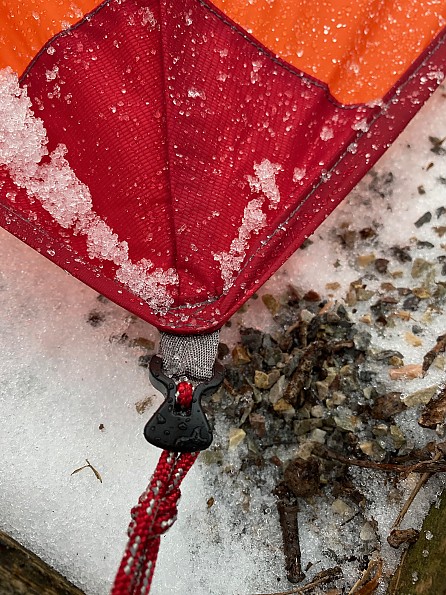 The included straps for lashing ski/trekking poles are extremely durable, and hold tight. Although not completely intuitive, a couple of uses show a relative ease of use. 
Note: The Front Range Tarp Shelter does not include utility cord for guy lines, or additional stakes (5 included). 

Setup & Stability
The Front Range Tarp Shelter requires extra consideration when setting up—site selection is very important due to its dimensions. The bottom of the floor-less shelter does not contact the ground, so rain runoff can enter the shelter depending on uneven ground, etc. It is also critical to ensure the four corners are staked squarely, as the pyramid design will not remain stable.
MSR has listed multiple uses for this tarp shelter:
Featherweight dining hall
Emergency shelter
Winter basecamp
Solo shelter
Note: MSR has an additional accessory for wet and buggy weather—the Front Range Bug/Floor Insert. Pitching the Front Range Tarp Shelter has found to be significantly easier after setting up the Bug/Floor Insert.
Although it is recommended to set up the Front Range in its square-footprint configuration, there are other potential ways to set up. MSR does not recommend these configurations, however slight modification to pitching can yield other uses.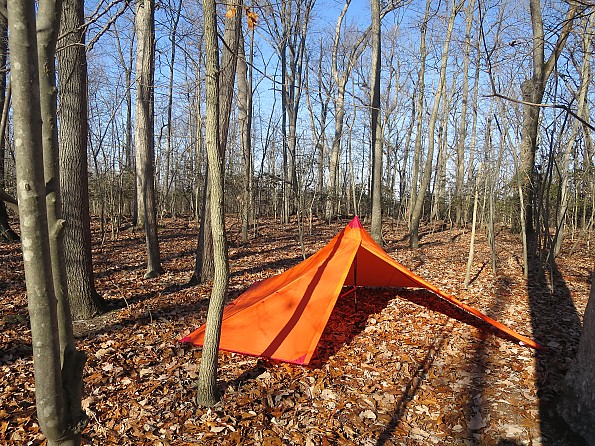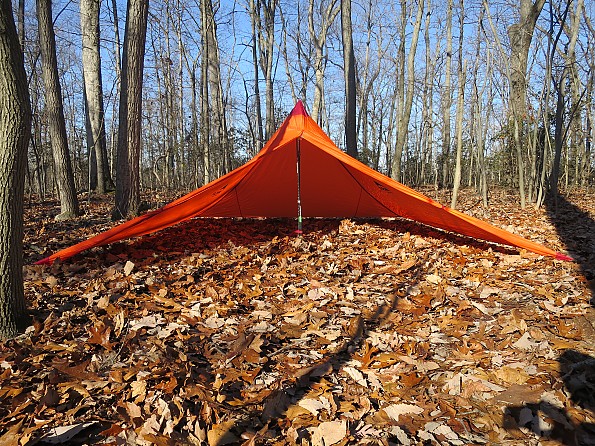 Ensuring the stakes are secure is also of great importance—there is no way to weigh the shelter down with no floor. It should be noted that five stakes are included with the shelter; more will be necessary, along with adding guy lines for poor weather conditions. This also reflects the fundamental need to position the door of the shelter on the leeward direction of the wind. Once the setup basics are skillfully learned, this is a relatively easy shelter to use. Note: tarp setup is a skill that can take time to become proficient in; lots of practice is necessary to enable people to enjoy their benefits.  
It is very beneficial to lash the ski/trekking poles with the included straps to the desired height before pitching, approximately 64 inches. If the center support is too short, the shelter will have insufficient structural integrity, and a gust of wind could cause damage. If the trekking poles are too long, they may need to be re-lashed. Note: MSR offers a 5-foot accessory pole that is available separately.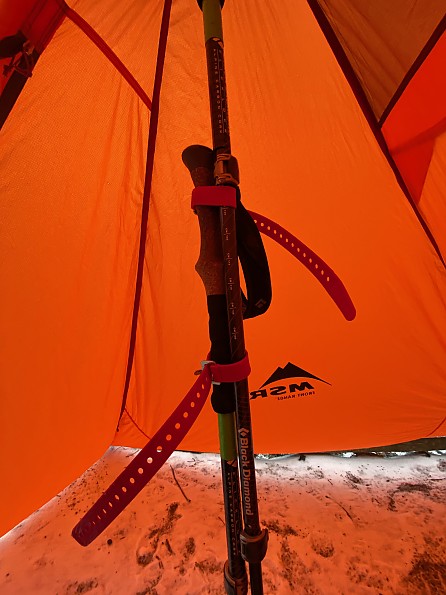 Once the shelter is fully set up, testing has shown the tarp shelter to be very stable in wind gusts over 30mph, ice, and snow. Winds were not particularly high during freezing rain on a January trip, but the building ice on the shelter did not stress the tarp. Regardless of apparent simplicity, testing this shelter has shown to support MSR's claim that this can be a sufficient "winter basecamp."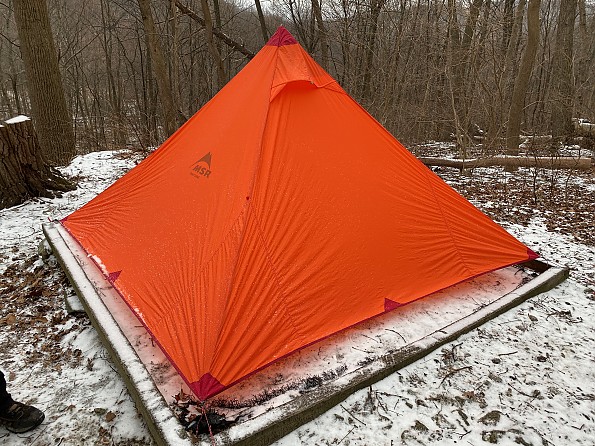 The stake-out points are easy to adjust, ensuring good stake purchase. MSR includes 5 Groundhog stakes with the tarp shelter.
The pyramid design of this shelter makes for an extremely roomy experience, fitting three people and their gear with relative comfort. This shelter's specifications is for four people, which would suffice for a meal, or an emergency.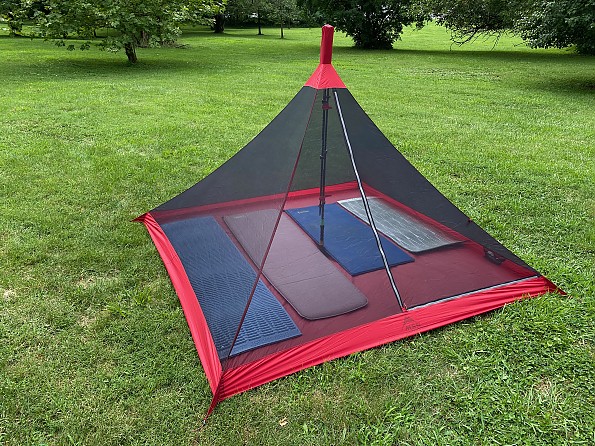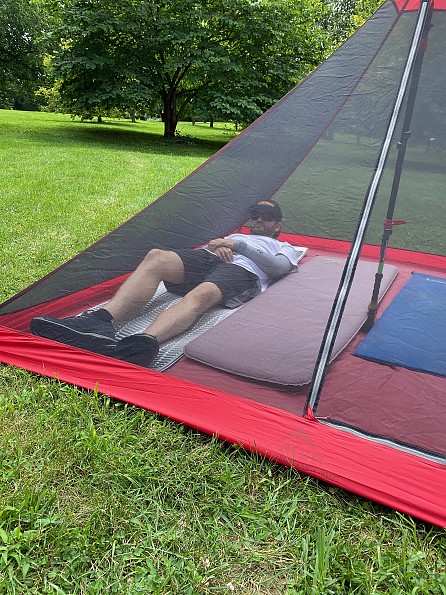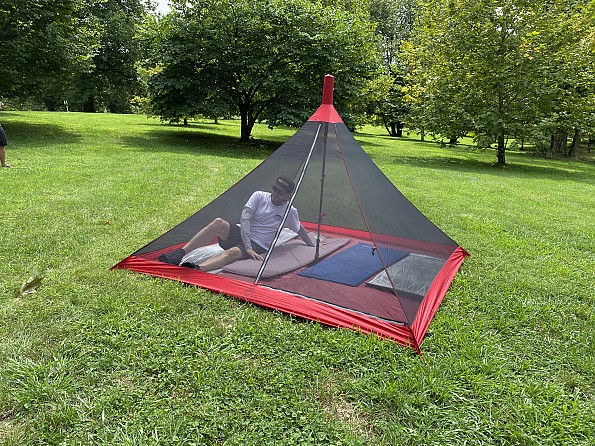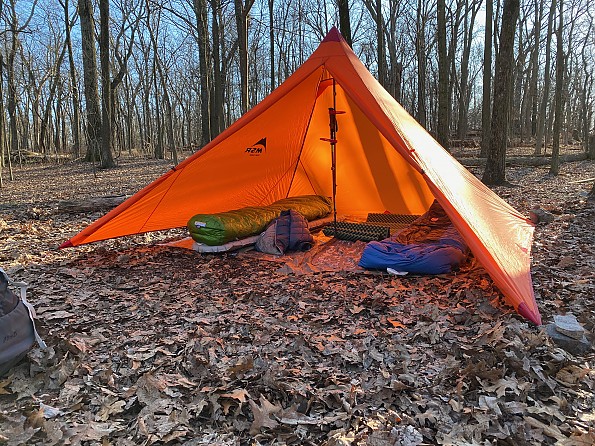 Most people will easily be able to stand while leaning over, which is helpful during lengthy periods of foul weather, or changing clothing.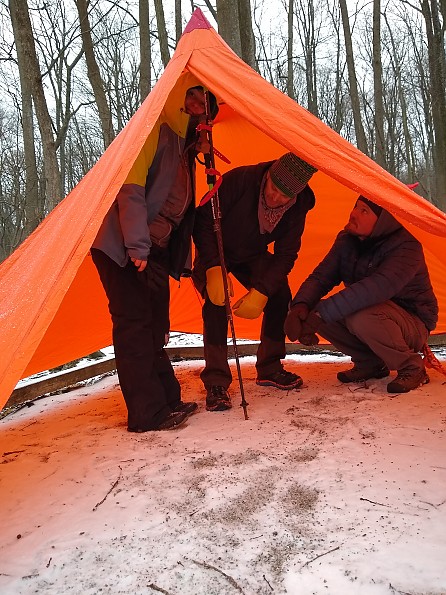 Regardless of the shelter's light weight (26 oz), it is spacious. Note: despite the dimensions of the shelter, the footbox of one's sleeping bag can still contact the single wall, contributing to complications regarding condensation. Although it is stated to be a shelter for four people, this would be impractical, unless in an emergency. This shelter can be packed down quite small, despite its large volume.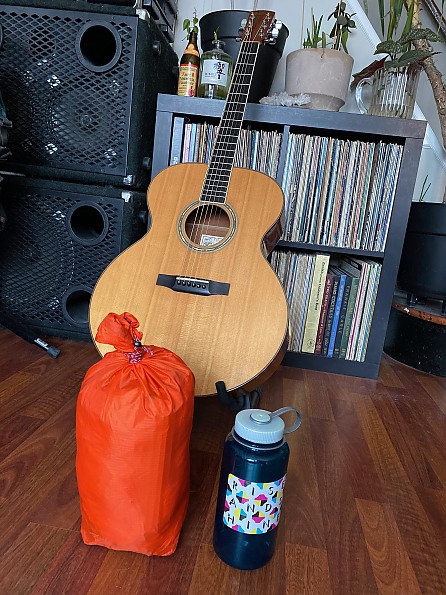 Ventilation
As aforementioned, the staking method for this shelter ultimately governs the ventilation—unless sealing the shelter with snow, or weighing down the corners, there are several inches between the ground and the shelter. This becomes less of a concern when the Front Range is used in conjunction with the Bug/Floor Insert, which has a "bathtub" style bottom.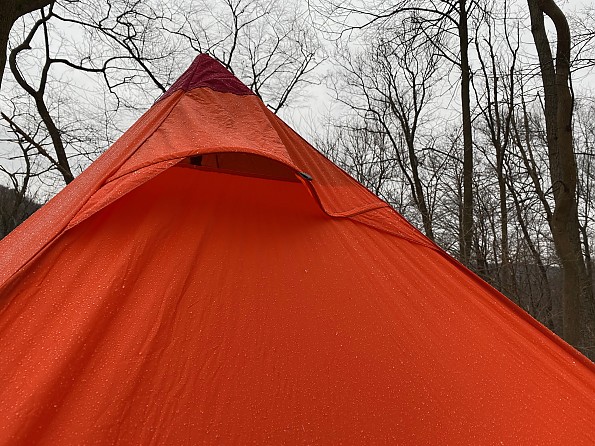 Weather Resistance
During testing, the Front Range Tarp Shelter has reflected a nearly perfect score when it comes to weather resistance. A small amount of "splash-back" has been noted when using the shelter during the heaviest rain. Managing water run-off is the most critical aspect when using this style of shelter—site selection is key. 
Construction & Durability

MSR has designed this shelter with long-term durability in mind. The polyurethane/silicone coating is not only good for longevity, this proprietary Xtreme Shield is also necessary for all-weather protection in a single-walled shelter. Testing over the last eight months has shown no premature wear, and all stitching and components are in excellent condition. Corners, stake out points, etc. are all reinforced well, which should contribute toward long shelter lifespan. Manufacturing is superbly constructed, falling in-line with the quality known and expected from MSR products. 
Conditions
The Front Range Tarp Shelter has been tested since early December 2019 in the mid-Atlantic East Coast USA area. The shelter has been used on multiple overnight backpacking trips, and several day hikes during an extremely uneventful winter. Temperatures have ranged from 25°F to 90°F, accompanied by mostly light precipitation. A sub 30°F day of freezing rain was the worst the shelter has seen. Maximum winds tested were approximately 30+mph, without using additional stakes or guy lines. Testing has resumed since overnight trips have been given the OK after the COVID-19 outbreak, but at a diminished frequency.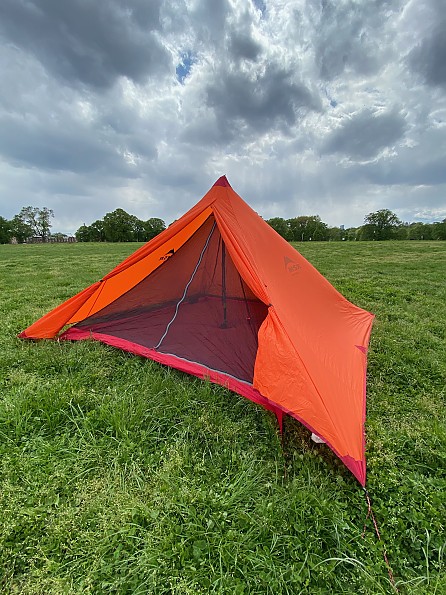 Wind testing the Front Range shelter near home during the COVID-19 quarantine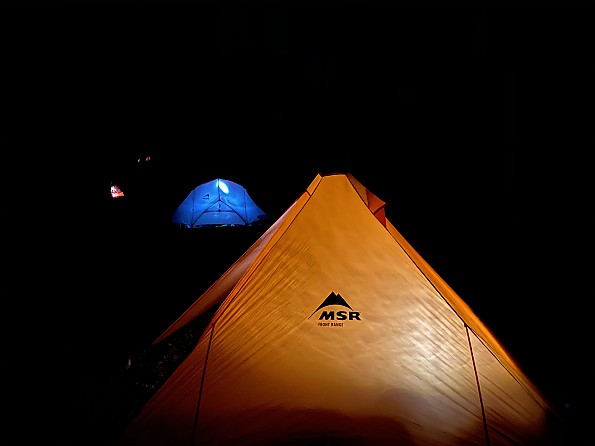 Many thanks to the people out at MSR for the opportunity to test the Front Range Tarp Shelter for the Trailspace Gear Review Corps!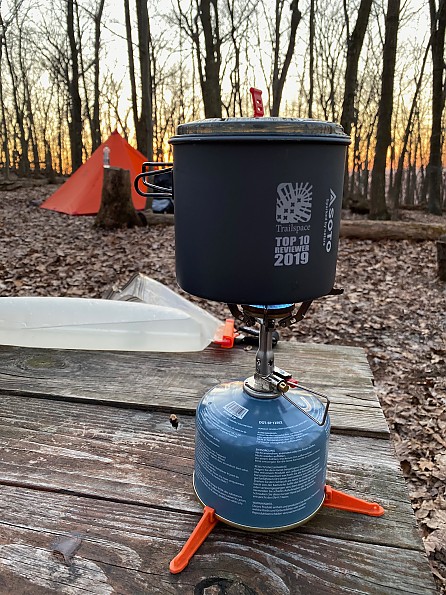 Experience
Ground sleeping with tarp systems is my preferred method of backpacking over the last 4-5 years. Many sizes and styles have been used, from the Hilleberg Tarp 5, to traditional rectangular sil-nylon tarps.
Source: received for testing via the Trailspace Review Corps (Sample for testing and review provided by MSR)

Your Review
Where to Buy
Help support this site by making your next gear purchase through one of the links above. Click a link, buy what you need, and the seller will contribute a portion of the purchase price to support Trailspace's independent gear reviews.
You May Like
MSR's Front Range Tarp Shelter can be as versatile all year-round as its users, thanks to its light weight (1 lb 10 oz) and compact pack size. Take it on a spring ski tour or a solo backpacking trip. Use it as a group space in camp or stash it in your pack as an emergency shelter.
The Front Range Tarp Shelter fits easily in your backpack, but has 144 cubic feet of space, a peak height of 5' 4", and fits up to four people. It's floor-less and frame-less and can be set up easily with ski or trekking poles, or with a separate accessory pole.
With a steep canopy to shed snow and water and MSR's Xtreme Shield waterproof coating, it can handle year-round conditions. Plus, the Xtreme Shield treatment lasts up to three times longer than standard waterproof tent coatings and prevents premature stickiness and has an ultra-durable seam.
"The MSR Front Range Tarp Shelter is the epitome of ultralight, simple, and spacious weather protection for adventurers that commit to multi-day alpine missions," said Terry Breaux, Shelter Category Manager at MSR. "With the Front Range Tarp Shelter, adventurers can focus on the mission at hand and forget about the weight on their backs."
For protection from bugs and more, combine the Front Range Tarp Shelter with the separate Front Range Bug/Floor Insert for a complete shelter system.
Accessories: MSR Adjustable Poles, MSR Front Range Bug/Floor Insert,
Specs
Price
MSRP: $279.95
Current Retail: $379.95
Historic Range: $223.96-$379.95

Minimum Weight
.74 kg / 1 lb 10 oz

Floor Area
7.52 sq m / 81 sq ft

Livable Volume
4078 L / 144 cu ft

Interior Peak Height
1.62 m / 64 in

Fabrics
20D ripstop nylon 1200mm Xtreme Shield polyurethane and silicone

Recently on Trailspace