MSR Hydromedary

The Hydromedary has been discontinued. It was replaced by the MSR Dromedary Bags.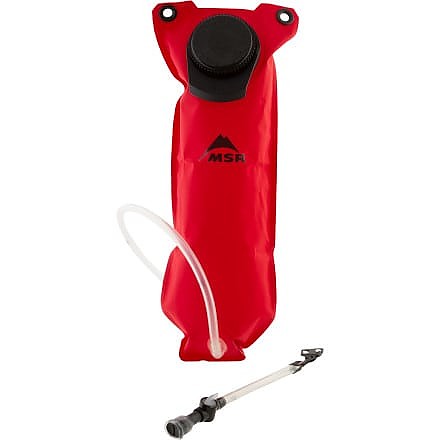 I have the 3 liter variant of this bladder and it has been fantastic. It is well built and has taken a beating on the trails and quickly connects to my Miniworks filter so I can quickly fill it with clean water.

This product is best for backpacking, hiking, camping, or really any outdoor activity. I even took mine to the beach one day! Some complain about the two loops as opposed to one, but my pack has two hooks for hydration bladders so it works great for me, definitely recommend.
Pros
Well made, takes a beating
Connects directly to water filter pump
Mouth piece flows steady and will flow with gravity (good for cooking)
Cons
For some, two hole system for appending to bag
I bought this bladder right before a three-day backpacking trip at Shawnee National Forest and it performed beautifully.
I got the 3-liter variant to sort of balance between hydration needs and limiting additional weight and it was the exact choice. Each morning I would chug the remaining water that I have and basically saturate my body. I would then fill the reservoir to the brim with a water filter pump. I would proceed to hike all day and the water in the bladder would last the entire day. Though for emergency, I also had a LifeStraw water bottle that was full that held another 16 oz or so.
The bladder is extremely easy to use. The mouthpiece is well built with a nozzle that can be closed to ensure that there is no leaking. The bite valve was easy to operate and could even be used to fill a pot for cooking by utilizing gravity, which is a huge plus for me in getting clean water for cooking!
The bladder is about as durable as I have seen. Great materials and has lasted many backpacking trips since without issue. I have had the bladder for about 6 months and have gone on three separate three-day trips with no visible wear at all.
Source: bought it new
Price Paid: $26

A fantastically durable option—but difficult to clean and dry.
Pros
Indestructible
Versatile hang options
Cons
Doesn't dry out quickly or fully
I've been using my 2-liter bag for about eight years now. It is, as others have said, effectively bullet-proof. I've dropped mine after filling and had it bounce down a small waterfall with no ill effects. Mine has two grommets in the top, making hanging it from almost any frame a snap with the application of a simple, small 'biner.
My only problem with it is at least half my own fault. This bag has a relatively small mouth and a long body. It is difficult to clean, and very difficult to get it to dry completely. In consequence of which my bag has over the last eight years developed mildew stains to the point where even when dry there is an odor. I expect that the bag would likely last another twenty years, easily.  Except for the stains and odor.
In comparison, we have two 2-liter Camelbak bags that are ten years old. One split after a pack was set atop it for about an hour—my MSR was the replacement for that one. The remaining one has not developed any mildew stains or odors in a decade of near constant use in spite of a rather less conscientious cleaning/drying regimen. So in direct comparison to Camelbak: more durable, but more delicate.
I am now looking for options for a replacement for my MSR bag. I want to go back to MSR—I love the durability and the fact that the company is very local to me. But that finicky drying/mildew issue...
Background
I used canteens for 30 +/- years before switching to bladders. Have used Camelbaks for about 15 years, and MSR for eight years. Thousands of miles of hikes, bikes, and runs.
Source: bought it new
Price Paid: 30?

i have used this product only once and i liked it. i think like most people, i just used the good old standard camelbak crammed in my pack, but i was in the market for something a little bit lighter and the fact that i could screw it straight into my MSR water pump was a big plus. so i bought the 32oz.
The water never tasted funny whatsoever, but my only complaint was the bite valve dripped even in the locked pos. I had to leave the end of the hose pointed up ward and pinch the bite valve to let the water run back into the bladder, no big deal for me at the time but if you were somewhere that you needed to save the water I'm sure you could figure something out to save it from dripping on your chest while your hiking.
just remember when you're ready to get off the camels back this bladder is well worth it.
Price Paid: $32

Mine is twenty years old.
My advice to the reviewer with mildew is stick a cork in it—literally. This does two things: one, you can tilt it up and "tent" it to aerate completely and two, the cork draws the moisture to it. Oh and it's 100 percent natural. 
Background
Argentina, Colorado, Arizona, California, New Mexico
Source: bought it new
Price Paid: Twenty years ago you kidding?

Your Review
You May Like
Specs
Price
MSRP: $39.95
Historic Range: $24.39-$39.95
Reviewers Paid: $26.00-$32.00

Recently on Trailspace