MSR Dromedary Bags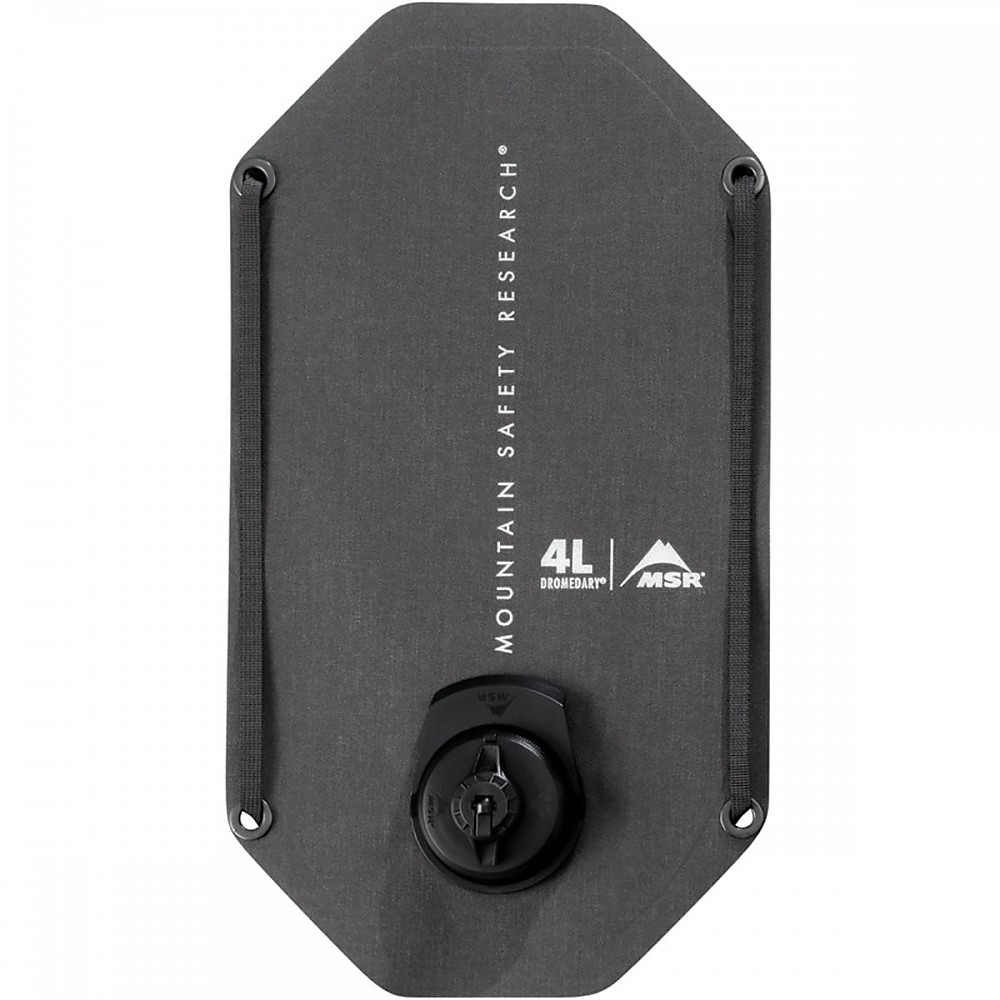 Version reviewed: 10L
Indestructible, indispensable, 11th essential.
Pros
Strong
Hangable
Versatile
Convenient
Packable
I bought the MSR 10 liter dromedary bag about 5 years ago because I wanted a versatile form of water storage that did more than just quench my thirst.
I love backpacking around rivers a lot and was sick of walking to the river every time I needed to fill a bottle, wash a dish, wash my hands or fill my Jetboil for cooking. I also needed a reliable form of large capacity water storage for missions where water sources were far and few between.
I came across this gem and couldn't find any negative reviews. All I found was how indestructible this bag was and how convenient it was to hang from a tree. (the most notable review I ever read which sold me on it was a guy who said he had it hanging off his saddle and it was stabbed by a branch while riding and nothing happened.) 
I wanted a water storage container that I knew I could depend on.
I loved the fact that it could be converted to a hydration bladder and had other optional accessories (get to them later).
It's has a very durable canvas like exterior with a plastic coated lining.
It has 6 metal grommets all around it and a very strong cord strung through them which allows you to hang it anywhere. I've hung it from trees or just thrown it on boulders.
It had a wide mouth opening (same as any wide mouth Nalgene) with a little screw off nozzle that has a tiny flip top (like the little flip top on those little 1.5/2oz Nalgene bottles I use for hot sauce).
Take the wide mouth cap off and submerge it in the stream. It had a handy plastic rim around the opening with a handle to grab it by so you can hold it securely and open under flowing water.
Hang it anywhere and use the flip top to pour small amounts of water when needed or screw off the nozzle for larger amounts.
I've dropped the bag down granite embankments full of 10-15 pounds of water and nothing.
It's fallen when the stick it was hanging on snapped under its weight and all it did was plop down with a sloshy squish sound of a water bag.
OK, now the genius attachments.
BUY THE SPIGOT.
It's a must.
It replaces the wide mouth cap and instead of a little nozzle you have a full service fast flowing on/off spigot that you just need to turn easily to fill your jetboil in 4 seconds.
I have seen a shower hose attachment that they sell online (hose coming off the spigot with a showerhead), but I already had an electric shower for back country car camping I bought for my girlfriend. I borrowed the hose/shower-head from that for a summer backpacking trip and my Drom bag turned into a shower for the both of us!!!!
I bought the hydration tube when I bought the bag but have only used it a few times.
I'm just not a hydration bladder guy. I like to chug water from a bottle.
The tube worked great though, had a twist lock so you don't waste water.
But this 10 liter bag is too big to fit in the special hydration area on my Osprey.
I had to clip it to the outside of my pack with a carabiner.
This bag is quite pack able.
It's not ultralight but not heavy at all for what it does for me. When empty just roll it up and shove it in your pack.
I know they came out with a lighter version but I'm not sure how strong it is.
If you like to backpack around water sources and stay at camp for a couple nights and want convenience and reliability, then grab one of these.
This has served as the camp water faucet for a group of six and for my own personal reservoir.
On a hot summer day it made a great cold shower (I suppose you could boil water and warm it up).
Or if you need a large capacity water storage for backpacking desert terrain or wherever you won't have frequent water sources then this is probably the most reliable way to carry water.
I'd trust my life with it.
Spigot is a must.
Source: bought it new
Price Paid: $40

I have two of these, the 4 litre and the 2 litre. They are the older Cordura type and I was kind of hesitant to review them at first because of a recall of some of them due to leaching of a chemical used in manufacturing, but after consulting the store where I purchased them (Mountain Equipment Co-op) I was assured they did not carry the version that were recalled in the late '90s.
Cons
A bit on the heavy side compared to more modern variants.
 I have been using these two water bladders for close to 20 years. They were one of my first purchases when I started acquiring camping gear for bicycle touring. I have never had any foul taste from water I have had in them and always clean them with a mild bleach solution when I return home and hold them open with a wooden spoon to allow them to dry thoroughly before storing them till the next outing.
They are made from a polyurethane coated Cordura and have the standard wide mouth Nalgene-compatible lids with the small cap for attaching the hydration tube or shower, which if on a extended trip into the back country can come in quite handy, with the black bag acting as a solar heater when hung in the sun giving you a fairly warm shower.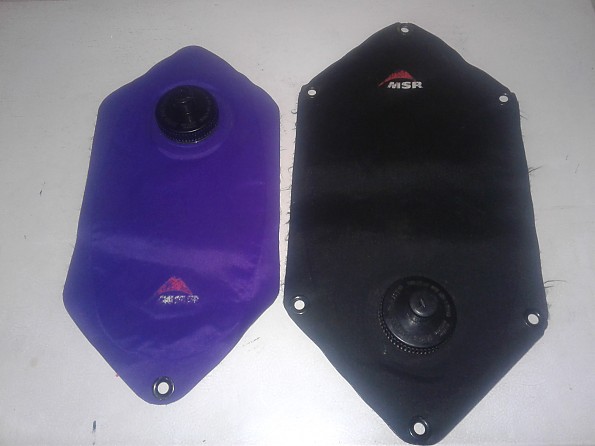 When going for hike hike somewhere with questionable water I usually take both giving me enough water for a two-day trip. When travelling to more pristine areas farther from the "civilized world" I have an old hydration tube that I take and use in conjunction with my water filter creating a gravity filter system that gives me a litre of water in a couple of minutes.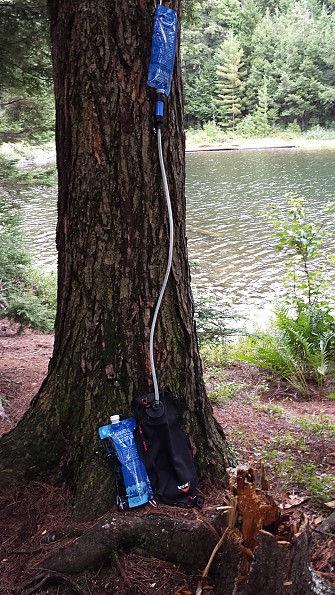 They weigh in at 90 g. for the 2 litre and 140 g. for the 4 litre (still lighter than a Nalgene hard sided bottle). The shower attachment is 95 g. and the hydration tube 65 g. I removed the cordage that used to lace around the edge of the larger bladder and just use carabiners to hang it either inside or outside of my pack.
I have never had a leak. They have hung off my pack and have been poked and scraped by sticks along the trail and have sat on the bottom of my kayak and held up beautifully. I recently filled the 4 litre one with water prior to a weekend trip, I figured I'd put it out on the balcony to cool off while at work. We got a cold snap that day and I came home to find it frozen solid. I thawed it out and still no leaks.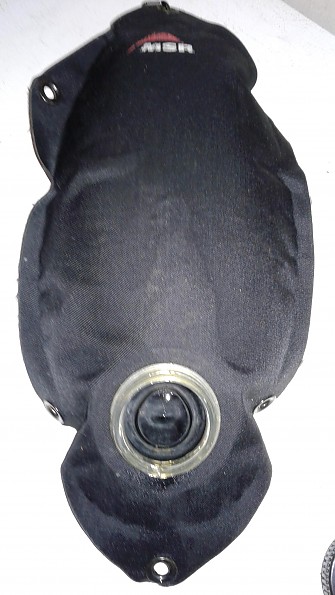 Sadly, I don't believe they are avalable any more. MSR has moved to the Dromedary Lite bags and a V2 version that I assume is some what similar to these, I would recomend if you have them hold on to them. Or if you see them for sale grab them. They are fantasticly tough bags. 
I have contacted Cascade Designs and am waiting on verification from them regarding the recall. If I find anything else out about them in relation to that I will edit this review or suggest it be removed.
Edit: So I was contacted by Drew from Cascade Designs and was told the model that was recalled was manufactured prior to 1996 and had brass gromets around the edges. So seeing as mine have the black gromets these bags are fine. He also informed me the chemical in question was OBPA, was used to bond the polyuerathane to the cordura and has never caused any serious or longterm health effects. The main issue was the taste it left.
Source: bought it new
Price Paid: ?

A tough bombproof water storage bladder.
Pros
Built tough and for durability
Good amounts of storage sizes available
Can be used for shower
Straw system available that functions extremely well
Cons
Durability comes with a penalty, weight. It's not a big problem unless you're an ultra-light hiker.
Can be a bit harder to clean because of small opening.
 This is a well designed, well built water bladder that reminds me of the old canvas ones. The nylon skin that surrounds the bladder is built for endurance and long life.
The bladder is offered in 4L, 6L, and 10L capacities. I purchased the 6L bladder. You do not have to fill it up when hiking. I put about two to three litres in it and fold it up when hiking and fill it to capacity in camp. Where I live, hunt, and hike water is not difficult to find so filling along the way is a way to keep weight down. In camp having the bladder full to 6 litres means less trips to fill for camp use. In the dry areas of our province having the larger capacity between water sources is obvious.
Some folks I have seen on youtube opt for the 10L for this reason. If I need that much capacity, or am on my longer hunting trips, I roll up the dromedary for camp use and carry the Source 3L for overnight spike camp. That gives me a slightly lighter 3L bladder on the move and 9 litres of water in main camp. 
There is no chemical taste transfer to the water when it sits in the bladder for a few days. 
I also installed the MSR straw system in mine and it works flawlessly.
Great product .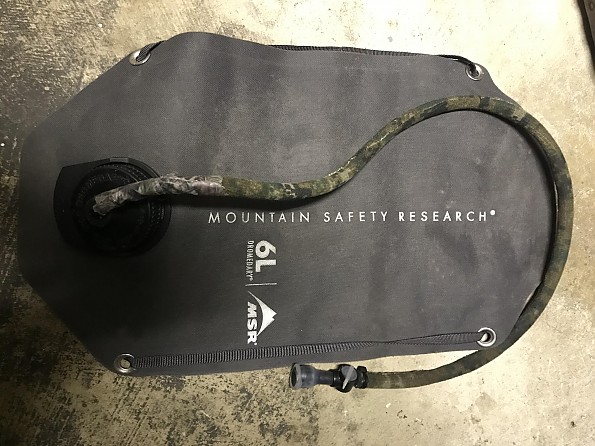 Experience
Been experimenting and using this product for the past year and a half. I even bring it to job sites. Tough with no leaks.
Source: bought it new
Price Paid: $60

If you're going all in with your hydration kit, this is the way to go. If you're not willing to drop $90-$110 on this, get a Platypus, because you'll miss out on the real benefits of the system.
Pros
Other MSR product pairing
Durable exterior
Easy camp water system
Side string helps
Cons
The price (you have to buy hose seperatly)
Got these a month ago, and I've been on two kayaking trips with them. Love the 10 L for me, my friend got the 4 L. As previously stated in a past review someone left, it kinda sucks that you have to buy the hydration line separately. The upside is you get to use MSR's magnificent water filtration device (the internal, not external).
I can't tell you how awesome it was to go to the river, pull out some water and have 10 LITERS of filtered water for washing, drinking, cleaning, etc. It was plenty. Everyone in my group of 15 ended up using a bit and I only refilled it once. No one had any problems figuring it out.
I like the cords on the outside, great feature that allows for easy hanging. If you get the accessories, they are all really well made and seem durable, although I don't know for sure. As for the durability, it's great. I tend to throw it around a bit more than I should, but it held up flawlessly. Tough construction.
Source: bought it new

Version reviewed: Medium 6L
Versatile water bladder with a great cap design.
Pros
Durable
Packable
Versatile
I have an older version of their medium (6l) bag. Very tough construction, this bag has seen 30 years of hard use and has not failed.
I like the 3-in-1 cap design very much; the larger thread is the same as a Nalgene, with a smaller threaded cap and integrated, flip out pour spout. It fits my filter, allows me to meter pours, and will provide a small stream for rinsing utensils. I hang it from a tree and use this as a versatile way to dispense camp water. It's the first thing to go up when setting up my camp kitchen.
Capacity is not an issue unless you are far from water sources and can't refill. This size seemed right for water quantity without being overly heavy when full (maybe 10 pounds). If I were to need more capacity I would probably buy multiples of this size rather than the larger bag (10l). Water loads could be divided among party members that way.
It needs to be rinsed and dried properly after use to avoid it getting froggy. Just make sure it airs out well. I use something to keep it open so it will dry faster. I think I used a custom bent coated wire clothe shanger last time.
It is so useful I seldom leave it at home.
Experience
I have used this product on backpacking trips, cycle tours, car camping, basically whenever I think I'll be sleeping rough and need a handy, portable water source.
Source: bought it new
Price Paid: 25 dollars

I have used all sizes of the dromedary bags in long range recon missions in Afghanistan where I couldn't afford to have a faulty hydration system. These bags have taken several beatings and served as many purposes to include being used as a shower and even a pillow in some cases.
2 heavy deployments later and I have yet to be disappointed.
Price Paid: Military issued

Water from 6-liter bags, brand new, completely undrinkable due to extreme chemical taste. Tried rinsing but still terrible. Very disappointed as needed for upcoming trip.
Cons
Unusable for purpose, water is undrinkable.
Purchased two six-litre dromedaries for kayak tours. New product which I filled and took a sip from. Spit the foul tasting water back out. Thinking OK, stupid not to have rinsed first. So rinsed multiple times. Still terrible, undrinkable chemical water. It was filled from tap, city water.
Knowing MSR usually makes a good product I did some online research. Amazingly it is a well reported issue. But some, for whatever reasons have no issues. A problem with quality control or different places of manufacture? Who knows.
What I do know is that a quality product should be fit to be used. It is not a issue with bad water being put in bag, not being cleaned, etc as the bags were new. They are very well made but that means nothing as they are unfit for their intended purpose. Extremely disappointed!
Experience
As a retired professional outdoor guide I have used dromedaries on numerous occasions, never had problems until using this new product from MSR. Extreme disappointment as I needed them for a trip, had purchased two of them and now will have to scramble to find alternatives.
Source: bought it new
Price Paid: $52

OK, so I have had two of these bags now for over 20 years with heavy use and long-term storage and they still work!! No leaks just lost tops.
Pros
Welded seams
Heavy construction
Multiple uses (water dispenser, pillow, hot water bottle)
Cons
Would be nice if the top was somehow attached to make it harder to loose
They can smell after long-term storage but use vinegar solutions overnight usually does the trick.
Bought two 1-liter bags back in the '90s which saw heavy use during the first couple of years and then many years of storage. Most recently they were used on a month-long bike tour and amazingly still had no leaks even after a couple of crashes.
If you want a water container that can do it all and come out the other side this is for you...not the lightest but probably the most durable. 
Experience
I have used the Dromedary Bag on and off for over 20 years and have in that time bought other lightweight plastic or PVC-like bags that have burst at the seams or failed at the mouth.
Source: bought it new
Price Paid: Mid 20's I believe

Version reviewed: 10L
Mainly purchased this item to consolidate my water supply from multiple bottles to one bag. Well, I'm pleased with the construction, and pleased with the volume (almost 10.5 32oz Nalgene bottles' worth of water), and pleased with the versatility.
The attachment options are plentiful and accessories are available to allow drinking on the go, and showering with this bag. Another extreme plus is when this bag is not completely full, or if it is empty it can be rolled, folded, squashed into your pack or a deep jacket pocket.
There are two concerns I have. One, the food grade laminate on the inside tastes funny, but if you add electrolyte tablets or tang to your water you won't notice.
Two, 10L of water weighs a lot! A liter of water weighs 2.2 lbs, you do the math, so I haven't even thought about hiking with it full yet. All in all, this is a great product which will be in my pack for another season.
Price Paid: $35.99

Version reviewed: 6L
I bought 6L bag. I always use it when I go to hike a mountain. I think this bag is great and amazing as a water storage in my tent.

Pros
Durable
Easy to use
Good quality
I use it to carry water for camping and hiking. Previously, I used much bottles to bring water. But I thought it was more easier to use this dromedary as water storage. This bag is really tough, seems durable, strong and should last for many times of use. I do not taste any plastic in the water.
Source: bought it new
Price Paid: $39

I've had the 10 liter bag for 2 years now and I don't leave home without it. The first thing I do when pulling into camp is pull this out and go fill up and then hang it from a branch. The spouts offer a variety of pour options and I use it for everything from filling up my Jetboil to brushing my teeth to washing my hair and sometimes showering , this thing rocks.
The main reason I bought it was I found myself either having to visit a water source a second time before the night was over or first thing in the morning, not cool especially since I like to camp perched up above the landscape a bit for a nice view. Empty, it is light and rolls down nicely. It can also be used as a hydration bladder which I haven't tried but with a sipping tube adapter it can be done.
Price Paid: $40

I have borrowed the 10L dromedary from a friend a few times and love it! I have this dromedary on my list as one of my next purchases for sure.
Pros
Very durable
Easy to fill and pour with additional cap
This dromedary stands up to a lot more than a plastic dromedary will. I have used it on a few treks and absolutely love it. It is very convenient that I am able to attach the dromedary to my backpack, instead of having to lug something by hand around to have water.
Source: borrowed it

MSR Dromedary Bag, the only water bladder you'll ever need.
Pros
Leakproof, durable and will never fail you.
I have been using the same MSR Dromedary Bag since 1989. It has been in caves, swamps, rivers, the ocean, mountains and even Mexico. It was never leaked or blown out.
I have tried CamelBak bags but they don't make it past 2 years. Their packs are top notch but the bladders don't last. Everyday you can find a CamelBak backpack and my old MSR Dromedary Bag on me or in the car.
Source: bought it new
Price Paid: $20

These bags are pretty much indestructible.
I've had two of these in the last 10 years. The first one didn't break, it got lost or stolen. I've tried Camelbak and Platypus bags, but they never last long.
I spent a lot of time in the woods doing trail or project work. The MSR bags hold up really well. The lace around the edge of the bag is useful for hanging it up or attaching to over full packs. The different caps and attachments are kind of cool too. 
Source: bought it new
Price Paid: $32

We did a local purchase and got a 4 liter D-bag per man. This was in 1996...still have mine! Don't use it all the time anymore, but enough throughout the years to remain impressed.
Only reason I gave it 4.5 stars is that if I gave it 5 it would start leaking just to prove me wrong!
UPDATE:
Using it since 1996, and it still works perfect! Just got back from a high desert Petroglyph hunting expedition, and it got our cooking water to the summit with zero issues. Love this product.
Price Paid: issue

Can't beat 10 liters in one bag. Bought the hydration tube setup with it just in case. I have always run a Camelbak with a couple Nalgene bottles but wanted to try out the high capacity dromedary... Not dissappointed. Still trying to figure out how to mount some velcro on it but a mini carabiner has worked so far at hanging it wherever I have wanted to put it.
Price Paid: $29

I have the 4 liter dromedary bag. what i like the best is the flip up cap. it's so easy to fill other water bottles with different size openings from this bag. Of course, it's bombproof!!
Your Review
Where to Buy
Help support this site by making your next gear purchase through one of the links above. Click a link, buy what you need, and the seller will contribute a portion of the purchase price to support Trailspace's independent gear reviews.
You May Like
Specs
4L
6L
10L
Price
MSRP: $39.95
Current Retail: $39.95-$59.95
Historic Range: $16.88-$59.95
Reviewers Paid: $20.00-$60.00

Weight
6.9 oz / 0.20 kg
8.7 oz / 0.25 kg
10 oz / 0.28 kg
Width
10 in / 25.4 cm
11.3 in / 28.7 cm
12.5 in / 31.75 cm
Length
18.3 in / 46.5 cm
20.6 in / 52.3 cm
23 in / 58.4 cm