MSR MicroZoid

The MicroZoid has been discontinued. If you're looking for something new, check out the best three-season tents for 2020.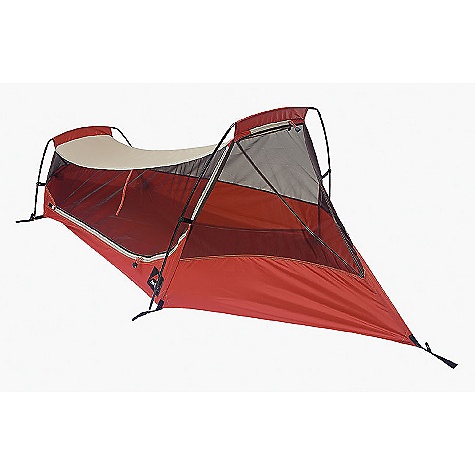 Specs
Price
Historic Range: $134.96-$179.95
Reviewers Paid: $140.00-$170.00

Reviews
9

reviews

5-star:

4

4-star:

2

3-star:

1

2-star:

2

1-star:

0
I've been using the MSR MicroZoid for the last three years. I needed a small, light, rainproof tent. I paid $140 at the time. When the salesperson brought it out to me I was shocked and impressed at the size of this bag he just handed me. The bag as seen in the pic is the red one on the bottom.
My measurements are: 15" long and 18" around, pulled tightly on the thickest part. That's with tent body, rain fly, poles, stakes and guy lines in the sack. On my scale it weighs 3.19 pounds. I've used it in the middle of the summer and the middle of the winter. For summer camping there are large mesh panels on the tent that enable a nice breeze to flow through the tent. During the winter and rainstorms I never had a problem with condensation. The trick is staking the tent out tight and guying it out. When done correctly the rain fly is never close to the tent wall.
One great feature is the ability to adjust the fly as needed. The weather conditions can greatly affect the stretch of the material so MSR built adjustable straps onto the rain fly. A few simple pulls, where the rain fly connects to the stakes, and suddenly your tent is taut again. There is a vent at the apex of the tent and rain fly to help ventilate.
The tent's length is 100" and width is 35". Floor Area = 15.9 sq ft. Unfortunately, all that space is not usable. Due to the quick taper to a sharp point design of the tent, space near the feet and head isn't big enough to use for sleeping space. I'm 6'1" and couldn't be much bigger and fit in this tent. The vestibule is 5.8 sq. ft, comes off the door and forms a large triangle. It fits a smaller pack and boots but I usually use a pack cover and use the vestibule for other gear.
Because the tent isn't very tall (Interior Height 26") the vestibule slopes to the ground fast and a bigger pack can make contact with the fly and isn't good when it's raining. The door is big and zips along almost the whole side of the tent. This really makes getting in the tent possible. One doesn't "get" into this tent, they "roll" into it.
There is an option for a lighter fly/footprint pitch. It saves over a pound but I never saw myself in a situation were I'd use it. If there weren't bugs then there was going to be weather. Overall I've been very, very pleased with this tent. I don't hesitate recommending it to a friend or giving it raving reviews.
Pros:
Quality materials and construction
Light weight
Packs small
Watertight
Field repairable polls
East to pitch
Cons:
Not Free-standing
Very little headroom\can't sit up\hard to dress in
Small vestibule

Design: Small, two pole, just bigger than a bivy design
Sleeps: 1
Ease of Setup: Two poles threaded through two small sleves then a few quick clips. I has to be staked out but goes up quick
Weight: Mine weighs 3.19 (body, fly, poles, stakes and guy lines)
Price Paid: $140

Switched to a tent this season and chose the MSR for its light weight (yes, I'm a zealot) and its low profile. It's been through some torrential rain storms, and other than some minor condensation, I was bone dry. High winds roll off its super-low height. The vestibule is tiny, but I don't bring much anyway. Quality is very high, and materials are excellent. It's not a tent for hanging out in waiting for the storm to pass, but I like it much better than any bivy-sac, and it's not much heavier. This is a super little tent for ultra-lighters.
Design: Non-freestanding two pole one person
Sleeps: 1
Ease of Setup: Idiot-proof
Weight: 1.3kg-2.9lbs
Price Paid: $230 CDN

Woke up in a flowing stream and NO water in the tent.
Pros
Been through a viscious storms and stayed dry each time
Cons
Not for the claustrophobic
Love this tent. It's light, durable, and can be set up in small places. You can stay dry in the worst storms.
Buy this tent if you have the chance.
Source: bought it new
Price Paid: $140

I've used my MicroZoid a few times, but bought a Zoid 1 not long after buying this so it doesn't see much use anymore. Probably only slept in it about 3 times.
Compared to my Zoid 1, the MicroZoid is pretty cramped. Look at it more as a luxurious bivvy. I have to roll into this tent (I'm 6ft) and there is no chance of me sitting up once I'm in here. Even changing clothes can be tricky. For the size and the weight it's a good shelter, but I decided I would happily carry the minor weight penalty of the Zoid 1 for much more comfort.
Price Paid: 140?

Technically this is a great tent. Been through lots of downpours, etc and never been wet - from rain or from condensation. Light, durable, no problems with wear & tear, easy to set up. It always seems hard to pitch it tightly enough - but again, I've never been wet in this tent, so must be doing OK.
I'm 5'6" and fit okay in this tent. Room to roll over, have a little room for gear on the sides / at my head, plus there are interior pockets. Can't sit up at all though. That's my real problem with this tent. If I have to wait out another rainstorm lying flat on my back I think I'll go nuts.
Design: 2 hoops
Sleeps: 1
Ease of Setup: Moderate
Weight: 2lb 11oz
Price Paid: $140

I love this little tent. Yes, it is not terribly roomy but I look at it like this: It is about the same weight as my one-hoop (i.e., one pole) bivy sack and much more comfortable - especially if the weather turns bad. I like non-freestanding tents (like this) as they are lighter. If you pitch them with the feet end into the wind they are very stable. I like the side entrance and could see how you could prop-open the rain fly above the door with a trekking pole for those warm and rainless nights.
Design: three-season, non-freestanding
Sleeps: 1
Ease of Setup: very easy
Price Paid: $160

I'm 5'5" and this tent is way too small for me. The description says you can sit up in this tent -- I don't see how you can sit up in this tent. My small dogs can barely sit up in this tent. On the top of the mountain, the wind was swirling -- blew under the rainfly and straight through the vented sides all night long. If you're considering buying this tent to stay lightweight, save yourself the weight and go with a bivy sac, this tent offers no features beyond a bivy.
Design: three-season single person
Sleeps: 1
Ease of Setup: Easy to set up
Weight: 2lbs 5oz
Price Paid: gift

At 6'1" I am way too big for this tent (my fault for even ordering it). That being said I can squeeze in and not touch the sides and ends if I lay perfectly still. My biggest beefs with this tent are:
1. It has to be pulled completely tight to have any kind of waterproofness. This is basically impossible b/c the fly is not a perfect, tight fit for the shell and will sag no matter how tight you adjust it. If you use it in a rainy area you will want tarps above and below. The only way this tent could be called 3-season is if two of them are summer.
2. The vestibule is big enough for a pair of boots and that's about it. Any other gear you have will be at least partially exposed.
3. You have to lay beside it and roll to get into it (by design). This makes it near impossible not to track mud etc. in with you.
As mentioned I never should have purchased such a small tent. At the time I wanted the lightest, simplest, most compact tent I could find without going to a bivy. If I were closer to 5' tall, and very slim, and lived in an area where it's usually dry weather maybe I'd be writing a different review. Anyone not in falling into those categories should look for something other than the MicroZoid.
Design: 2-season freestanding
Sleeps: 1
Ease of Setup: Easy to put up, hard to pull/keep completely tight
Price Paid: $170

This tent is perfect for me. I am however very small (4'11", 22 yrs old, 102 pounds). It fits me fine with my gear inside and as a bonus it doesn't weigh me down. It's very small too.
I've been in heavy rain, small snowfall (whoops), and blazing heat and my MicroZoid still stands. I would recommend this to ultralight fanatics or people short and weak like me.
Sleeps: 1
Ease of Setup: Very easy to assemble
Weight: About 3 1/2 pounds
Price Paid: $150

You May Like
Recently on Trailspace