MSR Mutha Hubba

The Mutha Hubba has been discontinued. If you're looking for something new, check out the best three-season tents for 2023.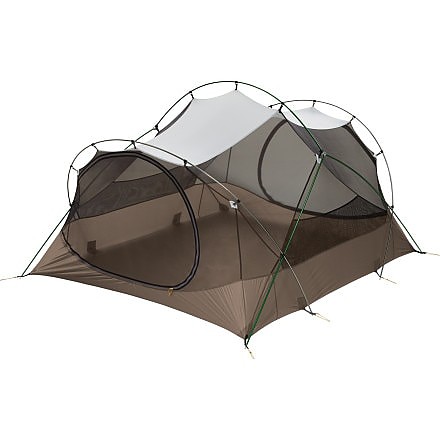 Vertical walls provide ample living space. The extra poles create a bit of extra weight.
Pros
Lighter weight materials
Vertical walls
Double doors
Large vestibules
Stability
Cons
Too many poles
A bit on the heavy side
The fly loses its taut and begins to sag
Setup: There are three poles. The first pole is a double hub that creates the central structure of the tent.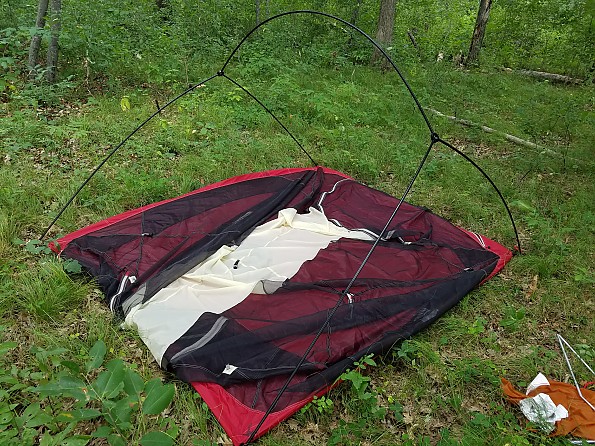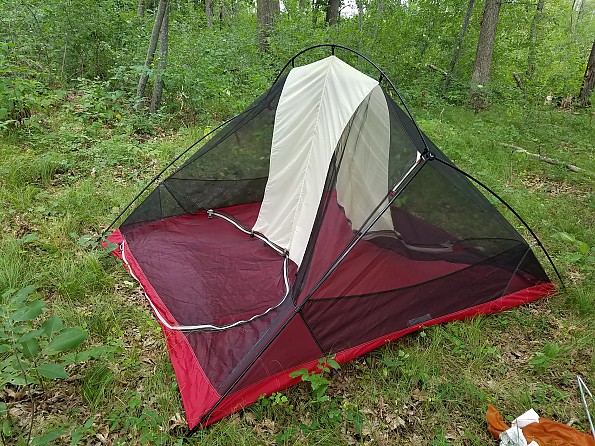 The hubs are metal and therefore are durable.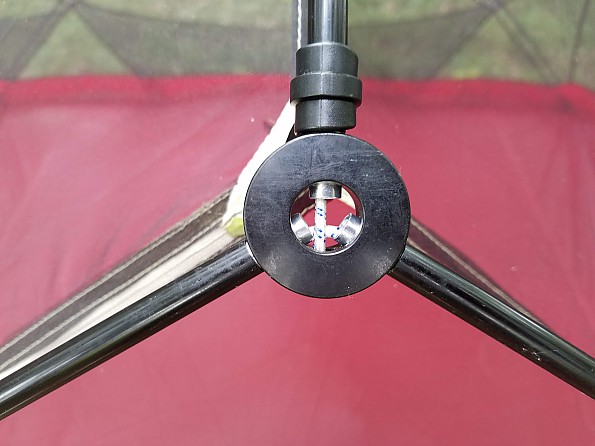 You have to make sure that all three poles are inserted completely before you start to stress the system by bending it. If not fully inserted, you risk bending or breaking the ends of the poles (I've done this on another model that used the same design). Since there are two hubs, I find it somewhat difficult to make sure all six poles stay completely inserted while setting up the tent. I sometimes find myself running around the tent like the Keystone Cops trying to ensure all six poles stay where they are.
Once the main pole is in place, there are two more poles that create the supports above the double doors. Notice the near vertical doors.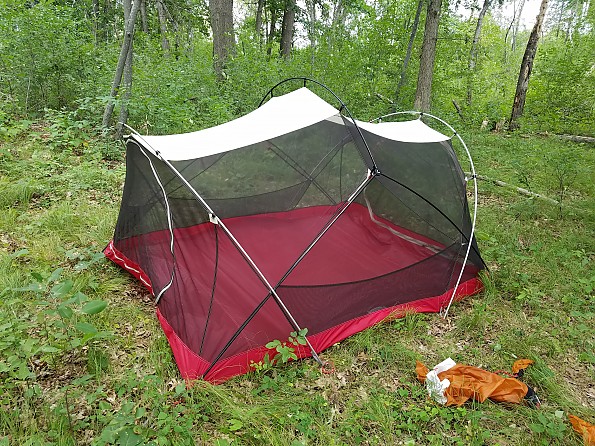 After that, I stake out the corners. Some like to do this before the poles. Everything after that is a breeze. There are exterior clips instead of pole sleeves which speeds things up a bit. After that, you throw the fly over the top, stake it out, and guy if necessary. 

Stability: The tent guys out well and is stable, but the fly is the type that stretches over time. The next morning, there's considerably more sag than the previous evening. You have to re-tighten the fly and even re-stake the vestibules to get the tent taut again.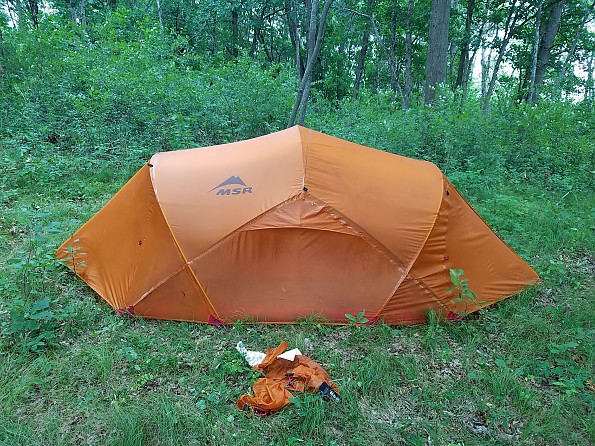 Weather Resistance: I bought the tent used and whoever owned it before me made the novice mistake of storing the tent in conditions that were too hot; it caused the weatherproofing on the inside of the fly to become sticky and tacky. I thought that this might affect the ability of the fly to shed water but it didn't. Even in moderate and prolonged rain, the tent stayed dry.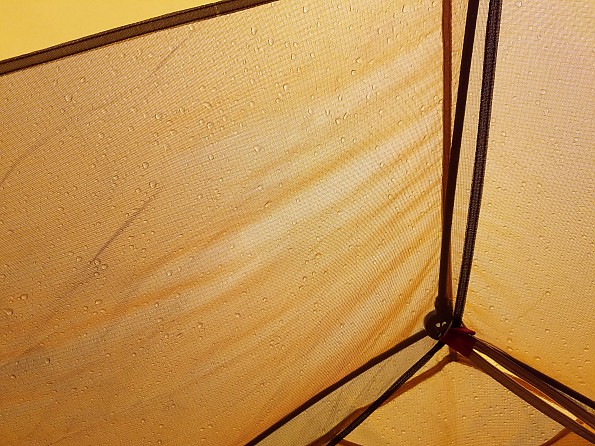 The waterproofing tape completely disintegrated over time.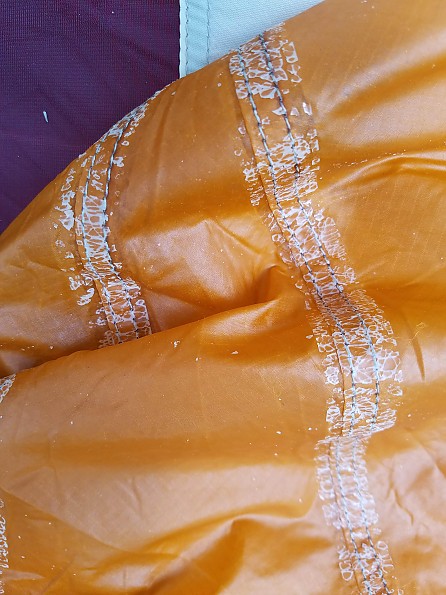 Because of this, I bought seam seal and re-sealed the entire exterior of the tent. It is doing well again. Even with the vertical walls at the entrance, the door opens just a tad too far and still allows rain to get in when fully opened. I would say that this problem is easily mitigated by not opening the last 4 inches of the fly door. You still have plenty of room to get in without the rain getting into the tent. I didn't have enough foresight to figure that one out on one of my outings.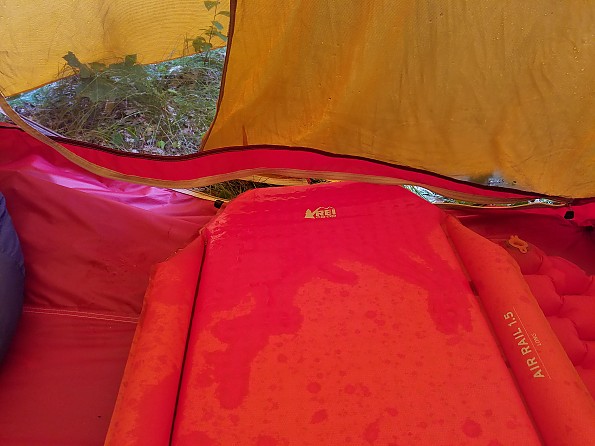 Ventilation: The tent has two small vents near the top of the tent. I think that they do an acceptable job with venting the tent. One nice feature is that there are small zippers on the mesh ceiling that can be unzipped so you can access the vents from within your tent. That way, you can manipulate them from the interior at any time.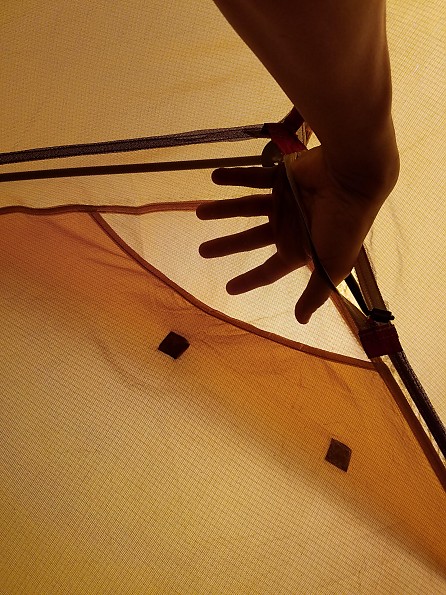 Room and Storage: The tent scores big in this category. There are full length pockets across the base interior of the tent.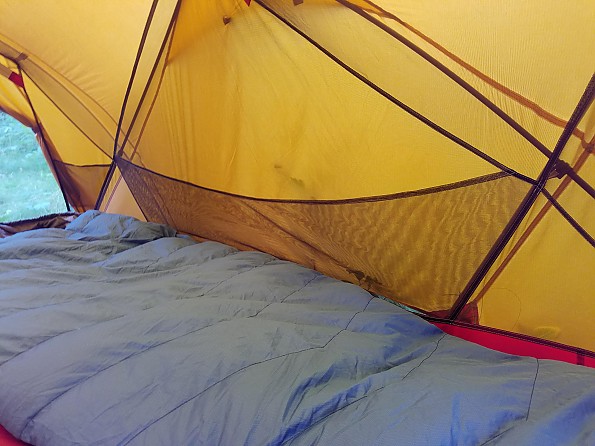 There are also ceiling pockets as well as a small gear loft.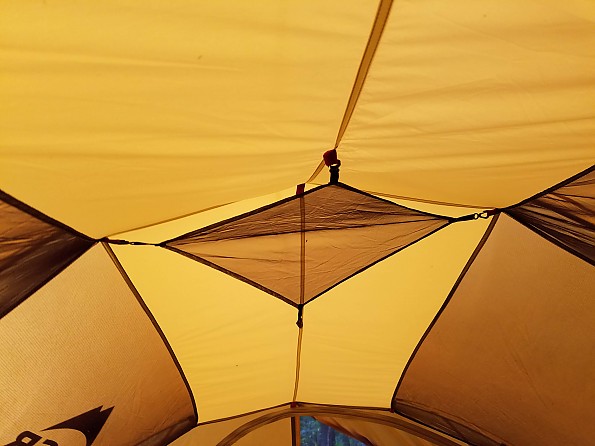 In addition, both vestibules are large enough for an 85L back with plenty of room to spare. (you will also notice a bit of the sag in the fly that I mentioned earlier. This pic was taken the next morning after a setup).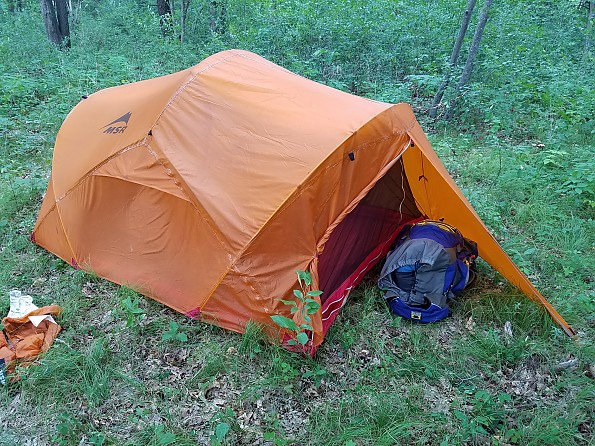 The interior of the tent is just about right for 3P. In the picture, there were two of us on this trip but you can see how the bags and pads might fill up the space.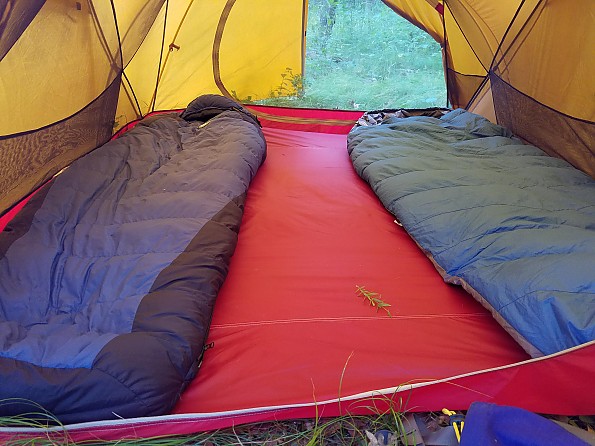 Packability: the tent packs down to what I'd say is average size. Not smaller than you'd hope and not larger. I'm sorry that I don't have stats to quantify this off-hand. Just a guess 8" x 20". 
Ease of use: Things work pretty well with this tent. The zippers do their job, the draw straps work well, the guy lines are fine. 
Features: This particular model employs some funky stakes. They have a very small head.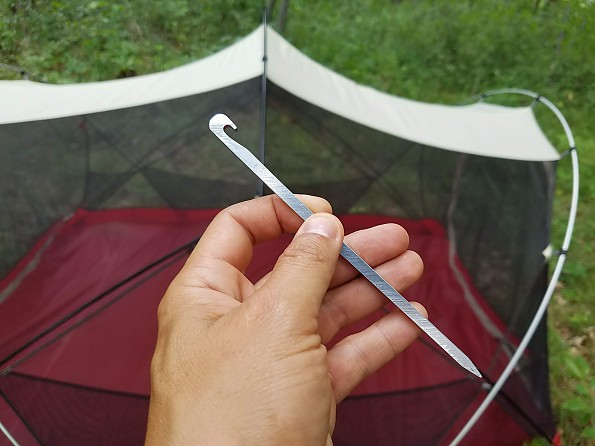 I do not like them. Imagine staking these in with about an inch of the head still sticking out of the ground. Now imaging stepping on one with your bare foot. Now you know my pain. It's worse than stepping on a Lego. The spare peg design does stop the stake from rotating in the ground. I suppose another positive aspect of the stake is that if you get bored around camp, you could try your hand at crocheting?
The other noteworthy feature I mentioned earlier: the zips on the ceiling to access the venting.
Double D doors are nice. 
Construction and Durability. The materials have held up well since constructed somewhere around 2012. Like stated earlier, the seam tape disintegrated. The rest of the tent still looks great. 
Conditions: I've used this tent for one summer on four outings so far. One of the outings had a substantial amount of prolonged rain—2-3 hours. So far so good. 
In the end, I'd say that there are enough good things about this tent to endorse picking one up for the right price. There are some cons (seams, stakes) but those can be taken care of with some minor intervention. The question of the extra poles is one you'll have to weigh out (no pun intended). As a whole, the tent is a well thought out and utilitarian piece of equipment. 
Source: bought it used
Price Paid: $58 Co-op garage sale

So I just got this tent the day I was going on a trip and pretty much tested it in every Canadian summer condition. I usually steer towards the ultralight products but I'm by no means restricted to that realm. I got this tent because I can see it as very usable for backpacking, canoeing, kayaking, carcamping and pretty much anything I choose to do. It seemed to be versatile and I trust MSR as a manufacturer of high quality gear.
Stuff I noticed:
1. Looks sweet: at first I wasn't sure about the colours but when I set it up on the trip it stood out... but in a good way.
2. The space: I describe it a being similar to a circus big top. It's huge in there! It may not have the largest floor area but the interior volume with the vertical walls is awesome. Definitely capable of sleeping 3 comfortably or two luxuriously.
3. Lightweight/ Packability: I was canoeing this trip so weight wasn't really an issue. That said, I packed smaller than I've ever packed before. I stuffed the fly, body and footprint into a compression sack and then put the poles in their normal bag. I think that that's the best way to do it. It was pretty tiny for a 3-man. However, weightwise, it's pretty good too. 6lbs 2 oz isn't that much to brag over but when you divide it amongst 3 people, it doesn't weigh much at all. I was also looking at the Marmot Areos 3p because of it being lighter but when divided by 3, it only subtracts around 4 ounces per person which isn't a big deal provided that you aren't a huge weight weenie.
4. Solid in wind: I set it up with 8 pegs in moderate winds and it stood like a statue. I was so surprised with how quiet it was to sleep in because of this: no blowing or anything. The second night I set it up with a guy-line into the wind above a vestibule just because and it wasn't really neccesary at all. As long as it is set up properly I don't see when that would be needed outside of the extremes. Also, no unwanted air movement inside.
5. Good overall design: vestibules are a good size, could be a bit bigger, but can still get everything under them with some strategic gear arranging. The fly never touched the tent-body. Ever. Good doors, good storage inside (love the side pockets), works perfectly fast-fly set-up. Just solid.
6. Good in rain: plain and simple. No leaks, no worries.
7. Ventilation: Ok. So some questioning hear. On the first night it was quite cold (below freezing) and there was condensation on the inside. Nothing to lose sleep over, but it was there. That night, since it was colder, I had the doors shut tight. The temperature did go below the dew point so maybe that had something to do with but it doesn't really matter. Second night, I unzipped the tops of the vestibule doors about 6 inches (double zipper vestibule is great) hoping for some high venting and that took care of the problem. The tent doesn't have any extra venting options but I think I can easily make do with the vestibule doors and a couple extra pegs. The ventilation also posed a problem because in the mornings it rose to 25ºC in a matter of a couple of hours. It got damn stuffy; especially being in a -9ºC down bag. But I opened up the vestibules and managed to go back to sleep for a couple of hours.
8. Guy-outs: there aren't enough guy-outs! There are only six on the whole tent. That said, maybe it doesn't really need anymore. Like I said, the walls weren't touching the fly, solid in wind, no problem with rain. But still, I'd like to have the option of at least a couple more on the sides below the MSR logo just so I could try to have some more venting and be overly confident that the fly will be secure in a side wind. I'm thinking that it might just be what I'm used to but it's worth thinking about.
9. Easy to set up: monkeys could practically do it. The only point of possible confusion is with the two silver poles going OVER the gold one but it's written in the instructions and once you've identified that, you'll never have to look back. There are a few tricks that can be learnt like but nothing that affects performance or will do more than shave off a minute or two in your set-up time.
So, I gave it a 4.5 because it's a great tent that I already believe to be very trustworthy. Now, it lost a point 5 for two reasons: not the lightest, not the best ventilating. I don't know if the weight factor is overly applicable but there are definitely lighter tents out there. As for the ventilation, I'd like some more options but I think a little creativity should take care of any arising problems. Overall, the tent performs very well and is very comfortable. The pros greatly out weigh the cons and the complaints aren't so great that they can't be accommodated for. I would definitely recommend this one to anyone.
Sleeps: 3
Ease of Setup: it's pretty easy.
Weight: 6ish

This tent is for someone who wants a good quality, light 3-person tent.
Cons
Fly deteriorates
Taped seams become brittle...leaking
I received the MSR Mutha Hubba approximately 6 years ago and it has served me very well. I always stored it correctly and never had an issue, but my last trip I noticed some leaking at the stich points. On closer examination the taped seam sealer had deteriorated and began to "crumble" off prematurely .
I have had other high end tents that never did this (especially at 6 years old) and I believe this is a factory defect.

MSR responded to me with this:
Thank you for contacting Cascade Designs, Inc. in regards to your MSR tent. As you likely know, modern tents are much lighter weight than the tents of years ago. Much of that weight savings is in the fabrics, and the tradeoff is the fabric's longevity. A tent that is used frequently and stored with care can exhibit the same properties as one that has been used infrequently. Although we use the best polyurethane waterproofing available, the waterproof layer will break down over time, becoming soft, sticky, and no longer waterproof. This usually happens after 6-7 years, and this age is what we consider the lifetime of the fly.

If your rain fly is orange, this an indication that it is old enough for this to happen (yellow and green flies are still covered under warranty). However, we do have new gray flies that will fit your tent the same way the older fly did. These replacement rain flies (as well as a new set of stuff sacks) are available through our repairs department for $120 shipped. If this is something that you are interested in, please respond with your shipping address & phone number and I will get your order started.

If your rain fly is yellow or green, feel free to send in your fly for warranty replacement. As the stuff sacks are made of the same nylon you may wish to send them as well if they are experiencing the same issue. Our repair system doesn't cooperate with foreign addresses, so you can send in your problematic gear without an RA# - just be sure to include your return shipping information, email address, and phone number on a note in the box. Our warranty facility is located in Seattle at the address shown below. Alternatively, you can send in your rain fly without an RA# - just be sure to include your address and phone number on a note in the package. One thing to note; the replacement fly is gray in color (similar to the current NX version).
I find it hard to believe that the life of a tent fly (normal consumer use) would be 6-7 years.
Source: gift

A very good and stable tent.
Pros
Roomy
Easy to set up
Dry and secure
Cons
Heavy
Could be roomier
A few more accessories would be nice.
Boy, are there a lot of tents to choose from these days. I needed a big, fairly lightweight tent for me and my two small boys. In a sea of fish to choose from, I chose this one.
After the initial set-up learning curve, I can set this tent up in a flash. In the dark or in the rain, the only thing slowing you down is how fast you can move. I bought the MSR footprint for this tent as well, I am told you don't need to use this all of time, but it weighs next to nothing and will help the longevity of your tent floor. Another good feature of the footprint is the ability to set the tent up with only the fly and footprint, works great in the non-buggy seasons.
For the weather that I have been exposed to in this tent, the provided guy outs are more than adequate. The fly gets super taut around the frame, which makes it stable and good looking as well. There have been no problems with weather getting in the tent.
Condensation, I believe will begin to be a problem as my tent mates get older. I actually like to set the tent up with one of the doors facing into the wind so I can crack a zipper and keep air moving through the tent. Without cross ventilation there can be some substantial condensation.
Having two doors is awesome, I will most likely never own a tent with one door. The vestibules are adequate enough. There are two giant gear pockets in the tent that do what they are supposed to, hold stuff. A gear loft
would be nice though.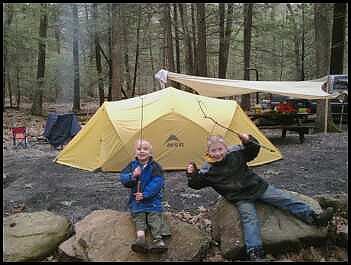 I will admit that there are no super bells or whistles for this tent. But, for the price, it does everything I need and expected it to do. Every year we spend more time inside the tent, and so far, has taken everything we have thrown its way.
Source: bought it new

They did such a great job on design, weight, and materials. But they missed a key point: ventilation.

Pros
Durable materials
Not bad weight
This is a tent. Like all tents, it works for the most part and is easy to set up after done once or twice.
I have owned several tents from REI to Kelty to Sierra Designs.  I bought this tent from a gear shop in AZ and it never occurred to me to ask about the vents at the moment. I went in and told the competent staff about the rock climbing trip my wife and I were taking with friends from Colorado. They helped us on all the points:  shoes for wife, a new harness for me, a few pieces of gear, and a spur of the moment new tent.
Our-2 person tent was tight, with the dog in a vestibule, and we wanted to bring him inside. They raved about the "hubba" series and the size of the "mutha hubba". The floor model did not have the fly or footprint on display unfortunately but they were so knowledgeable about all the other stuff I didn't think to ask every question.
Well, it turns out, 2 humans and a dog caused a tremendous amount of condensation. Add to the fact that Arizona summers in the mountains get rain and this seemed to worsen the "moisture" issues. Thankfully, the last few nights were the ones it rained, but it would have taken 2 days of sun to dry everything out. Mind you, the fly didn't leak, the condensation was the worst I have ever seen. Also, we couldn't open the fly zips or rain would have come in.
After about 2 years of usage: we love the tent on short trips with dry nights when it's just the two of us and the dog is in the vestibule (unfortunately). But is that what the tent was designed for? Hope not.
Source: bought it new
Price Paid: $250

My original Mutha Hubba rain fly turned to goo while in its storage container, so I returned it to MSR at their direction to be replaced. (They knew the original rain fly had a defective Syl Nylon coating.)
The replacement fly arrived and I tossed it in a new storage container where it lived for several months before it was packed for a two-week trip to southern Arizona. The first time I pitched the fly I started cussing a blue streak. The new fly did not have vents like the original. 
After I returned from the trip I contacted MSR, being somewhat cranky about the missing vents.  They told me they did not include the vents because they wanted to save weight and they didn't think the vents did much to help keep condensation down. 
Obviously, they had not spent much time in either iteration of the tent. I can assure them that the vents make a world of difference.  If you want to look at the additional weight of the vents as a percent of the total weight of the tent, I don't think anybody would notice.
I assume the real reason for not including vents in the new fly was to cut cost while charging the same for the tent. I spent months in the tent with vents and two weeks in the tent without vents and I can state with certitude that MSR turned a great tent into just another good tent. 
The woods are full of "good" tents.  If I was in the market for another four-man tent, I would buy a Big Agnes Copper Spur UL4.  Lighter and still has one of those incredibly heavy vents. I do own a Big Agnes Copper Spur UL1 and love the fact that it also has one of those heavy vents. 
Very disappointed in MSR.
Price Paid: Got it on sale

This is an excellent choice for two- to three-people hiking trips. The tent comfortably fits three average sized people, the twin vestibules will hold the gear, and the ventilation is adequate. Just be sure to use a footprint and guy out the fly on the sides of the tent.
Pros
Lighweight
Room for three and gear
Adequate ventilation
Cons
Not the most durable materials (lightweight material)
This is an excellent tent for small group hiking trips. It is lightweight, waterproof, and surprisingly durable for it being made out of fairly lightweight materials.
I really like that it actually fits three average to tall adults comfortably and you can easily fit three large packs and boots inside the vestibules. The ventilation is adequate and if you find any condensation forming you can always open the two small vents or crack the vestibules providing that the weather is not coming in sideways.
Setting up this tent is not that hard, but also not totally fool proof. The materials are that of a lightweight 3-season tent so you will want to use a proper footprint to keep the floor from leaking. I always use a footprint and haven't had any problems even when pitching it in snow, rock, and northern mud.
Source: bought it new
Price Paid: $400 on sale

Talk about luxury! If you are camping in the summer and can afford to carry the Mutha Hubba, you will be glad. For 2 it is VERY roomy and water tight(in my experience in Sept. Northern Maine Downpours). If rain is not expected though it is open to the stars and totally worth it. It sets up in no time, even in the dark. I am not an ultralight backpacker but appreciate light weight for canoe camping, which makes the Mutha Hubba - yea- perfect!
I thought this tent was awesome. very good quality, easy to set up and light weight. I love the color of it and it stands out amongst other tents. I tried it in rainy weather and this tent is SOLID in rain. It's spacious and no problem to fit three people in there.
A few concerns I had. We were three people in the tent and it actually got quite a bit condensation inside it on the fly. Also, it does not filter out the light that much, so forget about escaping to your tent for shadow. I exchanged this tent for MSR Fusion 2.
MSR has only high quality products. Check them out at www.cascadedesigns.com.
Design: three-season
Sleeps: 3
Ease of Setup: very easy
Weight: 6 pounds
Price Paid: $278

I love this tent. It's a fairly spacious 2 person/ tight for 3. I recently used it for a 2 week trip with my wife and 6 year old daughter and while a little snug we were comfortable.
Really solid in heavy rain and wind. Good ventilation with both vestibules partially or fully unzipped.
I'm looking forward to trying it with just the ground cover and fly.
Super easy to set up and break down. I am able to pack it down quite a bit smaller than the stuff sack.
Design: three season free standing modified tunnel
Sleeps: 3
Ease of Setup: easiest tent i have ever set up
Weight: 5.5 lbs
Price Paid: $209

Just got back from a trip to the Smokey Mountains and had this with me. This tent is light for its size, goes up fast, and is very sturdy. This tent has never let me down.
Price Paid: $375

Your Review
You May Like
Specs
Price
MSRP: $399.95
Historic Range: $231.39-$449.95
Reviewers Paid: $58.00-$400.00

Recently on Trailspace