MSR Needle Tent Stakes

The Needle Tent Stakes has been discontinued. It was replaced by the MSR Mini Groundhog Stake.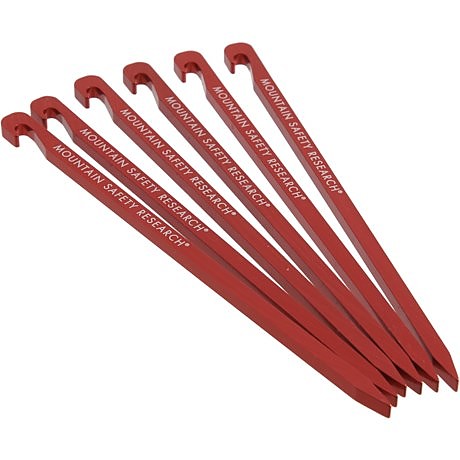 These stakes are the most versatile and durable I've come across, while also being lightweight and easy to pack. They don't easily bend, seem almost impossible to break, and can be pounded into the hardest substrates with a rock. I've been using the same 4 stakes for nearly 10,000 miles of thru-hiking, so at this point the only reason I'd switch to something else is if I lose them.
Pros
Strong and durable
Great holding power for their size
Effective in a variety of substrates from sand to rocky tundra
Easy to drive in with a foot or rock
Easy to pull by using tie-outs as leverage
No sharp edges that can cut into tie-outs or surrounding packed items.
Cons
No longer available from MSR, similar offerings are cheap knock-offs.
Not brightly colored, hard to see if dropped on the ground.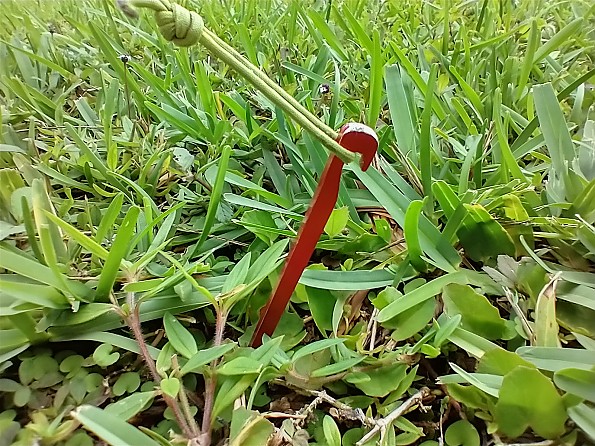 Why review a discontinued product?  It seems a little pointless to be reviewing my MSR Needle Stakes because they're no longer produced by MSR and not available as old-stock from any source online. I didn't know what a disappointment this was until I went in search of more of these stakes. I easily found some that appeared to be the same, but quickly discovered that they are significantly inferior...I bent one the first time I used it.
My hope is that if enough people review such tried-and-true products, describing their long-standing value, manufacturers like MSR might consider reproducing them. If nothing else, this review can at least steer readers away from inferior knock-offs.
Specs:
Weight per stake: 9.5 grams
Dimensions: 6 1/4" (16 cm) long & 3/16" (0.5 cm) thick
Material: 7000 series Aluminum
Design: a solid square shaft with a wedge tip, flat top, and hook. All edges are smoothed to prevent abrasion. Look for the 'MSR' logo stenciled into the alloy. Some appear to have had the logo painted on, which has subsequently worn away.
Colors: Silver or Red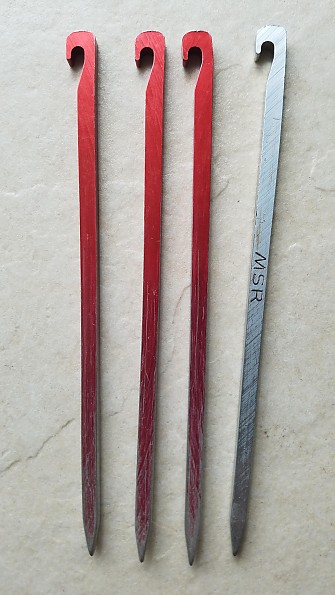 In an effort to honor some of my favorite pieces of gear over the years, I give a hearty shout out to an often overlooked accessory: a humble stake.
It's funny how "accidental" items can have such a lasting impact on my gear choices. These 4 adopted orphans joined me on my Te Araroa thru-hike, by way of a free hiker box. I had broken 2 of my carbon stakes in the first couple hundred miles and needed replacements. I assumed they must not be very good if another hiker had tossed them away. With low expectations and no prior knowledge of the design, I figured I'd at least give them a shot until I came across something better.
Four years later, these same 4 stakes have traveled from Canada to Mexico, twice (PCT/CDT), as well as across Arizona and Vermont. I mention all these places just to give readers an idea of the variety of substrate these stakes have encountered. Those particularly familiar with conditions in the southwest US will know of the cement-like ground common to the desert and Rocky Mountains. Which is to say that these stakes have handled some pretty extreme conditions and an extensive amount of (ab)use.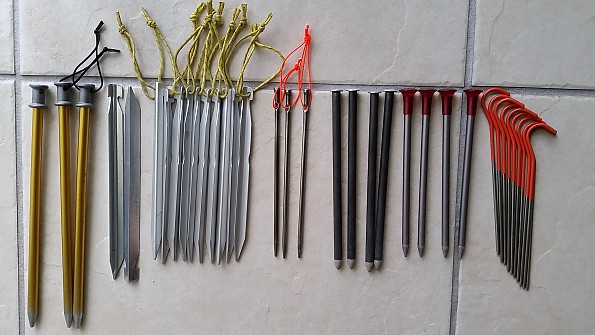 An overall review of stakes: Stakes most commonly find their way into a hiker's collection via the tent(s) they buy. For instance, angle stakes came with my Sierra Designs tents, while the ultralight titanium "Shepard's Hooks" came with my Zpacks Solplex.
In search of the most ultralight stakes, I also tried Vargo nail pegs, Vargo Ascent titanium angle stakes, and various carbon stakes like the MSR Carbon Core. All these have at least one thing I don't like about them and in the case of the carbon stakes, they just didn't work for me at all.
In my experience, carbon stakes snap in half very easily and the tips/ends are prone to falling off. In fairness to the MSR Carbon Core stakes, I only used them a few times before passing them on to another user, so I can't comment on their particular durability.
Here's what did and didn't work for me with these other stakes:
Shepherd Hook titanium stakes: These are my second favorite stakes behind the MSR Needle Stakes. They're pretty much the lightest stakes you can find at around 5 grams each. Because of their tiny diameter, they're very easy to drive into the ground and likewise, pretty easy to bend. They also don't hold all that well, especially in sand! On their own, they're limited in use, but when mixed with the needle stakes, they're great!
Angle stakes: These appear sturdy but can be hard to drive and easy to bend. These are the most common type of bent or broken stake I see in hiker boxes (also they're the most common in general). I tried both aluminum and titanium with similar results. They do hold fairly well but they're also relatively heavy.
Vargo Nail stakes: These are pretty good stakes in that they are very sturdy and easy to drive given the minimal diameter and flat top (can be pounded by a rock). They're also quite light but in following, expensive. The main thing I don't like about them is that they don't have a hook on the end, allowing for my tent tie-out loops to catch when the loop invariable slides up the shaft of the stake.
Having outlined why I don't like many of the other stakes, here's what I value about the MSR Needle Stakes:
Lightweight: While not the very lightest, they are comparable to most angle stakes. To reduce a little weight (and because I can't find any more of these stakes), I carry a combination of Shepherd Hooks and these. I use the MSR Needles for the structural points on my tent (front and back trekking pole stake-outs and 2 corners), while the Shepherd Hooks are sufficient for 2 corners and the head/foot space tie-outs. I've been using this exact combination of 8 stakes for years.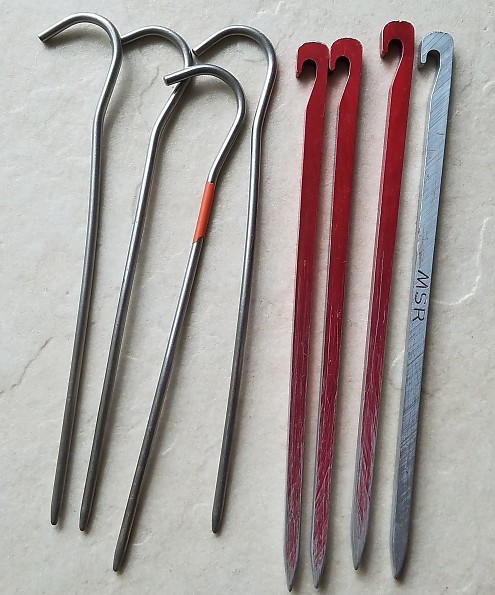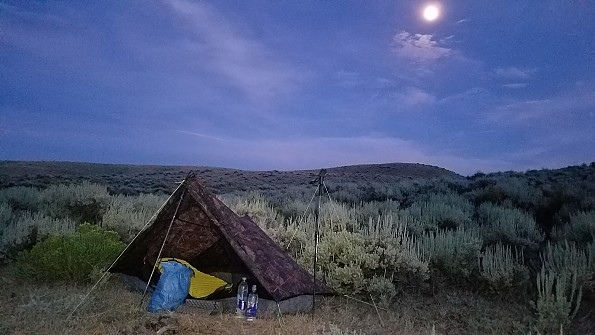 Holding Power: A tent stake is pretty worthless if it won't hold in the substrate. The MSR Needle Stakes strike a good balance between holding well and also being fairly easy to drive into stubborn substrate like rocky and cement/clay soils. I've used them in everything from sand to mud and rarely have I had one pull out. I get maximum effect by making sure to drive the stake all the way to the head and at an angle.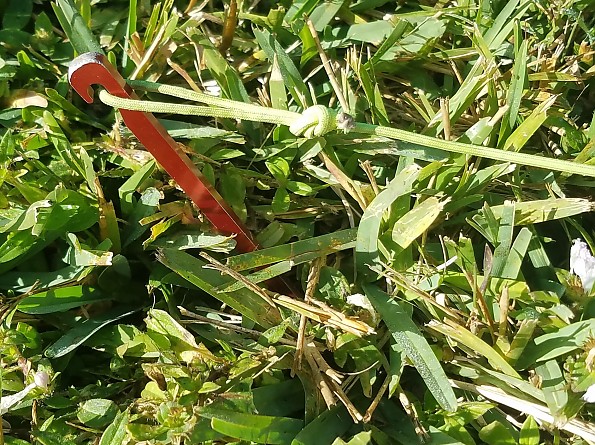 Easy to Drive: The flat head allows these stakes to be driven by a rock, if needed, but most usually by the bottom of my shoe. Mine have suffered some damage over the years, but considering the forces from frequent rock blows, it's amazing that they are still perfectly functional. The aluminum alloy used for these stakes is tough!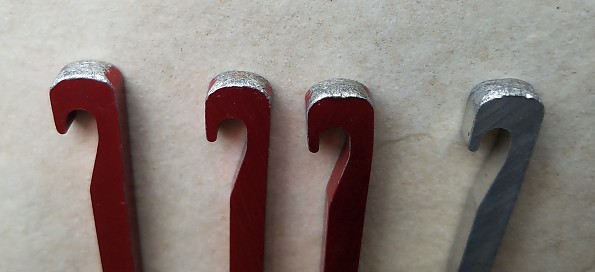 Durability: As I just mentioned, these are incredibly resilient stakes. A few are slightly bent from side to side, but this hasn't affected their performance. They're also pretty scuffed up, but who cares, they're stakes.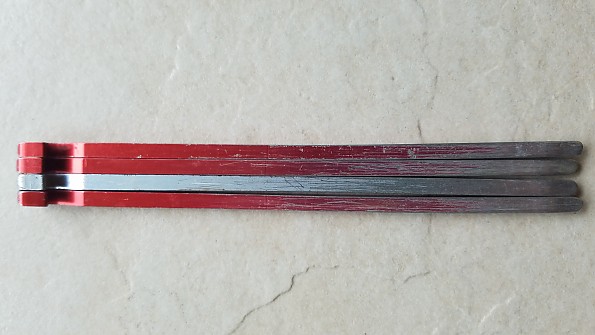 Functional Design: Something about the shape of the stakes just works. The wedge at the bottom helps in driving them into the ground, the square shaft seems sturdier and with better holding power than a round shaft, and the hooked head works perfectly to keep a tie-out from sliding off. The stake can efficiently be yanked by using the tie-out as a pulling lever.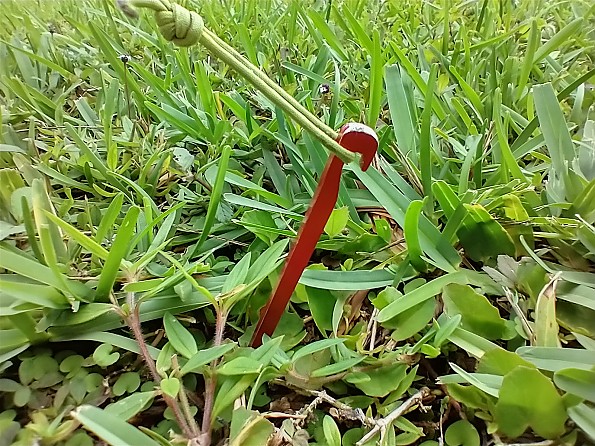 Beware of inferior knock-offs: I was really hoping to find a replacement for these stakes but have come up short. I bought an inexpensive set of 10 online with the brand name "Paria". Not only did one bend significantly the first time I used them, there are differences in the thickness of each stake, which tells me there's not too good of quality control (see picture below). They're definitely less beefy than the MSR Needle Stakes, especially around the head. I'm disappointed in these and do not find them to be a sufficient replacement.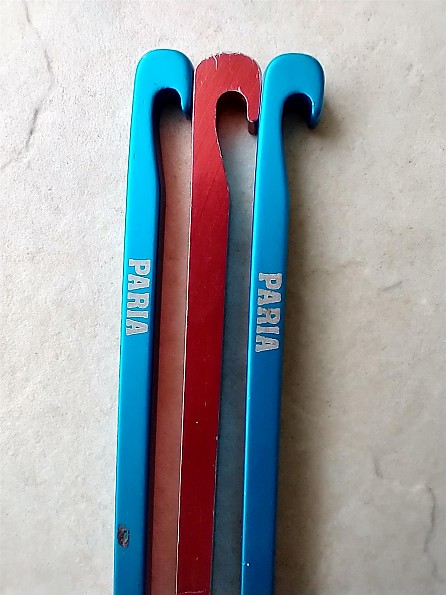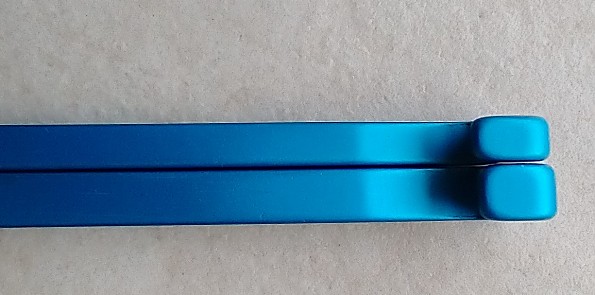 In Summary, I will continue using the MSR Needle Stakes as my primary and most versatile option, hoping I don't lose one along the way. The Appalachian Trail, summer 2021, will by my final trail of the Triple Crown. My MSR Needle Stakes will hopefully become Triple Crowners (plus more) along with me, and that's a lot of miles for a humble aluminum stake!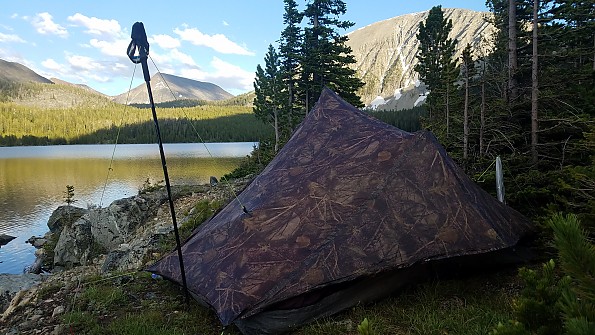 If you find these stakes somewhere, GET THEM. Then go tell me where you found them so I can get more too! And if you have any you want to get rid of for some reason, I'll gladly take them.
Source: found in a free hiker box

These stakes are very lightweight and durable and hold extremely well. I would think it is because of the fact that they are square not round so there's more resistance against the ground than a round one.
I have a Eureka Spitfire 1 and it holds it up beautifully. The ground that I have put them in was rocky and I did not bend them while knocking them in with a rock. These are very good stakes and I would buy more of them and I would recommend them to a friend.
Design: Needle Stakes
Weight: 1/2 oz Each
Price Paid: $1.50 each

Your Review
You May Like
While the MSR Needle Tent Stakes are no longer sold separately as an accessory, they are packaged with lightweight MSR tents. The closest accessory stake to the Needle is the Mini Groundhog.
Specs
Price
MSRP: $19.95
Historic Range: $0.99-$19.95
Reviewers Paid: $1.50