MSR Revo Explore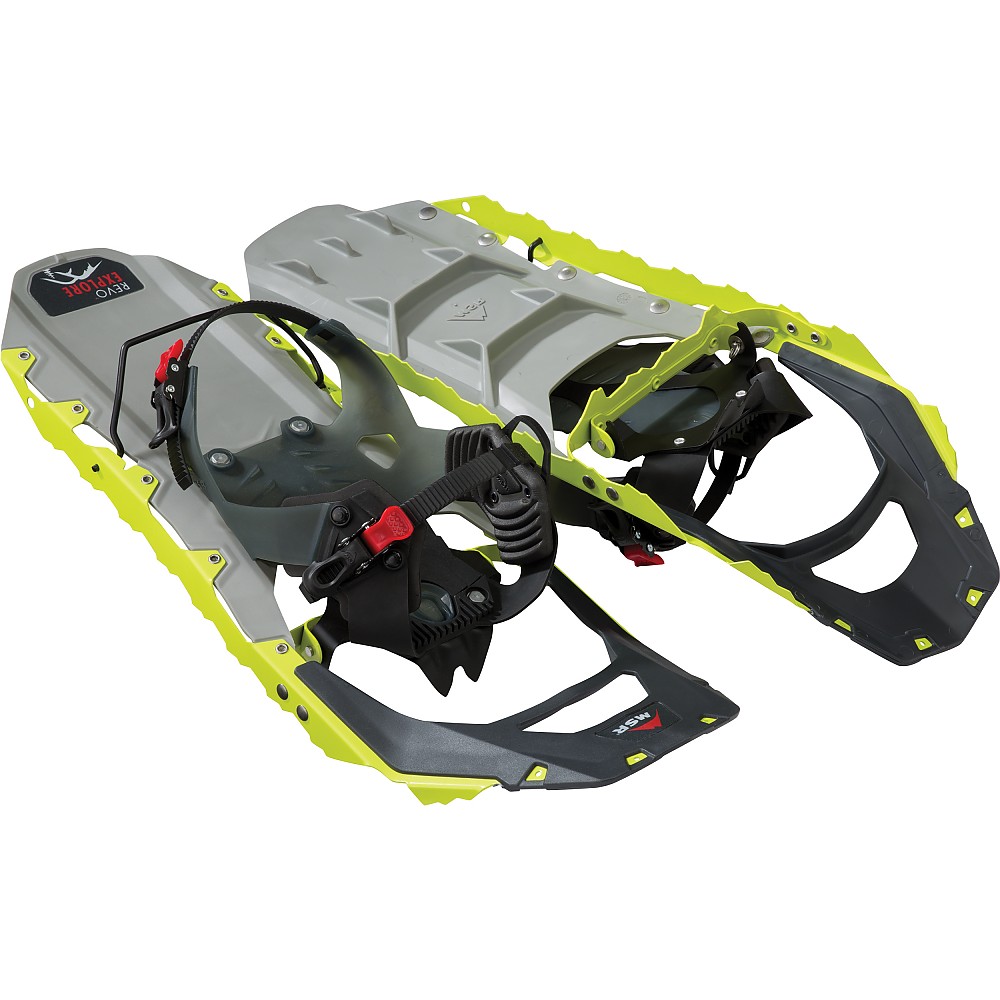 Version reviewed: 25-inch
Great snowshoe with unique binding system for easy in/out use. Metal frame provides great traction.
Pros
Binding system
Traction built into frame
Expandable floation tails
Cons
Older unints come with smaller bindings
The Revo Explore snowshoe offers a unique binding system for an easy way to put your snowshoes on and off.  The frame of the snowshoe offers great traction when hiking in icy or packed snow terrain and along traverses.  Revo Explore snowshoes are designed to provide all day comfort when tackling rolling and backcountry terrain.
This is my first pair of snowshoes, and I received them as a birthday gift this past December. The pair that I have are 25 inches, which are able to support my weight. I've carried a large pack which added more weight than what is recommended, but I haven't had an issue with flotation. However, the snow this year has not been real deep or powdery, so I am sure eventually I will need to use the modular tails to provide extra flotation.
The biggest complain people seem to have when reviewing these snowshoes are the binding system. People either love them, or loathe them. Since I had only used a pair of snowshoes one time before acquiring this pair, I hadn't formed an opinion about a preferred binding system. Wearing these several times now I have not had any issues with the binding system.
Other online reviews complain about pressure on the toes, due to a small instep strap. My pair included a six-inch instep strap, and an eight-inch heel strap. I did find that the 6-inch strap would be too small and might cause discomfort when tightening them across my boots.
One call to MSR Customer Service, and new straps were on their way free of charge. Originally I was told I would be receiving just one pair of larger straps, but when the package arrived it included a pair of eight-inch straps and a pair of ten-inch straps. From what I have read online from other reviews is that newer units now ship with an extra pair of 10 inch straps to correct this issue. 
The binding system has so far been enjoyable to use. Once you set the heel strap you no longer have to adjust the strap. The instep strap is the only one you would need to lock/unlock to get in/out of your snowshoe. There is a silver lever that you pull to tighten the strap, and two red buttons on either side that are used to fine tune the grip to loosen the grip. To fully remove the strap press both red buttons and pull on the strap. In the four times I have gone snowshoeing with friends I have been the first one to get into and out of my snowshoes. 
The deck is made of hard plastic and molded onto the metal frame. For the REVO series of snowshoes the metal frame has built in traction. It is not a 360 degree frame similar to the Lightning series. I have hiked on some ice patches and packed snow and the traction has been a blessing.  My friend was wearing a pair of Evo trail snowshoes and complained that she would slide a bit when on ice (not much, but enough to be mindful about).
Normally I tend to hibernate during the winter months and pine for spring, but this season I decided to embrace winter and start snowshoeing. The Revo Explore snowshoes fit my usage right now. I have used them in fresh powder in local parks, on both flat and rolling terrain. They have been used on trails  that have been packed down and icy. 
I originally wanted a snowshoe that would be perfect to use on trails near my home, but can also be used when I go hike in the Adirondack mountains. Since this is my first season snowshoeing my skill set is not good enough to tackle the mountainous backcountry of the Adirondack wilderness. Once  I have taken them out on mountains, my opinion/review of these snowshoes might change.
Source: received it as a personal gift

This snowshoe seems to be a budget-minded option compared to MSR's more technical offerings, which are more complicated to use and also pricier. It's a modern snowshoe designed for trail use due to the size offered (22 and 25 inches, which is small), although flotation tails are offered (more on that later).
Pros
Hyperlink bindings
Performance on ice and crust
Heel lifts
Price
Cons
Hyperlink bindings
Small size for men
Performance in deep snow (to be expected)
I bought these because they were on clearance and I needed a trail snowshoe that could handle packed conditions (i.e. narrow trenches left by previous hikers), ice and crust. I have multiple other pairs of snowshoes (traditional and modern alike) and I clock in about 300-400 kilometers a year in mountainous terrain on single day outings. I would put myself between Intermediate and Advanced. I carry a day pack for me and my spouse and am approximately 220 pounds with gear.
Ease of Use: The Hyperlink bindings are easy to use, although you do have to fine tune your setup before going out, more so than with traditional three buckles setup, since the instep buckle is really crucial to performance and comfort. The snowshoes are also very easy to walk in due to the narrow deck and short length.
Features: The heel lifts on these are very, very good for an entry-level product. They are also ergonomic and will not put too much strain on the front or arch of the foot. The rest of the features are pretty much standard, although I do have to say that it is a very aggressive and reliable snowshoe grip wise.
I have bought the flotation tails and do not find them to be a good addition since they have a tendency to fall off and do not feel secure to me.
Construction and Durability: Great construction and durability. I would take these on a 15 km day trip without any spare parts.
Conditions: I have used them on packed flat trails, icy inclines, and deep snow. They excel in the first two conditions but are absolutely miserable in anything deeper than a 5-6 inches of fresh snow due to poor flotation and snow buildup on the decks.
This is due to my size and the relative size of the shoe. With my gear and my bodyweight, I would need a 30-inch shoe minimum to venture outside of trails and this option doesn't exist for these, which is a pity, but if you are smaller and do not carry a pack, maybe you could swing these in deeper and fluffier snow.
As I said, I really dislike the flotation tails so I just do not carry these if I know I'm going off trail or there was a good amount of snow recently. This is fine for me because I have other shoes and it would be fine for someone who will never venture off the beaten path, but if you're looking for a single snowshoe to cover all your bases, you might be better serve to pick a pair that can accommodate powder conditions and still perform well on groomed trails.
Another negative is that the bindings do not play well with bulky boots and can cause hotspots. I know that on my first outing, I had the bindings correctly set up per the instructions, but the bindings couldn't be adjusted to be slacker due to my boot choice, which caused a hotspot and a friction wound on both of my little toes.
I would suggest trying them out for a few miles on easy terrain before venturing too far out and then finding out the hard way that your boots don't play nice with them. I know MSR now includes longer binding straps, but I just changed boots and fine tuned the bindings they are now fine.  
Source: bought it new
Price Paid: $120 (CAN)

Snowshoe deck failed at front where it goes up. Both snowshoes fractured or cracked at that location. Snowshoes are a little wide.
Pros
Front goes up steep for steep hills
Cons
Weak structural transition from flat to frame angling up
I used my snowshoes for four years and after my second hike this year with the shoes I noticed both were fractured at a critical area.
I don't know how long it has been but MSR could not send new decks and if they did it would cost me $100. Warranty is 3 years; I used them 3.5 years.
Source: bought it new
Price Paid: $239

Your Review
Where to Buy
Help support this site by making your next gear purchase through one of the links above. Click a link, buy what you need, and the seller will contribute a portion of the purchase price to support Trailspace's independent gear reviews.
You May Like
Specs
Men's
Price
MSRP: $249.95
Current Retail: $269.95
Historic Range: $129.95-$269.95
Reviewers Paid: $239.00

Women's
Price
MSRP: $249.95
Current Retail: $269.95
Historic Range: $139.97-$269.95