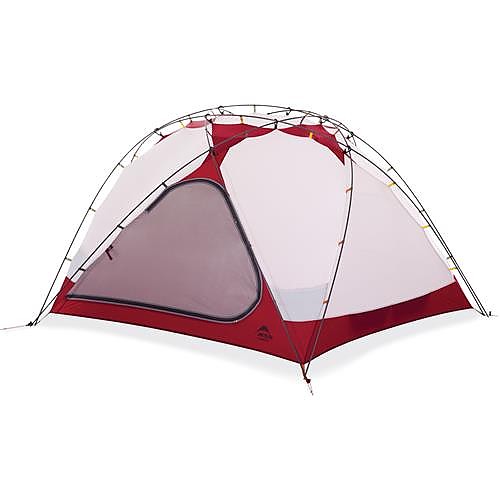 Specs
Price
MSRP: $999.95
Historic Range: $624.73-$1,499.95
Reviewers Paid: $600.00-$700.00

Reviews
4

reviews

5-star:

2

4-star:

1

3-star:

0

2-star:

0

1-star:

1
Excellent 4-season tent that is bomb proof shelter for 3-5 people. Also good summer tent with use of MSR Vista Wing or similar tarp.
Pros
1. Incredibly strong
2. Very resistant to bad weather
3. Very waterproof
4. Roomy 64 sq ft symmetrical shape
5. Nice vestibule
6. Comes with several mesh pockets and gear loft
Cons
1. Vestibule guyout interferes with egress
2. Getting poles into sleeves tough in bad weather
3. Too heavy for backpacking moderate to long distances
Like the other users I give it big kudos for strength. It is also a great summer tent when used with an MSR Vista Wing or similar tarp.  The reason is it is really what is known as a convertible 4-season tent due to the windows that zip open to reveal the no-seem mesh for flow through ventilation. 
This tent is big enough to hold cots in the summer format I just mentioned as well as in the winter format and makes a great tent for two adults and gear.
I have the pre-2008 (non orange version) and like the incredible strength of the 5 equal poles in the full pole sleeves under tension. The newest version features pole clips vs sleeves so there is a slight reduction in strength for much faster and easier setup. Probably a good idea as it can be a pain to set up the older versions in high wind.
The only reason no 5 stars is the vestibule is a little difficult to be into with the guyout line in place right over the door. 
Source: bought via a "pro deal"
Price Paid: $650

Beware of 'Unplanned Obsolescence'. Consider alternatives to PU-coated mountain tents. Flysheet horror show.
Cons
Limited life
Terrible warranty
Discriminatory Customer Care?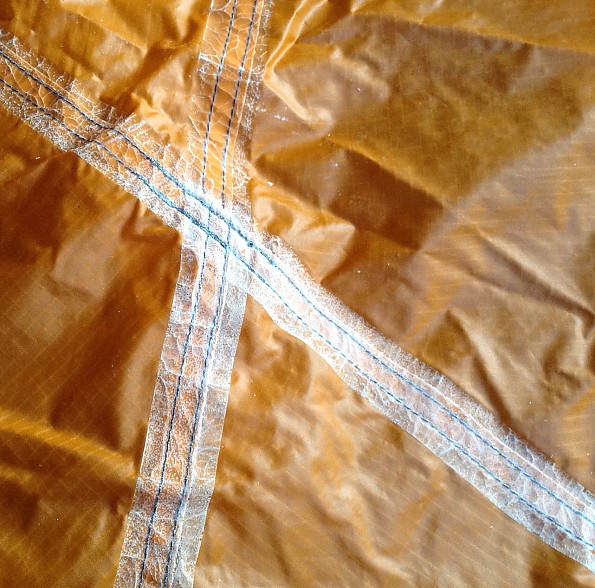 We loved our Stormking tent when we used it for a week on the Isle of Arran. When we took it out of storage this week, for a winter camp in the Cuillin, we were shocked to find that the flysheet had deteriorated: the seam-tape was crumbling off and the PU coating was sticking to our hands. We contacted MSR, who told us to go away and chemically remove the PU and reseal the seams ourselves! So much for standing behind what they produce.
We feel like fools. Never again will we use a product from Cascade or MSR. The world is too full of companies that walk away from their responsibilities. The money we all give in exchange for these products does its job, so why is it that their products are allowed to let us down (and the earth) simply because the market (and the company) has 'moved on'?
MSR should have tried to replace the flysheet—the rest of the tent is still in perfect condition! There was a bad batch of PU-coated fabric, which they were forced to deal with when loads of Hubba tents' flysheets deteriorated, and our tent is from the same time, which they know.
We always keep our tents and sleeping bags inside the house, in mesh storage bags. Correct care of our gear is something we picked up from sites like Trailspace years ago. But you can care for your gear all you want—it is the companies like MSR who fail to care about their gear that matters when it comes down to it.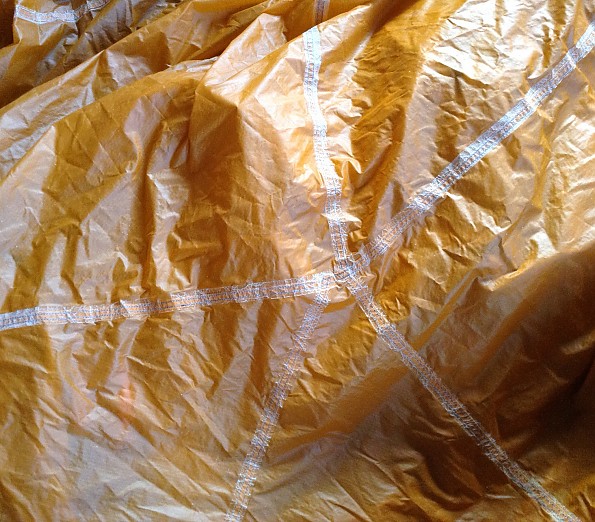 Update:
It seems I was wrong about MSR standing behind their products regarding this tent. I refer the reader to an eBay sale (not linkable here, unfortunately) from a few months ago, where a person (a man named Tim, apparently) sold his *replacement* Storm King, sent to him by MSR in place of his original tent of the same batch as ours. Whilst I do not know exactly what was wrong with his original tent, in the sale description of the replacement he states that the purchased tent was from at least 2006 (3 years older than ours!) and that it had the 'dreaded sticky flysheet problem', and that MSR responded with 'no quibbles'.
Therefore it would seem that in some cases, MSR do admit their fault. What was special about this man and different from me is anyone's guess, but it was obviously a difference that made a difference, to his advantage. I will post a screen capture of the relevant description and I have saved the entire link if anyone wants it.
Source: bought it new
Price Paid: GBP600 approx.

I bought this tent around 8 years ago when it was owned and manufactured by Moss Tents. The one noticeable difference is our tent has wonderful windows all around it and a skylight, all of which can zip close.
My kids for the last 7 years have slept in this tent from May through October here in the wet NW. It's a wonderful, solid, tent. Not the easiest to put up because of the long pole sleeves but truly bomb proof. Ours is finally wearing out after approximately 1050 days of use.
Price Paid: $700+

We love this product! It is easy to setup and take down. The venting works great. It is warm and roomy. Fits my wife, two kids and I on our therm-a-rest pads, with room to spare if some gear needs to be brought in. Solid, high quality construction. When cinched down and the guylines set, the true genius of its design is revealed. It becomes incredibly rigid. We have not seen its performance in high winds or snow but standard mountain wind and rain did not give us pause or concern.
We were unsure about it when we first bought it (due to the lack of reviews to be found), but after several practice setups in the yard we were eager to go camping. Upon multiple use our excitement has not diminished.
For its size, I would say that this is a light tent. Decent space in the vestibule. Packs were stored, yet room for entry and exit remained. I had to buy 17 extra groundhog stakes and 100' of Kelty Triptease to fully guy out the fly. MSR only provides 8 stakes for perimeter staking and five guylines for basic guyouts. I am not happy about the extra cost, but we got the tent for a great price and the extra weight of the additional line and stakes are not noticeable. For a backpacking family of four, the weight and size of this tent is perfect. I could not find a better all season 4-5 person tent that could be taken in our packs. It still consumes a lot of my pack but is not impossible to make work. Just takes some clever packing.
Warm, strong, roomy, quality.
Capacity: 4 - 5 People
Floor + Vestibule Area: 64 + 20 sq. ft./5.9 + 1.8 sq. m
Interior Peak Height: 64 in./160 cm
Minimum Weight: 14 lbs. 2 oz./6.4 kg
Packaged Weight: 15 lbs. 3 oz./6.9 kg
Design: Four-season freestanding dome
Sleeps: 5
Ease of Setup: Easy
Weight: 15 lbs 3 oz
Price Paid: $600

You May Like
Recently on Trailspace