MSR Hubba

The Hubba has been discontinued. It was replaced by the MSR Hubba Hubba 1P.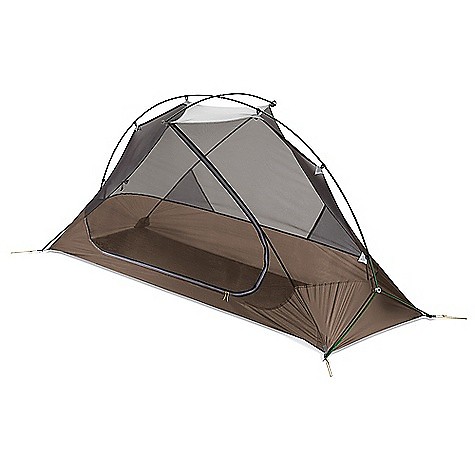 Solid three-season tent packs light and compact. Well designed to ventilate well and protect from rain. Easy setup, more challenging to take down.
Pros
Light and packs small
Easy setup
Good ventilation options
Big door
Cons
Sometimes challenging to take down
Small vesibule with limited protection
Tent body exposed at ends
With the updated Hubba NX out for 2014 there may be some deals to be found on the old model.  I picked mine up on sale last year to lighten my load for steeper climbs.  On the whole I have been happy with the purchase despite a few issues I have with the design.
I found this tent very easy to set up.  The hub pole design was easy to assemble and easy to affix to the tent.  Once the poles were in place the tent body attached easily via snap hooks.  The fly attaches to a center cross bar as well as all four corners.  Once I was familiar with the setup I could put the tent up in just a few minutes.  I have set it up in the rain without getting any water inside the tent so it is perfect for quick shelter.
The Hubba has four stake out points at the corners, a guy out point at either end and one on the side opposite the door for lateral stability.  I rarely use the stakes unless I'm expecting rain.  The pole design creates a stable platform to hang the tent body from and I often use it without the fly as a bug house.  Fully staked and guyed out the Hubba was reasonably stable in gusting winds.  There was no noisy flapping or need for adjustments during the night.
I have used this tent many times in the rain and had no issues with water getting into the living space.  The longest period was for about 11 hours of steady rain with no water coming through the floor or fly.  The vestibule area is another matter.  It seems to be designed to allow air flow underneath which leaves too much space in my opinion.  In wet weather I used the vestibule as storage for things that were already wet or would not be harmed by getting wet only.
Ventilation seems to have been a priority in the design starting with the vestibule.  As mentioned it allows air to flow underneath even if closed, but there is also a double zipper allowing for partial closure with a top vent.  The vestibule sides also have several velcro attachment points so you can easily adjust the airflow as desired.  On the opposite side of the tent there is a guy out point at the bottom of the fly which can be staked out to create an open space for air flow.
Very little room in this tent for gear.  I can fit my Osprey pack inside but I am 5-7.  Best to plan for outside storage if you pack a lot with you.  As for packing the tent is easy for me to fit into the sleeping bag compartment of my pack once the poles are removed.  I carry the poles in a side pocket as they come in at less than 20" disassembled.
The other drawbacks I've found with this tent are that it can be challenging to take down at times, especially getting the fly removed from the center cross bar. The design really holds taut in wind, but I'm concerned about the stress put on the materials trying to pry it apart.
It also seems to me that the fly design doesn't adequately protect the head and foot of the tent. As mentioned I had no water leaking in but the outside of the tent body received a lot of mud splash that made for a mess when packing up after a night in the rain.
All in all a tent I can recommend especially if it can be found for a bargain with the new model out. There are lighter options for a price, but so far the Hubba seems quite durable.  I expect it to be my LT shelter come the fall and hopefully beyond.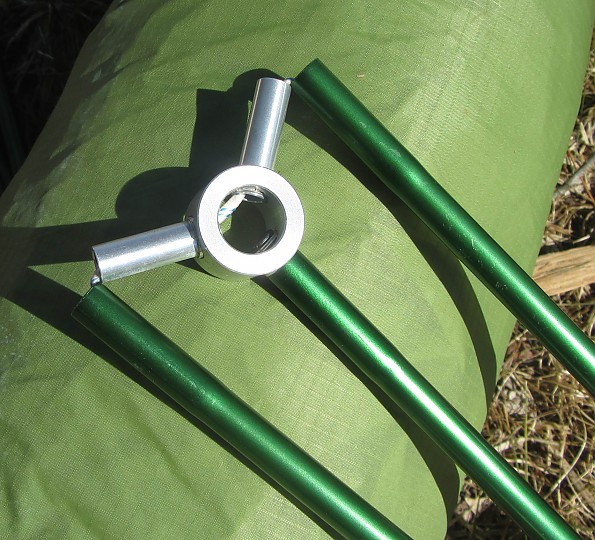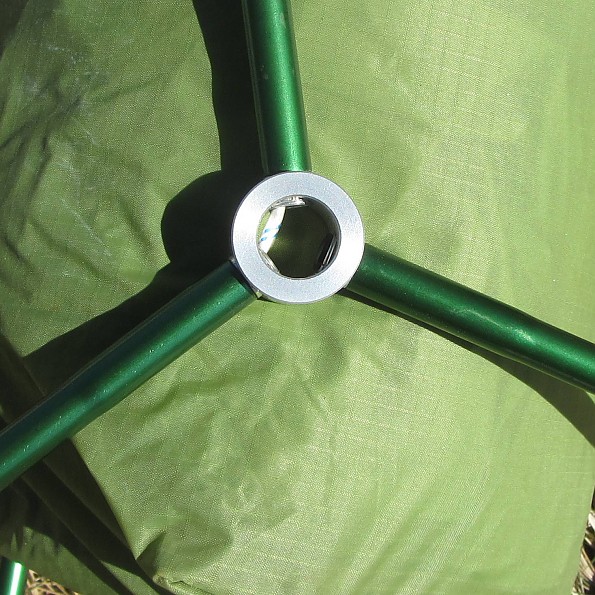 Hub pole design unassembled on left, assembled on right.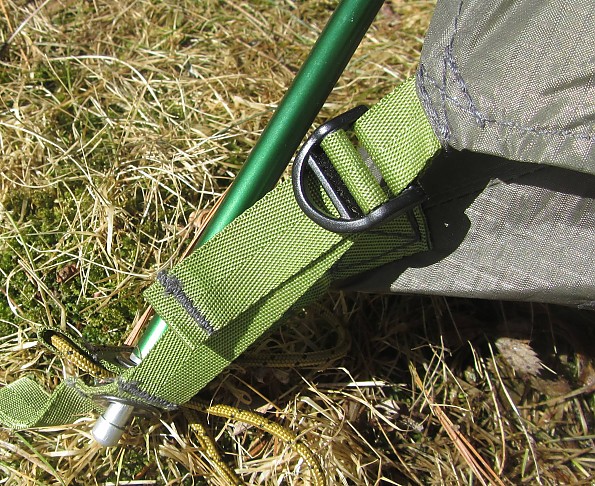 Buckle and strap adjustment on the fly for taut pitch.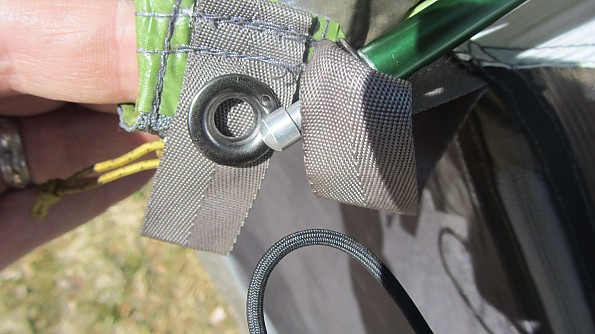 The body and fly attach on either side of the top cross bar in a way that will not come apart by accident.  Unfortunately it is quite hard to get the fly apart even on purpose due to the tension.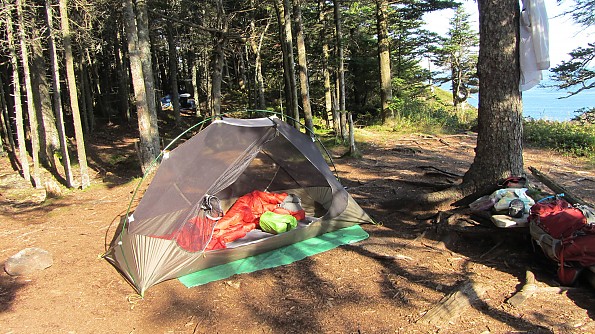 View of tent without fly shows how high the solid wall goes and the open air bug house application.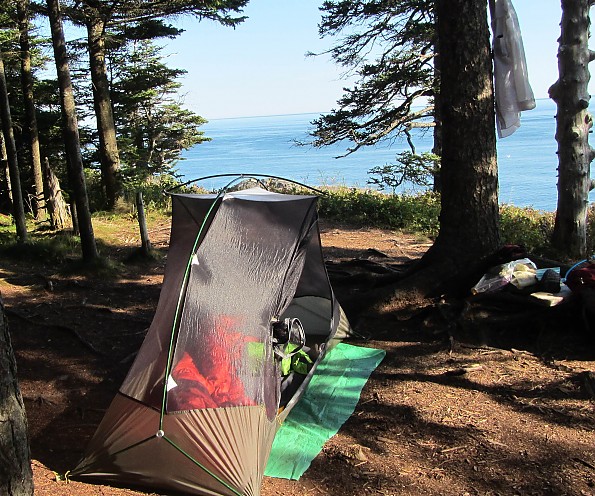 This view gives a good look at the hub pole in action.  Well and an amazing view out into the Gulf of Maine, but we are supposed to be looking at the tent.
Floor 26" x 86" rectangle 17 sq ft
Height 40" at peak
Vestibule 9 sq ft
Min weight 2 lb 13 oz (fly, body, pole)
Materials:
One DAC pole
Fly: 40-denier ripstop nylon with 1500mm Durashield polyurethane and silicone coating
Canopy: 40-denier nylon ripstop canopy
Walls: 20-denier nylon no-see-um mesh
Floor: 40-denier ripstop nylon with 3000mm Durashield polyurethane and DWR coating
Source: bought it new
Price Paid: $225 (On Sale)

Great solo tent at a decent weight. Nice ventilation and spacious vestibule make it cozy and livable for one.
Pros
Spacious
Taut pitch
Easy setup
Versatile
Nice vestibule
Cons
Expensive
Heavier than other solo tents
No short-side guyouts at the seam
This tent is easy to pitch if you stake down the corners of the body first, otherwise the poles fling the thing around. Getting the brow pole in the grommets on the top can be difficult because of the tightness, but makes for a very taut roof. The Hubba pitches taut when staked out even without guylines, but they would help in high winds as usual.
I've used it in cold and cool weather in Oklahoma and Texas over the past year and it's been great, with no condensation. Blocks wind, yet vents well. I've been blessed with no wet weather, but I need to take it out in a storm to really test it's weather worthiness. I do wish the seams on the short ends of the fly had guyouts to pull the fly away from the tent body to increase ventilation, but the tent vents well without it.
For a solo tent, this one is cozy but adequate for one. At 5'8", the length is great, allowing for a full body stretch with room at the head for nighttime essentials. The peak height allows a full sit-up, and shoulder room - created by the brow pole - keeps the mesh away.
The vestibule fits a large pack very well with room for boots, and the two mesh pockets are great for a headlamp and glasses. The vestibule also lets you stake it to open either direction to block wind for cooking and ventilation.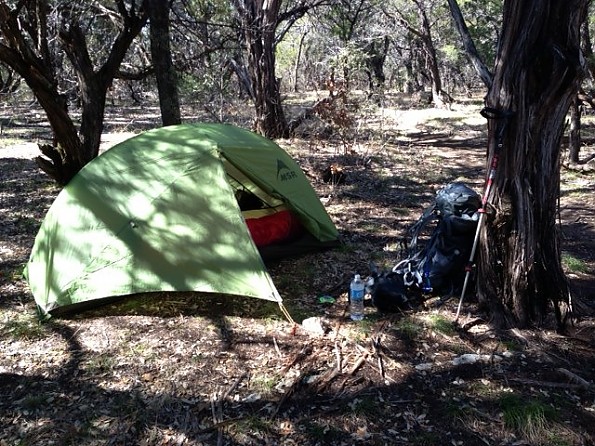 The Hubba packs down pretty small. Body/fly separate from the poles/stakes and the tent fits under the compression straps in my water bottles pockets.
Typically, I wouldn't use the fast-pitch option, but I pitched the fly without the footprint, and it worked as a great sun shelter at the lake last summer! Just put the fly upside-down and setup the structure, flex the poles so the fly is right-side up, and voila!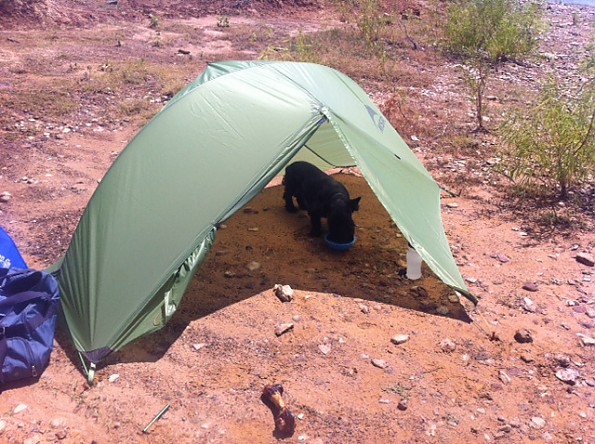 Not as light as other solo/ultralight duo tents, but it's worth it to me for full rain and bug protection. Overall a great solo tent that I hope lasts me many years! Will update when I take it head-on into a storm.
*I am the store manager at Whole Earth Provision Co. in Southlake, TX. My views do not necessarily represent the views of Whole Earth Provision Co. or its employees. I pride myself in providing unbiased reviews of products I purchase for my personal use. If you're ever in the area, pay me a visit!
Source: bought via a "pro deal"
Price Paid: $146

Pros
Fast to pitch
Good bug protection as long as you don't touch the sides
Cons
Break down of outer material and waterproofing degradation
Could be lighter considering the cost
This has been a really good tent for me so far. Mainly using it in Australia with just the inner pitched more as a mozzie dome than anything else.
The build quality is good with good quality pegs and poles. I have never used this tent in heavy rain and wind so can't vouch for its suitability for NZ.
I have had mine for around four years but took it out of its bag today to check on it and unfortunately the outer has gone all tacky and the seam sealing is peeling off.
Pretty disappointing considering I have looked after the tent. Always dried it out properly before packing it up etc.
This is not a cheapie tent and cost good money. Because of the breakdown of the outer I would not trust it in wet weather conditions and will only use it as a mozzy dome in dry warm conditions.
My MacPac Minaret is over ten years old and has lasted better.
Source: bought it new
Price Paid: $400

i have used this tent on a few occasions and have had great results. the tent is freestanding which is a plus.
my biggest fear is how it would set up in the rain but i had no problems with leaks and found i was able to stay dry and cozy through out. no condensation either.
my only concern is that the hooks on the stakes are a little small but overall the design of the stakes are great which sorta makes up for it.
set up is a snap thanks to having only one pole for the whole tent. does fine in 15 mile an hour wind. haven't taken wind speeds higher than that so far.
the tent has a ton of head room for sitting up. im able to change clothes with ease. as far as space goes lying down it is very long. my feet and head were not touching the ends, but dont expect to spread out. which is sorta expected in a 1 person tent.
i've gotten my weight down to around 3 pounds, which i think is very good, not sure how some people are getting 3 pounds 11 ounces.
overall it's a great tent with a great design. i expect this to last me quite a while. i would definitely recommend this to a friend.
Design: three season free standing
Sleeps: 1
Ease of Setup: yes very easy to set up
Weight: 3 pounds
Price Paid: $250

Have you been sucked into the 'light-weight kit is the only way forward' zeitgeist yet? If so then you've probably already thought about buying this tent or already own it. I do a lot of fell walking in the English Lakes and the odd spot of wild camping too and this tent is an essential bit of kit.
It's my third, and by far the best, single man, light-weight tent I've owned. At around 1.4kg (there is a carbon fibre pole version available) there are lighter, single skin tents out there but who wants to wake up damp with condensation each morning? It has a single pole and can be pitched fly sheet only. The inner tent is extremely well vented being made up largely of mesh panels.
It's an easy tent to throw up in a matter of minutes and is supplied with nice, light MSR pegs – I've added to mine with the addition of a few titanium ones too. The porch allows sufficient space to store your pack, boots etc and there's enough room to sit in the tent and cook in it at a push. There's plenty of room inside – both length and height, you can easily sit up in it.
I was wild camping a few weeks back on the South West Coastal path in Devon and was woken at 2am with gale force winds and torrential rain. The little MSR stayed solid on a wet, wind swept cliff top although the porch did flap a little.
There several nice touches including guy-line type zippers rather than metal ones which would tinkle annoyingly in a breeze. There are a couple of side pockets inside too, ideal for storing a watch or small torch. I would recommend that you also buy the footprint too.
Design: MSR
Sleeps: 1
Ease of Setup: Easy peasy
Weight: 1.4kg
Price Paid: £160

My tent lasted for over 10,000 backpacking miles. It experienced snow, ice, driving rain, and hot desert sun. The size I think was perfect. I could even put my backpack at my feet. Super easy to set up and take down. If wet it will dry off quickly in the sun and the breeze. Folded up nicely.

I would highly recommend this for any serious lightweight backpacker. I like this over a lightweight trap because I feel more comfortable being able to seal the tent at night and not worry about invading insects or curious critters.
Pros
Always stayed dry
Fabic never tore
Large door
Quick setup
Cons
Don't like the yellow color
I thru hiked the Continental Divide Trail and the Eastern Continental Trail and love this tent!
Also hiked some sections going from NYC to Ohio, and crossed Oregon into Idaho. So, this tent has 10,000 miles on it and served me well.
Since purchasing the tent in 2010 I repaired two broken poles using a small wooden doll rod. Just this year the zipper lost its zip. But I still used it recently on a local hike.
I love it so much I just received my new MSR Hubba NX in the mail today for the next journeys. A little sad to retire the old one.
Source: bought it new
Price Paid: $349

You can set this tent up three different ways: screen tent with rainfly, rainfly and footprint only, or just the rainfly. Totally adaptable to the weather.
Cons
After 3 years I haven't found a con yet
Easy one-sectioned pole setup, nice tall bathtub bottom. It took on a flash flood storm and stayed dry inside (very impressed).
This tent is no longer available. It has been upgraded to the Hubba NX, which is lighter. If mine ever wears out I will buy an NX.
Source: bought it new
Price Paid: $325

This tent is durable and performs great in wet conditions. The vestibules are kind of small, but very easy to open and close.
Pros
Waterproof
Lightweight
Durable
Cons
Small vestibules
Ventilation
I have had this tent for five years now and I love it. It's lightweight. Easy to set up (I agree with the previous post, can be done drunk in the dark). It hasn't shown any signs of wear yet. It keeps rain out well. The zippers perform well. Even the shock cord for the poles is as good as the first day out of the box. 
The rain fly can be pitched first. Never thought that would be useful till I had to set it up in a heavy downpour.  I was able to keep the tent itself dry.
The only cons are the small vestibules and lack of ventilation when they are closed. In humid weather I usually keep them open because it gets stuffy in there. In cooler weather with them closed you will see a little condensation. I found that tying off the tabs at the head and foot of the rainfly to pull it open a bit will increase the ventilation but only a little.
Overall the durability, weight, and ease of setup outweigh the cons for me.
Source: bought it new
Price Paid: Don't remember

I'm carrying this on the AT section this spring. I believe this is the best buy for the price. Double wall, sturdy and about 3 lbs. or so... Hey, I think sturdy is what I look for in a shelter!
Pros
Good price
Reasonable weight
Packs well
Cons
For the money, I cannot think of any!
Nice one-person tent. Roomy vestibule and really sturdy material. Hard to go wrong!
Source: bought it new
Price Paid: 130$

Great tent for the cost. Well ventilated and good use of the space. Great vestibules.
Pros
Great ventilation
Great use of the small area it utilizes
Strong
Freestanding
Cons
Hard to set up in wet weather and keeping it dry
Quick and easy to pitch and freestanding. I like how it utilizes all the space it occupies. Many solo tents don't have enough room to sit up but this one is great at my 5'11".
Ventilated and great vestibules. The only challenges are in windy conditions with blowing sand as the mesh won't stop it but that's common with small light tents like this one. I wish they could make a tent where you pitched the fly first and then the tent to keep things dry in wet weather (like Hilleberg) but I've yet to see anyone make such a tent.
Overall love it.
Source: bought it new
Price Paid: $145

Roomy for a 1-person tent. Easy to set up. All around great tent.
Pros
Roomy, tall in the center for a one-person tent
Easy and quick setup
Large vestibule
Cons
Little heavy
Condensation on fly
I work on a trail crew, so I spent a lot of time in this tent every summer. I guess I've had the Hubba for about 5 years now. It's never failed me,... even in really bad weather.
There is no telling how many times I have set up this tent, still no broken clips or torn seams. I have never had a leak, on the fly or the floor, even when out in bad weather for extended trips (I do use the Hubba Footprint). I do consistently have condensation on the inside of the fly, but I think it may be because it gets so cold during the night in the mountains.
It's very quick and easy to set up.
It's pretty roomy inside. I use my backpack for my pillow, and sometimes have gear stuffed down at my feet. Even then I don't feel like it's cramped inside. The vestibule is nice and big too.
Source: bought it new
Price Paid: Don't remember

This tent is easy to set up and plenty of head space. I also have rode out a few thunderstorms and stayed warm and dry. I purchased the gear shed and it makes a great place to house my dog on overnight trips.
Pros
Not too heavy
Easy set up
Big enough for two
Cons
No vent
Mesh pockets inside could be better
I have used this tent 8 times now and Iit has never failed me. It is plenty of room for my wife and I, and with the added space the gear shed adds I got a place for everything from our packs to my yellow lab. I would recommend this for backpacking or car camping. Great Tent.
Source: bought it new
Price Paid: 250$

Excellent space for a solo tent, the steep-sided vestibule is far more usable than many lower-profile tents. Free standing, lightweight yet not fragile, a perfect blend of features.
Pros
Weight
Usable space,
Ease of setup
Very hard to fault
Cons
Could have slighter lighter materials, however this would effect its durability.
This is an excellent solo tent, a design that has been perfected over several versions, and copied by other manufacturers. To my mind it represents the ideal compromise between being lightweight yet not fragile.
The vestibule is very, very usable, free-standing with only a single peg needed for either side of vestibule, ventilation is excellent, and in cold, damp conditions the new V6 fly material seems to breathe so much better than the fly of my previous MSR Zoid 1. Unless you're well over 6ft tall, sitting up in it to change clothing etc is easy due to the cross-brace head pole, which maximises the tent's height.
Yes, there are lighter solo tents out there, but their durability and usable space simply can't match the Hubbas.
Source: bought it new
Price Paid: Aus$350

Easy to use, reliable, no worries about this piece of equipment, ground sheet is not necessary.
Pros
Sets up in seconds
Plenty of room to store pack under the rain fly
Lots of airflow
Don't feel cramped inside
Room to hang clothes for drying
Cons
It's not the lightest tent on the market
I first used this tent in Denali and loved the fact that it was easy to pitch, stood up to wind and did not need a footprint. I've since taken it with me on several treks over VT's Long Trail and don't leave home without it, preferring to sleep in my tent vs shelters on the trail. It does add some weight to the pack, but I find it's worth it.
I've had it for 4 years now and it hardly shows any wear at all.
Source: bought it used
Price Paid: $100

I've owned this tent about 5 years, been on several trips Overall this is a great tent!
This tent is freestanding and sets up fast, weight a little over 3 lbs.
The only two concerns I ever had with this tent is condensation in the Northeast, however out West I've had no problems.
The other concern is the rain fly when wet due to dew or rain it takes a long time to dry. So if you're moving every day backpacking and the fly gets wet just be aware you need to setup camp early the next day to let the fly dry!!
I'm still going to give this tent a 4 ½  Star rating.
As of now  I'm in the process of testing a Big Agnes Fly Creek UL2.
Price Paid: $239

MSR has had another great success with this tent. This tent is excellent and has exceeded my expectations in the outdoors and on my back!  I have used my tent 5 different times in different weather conditions.
I got my tent as a Christmas gift and used it the next week in East Tennessee. We arrived at night and it is sooo easy to set up at night thanks to the yellow reflective cord. That night, it was below freezing and had very minimal condensation. The tent is easy to get in and out of with gloves.
The next time I used it was on a spring backpacking trip in the Great Smoky Mountains in early June. It is light and roomy for extra footroom or for gear. The vestibule is large enough for boots and a foldable chair and some other stuff. If the weather is nice, leave the doors open and you will have no condensation.
There are four pockets and are very useful for headlamp, hothands, bandana or Buff, wallet, keys, or watch. There are four gear loft loops that you can hang a lantern or whatever with a 'biner. 
Other people have said that the stakes are crap and such but they are fine if you don't put them through abnormal use like hitting them with rocks or hammering on them with your stake next to a tree and hitting tree roots. Then they might break.
Some others have complained about bugs getting in between the fly and the mesh, but that is normal. When you put the fly on, the bugs get caught, or at night the bugs get attracted to your light and get stuck.
This is by far the best one-man tent that you can buy. Don't hesitate to buy it. The MSR Hubba will not let you down.         
Price Paid: Christmas Gift

I have the Hubba Solo and I love it.
Sets up fast (2 minutes)
Free standing
Lots of headroom
Lightweight (about 3 lbs including fly and footprint)
So far has been totally durable—no glitches, bad seams, bent poles, etc.
Good for desert in summer to treeline Rockies in early winter.
Price Paid: $90 at REI garage sale

Will simply add that this a well-designed lightweight solo tent. Just used it in Guadalupe Mountains National Park. The tent (properly staked and tethered) withstood 70 mph gusts. This was documented. Tent deformed significantly, but poles and fabric did not fail.
Only con on this tent is that the backside vestibule is inaccessible from inside the tent and in very hard rain some splash can get on the backside mesh.
Design: three-season semi-free standing
Sleeps: 1
Ease of Setup: very simple
Weight: less than 3 lbs.
Price Paid: $155

This is a great tent. Freestanding, single pole, lightweight, tall. I am 6'4" and fit in it. Obviously it is not spacious, but I can sit up comfortably in it and can lie down fine with a bit of room at my head and feet for my junk.
The one complaint I have is about condensation. This is a problem with every tent, but I was a bit annoyed just because the time I used it I was using a sleeping bag that was almost not warm enough and wanted to keep the doors closes. I felt bad about packing my brand new tent up with the fly coated in condensation so for the next days I slept with part of the fly open and it worked great. Next time I plan on bringing a little warmer bag and keeping the fly open more.
It is great to have the 360 degree mesh so it is easy to see the bear pawing and licking the bear canisters near you. It is also very stable and is very easy to set up. It was great to watch other people sharing tents struggle with two people when I could set mine up quickly and easily faster.
This tent is very light, but does not compromise in durability, with the groundcloth I bought I was comfortable that the tent could withstand the wear from the rocky surface I was camped on. While staking out the fly is a little awkward at first it allows for better ventilation, and makes it easy to get in and out of the tent in the rain.
I am happy I chose the Hubba and would do it again in a second.
Design: three season freestanding solo lightweight tent
Sleeps: 1
Ease of Setup: Easy! one pole, many options, fly first, body first, just the groundcloth first...
Weight: 3lbs

This is a fantastic tent...and my first 1-person model. I am 6'3" 250+ lbs and I sleep and dress comfortably in it. It is cozy, for sure, but it absolutely works....much better, in fact, than many larger or more expensive tents. Gotta love the side entry.
Pros
Weight
Ease of setup
Well engineered and trusted design.
Cons
A little cramped, but definitely adequate. It IS a 1-person.
First generation fly materials deteriorated rapidly. MSR makes good on this.
Primary use has been in the Sierra Nevada above 10,000 feet in July and September...a place where you are sweating wearing shorts during the day and putting on everything you got including down at night.
I used for one hard week-long trip at altitude last summer. It can be a cool tent at night (...but dry) depending on where you pitch, but you will be the first one in the group to be inside safe and sound from the mosquitoes.
The only real cons I would say are that you really gotta tension and stake it out right to get good tension on the vestibule/fly. Then again, it's meant for light packing, not Denali. I had it in a cove of trees with 30 knot gusts without any accessory guying and it did fine and wasn't deforming or keeping me awake. I think it could use a couple guy/stake loops mid-foot on the vestibule fly.
I haven't really experimented with it much, but if you are smart this thing will get you through any 3-season situation and even snow if you wind-break things right.
UPDATE 10/10/2013:  
I had this tent in storage for a about three years.  When I pulled it out last summer for a trip the fly coating had become gooey and sticky and the seam tape de-laminated. I dried it and stored it properly. Apparently this was a problem with the first-generation materials. The tent floor, body and footprint did not suffer from this and were still in great shape  
I contacted MSR a couple months ago who gave me an RMA number for the fly. I packed the old fly in a priority mail box for $5 or so and MSR promptly sent me a nice new 4th gen fly no questions asked. I didn't have my receipt and bought this on clearance over 5 years ago.
A new fly makes this practically a new tent. I must commend MSR on their EXCELLENT customer service and product guarantee and I highly recommend their products. 
Design: 3-season freestanding
Sleeps: 1
Ease of Setup: Glorious
Weight: Just under 3lbs
Source: bought it new
Price Paid: $149

This is an item with which I have a difficult time finding fault.
The tent is exceptionally easy to set up and take down. Shelter is adequate in space, including both height and width, for me in all intended conditions including heavy rain, especially due to the vestibule's size. I don't use it with my Western Mountaineering Puma -25F bag for example, since it's not a winter tent.
It's light and well-built. The stakes are excellent.
I felt it was best to add 2 Sierra Designs Grip-Clips to the lower margins of the vestibule to maintain its shape in wind and the fly coverage could be slightly greater at the head and foot- something reported to have been addressed in the HP model. I've sometimes had to fine-tune the fit of the fly to achieve waterproofing these areas of the canopy.
Summary: Highly recommended, especially for subalpine conditions. Up higher, I'd consider the HP version or a true 4-season tent.
Design: 3 season freestanding with hub pole
Sleeps: 2
Ease of Setup: easiest I have ever seen in a solo tent
Weight: approx 3 lb, 4 oz
Price Paid: sale-REI

This is my first solo tent and I am very impressed with the space (6 mos.- Two coastal trips). This tent feels very large and has tremendous headroom. Not sure how it would stand up on a windy day as it is rather tall. Easy to set up...rainfly works great with footprint as shade too.
Only reason I give it 4 stars instead of 5 is that the vestibule is pretty small...barely enough room for a 4500 pack...and the stakes are worthless (too small) unless you have some good soil to put them in. I was recently camping on river stone...and just used rocks to hold the tent down...no big deal...just the difference between 4 and 5 stars.
Great ventilation. I haven't used it it rain yet...but am a little concerned that the rain fly does not extend closer to the ground. Overall I am very happy with this tent and have not seen a better one for my 3-season California needs.
Design: three-season: freestanding
Sleeps: 1
Ease of Setup: Like cutting warm butter
Weight: light enough for me - backpacking
Price Paid: $200?

I have been camping my entire life and I think this tent is one of the best solo tents I have used. Tall and long so people who are over 6 feet tall need not worry.
I have only two gripes. 1 the vestibule could be a bit bigger, but not much,and the stakes by MSR have hooks that are too small to adequately grasp the stake holders.
Short of that this tent is a dream for big backpackers who want comfort.
Sleeps: 1
Ease of Setup: easy to medium
Weight: 3.5 lbs
Price Paid: $180

Great tent! Not the lightest out there, but it's one of the few for us tall guys! I'm almost 6'4 and can sit up with plenty of head room. Lying down also plenty of room for tall bags and pads.
My scale weighed it in at 3 lb 12.5 oz with EVERYTHING (stuff sacks, poles, stakes, tent, fly, and footprint). This is not the lightest, but I have tried other tents and can't fit, so it works for me. You can save another 6 oz by buying carbon fiber poles, which you can get from Fibraplex on eBay.
My only gripe, like one other reviewer said, on the non-vestibule side is that the fly needs a guy line to be staked out properly.
Sleeps: 1
Ease of Setup: Easy
Weight: 3 lb 12.5 oz with footprint
Price Paid: $224

I've had this tent for about four months. So far, the only camping I've had a chance to use it for was winter camping. Understanding that it was not a 4-season tent, I was curious to see how it (and my sleeping bag!) was going to hold up. I would say that the temperature was around 0 to 10 degrees.
First of all the setup for this tent cannot be any easier. Just stick the poles in the grommets at each corner and snap the clips. No pole sleeves to mess with. I can't speak to the needle stakes because I left them at home and used some sticks covered with snow to anchor the tent.
I was not expecting this tent to be warm and it wasn't. But, I was hoping for good ventilation which I got. When I woke up there was a little ice around the mesh where my head was but not a lot. I've read some reviews from people saying the ventilation for this tent was poor, so I guess I'll have to see when it gets hot out.
All in all I would definitely recommend this tent. I was lucky and found it on sale. To be honest, I am pretty sure I would not have paid $250 for it. But, if you can find a good deal I say go for it!
Design: three-season freestanding dome
Sleeps: 1
Ease of Setup: Very easy setup
Weight: 3 lbs 4 oz
Price Paid: $100

Love this tent!!! Paid $200 with footprint, good deal. Have used it on several solo trips in the Oregon Cascades in mid spring sleeping on snow. I will say that if cold and windy I would want a sheltered spot due to the mesh body but other than that this is my solo tent of choice. Have not sat thru any heavy downpours yet but as with any tent I own I have sealed all the seams. Nice to be able to sit up to dress and also able to store my gear under the fly. Well made as usual via MSR.
Price Paid: $200

I used this tent on a 6-day backpacking trip in the Sierras above 9,000 feet in late September. It is an excellent design. The best points of this tent are:
1) Very roomy for one. Can sit up and move about, get dressed etc. Perfect for weight conscious claustrophobics. Even has a usable vestibule for cooking or storing gear;
2) Light and compact enough for all but ultra- light fanatics. In fact, I don't think my 1 pound bivy sac is going to see much use after using this tent. The way I feel today the extra 2 pounds is worth it to me. I slept great in this thing every night!! I think I had forgotten what a nice tent was like. That psychological barrier can make the difference in a good night's sleep.
3) Very, very surprising ability to shed horrendous wind storms. I really thought the relatively high profile would have this one flat on the ground in any serious wind, but it was an absolute champ in very violent Sierra windstorms that came three nights in a row. Just remember to stake it down tight, and you're good to go. I cannot rate on its protection from rain (thank goodness), but I bet it would not be a problem, seeing how it beat back the wind;
4) Very easy to set up. The one pole /clip on combo is pure joy at the end of a long day. Easiest tent I have ever set up, and do not ever want to go back to sleeves and multiple poles.
The things I was not so happy with include:
1)I have seen better fit and finish on the likes of Bibler and the old classic Moss tents. Most notable, a very small amount of flapping on one of the vestibule doors, no matter how I staked it down. Not a big deal, really, but just missing that American obsessive perfection you find in those products actually made in the US of A;
2)Certainly not the fault of this tent's intended use, but it will not keep you very warm. I got pretty dang chilly one morning that froze my water bottle placed inside the vestibule. The mesh is perfect for warmer summer mosquito days, but on those hinge season colder days, you better not rely on this tent to keep the warmth in--bring a warm bag.
All in all, this tent is fun, and I could not think of a better solution for luxurious solo three-season camping in Sierras. I would be very proud to have designed it myself. Thank you MSR, for such great, and affordable gear.

Design: Three-season solo freestanding dome
Sleeps: 1
Ease of Setup: The easiest tent I have ever had the pleasure to set up.
Weight: 3 pounds
Price Paid: $80 used

Excellent tent! Extremely light, very airy, and a snap to set up. I'm 6'5", and fit in it perfectly. The almost vertical mesh walls allow me to sit up and get dressed easily and they ventilate very well. It's also cool to be able to see 360 degrees outside your tent. The vestibule is big enough for my big expedition pack and boots with room to spare. You can even pitch it without having to stakeg it down. Overall a very well-designed tent.
Design: three season solo freestanding
Sleeps: 1
Ease of Setup: Very quick & easy
Weight: 3.5 lbs packed
Price Paid: $180

I was seeking a freestanding one-person tent. I already owned an REI Roadster which absolutely requires stakes (a problem in the Cascades when camping in scree fields with little to no soil). After careful research, the choice became very clear -- the Hubba -- for several key reasons.
(1) As a 6'2" guy, the Hubba offered the tallest room for one-person tents.
(2) Largest vestibule - I prefer to keep my boots and pack under a vestibule at night.
(3) It is side entry vs. those tents that open near the head of the tent.
(4) Pitches in a snap -- about 3-4 mins.
So far, I've camped seven nights in good weather. Have not gone through a major rainstorm yet.
The only improvements that could be made -- add a roof window, and add more reflective cording to make it easier to see at night.
Design: Dome
Sleeps: 1
Ease of Setup: Breeze

Tenting for over 35 years, often for over a year, I found the Hubba an excellent home. The weight is, packed, at four pounds. The setup is easy and it stands up very well in high winds.
It is a one-person tent, but the vestibules are big enough to store your pack and boots.
Overall this is a well designed and very functional tent.
Your Review
You May Like
Specs
Price
MSRP: $249.95
Historic Range: $140.00-$409.95
Reviewers Paid: $80.00-$400.00

Recently on Trailspace