MSR Hubba Hubba 1P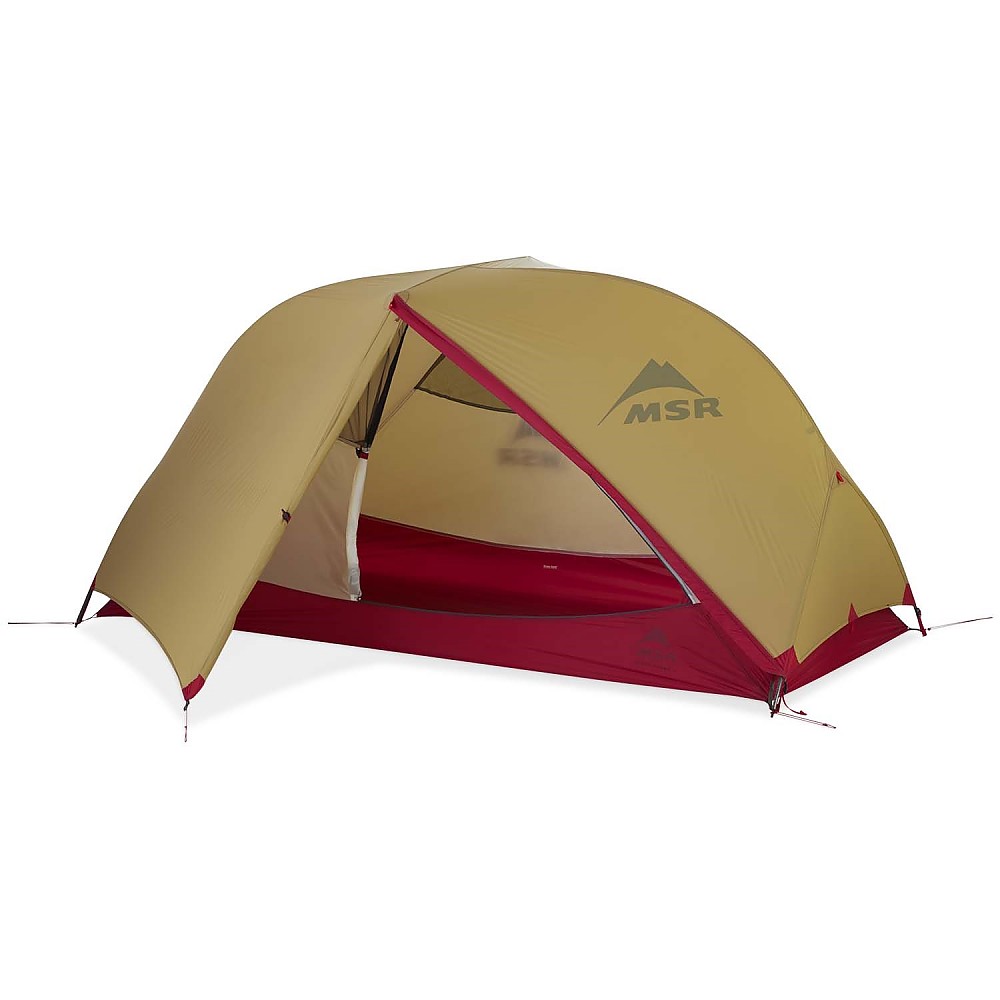 The MSR Hubba Hubba is a solid 3-season tent made to comfortably fit two hikers and their gear. Set up couldn't be easier, but flaws arise in less-than-ideal weather conditions. Condensation and wind resistance are two major weaknesses with the HH.
Pros
Lightweight
Incredibly easy setup
Soft, non-obtrusive colors
Stays cool in the summer (with open vestibules)
Cons
Condensation
Saggy rain-fly
Weak in heavy winds
Gets stuffy (with closed vestibules)
The HH was my first backpacking tent. As a college student I did countless hours of research and mind-changing when looking at where to drop a precious $350. I picked the HH over Marmot Limelight, Twilight, REI Half Dome, and Big Agnes for a few reasons: size/weight ratio, interior height, quality, and looks.
I was very excited to purchase this guy, so much so that I set it up on the academic plaza and spent the night in it. Setup took absolutely no learning; all intuitive. By the second try I could get it up, fly and all, in just 2 minutes. 
It is a roomy tent. Great interior height and vertical walls make sitting up comfortable. No more awkward leaning when tent-bound in a storm. Sleeping head-to-foot with your tent mate gives good shoulder room, and doors on both side makes entry and exit minimally-disruptive.
The vestibules are okay. Not too much square footage, but I found that if you wedge a trekking pole underneath the tip of the tent's brow pole, you can prop your backpack up vertically against it. This is pretty handy, and the trekking pole adds some stability during windy nights.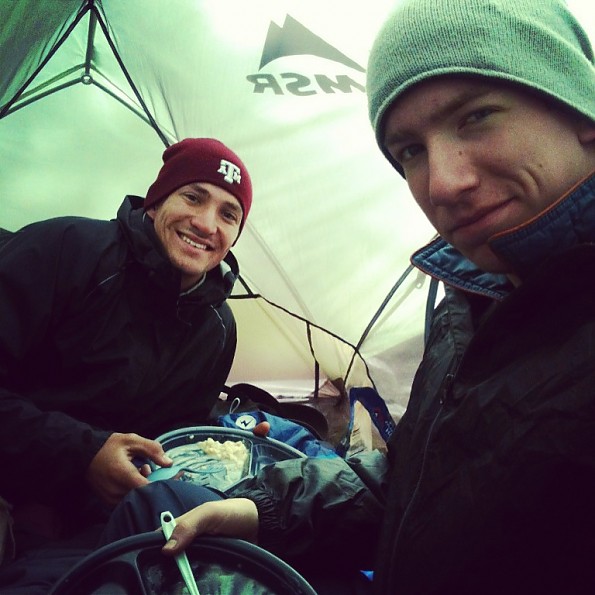 (mind the goofy selfie pic... but note that interior space! lots of room for eating inside on a cold snowy morning)

I've never had ANY leaking problems. It is well made for keeping the rain out, even in stiff downpours. The weight is a good balance. Not heavy at all, but not so light that you're stretching out a dry-cleaning bag over you (you ultralighters are crazy!)
I very much like this tent, it has treated me well for the year that I've had it. MSR makes very good quality products and the tent shows no sign of wear even after 5-6 trips and one very prickly multiday in Big Bend. 
Condensation is a problem with this shelter. There are no vents like what you see in a Marmot or Sierra Designs, and I feel like MSR could really do themselves a service in adding these. Propping open a vesty is a good method in venting, but that doesn't do much good in weather. Living in Texas and doing weekend camping during the spring months means the humidity is choking.
One of the most frustrating things about my tent was how the rain fly always seemed to be saggy. I don't know if mine was cut wrong or if it has to do with above-stated humidity, but I rarely got a taut, clean looking pitch like the photos. This was aesthetically obnoxious and structurally compromising as wind would often bend the tent significantly. Believe me, I tried all types of tensioning and staking but to no avail. Also, there aren't a lot of good guy points, so if you're ever in a really windy area... good luck.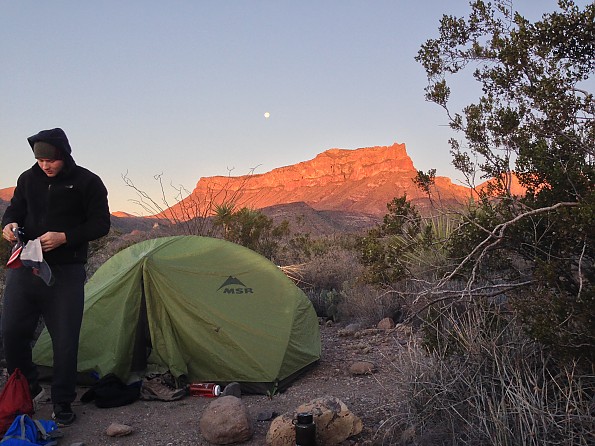 Overall, the MSR Hubba Hubba is a good tent. You won't go wrong if most of your camping is in the cool/dry 3 seasons and not anywhere too extreme. I love that MSR is a unique and stylish brand. The HH will take care of you in the backcountry!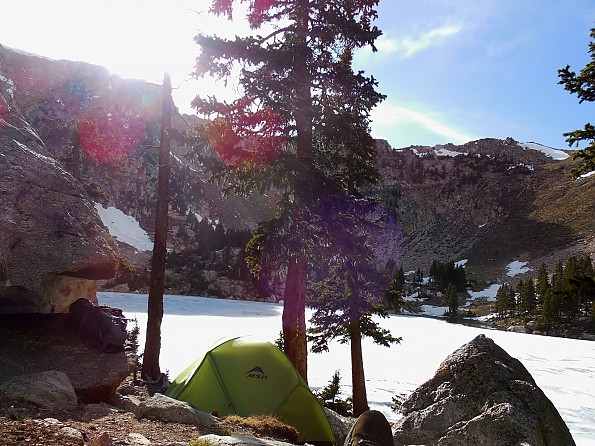 EDIT: It appears that the new MSR Hubba Hubba NX has added fly vents and some other circulation abilities. This is good! I am sure that this is an even more livable tent in muggy areas and I would be curious/excited to see how the NX line performs.
Source: bought it new
Price Paid: $350

I really wanted to test the idea of a three-season tent by taking it to Patagonia — the land of 4 seasons in a day. Now obviously MSR sells this tent as a three-season tent BUT I wanted to Max out its performance.

Over a 178KM, I carted this lightweight 2-person tent. It withstood wind speeds well exceeding 100km, rain and snow. Its one downfall is also one of its most loved qualities. The pole design.
Pros
Light weight
Easy setup
Spacious
Perfect for warm weather
Cons
High wind will squish this tent. Storm or violent storm force winds (102km+)
Heavy snowfall can be annoying
Look I'm not going to say too much. Overall this is a fantastic tent. I've been camping all my life and rarely use a tent these days, but for my trip in Patagonia last year this tent was amazing.
I have this need for space. I didn't come all the way out here to be cramped in a tiny tent where I feel like I'm in a drawer at the morgue. No, I enjoy the outdoors for the space it provides. Hence I brought a 2-person Hubba Hubba for just me. 178km track with this tent, on top of a 50 litre pack weighing roughly 14kg for a long way with no one around.
The first thing about this tent is that it is lightweight. So if you're a normal human and enjoy the company of others, sharing this 2-person tent with another would be amazing. It's super lightweight and easy to set up, which in Patagonia was a big plus. Most days I was covering 30+km and it was essential that by the time I got to camp everything was made easy.
The design is simple a rectangle with two vestibules. The dome feels airier than most due to the space provided by the points of attachment between tent and poles, the tent clips to the poles in a triangular fashion; also and the fact that it's about 75% mesh adds to the feeling of space and lightness.
SO look, it's Spacious, it's Super lightweight, it's Easy to set up (essential in Patagonia where weather can change in a couple minutes and then last 3 weeks); plus on clear nights you can see the stars which is nice becuase you'll still have the mesh protection for bug season. The zippers are sturdy, the stability seemed okay. It was very well ventilated, easily packable.
Then Stuff Happened
One night it got kinda cold, temperatures plummeted to about -12°C and my mesh felt a little refrigerator like... It had been snowing before the drop and the roof was sagging slightly due to the pole structure being easy to crush. I remedied this situation by taking the limb of a tree which had snapped off due to wind and used it to prop up the centre of my tent from the inside. I slept well and in the morning my tent was still in good shape.
Wind can have counter productive affects on your tent. Most nights seemed to storm and we'd get winds of 100+km enough to make standing a serious ordeal or challenge depending on your attitude. On one such night my staked out tent was soo heavily beaten 3 of the poles bent. The tent is still completely functional but it did reach its limit. MSR made the poles of a featherlight DAC T6 aluminium which is phenomenal for encounters with anything less then a wind which makes you look up Beaufort and ask him about scales...
In summary, this tent is amazing, check it yourself. But if you plan on camping somewhere a little more off the beaten trail I suggest something a bit sturdier like the MSR Fury, or for a little less money the Tarn 2 by MEC. Also MEC now has this tent re-modded into something called the Carbon Reflex 2 which is even lighter. I have now owned this tent for 2 years it has been to many places and in everything less severe than those nights it has been AMAZING.
Check out the Hubba Hubba at the MSR website if you're curious.
Source: bought it new
Price Paid: $180 Pro deal

It breathes well and setup is no sweat either.
Pros
Quick setup
Breathable
Lightweight
Two doors/vestibules
Cons
Low bathtub floor
Snagging zippers on vestibule
What I always say when people ask me about the Hubba Hubba:
"You could pitch this drunk in the dark in less than 5 minutes. It's true. I can prove it."
I love this tent. If you are thinking of buying a tent I'd strongly suggest this one. Not only is it quick to set up, but it is under 5lbs, and under $400 for a two-man, 3-season tent. 
The reason I would take this tent over another "under-5-two-man" would be its waterproofness. I have camped in what has felt like a 3-day long monsoon and I barely got damp. The waterproofness of the actual tent was great. My concern was that when the rain was reaaallllly coming down, the bathtub floor was not high enough and a the water splashed from the ground and up into the tent. But that was minor. 
Breathability in this tent is pretty good. My frequent camping grounds are Fundy National Park, and the weather is extremely erratic with humidity and temperature drops. I really don't notice the condensation on my tent fly at all and I never usually feel clammy in it (though I'm not spending tons of time actually in the tent.)
Packing this tent up is as easy as yanking it out. I usually throw my tent and the fly into a medium compression sack and my poles stacked to the outer of my pack, so it really doesn't take up much room. And if you are backpacking with a friend and splitting it it feels like nothing. 
I do find that I frig a lot with the zippers of the vestibule. They don't slide well on the track and I could never make a quick get away if I needed to. 
I was surprised to find a mesh pocket on the wall of my tent to throw in a headlamp, knife and other smallish things that I might need while camping. I didn't expect that when I put it up, and I actually didn't notice until my third pitch. 
I've had this tent for about three years now and though it's got some wear to it (patches from accidents), it doesn't perform any less than the day I bought it. I would also strongly recommend purchasing the footprint to match as it will prolong the life of your tent floor. 
Source: bought it used

Having read the great reviews for this tent I felt comfortable in my decision to get it when REI had it on sale for $250. 
The following day I left Portland Or. for a solo road trip to the Olympic peninsula in NW Washington for nine days.  The first three days up on the coast and in the Hoh rain forest it DUMPED out with 20 to 30 mph winds. 
Excited to use my first new tent in nine years the weather didn't even bother me, except for when the tent started leaking...dripping...raining inside.
Taking into consideration the conditions I was in, 45f, 100% humidity, wind and rain, this was more than condensation build up. The tent was tied up as tight as possible from every loop with none of the fly touching what so ever to the tent. If I ran my hand along the inside of the fly my hand was soaked, to the point that the moisture was dripping from peak of the fly to the only piece of vinyl on the tent, built up on there and would continually drip through that throughout the night.
That piece of vinyl is located directly above my pad so I got to wake up with a wet bag the first few days.  Not to mention I really don't get the zipper on the fly... zips down the middle to form the vestibule and each door flap has its own stake. 
So you can better understand this, there is no way to keep both sides staked down while inside the tent.  If you don't have the tent entirely tied tight with extra ropes to trees and rocks, in serious rain this will cause the fly to touch the mesh of the tent.  I was wiping up the floor of my tent every night it rained hard.
This was probably some of the worse conditions you could camp in (or at least for me it was) but also a great test for new gear.  Unfortunately this tent failed. 
As luck would have it, one night I ran into a couple that had the 3 person hubba and they had no problems ever like that and on another night met a guy who had the 1 person Hubba and he also had no problems (but he did have a tarp over his). 
I did return the tent to REI when I got back home. I think I had to have a defective tent because no one seems to have heard this happening before. 
On the bright side this tent was extremely easy to set up.  I decided to go with the Nemo Losi 2 but haven't had the conditions like those to test it
Price Paid: $250

Great 3-season tent.
Pros
Weight
Ventilation
Packs small
Setup options
I received this tent as a gift a few years ago and while I haven't "put it through the tests", I have used it many times in the North Georgia mountains. I have used this tent in nighttime temps upwards of 75 degrees and down to below freezing. With the proper planning and bringing along the correct clothing/sleeping bag, I've had no issues.
I usually strap the pole assembly to the outside of my pack which allows me to really compress the tent/fly/ground sheet so it doesn't take up a ton of space in my pack. It truly sets up in minutes which is great when trying to beat the summer storm that rolls in on you. It held tight in an 4 hour overnight thunderstorm with no leaking but it hasn't been in rain longer than that. 
I love the quick pitch option for reducing even more weight during early fall so I can leave the tent behind. It's also nice to have so much tent mesh on warm nights and can leave the fly off.
I found the vestibule adequate for my use mainly because I don't do many trips over 4 or 5 days, so I can fit my 50l pack and boots without too much trouble.  Packs larger than that will either have to lean against the tent or against the fly while the bottom corner is exposed.  I've never had any issues with any of the zippers but I also make sure everything is staked out nice and taut using the guy lines and hedgehog stakes.
As for the interior, it is definitely tight for two people.  I'm just over 6 ft, 195# and have shared it with a fellow hiker who was also over 6 ft, while our shoulders did not rub, our sleeping pads did overlap about an inch or two.  We really didn't have room at our feet for much more than our clothes bags.  Not a big deal as each night we were asleep in minutes. 
There is enough interior height for me to sit up and change clothes but it is not a tent you will want to hang out in for an extended period of time. It does have a gear loft at the head/foot areas which is nice for a headlamp, snack, or other lightweight items you may want during the night.
One small complaint I do have is how low the door opening flops when unzipped. This leaves the inside vulnerable to rain splatter and debris getting into the tent.  It does make shaking out the tent in the morning easier, but I feel it could be up a little higher. 
Overall, I think this is a great tent. It's held up great and I haven't had any fly "stickiness" issues as noted by other reviewers.  It's been well designed to be light and quick  to setup.  It is not a tent for all situations but certainly works for me.
Source: received it as a personal gift

I am so happy with this tent. As a member of Search and Rescue, it goes with me everywhere, and stands up to the harshest conditions. It's never let me down!
Pros
Easy to assemble and take down.
Light enough to carry anywhere.
Very weather resistant.
Perfect size for me and all my gear to be inside.
Dual-entrances with vestibules.
Plenty of headroom.
Quick and easy to dry out before re-packing.
Enough room for two people, while gear is stored in the dual vestibules.
Cons
Some say it isn't the lightest tent on the market, but I've never found it to be an issue.
I purchased this tent about six years ago. It has come with me on many "Treks", and even snow-camping in the middle of January when we snowshoe into the backcountry, high in the mountains. This tent can withstand the weight of heavy snow after a night-long blizzard, and I have never found myself dealing with soggy bedding and gear, even in the most horrific, torrential, west-coast downpours. With dual vestibules, condensation build-up is not an issue.
As an active member of Search and Rescue, I often take this tent on multi-day, backcountry, mountainous searches, and have never had a problem with the added weight to my 24-hour pack.
I can set this tent up and take it down in just a few minutes and have the tent, fly, footprint and poles all back in the small stuff-sack it comes with, in very little time.
The inside of this tent has storage pockets at each end, for items you need to grab in a hurry, and gear-loops for hanging a light, or clothesline to dry out any damp clothing. The domed-ceiling has plenty of room for this!
I purchased the MSR Hubba Hubba footprint, which perfectly compliments the tent by protecting the floor, and offering extra insulation from the damp ground you will be sleeping on. 
After reading reviews and checking out newer tents that are now available, I still think I have one of the best tents around. I'll keep it a long time.
Source: bought it new
Price Paid: I purchased this tent for about $300 six years ago.

Have had this tent since 07, several trips in VA, NC ,TN, OR, CO, WA all kinds of weather from hot and humid, heavy wind and rain, to waking up in a virtual igloo. Very good 3 season tent, easy / quick set-up. 
Haven't had the issues, with high winds that some other folks suggest, but I tie additional guidelines to pull the fly taunt. That said, it has held up in monsoon weather pretty well, with just a little moisture seeping thru the floor. I also use the footprint.  
In 09, I did start having issues with the fly, tension rips along the pole line. (Obviously I also had leaks at this point)  Sent back to MSR (Cascade Designs) and they provided me with a new fly. I like the color much better than the orange original. I was stoked with the level customer service and how the company backed their product. That said, I also take good care of my equipment. 
Poles have held up well over time (a slight bend in one section) and the elastic keeps surprising me with its durability. I'm pleased with the dual vestibules, provides options for variety of weather/gear storage, though I use mostly as a solo tent at 6'3 plenty of room, as a two person, best advised to go head to toe, shoulder to shoulder is a bit tight, but headroom is ample. I also use a separate bag for fly and inner tent, as someone else here has suggested this keeps a dry inner during inclement weather.
I chose this tent as a 1-person alternative primarily due to the weight relative to the amount of space a 1- person tent provides.  For ultra light camping I use a bivy sack.
Overall, Happy Camper
Price Paid: Don't recall

I bought this tent a year ago, and my wife and I have put it through the ultimate test in that year. We used it in Australia, Africa, Europe, and South America; from sea level to 5,000 meters, deserts to rainforests. It's been set up well over 100 times. Here's what I found:
Weight: Excellent. It packs up super small, and you can't do much better than 2kg.
Warmth: As expected. It's a 2.5 season tent, but we did camp out several times well below freezing, and with warm bags it did the job.
Ventilation: Poor. In Australia and Africa, this thing really cooks. The all-mesh material is deceiving. The best we could do was open up the fly doors, and roll up one corner of the fly as well.
Space: Poor. This tent is really a one-person tent. We were shoulder to shoulder, and still brushing the sides. The length is OK. With two people, there is only enough room left over for one small pack inside. But what about using the vestibule?...
Vestibule: Really Poor. It will not fit even one 65 litre pack and a pair of shoes without tripping over them as you go out for the midnight call-to-nature. So, if it's raining and you have two packs, forget it.
Waterproof-ability: Poor. The floor leaks in water under the thermarests, with or without a footprint. I can't see any rips in the floor. The fly is OK, as long as you keep it off the mesh (hard to do). Otherwise it'll drip in the massive amount of condensation (see Ventilation)
Durability: Really Poor. I don't expect this tent to hold up for another season. Here's why: The door zipper has split. The fly is apparently rip-stop, but tell that to the little kitten in Zambia who tore a couple holes with its claws. It's just too thin. For example, the bag that the poles come in is the same material, and the ends of the poles have just about managed to rip it wide open. The "mould-free" floor has mould growing in two corners. And I'm not convinced that the mesh can handle so much strain at the little pole clips forever.
Conclusion: I've had a Whisperlite for 15 years, and it's without a doubt the best stove out there. Plus, we've used the new Miox purifier for this trip, which kicks ass. But MSR cut so many corners with this tent, just to say it's the lightest free-standing two-man tent on the market. I debated a long time between this and the Sierra Designs Lightning. Unfortunately I've made the wrong choice.

Design: 2.5-season freestanding
Sleeps: 2
Ease of Setup: easy
Weight: 2kg

I liked this tent, but MSR warranty is no longer existent. I guess lifetime means seven years now. I have a sticky rain fly.
BTW this has happened to three MSR tents I have: Missing Link, Hubba Hubba, and the Trekker. All were stored in a large mesh bag separately and indoors. Will never purchase another Cascade Designs product again.
See response from MSR below.
Thank you for contacting Cascade Designs, Inc. in regards to your MSR tent. As you likely know, modern tents are much lighter weight than the tents of years ago.  Much of that weight savings is in the fabrics, and the tradeoff is the fabric's longevity.  A tent that is used frequently and stored with care can exhibit the same properties as one that has been used infrequently.  Although we use the best polyurethane waterproofing available, the waterproof layer will break down over time, becoming soft, sticky, and no longer waterproof.   This usually happens after 6-7 years, and this age is what we consider the lifetime of the fly.

If your rain fly is orange, this an indication that it is old enough for this to happen (yellow and green flies are still covered under warranty).  However, we do have new gray flies that will fit your tent the same way the older fly did.  These replacement rain flies (as well as a new set of stuff sacks) are available through our repairs department for $120 shipped. If this is something that you are interested in, please respond with your shipping address & phone number and I will get your order started.

If your rain fly is yellow or green, feel free to send in your fly for warranty replacement. As the stuff sacks are made of the same nylon you may wish to send them as well if they are experiencing the same issue. You may obtain an RA# by logging on to our Warranty & Repair website. Please write Attn: Repairs and your RA# on the outside of the shipping box. Alternatively, you can send in your rain fly without an RA# - just be sure to include your address and phone number on a note in the package. One thing to note; the replacement fly is gray in color (similar to the current NX version). You can send your package to us at:

 

Cascade Designs

ATT: Repairs

130 South Dakota St.

Seattle, WA 98134



Please let us know if you have any other questions.

Thanks,

Maren
Source: bought it new
Price Paid: $300

Probably one of the best 3-season tents I have ever owned. I've used it several times now including twice in early spring on Emory Peak in Big Bend. It holds up great in rain and hard wind. I like the entire mesh top, opposed from the HP, because on nice nights you can view the stars without being bothered by insects. It's the closest thing to being tent-less.
Now that being said, this is not the warmest tent, it keeps out the wind and rain but you better have a good sleeping bag; the design however helps keep condensation almost 99% out of the tent when wearing the fly and allows good circulation. After I got it dirty on trips it was very easy to clean with just warm water and sunlight. I do suggest the footprint though and maybe some ground hog stakes if you are going to be in harsher elements.
One thing I would've liked to see in this (and other tents) would be at least one poly window on at least one vestibule of the fly. This is just my preference.
I know this is an expensive tent but it is priceless on hot and humid trips where you can't hang a hammock or sleep near a fire in the open. It's light enough for me to carry on my own but roomy enough for two 6' people to sleep comfortably.
Design: 3-Season, freestanding, warm weather
Sleeps: 2
Ease of Setup: Footprint, tent and fly go up in minutes even in the dark.
Weight: 4lbs 9oz
Price Paid: $249.99

Ok, this is sort of a preview review. My first impressions. Easy set up. Set it up in the backyard and then put the hose to it for about 20 minutes. No leaking anywhere. Good interior space (at least compared to my Sierra Designs Clip Flashight). A tad narrow, but 7' long (good enough for my wife and I: I'm 5'9" and weight 185, my wife is 5'6" and weighs 125). Both my wife and I are able to sit up in the tent w/ no problems.
Decent room in the vestibules. I can put my pack in the vestibule, but it's a tight fit. Probably just keep my boots and water in the vestibules. Easy to get in and out of. Dual doors/ vestibules seem like they'll offer good ventilation. The vestibules don't have to be zipped completly shut in order to keep water out (good for condensation control). Nice to be able to see the complete night sky with the fly off. Also offers various set up options (fly w/ footprint, just the fly), but we'll be using it with the tent on all our trips.
The tent is light (about 4 lbs 4oz, and can be made lighter by about 1/2 pound by getting carbon poles, which we plan on doing). That would put the weight of this decent sized tent at about 3 lbs, 7 oz. Not too shabby.
Concerns? From what I've read and seeing the tent myself, it does seem like strong winds may be a problem. With that said, I purchased a pack of Sierra Designs Grip Clips and placed four of them on the tent to offer four more guy line positions. I emailed MSR about this and was told it sounded like a good idea and would definitely increase the tent's ability to withstand wind.
Snow build up may be an issue (don't do too much backpacking in the snow, though). Durability? Well, we'll just have to wait and see. Seems like it's solidly built with quality materials and zippers. First impression is actually more on the level of a 5, but seeing as we haven't taken it out yet, I'm giving it a 4. I'll do a follow review after we do a couple of trips during the upcoming month or two.
Design: 3-season freestanding
Sleeps: 2
Ease of Setup: Very easy
Weight: 4 lbs, 4 oz (company stated weight)
Price Paid: $215

Five nights later... Two under clear skies and three in swirling mist and rain on the West Ridge Trail over Bigelow ... Avery ... Horns ... Peaks from Stratton to the Bigelow Preserve in Maine ... Mid September 2010.... Max high temp about 65F.... and low 36F... in cold rain... with a sleeping bag made by Western Mountaineering, the Antelope (subject to a different review ... on this GREAT SITE).
In a nutshell, I like the Hubba Hubba HP 2 person tent... as a solo backpacker... for the size which I find fine for me alone. I can spread my gear, and cook in relative shelter and hang out in style watching the world through doors on both sides for clear visibility, and good ventilation.
Yes, I found condensation on the inside of fly after each night but this did not bother my at all.... and never dripped on that precious down bag.
I can handle the weight. However many of those hero thru hikers are hanging like bats at night in hammocks.... Hennesy Hammocks I believe are about 1.5 lbs? Hmm!
HOWEVER! ... with a little thought and ingenuity on behalf of that great company (MSR) they could consider a refinement to this fine design. Certainly a SECOND waterproof bag is essential if you want to travel on and have a dry interior when you setup the next night (one for the fly and one for the inner tent). (On the third morning I laid the dry footprint INSIDE the tent before I removed the wet fly... and managed to keep the bathtub floor dry for the next WET setup.... and that helped).... The footprint is essential.
Now, if I could have removed the inner (DRY) tent before removing the wet fly I would have been really, really happy with the Hubba Hubba HP.... (I can do this with my winter tent .... Helsport Svarlbard ..... 8lbs!).
All it needs is a redesign of the two grommets that hold the tent to the cross pole.... ? and it would be possible to then remove the dry inner in a heartbeat leaving the wet fly covering just the bare ground... A few shakes will get rid of a lot of moisture before bagging it for the following night.
Design: Three season.... free standing (need pegs to hold it down)
Sleeps: 2
Ease of Setup: Real simple
Weight: around 3.5/4 lbs
Price Paid: my affair

I bought this tent for 2 reasons:
#1 - I wanted a lighter tent for 3 season solo outings. At 3lbs 14oz this was a great improvement that still provided me with optimal room and storage space. I found this to be one of the best tent designs as far as utilizing internal space availability. Specifically, the pole layout proved very affective at opening up head room.
I found this tent to be plenty sturdy. I was in two downpours and one windstorm. I stayed completely dry, and since then have re-coated the bottom seams to prevent any possible leaks.
#2 - Great deal - In making a decision between the Sierra Designs Lightning and this tent, I found a sale on craigslist for well under the price. Couldn't pass it up!
Overall, for the purpose and price of this tent, the Hubba Hubba is outstanding. If you keep in mind you aren't buying a tent to outlive gale force winds and a monsoon, you'll have a great experience staying in this valued shelter 2-3 seasons a year.
Sleeps: 2
Ease of Setup: 2 minutes
Weight: 3lbs 14oz
Price Paid: $180

Ok, I got this tent as a prodeal working at Uncle Dan's, so I didn't pay full price. I mostly do late spring, summer, early fall camping. Sometimes I lead canoe/kayak trips in the Midwest. Anything from the Lower Wisconsin River to the Apostle Islands to Boundary Waters. I have never used this as a 2 person tent. With that being said, I love this tent.
Base camping or going on a 5 day paddle trip, this tent feels light enough and packs small enough (if you put it in a event compression sack) to take it for just me. If I'm leading a trip solo, I definitely have more gear than everyone else and I can lay everything out organized with this tent.
Setup up is brilliant. On a trip, I want to help the group learn to set up their own gear and camp, but I also want to be able to do my setups speedy and the pole setup, I feel, makes the difference.
I also get cold easily. This is definitely not a warm tent, but with the right bag and proper clothing, you'll be fine.
I believe in being as lightweight as I can. Sometimes though, having a little extra luxury or two is nice. For example, I sometimes use an Exped Synmat 9 Deluxe sleeping pad, even on long trips. It's not that much heavier than some Therm-a-rests, but it might be an inch wider and it's 3 inches thick. It's definitely livin luxury. The pad and sometimes other extra luxuries still fit into this tent well and make for a very nice trip.
Downsides:
Sometimes it being so freakin orange, I think bugs think it's a flower and try to pollinate it or something. The color is not earth tone friendly, but I guess you can't lose it.
I do wish it had a ceiling window in the fly.
I purchased my MSR Hubba Hubba from HumbleOutdoors for $237 w/free MSR Footprint
MSR really perfected this design, which has yet to be surpassed by (nearly) any other tent manufacturer (possible exception: MSR Hubba Hubba HP 2-Person Tent). The hub pole is simple and lightweight, making set up a breeze.
The fine mesh allows for great ventilation, further weight shavings, and excellent star gazing on nights without the rain fly. The coatings on both the fly and floor of the tent are very strong and ample for, dare I say, 'excessive' waterproofing.
The interior walls are drawn nearly vertical to create a welcoming large space inside, complemented by two roomy vestibules for your gear and nice, bright colors to add a little cheer if you end up caught in your tent during a downpour.
Price Paid: $237

My girlfriend Ms. Webster had this tent as our home for 2 months of hiking. It was more than adequate for both of us an our small dog. Many nights we "half-flied" it to watch the stars and were able to get the fly up at the first sign of rain. I've used in many times since and still haven't had the opportunity to explore all of its versatility.
I highly recommend it!
Design: Three-season awesomeness
Sleeps: 2
Ease of Setup: I can set it up myself in under 4 minutes
Weight: 4 pounds give or take.

I love the weight and compactability. Setting up this tent is a breeze and takes less than 3 minutes. Condensation is a wee bit of a problem, but nothing I can't deal with. Best uses are backpacking, canoe portage, and general camping.
Pros
Lightweight
Perfect size
Does well in wind and in climate weather
It took me less than 3 minutes to completely set up this tent. It's beyond simple to set up.
The tent does well in the wind. I have had it in 25+ mph wind while it was raining with no problems. The tent packs up to a decent size and fits in my Osprey pack with no problem. Ventilation is a bit of an issue in the summer with the rain fly on, but this could be partially due to the humid climate of New Jersey.
I have had this tent for about one year and it works marvelously with no problems. I would recommend this to anyone looking for a high quality tent.
Source: bought it new
Price Paid: $269

For 3-season packing, this is a well-sewn lightweight tent, good enough for two and perfect for a solo hiker and all your gear.
At first, the pole system appears daunting, but even without the instructions, which were missing from mine, it was simple to figure out. The pole system looks like some kind of TV or cell phone antennae when it's complete. It snaps itself together quickly and comes apart easily. Setting this MSR up is a breeze, even in windy conditions.
The Hubba Hubba is not a winter tent, due to the full mesh body, but I spent a snowy night on Mt. Hood in it with no problems. The full fly pitches tight and works well, but makes getting in and out a bit of a chore.
After a year of very heavy use, the poles are still straight with no bends, shock cording is still good, zippers still work well and the rainfly is still waterproof.
A lack of any handy internal pockets is a small negative, probably saves only a few grams. I added a mesh loft from an old Sierra Designs tent and the problem is solved.
This is a very good tent for the money and is light enough for solo packing if you want to store your pack inside.
Highly recommended.
Design: All mesh three season freestanding wedge
Sleeps: 2
Ease of Setup: Simple and fast
Weight: Specs say under four pounds.
Price Paid: $159

Easy setup and tear down, lightweight and waterproof.
Pros
Easy setup
Lightweight
Customer service
This is by far the easiest tent I have ever set up. It is also my first true backpacking tent. I have had no issues with the wind trying to blow me away and no snow loads have been encountered and I don't plan on any either.
The tent is a dry tent, waterproof and condensation proof. That being said it can be a little breezy if it's cool outside. The tent is what is advertised as being a 2-person tent. The vestibules do add some storage area but not much, but where we hike our packs are always hoisted up in trees anyway due to the bears.    
I had an issue with the fly getting sticky and the seam sealer flaking off. I emailed the company and they replaced the fly, stuff sack, pole bag and stake bag, no questions. Great company to deal with and great customer support.
Source: bought it used
Price Paid: $18, yes that's $18

We were looking for something with space and this tent meets those expectations.
Pros
Low condensation
Durable
Easy set up
Lightweight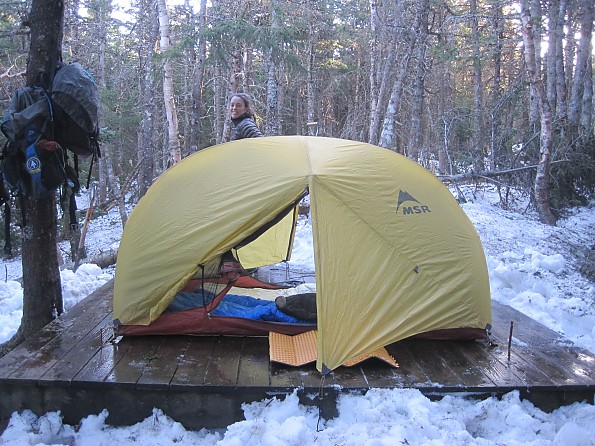 A great tent. We have had this tent for 4 years and it still looks brand new. We do quite a bit of overnight backpacking and it has stood the test of time. It's easy to set up on tent platforms in the WMNF. There is no issue with condensation. We have been in downpours and never gotten wet.
Great tent.
Source: bought it new
Price Paid: $350

A very nice tent, two-person. A great one-person with gear 3-season tent.
Very easy to set up. Nice and sturdy. I did replace the pegs with better ones. Lots of ventilation. I bought it in the spring in Alberta and spent a week in it while it rained... very cozy. No water got in anywhere.
The doors and vestibules are nice, but when you're a bigger guy they are tight to get in and out. As far as being large enough for 2 people, only if they're midgets.
A great one-person with gear tent. Packs up nice and easy. I just wish it was a 4-season.
Source: bought it new
Price Paid: over $300

Okay it's orange. I know. Get past this and you discover that it's actually a very very nice piece of kit. It has a simple one pole design that fits into the inner to create the shape. It's nice and lightweight which makes it ideal for cycle touring or anyone who's looking to shave those grams out of a pack. The inside of the tent is very spacious and it does keep the wind out rather nicely - although I do feel that it does have a slight tendency to lie down a bit when the wind really gets up. It's not really ideal for anyone hoping to engage in some stealth camping but it does make it easy to spot from a distance in inclement weather. To see shots of this bad boy in action go to www.cyclingsouthamerica.co.uk
Design: 3-season geodesic
Sleeps: 2
Ease of Setup: Easy - one pole - 7 pegs -
Weight: 2.2kg
Price Paid: £130

I was glad to read oaeaglescout's comments about how the rain fly on the Hubba Hubba became sticky, because the same thing happened to mine. Even though when I returned it to REI they said they'd never heard of this happening before. 
The seam sealant even started flaking off.  The whole thing was rapidly degrading.  It was a mess.  I'd only used the tent a few times before this started happening, so I was extremely disappointed.  
The few times I did use it before the fly started melting, I thought the design was great, spacious inside for the over all weight, easy to set up, loved how you can set the fly up on the poles independent of the interior.  If MSR improves the fabric material quality than they will have a really nice, lightweight tent product, but until then, beware.
Price Paid: $279

I've owned this tent since 2006. Great product, no leaks, well ventilated.
However, I had the same problem with the fly (melting) reported by few reviewers. So, since my tent was still in good condition, I looked for a replacement fly. I saw on a local dealer web site that MSR have changed their fly and the the coating on the fly is less prone to melting. I contacted MSR to ask them if the new fly will fit my old tent and to know the price for a replacement fly. They offer me to replace my fly free of charge, since it's a known issue!
Great service! You can be sure that my next tent will definitely be another MSR! 
Price Paid: don't remember

I used this tent for 10 days at Philmont Scout ranch in New Mexico on a backpacking trip. We had rain almost every day and hot days and cool nights. The ideal situation for testing out a tent.
It takes two people about 2-3 minutes to set it up. It is so light for a 2 person tent. The mesh gives awesome ventilation. The vestibules on both sides and dual entrances are very nice. It can actually keep you quiet warm for so much mesh. However the rainfly is light but, in downpours a mist comes into the tent. Also on the last day a pole attachment place broke off.
Overall it is a very good tent. However it is very pricey!
Design: three-season freestanding dome
Sleeps: 2
Ease of Setup: Easy
Price Paid: $300

Okay, so this is a great tent for your basic backpacking needs. It's light, and there is enough room for two 6-foot males in the tent. It's a little tight in the shoulder space, but it is 7 ft long.
All that said, the tent is not very sturdy in its pitch. High winds and snow would not be a good situation for this tent. It is fine for heavy rains, but don't pitch it were it will get very windy. I am comparing this to my Hyperlight AST that pitches tight and solid! But that tent couldn't fit two 6-footers without jamming up on the tent walls. So, I think this is a great tent for moderate weather backpacking.
Design: 3
Sleeps: 2
Ease of Setup: easy
Weight: a little over 4 lbs
Price Paid: $250

Yes, I know how wonderful this tent is and I would have given it 5 stars easy a week ago but after checking it out after not using it for a season or two I found the rainfly to be very sticky on the inside.
The tent has always been put away nice and dry and stuffed into a large cotton storage sack in a controlled storage room so that should not be an issue. The problem is at MSR because my Missing Link tent from them has done the same thing.
MSR needs to go back to their Chinese manufacture plant and get some quality back into their product.
Price Paid: $275

Voluminous tent.
Pros
Huge side wall space
One-piece pole frame
Big doors
Cons
Could be slightly lighter
I can't believe I've gone this long without this tent. I love everything about it. Sure, there are lighter tents out there these days, but the Hubba Hubba is huge inside, very light, and the one-piece pole frame is idiot proof.
Source: bought it new
Price Paid: $250

Used for cycle touring in Australia and South America.
Pros: Lightweight; two doors; freestanding; fly very waterproof; generous headroom; can be pitched fly first; can be used without fly or without inner; nice pegs; non-drip vertical doors; plenty of room for 1 person + gear and adequate for 2 people (head to toe).
Cons: The bright orange colour is too conspicuous; full-mesh inner means it gets very cold; very wobbly in wind; water soaks through floor, even with footprint; vestibules cannot be staked taught.
Design: 2-season freestanding
Sleeps: 2
Ease of Setup: Easy
Weight: 2kg
Price Paid: $400

This tent is great! It is light, so it's amazing on backpacking trips and it is just as good at base camp!
It is big, so two 6.5 foot men can lay side by side. This tent is a must-have.
Design: three season freestanding dome
Sleeps: 2
Ease of Setup: very fast
Weight: 3.4
Price Paid: $255

Your Review
Where to Buy
Help support this site by making your next gear purchase through one of the links above. Click a link, buy what you need, and the seller will contribute a portion of the purchase price to support Trailspace's independent gear reviews.
You May Like
Specs
Price
MSRP: $409.95
Current Retail: $352.39-$469.95
Historic Range: $169.93-$469.95
Reviewers Paid: $18.00-$400.00

Minimum Weight
2 lbs 2 oz / 0.95 kg

Packaged Weight
2 lbs 7 oz / 1.11 kg

Floor Dimensions
85 x 30 in / 216 x 76 cm

Floor Area
18 sq ft / 1.67 sq m

Vestibule Area
7.5 sq ft / 0.70 sq m

Number of Poles
2 Easton Syclone

Interior Peak Height
37 in / 94 cm

Packed Size
19 x 4 in / 48 x 10 cm

Number of Doors
1

Freestanding
Yes

Rainfly Fabric
20D ripstop nylon 1200mm DuraShield polyurethane and silicone

Canopy Fabric
20D ripstop nylon & DWR

Mesh Type
10D polyester micro-mesh

Floor Fabric
20D ripstop nylon 1200mm Durashield polyurethane and DWR

Recently on Trailspace