MSR SweetWater Microfilter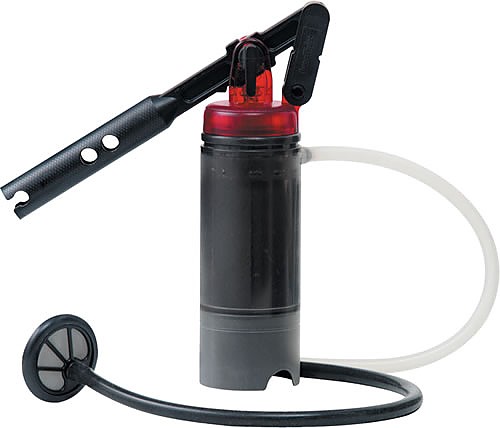 I use it a lot and I like it.
Pros
Quick
Sturdy
Field maintainable
Cons
Silt stops it up but that's expected
I bought an original white Sweetwater from Sweetwater and was happily using it for years. The pin that the pump handle hinges on broke so I wrote to Sweetwater only to find that MSR had purchased the company. So I wrote to MSR. They immediately sent me a new pin. However, the pin was too large for the holes in the filter.  
MSR asked me to email them some photos and when they realized that I had an original they sent me a new Sweetwater filter, including the anti-viral treatment (which I've never used). Of course they were aware that I'd not purchased the original filter from them (MSR has top notch customer service).
I've had this model for years now and have replaced the filter cartridge once and have had no other problems. I've carried it in the Wind Rivers and Canadian Rockies in 20 degree weather and it still worked fine, though I know that at some point it can freeze as can all filters.
It will pump a liter of water in about 90 seconds. A good friend has the MSR Miniworks and it's also a nice filter. It takes about 90 seconds also. The Mini weighs more, but the filter lasts over twice as long according to MSR specs.
It's important to not overuse the cleaning brush if you want the filter to last longer. But the brush does work just fine to revive a stopped up filter. I have used it in silty canyon water in Utah and in glacial water here in the Pacific Northwest. A pre-filter system of some sort is mandatory for that.
In Utah I had no prefilter so I boiled water that week. (I dislike chemicals, though I had some chlorine with me.) I used a coffee filter with the glacial water and that helped, but the particulates would still stop up the filter after a couple or three liters. I've also used in-line prefilters and those stop up too.  
For 20+ years I never considered using a filter or any treatment until one awful, miserable night in the Wallowas in NE Oregon. Lesson learned.
Source: MSR replacement

This comes with me every time I hike. Old, reliable product now purchased by MSR and keeping its great name.
Pros
Filters water
Light
Simple
Reliable
Cons
There are smaller filters
I started using this when my father bought it from the Pike St. REI many years ago. I was a kid, and he taught me how to use it: push and pull on this lever, and let the clean water squirt into the bladder. Then pull out the pin, collapse the lever, unscrew the top and clean the unit with 4 strokes of the brush.  
Simple, effective design has made the Sweetwater what it still is; the most reliable water filter I've seen.  ut the black hose in the stream, and the white hose in the water bottle.  
I have a hunkering that my family is part of the reason these hoses are color-coded, as my brother and I accidentally switched the clean and dirty hose when dad wasn't watching, and we all ended up with Giardia. When I went to college and bought my own filter, I noticed that they had changed the colors. Thank you.  
We took this on the Bowron Lakes circuit in Canada, and others in our scout group had other filters. They got frustrated after a few days and started using our Sweetwater. I recently took this as part of my fast and light ensemble (I know there are smaller filters for F&L) and it did great.  
If all you need to survive (on a day hike) is food and water, then put some Clif bars in your bag right next to this.  Refill at streams, and forget about packing extra water. Man was first bound by how far he could carry water from streams; this makes any stream potable water, that will beat out any other filter system for speed and reliability.  
Note: clean it when it starts squeaking on pumping at regular speed, as that means there is gunk in the filter.
Source: bought it new
Price Paid: $90

Cons
Durability of the plunger
Can get clogged
I've used the MSR SweetWater from creeks in Missouri to creeks in RMNP and I've never had a problem. The color coded hoses are great. The water tastes pure and clean.
The only problem was the internal pump mechanism developed some cracks, but MSR replaced the unit with little hassle.
It is a good unit and I would highly recommend it.
Edit: I've had the unit for a few more years of regular use. I'm finally about to replace the first filter. One of the biggest issues I've had with this filter is the durability of the pump mechanism itself. The internal o-rings in my pump have started leaking  so water leaks around the plunger and out of the top of the unit with every pump. Its not just the PR valve leaking. Due to the way the unit is constructed I cannot replace the o-rings. On my most recent trip the filter clogged and I was unable to clean it. I actually had to pack the filter with bleach to get it to work again which I couldn't do in the backcountry.
TLDR: I've had this filter for about 7 years and it has done pretty well for the most part. The durability of the plunger is defiantly a problem. 
Source: bought it new
Price Paid: $79.95

I spent a week in Canada backpacking and canoeing in the summer and we got all of our water from the lakes in Algonquin Provincial Park so the water was quite clean to begin with. Some of the other guys I went with had the MSR Miniworks filter and they had some problems getting them to work right. I, on the other hand, had no problems (other than needing to clean it quite often as we had 4 filters and 11 guys).
The two way pump allowed me to fill bottles faster than the other pumps, and I could do more bottles between clean outs. I could usually fill 6-8 32 oz. Nalgene bottles in only a few minuets. The assembly is incredably simple and effective, I simply love it.
The over pressure release is located in an odd spot if you are right handed like me, I squirted myself a number of times (when it needed cleaning especially). The handle seems a little weak and flimsy but I have not had any problems yet. I would suggest using the included prefilter for best life time.
This is an all around good unit but don't try to feed a whole group with it like I did, it just is not made for that kind of capacity. Three or four adults is the most I would want to supply with it if I my choice. Definitely worth the money and the weight if you are a backpacker or want a nice filter for emergencies.
Price Paid: $45

Twelve of us just returned from a week backpacking/camping in Grand Gulch Primitive Area, UT. The water sources were scarce and mainly silty puddles and algae filled springs. I took along my Sweetwater that I have used for about eight years. There was one other Sweetwater and two PUR filters.
The microtubule systems clogged very early into pumping sessions (lots of water for twelve people). The other Sweetwater required frequent brush cleanings of the filter. Mine, however, pumped two and a half 3 gallon water bags before needing cleaning. (I was using the prefilter, of course.)
Everyone was amazed and how quickly and easily the pump did the job. Especially those struggling with their microtubule systems that required newly pumped clear water to backflush and clean.
I'm not sure why the other Sweetwater clogged more quickly...I've read that this may be a problem since MSR has taken over from Sweetwater (my filter is the original). I agree with a previous reviewer that it sometimes requires three hands to operate (and keep the prefilter in position-not a problem with a lot of people in my group)
In any case, I would recommend it for back country/primitive camping. It really saved the life of twelve of us. MSR is a good brand and stands behind their equipment.
Great unit, but a little heavy and bulky for ultralight backpacking.
Pros
Easy to use
Great taste
Cleanable filter
Cons
Bulky
Lots of work for a liter of water
I have used this filter for the past 8 years, but am now switching to a gravity type filter due to the ease of use.  I have always had good experience with it, just feel that the new technology with gravity filters is making it worht the upgrade.  
If you're putting water together for bigger groups, this filter is a full time job. Because of the construction of the filter, when not in use, it is best to freeze the filter to retard bacteria growth. I highly recommend freezing the hoses as well to ensure they stay bacteria free as well.  
I do like the quality of water that this filter produces and it is nice to use the adapter and pump water right into a water bottle. The unit itself feels sturdy and well made.  
Source: bought it new
Price Paid: $100

I have just returned from a great trip with my MSR Sweetwater. I had an older filter, really old so it will remain nameless, and finally it broke. I read some reviews and compared it with a similar Katadyn filter.
One review out of a hundred helped me choose the Sweetwater. My fellow packer had purchased said Katadyn. Let me tell you New York is real dry right now. There is no good fresh flowing sources anywhere except maybe Niagara Falls. But we found a pond that was suitable enough. We used the Katadyn the first day and all I could smell and taste was pond in the supply we filtered. Nobody was sick! Cudos to Kat for a good filter.
The second day however I broke out the Sweetwater, and the water not only was clean and clear, but tasted and smelled like pure H2O. I'm going to start filtering my home water supply with this thing. It was exactly as it was named, sweet water.
I've had the filter for 12 years. I use it about twice a year for 2-3 weeks. After the first 5 years I've changed the filter element (used it more often then) after trying to clean with brush. I find the filter reliable and easy to pump usually add a few drops of chlorine for assurance. I used to have a Katadyn, great filter but hard to pump and after a long hard day on the trail that can be an issue.
I brush the element when water spurts out the top and its good to go. I always filter from the pot after sediment settles and I'm sure this helps a lot.
If I ever have to buy another filter I'd go with the same one.
Price Paid: $50

PROS: Minimal weight and bulk. Relatively efficient water filter. Recommend using the sediment prefilter to prolong filter life and efficiency. Routine cleaning with the provided brush prolongs life of filter cartridge. Multi-fit water bottle outlet end.
CONS: Not really a con, but the pumping mechanism on my ?+ year old unit broke. The section inside the cartridge. This is after going through two filter cartridges over a few years' of use. The bad was I was in Venezuela with a broke unit. The good was it still mas o meno worked, but only on the downstroke.
Bottom line: I'm buying a replacement. Why? The unit is functional under extreme conditions. The unit is simple and durable. Plus I have already have a backup filter cartridge.
Price Paid: ???

Handy, compact and easy to store. Works well.
Pros
Easy to operate
Stores compactly
Lightweight
Effective at filtering
This filter works the best of any that I have used or seen used. It has a very good rate of filtering compared to alternatives. I have developed a lot of confidence in its ability to filter and clean water. I have used it to filter water that looked unappealing and unsafe. After filtering, water is clean to look and taste.
Source: bought it new
Price Paid: $65

Over the years I have only had a few occasions to use it, but I am very thankful for this technology. I have used it in local streams while on remote fishing trips and I have used it on some backcountry scouting trips. The water it yields is fresh, clear and tastes good. I wouldn't dare drink from any body of water these days without it. It is easy to use, simple, compact and very dependable. I wouldn't try to pump enough water for a 10-man expedition, but for a small group, it's more than enough. I highly recommend it. It was the best gift I've ever received from a friend.
Price Paid: $69

I had used this filter for about three years after switching from a Hiker. It is fast, but as the filter starts to retain debris, the pumping becomes slower and the relief valve opens frequently. The add-on prefilter helps with this.
My big issue is the quality of the pumping mechanism. I had two filter's stems break off just above the pump mechanism in one week. I was using one personally and it was not a filter clogging issue. I'll switch over to the Guide to give that a try.
Price Paid: $65

I purchased my Sweet Water microfilter roughly 15 years ago. I have never had a problem with it. It pumps water very efficiently, it is easy to clean, and I have never gotten sick due to the water I have pumped through it.
My only gripe is that they discontinued the viral guard for this product many years ago. Now they have a liquid that you add to the water.
If you are thinking about purchasing this filter, go for it. You won't regret it.
Used the filter on an 8-day elk hunt in Idaho. Used it at least 2-3 times/day and had no problems. Can be a bit tricky trying to work everything with only two hands -- need a third at times, but this was not a major issue. Water tasted great and certainly had no ill health effects. Also did not have any clogging problems as I have heard from others.
Works great just need to keep it clean. It comes with a brush to clean out the filter.
Cons
It can break, so store it in a safe place in your pack.
It works really well. No problems with it at Yosemite for a week.
Source: bought it new
Price Paid: $80

With a hiking family of four or five, using one filter will uncover problems quickly. We tried MSR and PUR with only hard-to-pump filters and short time frames before the clogged filters start. We have found this better than the other filters because it's light, pumps fast, easy to service and lives up to the filter life length. We do carry two now to expedite our dromedary.
Price Paid: $55

I have used this filter for everything from kayaking to backpacking. It is fast, easy to use, and lightweight. I like the fact that it pumps water on both the up and down strokes. This makes it much faster than a lot of other filters. The only thing I may add to this filter is a way of screwing it onto a waterbottle or CamelBak.
Price Paid: $59

Good price for a good product. All water filters have their pros and cons but have had the least amount of problems with this one. Have no reason to buy another until this one fails. The only suggestion is buy the little prefilter to keep silt, sand and the like out of the main filter.
Fast, effective, and compact -- just what a filter should be. Plastic seems very durable and pick-up hose is a good length. Weighs next to nothing compared to the larger models that put out slightly more water. Pump handle is perfect design. Buy it!!!
Price Paid: $64

Bought one of these before MSR took them under their wing. It pumped water fast!
Lent it to a friend who dropped it in sand. Sand got in the pumping mechanism and there is no way to clean it (ie: you're hooped on the trail)! Threw it away and bought a Miniworks!
Price Paid: ~$70

I've broken two handles off this filter. This is not a durable filter in my experiences.
I did put this filter through more use than most, but I expected more from MSR. I'll now be switching to a Katadyn Pocket. 
Price Paid: $89.99

This product was great when it was under the Sweet Water brand. Since MSR took over I have been experiencing problems with their filter elements clogging early (one clogged in the first 5 gallons!). Other people in my hiking group have had problems, some have had no problems. I switched to Katadyn after two Sierra trips were mired by filter problems. We'll see if Katadyn works any better.
Your Review
Where to Buy
Help support this site by making your next gear purchase through one of the links above. Click a link, buy what you need, and the seller will contribute a portion of the purchase price to support Trailspace's independent gear reviews.
You May Like
Specs
Price
MSRP: $89.95
Historic Range: $21.93-$90.00
Reviewers Paid: $45.00-$100.00

Recently on Trailspace