MSR WindBurner Ceramic Skillet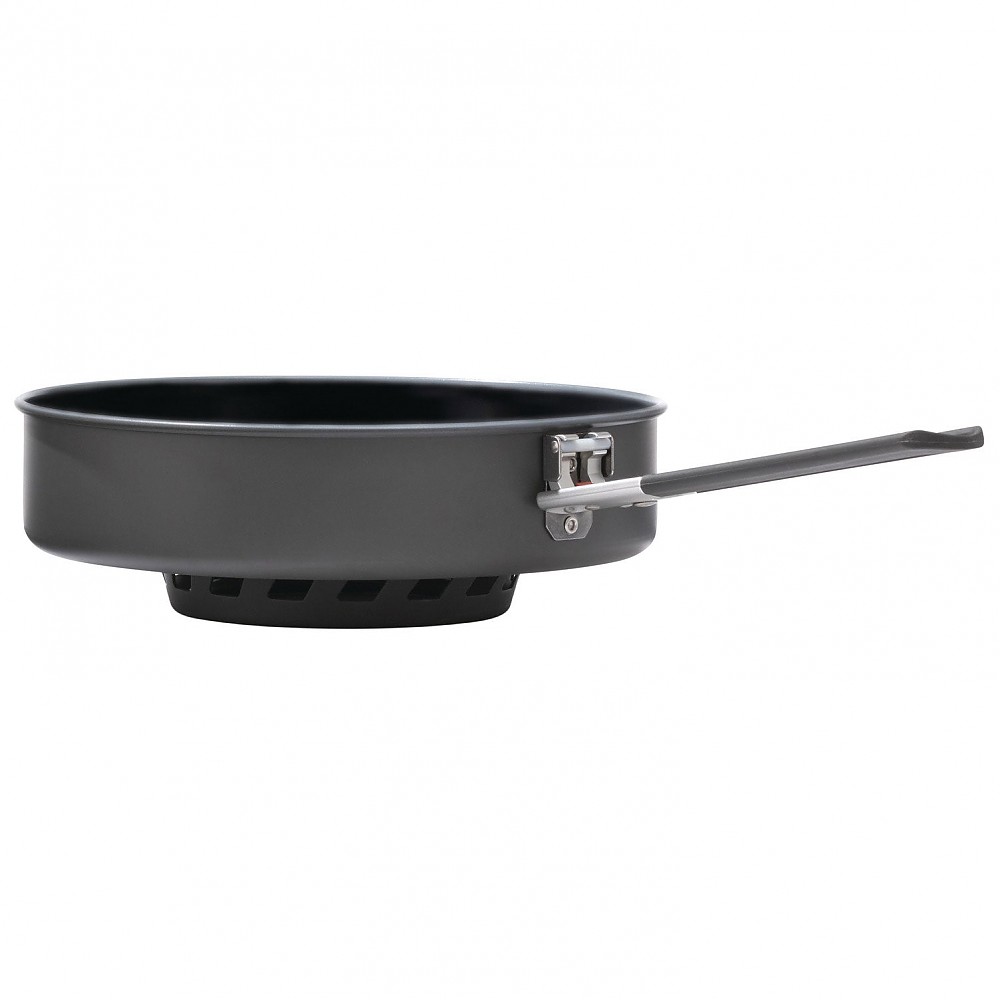 This is the pan for WindBurner Stove System owners who want to add a frying pan to their cook kit, one that offers nonstick convenience and solid build, and who don't mind that the pan comes with some bulk, weight, and priciness.
Pros
Sturdy, solid construction
Cooks fairly evenly
Excellent nonstick coating
Rapid and easy clean-up
Cons
Pricey
Food can get caught behind handle mount rivets
Vertical play in handle
WindBurner only compatibility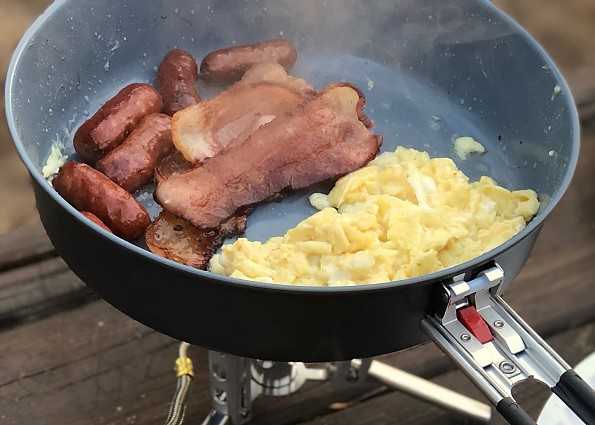 What It Is
The MSR WindBurner Ceramic Skillet is an 8 in/ 20.3 cm frying pan made of hard-anodized aluminum that features an attached "heat-capturing ring," a detachable MSR Talon handle, and a nonstick ceramic coating inside the pan.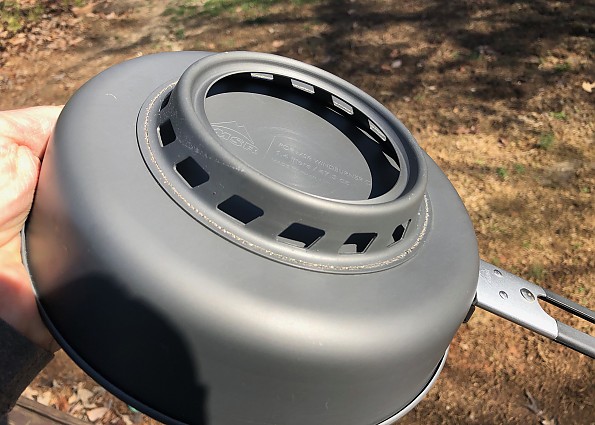 According to MSR, it "allows for versatile and more involved cooking, even in the middle of the wilderness." As with other cookware in the WindBurner range, its use is limited to the WindBurner Stove System ("FOR MSR WINDBURNER ONLY" is stamped on the bottom of the pan), but the cookware is intended to be modular: add on or take away what you need or don't need as your situation demands. The product is made in Thailand.
Specifications and Features
The pan has a volume of 1.48 qts/ 1.4L. It is nearly 8 ¼ in/ 21 cm wide at the rim, tapering sharply down to its base, and the pan itself is 2 in/ 5.1 cm deep. The pan weighs 8.58 oz/ 243 g.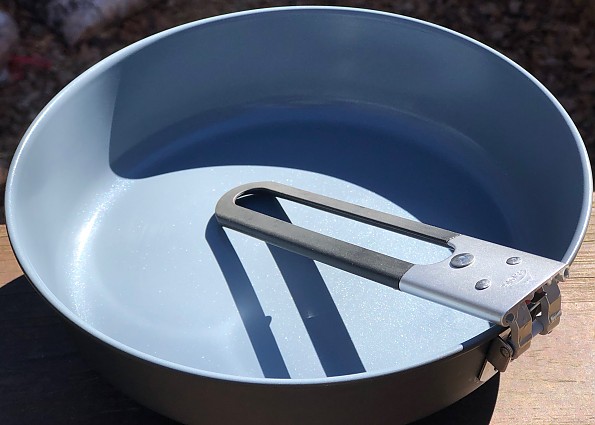 The WindBurner Ceramic Skillet is made of hard-anodized aluminum, which is aluminum subjected to an electrochemical process that results in the material being stronger, more durable, and non-reactive with foods.

The nonstick ceramic coating applied to its interior is what MSR describes as a very durable, scratch-resistant, and easy-to-clean coating that can withstand high temperatures. It is perhaps worth noting that ceramic nonstick coatings are considered more environmentally-friendly than the often longer-lasting but more potentially toxic PTFE coatings (aka "Teflon").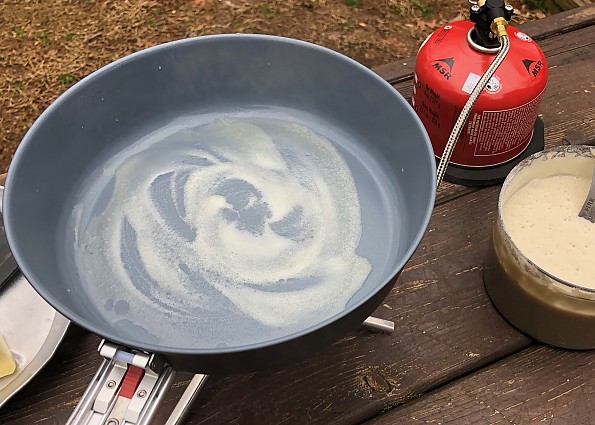 The WindBurner Ceramic Skillet has sloping sides that facilitate slipping the edge of a spatula under food to turn it over during cooking. In theory, a practiced chef might utilize such a feature of the pan to flip food with a deft snap of the wrist, but the slope of these sides is steep, perhaps a design concession to greater packability.

The "heat-capturing ring" attached to the bottom of the pan is essentially a simple heat exchanger (I think MSR does not call it such because they also make a separate product called the Heat Exchanger). On the skillet, this ring rests on the outer rim of the WindBurner's radiant burner, providing both pan security (it isn't tippy) and greater efficiency of heat transfer between burner and pan. This ring brings the total height of the pan to 2 ¾ in/ 7 cm.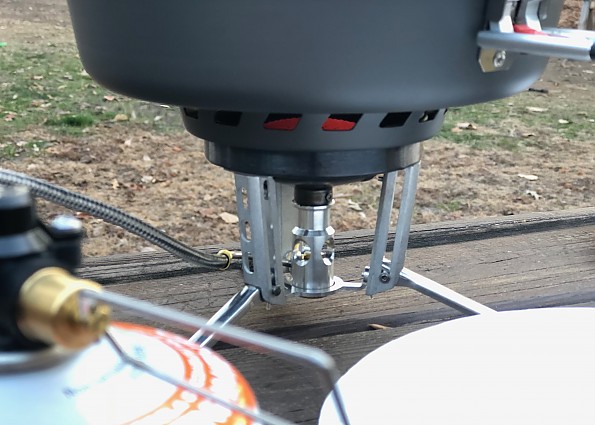 Clipping easily onto or detaching readily from the skillet, the MSR Talon handle that comes with the pan is also compatible with MSR Alpinist, Quick, Base, Flex, and Reactor 2.5L pots.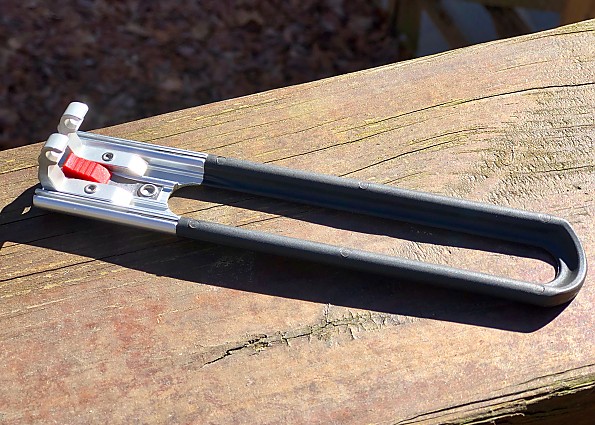 The handle itself is 6 ½ in/ 16.5 cm long with a 4 ⅝ in/ 11.75 cm non-conducting section. The handle folds over into the pan for convenience or can be removed and stowed separately if one wishes to nest the skillet (MSR notes that the skillet nests outside the WindBurner 4.5 L Stock Pot).

Field Testing
I tested the WindBurner Ceramic Skillet over a period of several months this winter. While I carried and used it on backpacking trips to get a feel for its weight and packability, I also used it in cooking trials at home where a stocked refrigerator and pantry let me try a wide range of foods to cook.
Use
The WindBurner Ceramic Skillet is easy to use. The Talon handle folds out and locks into place with a metal spring clip; depressing the red button on the underside of the handle releases the clip and allows the handle to be folded again.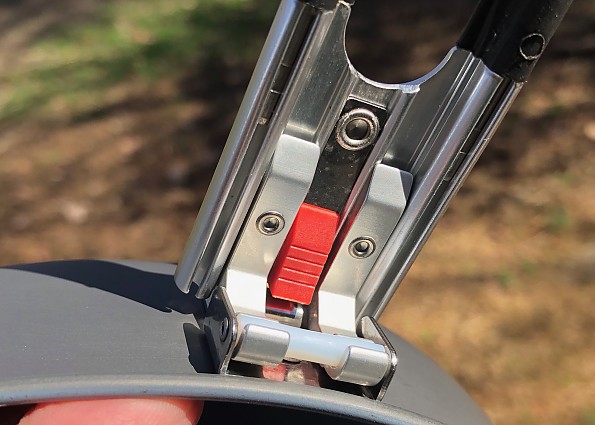 This ease of use comes with a minor price: there is about ¼ in/ 64 mm of vertical travel in the handle, a looseness which can hamper efforts to flip food with a flick of the wrist when sautéing.

Another minor drawback is that the rivets inside the pan that secure the handle mount are appear to be flat yet they are pressed against a gently curving pan. While the curvature of the pan relative to the rivet face is slight, the result is that it is possible for food to get caught behind the rivets. Flush mounted rivets could resolve this minor issue.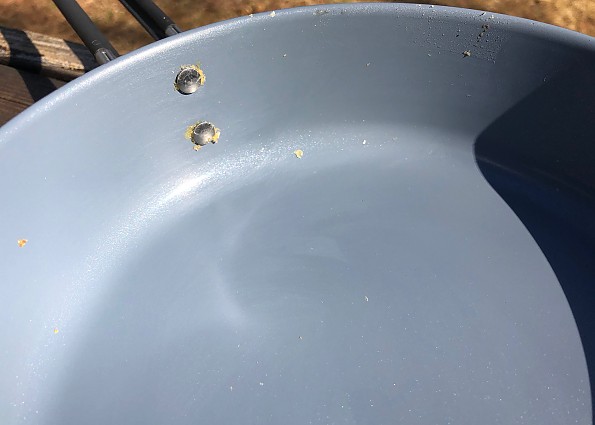 The pan settles nicely on the WindBurner's radiant burner, perching securely while also allowing adequate oxygen for the burner. Used (as I used it) in conjunction with the remote canister WindBurner, the Skillet provides a cooking option just 5 in/ 12.7 cm about the surface the stove rests on, a very stable height that proved optimal during my testing.
After viewing an MSR video extolling the virtues of the ceramic coating's durability, I did opt to use the pan with metal cooking utensils as well as with softer nylon. While I was not deliberately abusive when using cooking utensils, I did not notice any ill effects in the pan's coating after using metal utensils.

Temperature Control and Cooking
Temperature control is dependent on the WindBurner Stove's flame adjuster. While this sensitive control requires some getting used to for sauté work, I was able to cook a wide range of foods, from "toasting" bagels in butter to simmering sausages and bacon.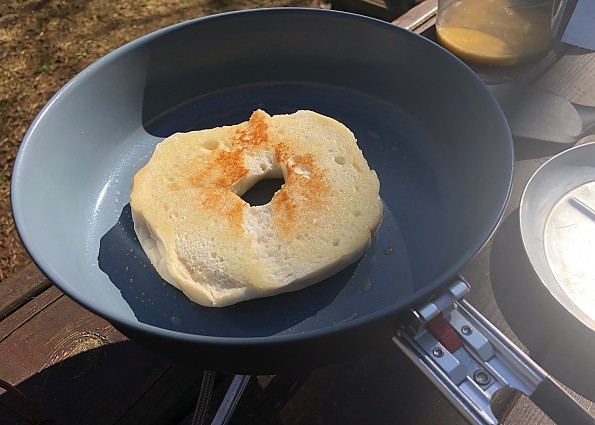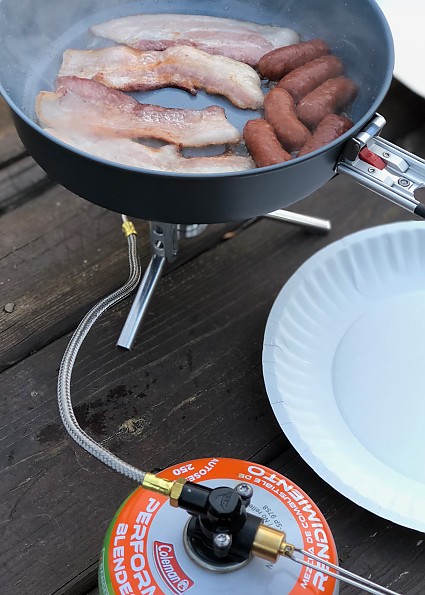 Scrambling eggs was no problem, nor was pan-frying golden pancakes or steak. Pan sauces were also easily accomplished, and I had no problem sauteing a pan of onions until they softened and began to caramelize, to be later used as toppings for some roast beef sliders. If you can dream up something to cook within a pan of this size and design, you should be able to do it with the WindBurner Ceramic Skillet.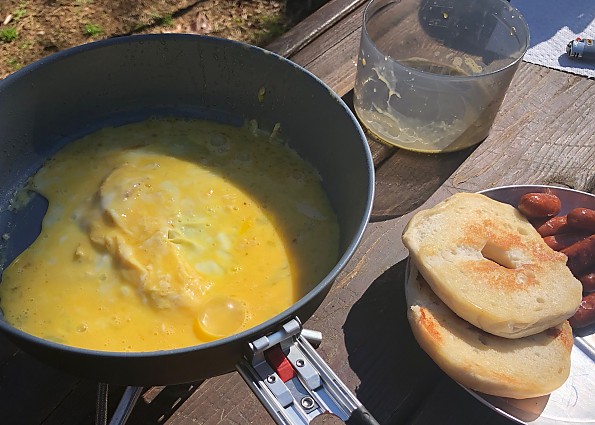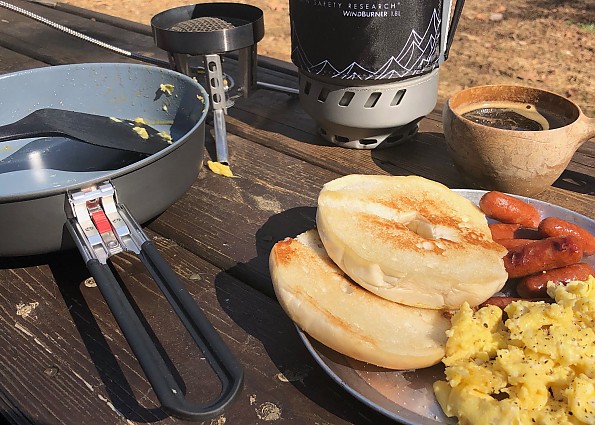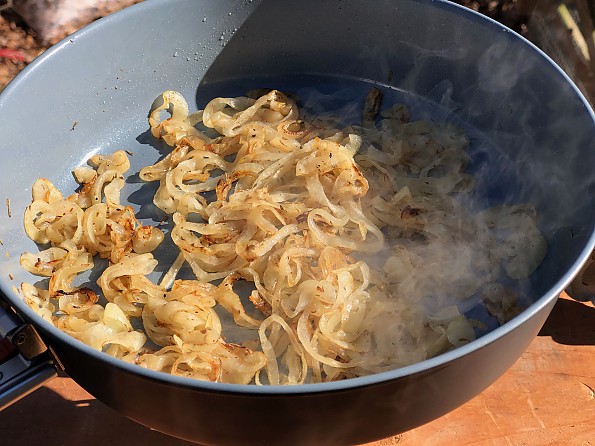 The pan's nonstick ceramic coating is a boon in several ways. Its presence means one can use less fat when sautéing food without having food stick to the pan. That equates to potentially more healthful cooking, but certainly less messy cooking if one adjusts accordingly (see also "Cleanup," below).

One concern I had when I first examined the pan was that it might not distribute heat evenly—would the heat exchanger, a ring in the center of the bottom of the pan, really be sufficient to distribute heat evenly across the pan's whole surface area?
The answer is, basically, yes. My test for this was pancake frying, which requires an entire pancake to cook more or less evenly so that one can flip it without a sloppy mess. The Skillet was up to the task, producing a stack of golden flapjacks in relatively short order.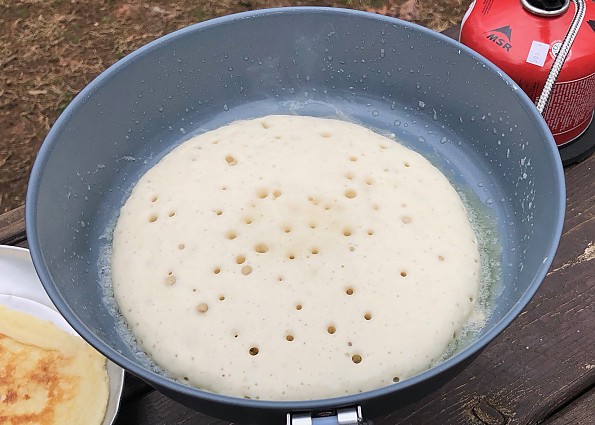 The center of the pan directly above the burner does remain the hottest area—taking pictures for this review, I left one pancake on a little too long and it was darker in the middle than on its edges—but overall I was impressed by how well the pan distributed heat to the edges of the pan as well as the center.

Cleanup
The nonstick ceramic coating obviously helps with cleanup, too. While some foods "dried" to the pan, so to spea—like the leftover fragments of scrambled eggs that didn't get scraped into a bowl—they readily dislodge when minor force is exerted on them. A nylon scraper generally did the trick.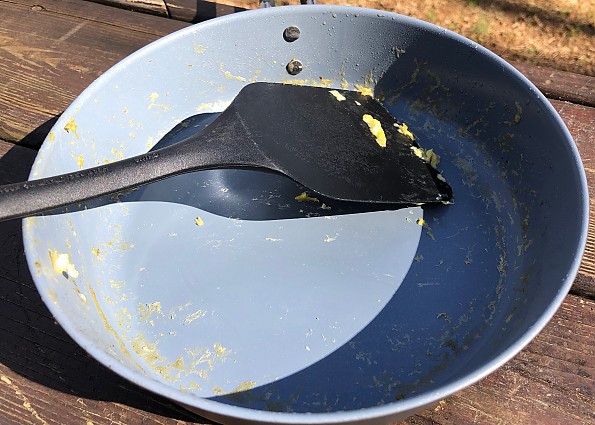 On overnight trips, I often carry a section or two of paper towels in my food bag. When I finished cooking with the MSR WindBurner Ceramic Skillet, I made use of these towels to wipe the pan almost entirely clean and thereafter disposed of towel in my trash bag.

When given more scrupulous cleaning with soap and water, the WindBurner Ceramic Skillet quickly returns to pristine shape.
Concluding Thoughts
The MSR WindBurner Ceramic Skillet isn't perfect: as noted before, less play in the handle and flush-mounted handle rivets would improve the Skillet.
It is, however, an easy-to-use, well designed pan. It is a decent size for 1-2 person backcountry cooking or car camping expeditions. It responded well to all the cooking tasks I threw its way. This is a serious and durable piece of cooking gear (should the coating eventually lose its efficacy or other problems arise, I'll update this review).
It is also undeniably on the pricey side: MSRP is USD $69.99. Recognizing the appeal of the WindBurner, it seems that MSR has capitalized on that with what appears to be a high price point for a pan that only works with their own stove systems. A notable MSR competitor with a similar proprietary stove and pan (albeit without a ceramic coating) lists their pan USD $20 under MSR's. It is worth considering that other ceramic-coated camp frying pans that can be used with a wider range of stoves are significantly less expensive.
Aside from its price, two of its chief drawbacks for backcountry use are its bulk and added weight. With the heat-capturing ring attached to the pan and adding to its bulk, the Skillet has an awkward shape that is best rationalized when one's hike to camp is not far and the prospect of gourmet cooking options appeal. It isn't grotesquely heavy, but given its bulk, one needs to plan a space for it in one's pack.
Its rating, then, reflects a high quality, generally well designed product that is limited to a single stove system at a fairly high price point.
Recommendation
This pan is not recommended for the frugal, the gram-counters, or those seeking flexible cooking systems to use across multiple stoves.
The MSR WindBurner Ceramic Skillet is recommended for owners of a WindBurner Stove System who seek the more diverse range of cooking techniques gained by adding a pan to one's cook kit, especially those who enjoy "real" cooking (not just rehydrating), and those who do not mind adding or sharing the added weight and bulk this pan possesses. The WindBurner Ceramic Skillet is an excellent option for car camping where added weight and bulk aren't concerns. Just imagine all a car's cooler might hold, waiting to sizzle in a pan!
While its price may be hard to swallow, the buyer will get a generally well designed, solidly built product that works as advertised, allowing "for versatile and more involved cooking, even in the middle of the wilderness." It's an extra bit of luxury added to one's kit, somewhat awkward to pack, but perhaps well worth the hassle once one is savoring bacon and eggs or pancakes on a frosty morning.
Source: received for testing via the Trailspace Review Corps (Sample provided by MSR for testing and review)

Your Review
Where to Buy
Help support this site by making your next gear purchase through one of the links above. Click a link, buy what you need, and the seller will contribute a portion of the purchase price to support Trailspace's independent gear reviews.
You May Like
Specs
Price
MSRP: $74.95
Current Retail: $69.95-$89.95
Historic Range: $69.95-$89.95

Weight
7.6 oz / 0.22 kg

Width
8.5 in / 21.6 cm

Length
8.3 in / 21.1 cm

Height
2.8 in / 7.0 cm

Diameter
21.1 cm / 8.3 in

Volume
1.5 L

Material(s)
Ceramic Coated Aluminum, Aluminum Lid, Stainless Steel, Nylon, EPDM

Recently on Trailspace