MSR WindBurner Skillet

The WindBurner Skillet has been discontinued. It was replaced by the MSR WindBurner Ceramic Skillet.

Specs
| | |
| --- | --- |
| Price | Historic Range: $41.97-$69.95 |
Reviews
1

review

5-star:

0

4-star:

1

3-star:

0

2-star:

0

1-star:

0
A well-designed and well-made addition to MSR's Windburner line, works as advertised, but maybe not all that useful in the real-world?
Pros
Lightweight and sturdy
Locking handle
Not non-stick but washes easily
Cons
Doesn't lock on to burner head
Hot spot
Inefficient heat exchanger?
Price
I reviewed the original canister-top Windburner stove with the 1.0 liter pot for review for the Trailspace review corps about five years ago, and it is now my preferred stove on both short and long backpacking trips. I have since added on to the system by buying the 1.8 and 2.5 liter pots, the French press add-on to the 1.0 liter pot, and the skillet, which I might not have purchased at all except that I got about a year and a half ago it at an irresistible half price.
It turns out that was due to the introduction of the ceramic coated version of the skillet so that this version is now outmoded. Much of what I have to say about the older version may also apply to the newer version, but the ceramic coating may have better non-stick performance and be easier to clean up. As with other components of the system, the $70 list price is on the high end.
The skillet is reasonably lightweight at 243 g including the handle (MSR's weight for the ceramic version is 8.5 oz = 300 g). It is well-made of stiff, hard-anodized aluminum, with a heat exchanger ring welded to the bottom.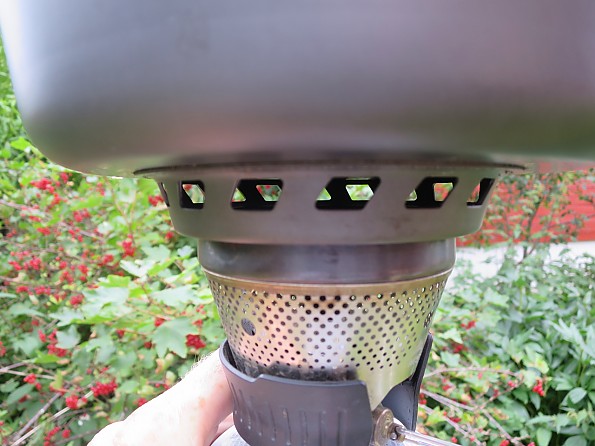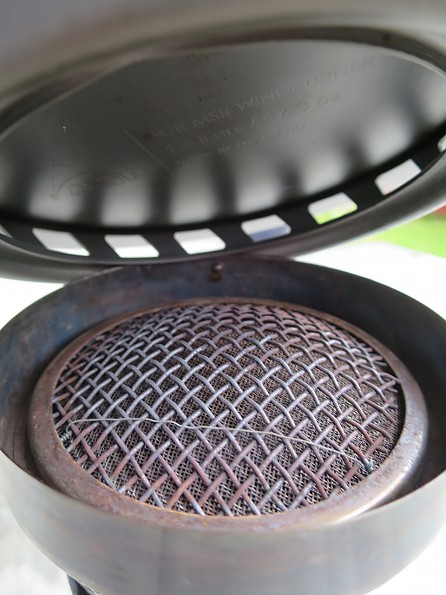 The inner groove of the ring sits nicely on the rim of the burner head, leaving a ca. 1 cm deep gap for heat and exhaust gases to move out and escape through the openings in the ring. The ring may recover some of this escaping heat and conduct it upwards to the bottom of the pan, but it doesn't look to be as efficient as the multifinned, double-bottomed 1.0 and 1.8 liter pots, which I assume were engineered to optimize fuel efficiency.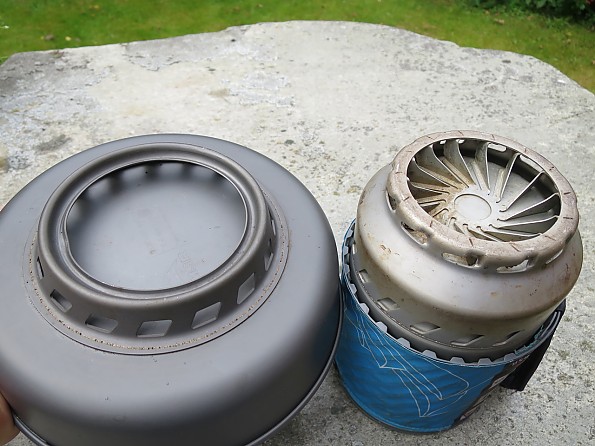 It may recover some heat that would otherwise be lost but it doesn't seem to have the efficiency of the two tall system pots. Although it doesn't lock on to the burner head as the tall pots due, the skillet is effectively immobilized on the burner head, so that it (unsurprisingly) has a hot spot in the middle.
The locking handle is a nice piece of design that can be flipped over into the pan or completely detached and stowed inside. It also works with the 2.5-liter stock pot so users can use one handle for both.
MSR's description of the ceramic version of the skillet says that it is "is great for simmering, sautéing and pan-frying cuisine", but the Windburner stove (in I assume both canister top and remote versions) doesn't simmer all that well, so I'm a little skeptical that this pan or the system would be anyone's first choice for "gourmet cookin' and, uh, q-zine"
The ultimate test
To be honest, I haven't used it all that much. Although I have not gone fully over to in-bag cooking, frying-pan based meals are no longer a part of my backcountry repertoire, and so the skillet gets left behind on longer trips and doesn't always see use even on shorter trips.
In the spirit of testing, I decide to run it through its paces in the backyard by cooking a bacon and eggs breakfast just to see how it would perform in completing this demanding task. I could comfortable fit six half-strips into the pan.  As noted above, the thin skillet has a hot spot in the middle not much bigger than the burner underneath. So the two strips in the middle cooked first, and I had to rotate the other pieces in after the first two were fully cooked and cooling off on my plate.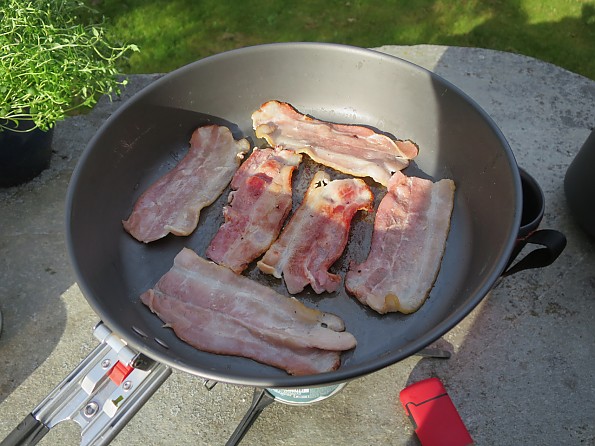 A common remedy for hot spots is to circulate the pan over the burner to spread the heat more evenly, but that is not really possible here because of the heat ring.
The Windburner does not simmer well—turn it down too low and it will eventually gutter out, so the hot spot also leads to the bacon fat overheating and sticking, already within the first few minutes of cooking. As the bacon came out the tomatoes went in, and then eventually a couple pieces of bread to make pseudo-toast. By the time the first egg went in, the bottom of the pan had a sticky, brown rind on it that would not scrape off with my plastic spatula.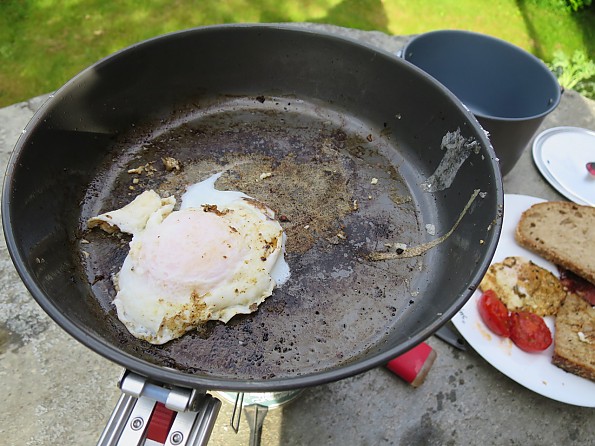 Nevertheless, I was able to loosen up and flip my eggs and so complete the job for a semi-presentable bacon and egg breakfast.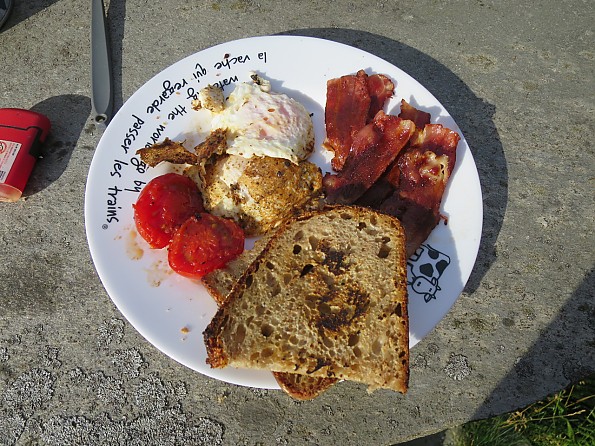 I didn't time it, but the whole operation took at least 30 minutes, most of it in cooking the bacon, and consequently used up a lot of gas.
The next issue was cleanup, and that went well enough, with the rind scrubbing off fairly easily with a green scrubby, a little dish detergent, and elbow grease.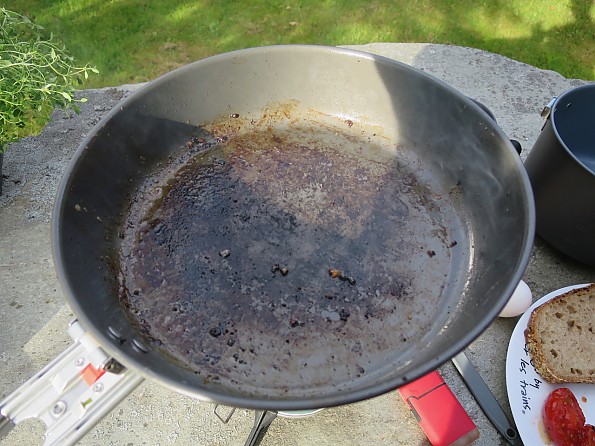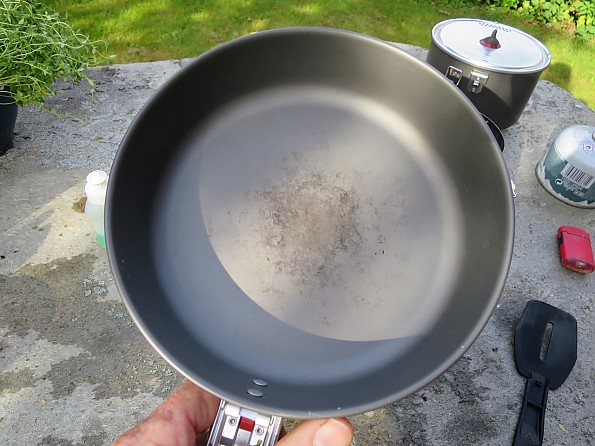 But why?
My Dad used to jokingly refer to a hammer as a "New York City screwdriver". It's possible to prepare a minimally acceptable version of the classic Anglo-American breakfast using the stove-skillet system, but it's clearly not the best tool for the job. Doing so is an exercise that I, for one, am not likely to indulge in in the backcountry, even on a one-nighter and especially in the kind of windy conditions that are the Windburner's forte. Too long and messy. Pass the granola, please. On longer trips the gas consumption to calories delivered ratio might be too high to include this or other sumptuous meals involving long cook times on the menu.
So, what is this pan actually good for? Well, if I were more of a fisherman I guess I could use it for cooking small fish or filets, but, because of the hot spot and resultant stickiness, a more general-purpose cook system might be preferable, for example a remote canister stove with the battered, Teflon-coated aluminum frying pan that I have used for years (if not the fire-blackened cast-iron pan my buddy used to expertly fry fish filets on a canoe trip a few years back).
I suppose I could use it for some kind of stir-fry meal (as seen on MSR's web page), but in any situation where you would have fresh ingredients you would likely be able to afford the weight of a more suitable cook system, and even with reconstituted freeze-dried ingredients the hot spot would require a lot of stirring at best. My wife once used it to whip up a backcountry version of curried eggs, a homefront favorite that involves briefly simmering halved hard-boiled eggs in a yogurt and curry sauce, served with rice, not exactly a lightweight meal but maybe the best and highest use we have achieved so far.
So, the skillet might work well for preparing or warming up a little sauce on the side, and maybe I just need to get a little creativity back into my backcountry cooking (but, again, a more adaptable stove system might be a better option for fostering said creativity).
The original Windburner was introduced as a rugged, windproof, and efficient water-boiling system for preparing the simplest of meals in tough conditions, and as asserted in my original review it does that job very well. To try to convert into an all-round gourmet cook system would seem to go against that original purpose. Like the bacon and egg breakfast, or bashing screws with a hammer, you can do it, but is it really the right tool for the job?
Experience
I have only used it for preparing a few evening meals plus one all-out bacon-egg-tomato-and toast breakfast.
Source: bought it new
Price Paid: Half MSRP, about $35

You May Like
Recently on Trailspace