MSR WindPro

Top 25 in Compressed Fuel Canister Stoves
The WindPro has been discontinued. It was replaced by the MSR WindPro II for 2012.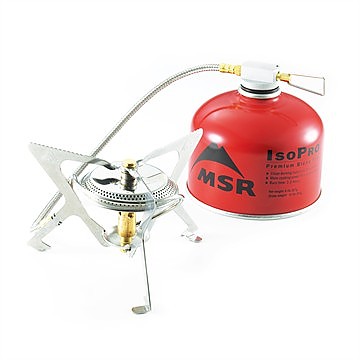 Specs
Price
MSRP: $89.95
Historic Range: $59.93-$90.00
Reviewers Paid: $50.00-$95.00

Reviews
20

reviews

5-star:

16

4-star:

4

3-star:

0

2-star:

0

1-star:

0
This stove is remarkably compact, easy to clean, easy to light, good for bigger groups, has great temperature control, is remarkably lightweight, powerful, and stable.
The only major con with this stove is the cable not very flexible.
I like how the stove has a separate wind shield; with the separate fuel and burner, it is safe, and it improves heating time. (this stove is under NO risk of the heat buildup that many canister stoves are prone to.  I also found that using  a "cozy" on the fuel enables  the fuel to  burns more efficiently, so the stove behaves better.I also always turn the fuel can upside down.
With the stable design, these "tricks" make the stove very efficient. I used one small fuel canister on a 7 day trip for two, using it an average of twice a day. I also like the adjustable flame. This stove also is very dependable; I have fed groups of up to 8 using this stove.
I would buy again! Its extra very few ounces are worth the effectiveness.
Price Paid: $65

A little heavier than some, but worth its weight for several reasons.
Pros
Stable
Easy to use
Works in cold weather
Safe
Easy to shield from wind
Appears well made and easy to maintain
Cons
Discontinued
Slightly heavier than some canister stoves
I have used all sorts of stoves, liquid fueled and canister types. For weight and convenience I almost always take a canister stove nowadays. The sit-on-top canister stoves are lighter, but unless weight is a major consideration on a trip I like the WindPro for several reasons.
It is stable because the pot and stove are very close to the ground, not top heavy like the ones that sit atop the canister. The pot stand arms are more secure than some other stoves. It has a wider flame surface than some stoves, so it cooks more evenly, I think. With a little care you can turn it down to a simmer. It is easy to use the windscreen that comes with it, but it is also easy to make a lightweight aluminum foil DIY screen.
Best of all, once the stove is good and hot you can turn the canister upside down and liquid will feed directly to the stove where it is vaporized in the generator so you can use this stove in cold weather, unlike other canister stoves. When I first got my stove I took it up to the top of a local mountain and used it with the canister turned upside down in the snow and it worked fine!
I think of it as a little workhorse like the WhisperLite stove used to be. If you are concerned with weight you can share it with another person or two and cut down the weigh you have to carry.  
Two more things, I see they are making a newer model, the Windpro II. I don't know the difference, but there are reviews of that on Trailspace also. I also see a considerably less expensive similar stove that is probably made in China (on eBay of course). It might be worth reading some reviews on that one. 
Source: bought it new
Price Paid: Don't recall, but full price at REI

I purchased this stove from REI over a year ago and have used it for work, backpacking, and kayaking. I also own a Soto Micro Regulator and a Coleman Feather 442 and I always go back to the WindPro. It is very stable, has great flame adjustment with true simmerability, and is very fuel efficient.  
I thought the wind screen was kind of corny at first but then after using it so many times I grew to respect it, it just works, and has lasted for over a year, maybe due to me rolling it up instead of folding it. I did buy a replacement wind screen but haven't needed it yet.  
I would highly recommend this stove to anyone wanting a stove they can actually cook on or if you just want to boil water.
Price Paid: $89.95

This is the most stable and easily operated stove I have used. While limited to summer use, it puts out plenty of heat and seems bullet proof.
Pros
Stability
Simplicity
Light weight
Reliability
Cons
Very cold weather reduces fuel flow
I have used both white gas stoves and canister stoves and this baby is the best. It is a beautiful work of engineering where attention to actual field use was seriously considered.  
There are a lot of canister stoves that just screw directly to the top of a gas can. This design causes the cooking platform to be elevated and if the canister is of the smaller variety these factors cause instability and accidents.  
The Wind Pro heating unit is attached to its gas tank remotely through a robust flexible hose which allows the burner with it's broad "lunar lander"  tripod to sit directly on the ground. The stove comes with aluminum foil shields, one for under the burner and the other to wrap around the stove and pot to reflect heat and block wind. These seemingly cheesy accessories really work and speed cook time. Don't dismiss them.
I have never needed to service this stove. It folds up nicely, is lightweight, and any chimpanzee can use it.
Take your white gas stove for snow camping.
Source: bought it new
Price Paid: Can't remember

Great stove for group cooking.
Pros
Holds larger pots
Fast boil times
Durable
I purchased this stove for use with our scout troop. It's very easy with setup and the windscreen helps with the boil time. We don't cook the meals, we only rehydrate, so we are not so concerned with flame control. We usually use 1 to 1/2 bottles of fuel for a weekend trip (3 meals for 10 people). Packs up nicely in our 6 qt pot.
Source: bought it new
Price Paid: $95

This stove is great! I would like to think of myself as an ultralighter but this stove warrants carrying a few extra oz.'s Being safety conscious on the trail is important to me. Having a stable base for the one dangerous item in my pack is a necessity.
Cooking with this stove is a dream with fine tune adjustment of the flame for simmering or searing. Boiling water is fast and easy in large quantities.
The included wind screen adds the efficiency of the unit. One canister of fuel was enough for a three night kayak trip which included use for all three meals and late night coffee.
Price Paid: $80

Best stove ever! It's hot, very adjustable, compact, light weight, stable and burns clean. 
I've been at this for 50 years and I'm done. This is the one.
Price Paid: $79 +/-

Love this stove. Previously had used a Whisperlight and have not used it since getting the Windpro four years ago. I was worried at first that the canister might not last long but I have never run out of fuel on a week long hike boiling water for two in the morning and evening for food and hot drink.
Puts out good heat and always use the included wind screen. I use it in temps between 30F and 90F. Wish it was a little more compact but it treats me well.
This little stove throws out some great heat. Boiled a bowl of water for my Mountain House meal at 12,000 feet within a few minutes. I have not yet used the metallic windshield that comes with it because I have yet to need its application.
I like how the stove is separate from the fuel canister, which lowers the center of gravity in helping prevent spills or even being blown over from strong winds. The stove lights quickly with either a ferrous rod and steel, or matches - whatever you use. Great, compact, simple backpacking stove.
I would recommend this stove.
I like this stove a lot for a few reasons; here goes. It easily breaks down for storage and cleaning. I've used this stove in the late fall about 30 degree weather and it lights right up. Also had the opportunity to use it in the rain and had no problem starting it. Wind screen works well + reflects the heat. Flame adjustment knob feels like it can break easily.
Cons: Compressed fuel canister is difficult to determine how much fuel is actually left after use. Best to always carry a second canister as a back up. Other than that the stove works great with no hassle of having to pressurize a separate fuel canister. Recommend.
Price Paid: $69

I am a Boy Scout and used this on a 90-mile hike. It performed great and I love it and will be using it a lot.
Price Paid: $69

If you are looking for a lightweight, easy to use, compact stove to use in windy conditions look no further. This stove is all you will ever need. The best feature of this little flame thrower is the "sturdy-ness" factor it brings to the camp kitchen. Just find a reasonably flat spot for this heating wonder, light, cook, and enjoy. It holds pots and pans without the worry of tumbling/tipping over.
Price Paid: $70

I've used the stove through our Australian winter with temps down to -5ºC (in the vestibule). It has always been a great, and never had a thought of it failing. The three legs offer great stability, especially when having a large pot (suitable for 3) being supported. I use ISOBUTANE/PROPANE gas cannisters in the snow and the cheaper BUTANE/PROPANE mix in the warmer months. When the cannisters are getting low, this is the stove where I can invert them to get the gas flowing into the stove without a worry due to its PREHEAT tube. (WARNING: DON'T DO THIS WITH ANY GAS STOVE THAT DOESN"T HAVE A PREHEAT TUBE!!) This allows a constant stream of liquid gas (similar to a conventional liquid fuel stove). The simple wind shield alows me to cook outside in most winds and still retain a rapid boil time.
Price Paid: $79.95

Awesome stove that stands up to its reviews! It's small, lightweight, and with the accessories like reflective bottom foil and wind guard foil, it all packs nicely inside its pouch and stows inside my MSR mess kit pots. The fuel cans are small, and in my humble opinion, last quite a long time. It boiled 6 cups of water (for mac and cheese) at my last outing with the boy scouts in less than 4 minutes, using a covered pot. You can't go wrong with this stove.
Price Paid: $69

Seriously, I argued with my girl that I would break this thing within one outing, but I should know that I should just listen to her and shutup. One of the best stoves ever. Quick to light and one seriously hot flame for as fuel effecient as it is. One of the few stoves I can say actually lived up to the "Will boil a liter of water in X number of minutes" standard it set for itself. As thin and light as it was it stood up to all of my abuse well and hasn't failed me yet. MSR has a good thing going with this little guy.
Price Paid: $65

Wow, it took some serious wind up here in middle and north Alaska. I bought it for a light, consistent stove. That it is! I've set it up on top of some windy domes and cooked great. It also made a great trip to the Brooks Range. It used less fuel than MSR and a salesman calculated. I was impressed.
...then I tested it during the winter... It was -10F and the stove wouldn't have it. I finally got it lit to test it out and all the fuel in the canister went bye-bye ever so quickly. In -20F, it won't light.
Bottom line: Great all around, light stove down to freezing. Works even in wind (as designed).
Price Paid: $70

You almost don't need the windscreen with this stove. I used this stove on South Bass Island, Ohio, next to Lake Erie with a nice breeze blowing off the lake and was able to cook a small pot of stew with no windscreen!
This little beauty is small but can really put out a roaring flame and cook your food quickly! This stove is well worth the money!
Price Paid: $69.99

Great little stove. It worked flawlessly for our Quantico trip last year.
Pros
Compact.
Great adjustment
Wind screen included
This is fine little stove. It folds up nicely, even if it is a little stiff. Very compact and a good range of adjustment make it a great main stove for any lightweight tripping.
Source: bought it used
Price Paid: $65

Great stove for summer camping only. Light, small and adjustable flame makes it perfect for short back backing trips. It has a stable base and can fit pretty well everything you can think of.
Pros
Adjustable flame
Light
Small
No cleaning or pumping required
Cons
Compressed fuel
Cold weather
I have had this stove for over 3 years now and it works great for small backpacking trips. It is light and small and it is very easy to attach the canister to the stove. There is no need for priming but you will need matches or a lighter because there is no built in lighter. The burner is adjustable and works great. Just be careful when your canister is getting empty. If you put it too low the flame will go out.
The stove comes with a heat reflector which is great because water boils much faster. It can also stay lit in the wind fairly well but nothing ridiculous. It has a very stable burner the only problem I had with it is that sometimes the line to the canister gets twisted and flips the burner. It is very small could fit in a coat pocket but the only problem is the canisters if you were to go on a long trip you would have to bring so many that they would not fit in a bag. Very durable no cleaning needed.
Nothing has broken on me yet and I've used it a lot in some pretty bad conditions. The only thing it won't do is cold weather. Below -5 Celsius the fuel goes to the bottom of the canister and the pressure doesn't bring it up and because of the fuel line being ridged you can not flip the canister so the intake is at the bottom.
Source: bought it new
Price Paid: 80$

Light, very stable, easy to find fuel, boils water fast.
Pros
light
stable
can use it with baking setups
easy to find fuel
Have a 3-man backpacking crew. We just boil water and do no real cooking. We bought this stove because of the stability and it's very stable [don't have to worry about tipping over a hot kettle of water].
Not the best on fuel but OK. If you want to try baking on the trail get this stove or one like it. You can get heat buildup from some of the baking pots and you don"t want a fuel canister that close to the stove, thanks.
Source: bought it used
Price Paid: $50

You May Like
Recently on Trailspace