MSR WindPro II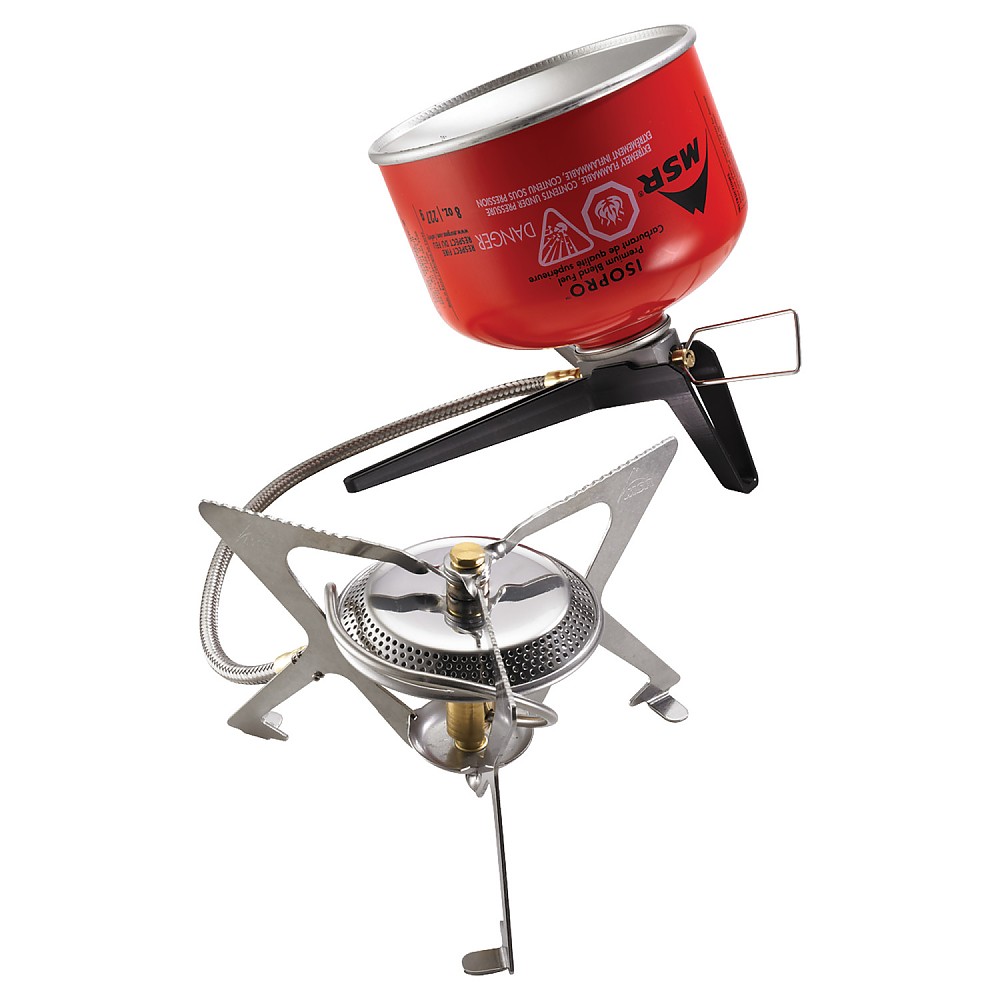 The Windpro II from MSR is new for 2012 with one major difference from the original Windpro... Inverted Liquid Feed. The Windpro II has added a stand for your fuel canister, which allows you to invert the canister for a direct liquid feed which improves cold weather and low-fuel performance. Now you have choices in which way you want to burn: Upright mode for optimal efficiency, or inverted on those cold winter mornings at base camp where cold affects canister pressure and output. I've been able to spend some time with the new WindPro II. I was not disappointed.
Pros
Remote burner
Inverted liquid feed
Efficient
Good for small or large groups
Packable
Durable
Includes a windscreen and baseplate
Cons
There is a delay in the burner adjustment
The Windpro II has one major difference from the original Windpro... Inverted Liquid Feed. The burner has remained the same as the original Windpro, but the fuel line has added a swivel canister connection and a new canister stand, which allows for safe inverted canister burning. I emphasize "safe" because of the practices of cold weather users trying to invert their canisters for direct liquid feed.
In researching for this review I poured over anything and everything I could find out about the original Windpro
to see the changes they made for the Windpro II and why. Everyone loved the Windpro except for one flaw, which was not being able to safely invert the canister for cold weather efficiency. People were making their own stands and twisting the fuel line around causing the possibility of flipping the burner over during cooking. This creates a serious fire hazard.
The original Windpro was not designed for inverted canister cooking. MSR has addressed this issue with the redesigned Windpro II solving the problems for cold weather user while still allowing for upright burning during warmer temperatures.
Opening the Box
When I first received my Windpro II I was surprised by the size of the box. What was I getting myself into? I'm an ultra-lighter. I think about every ounce, and I'm holding a box the size of my full length Therm-a-rest. I was apprehensive to say the least. I kept having to tell myself my mantra with this stove: "It's not for me... it's for us." That's what this stove is made for: groups of people who like to eat well.
At 6.5 ounces it's no lightweight... or is it? When I start to do the math I realize that this stove can handle my next group hike with only about an ounce per person. By sharing the loads on certain items like a cook kit and stove, you can really cut down the overall weight.
This stove is certainly capable of handling a group of 4 to 8 people with fast boil times of larger volumes of water, an oven capable stand, and being able to use a windscreen which greatly increases the efficiency and therefore utilizing your fuel better.
After sitting down with my thoughts on the size and weight, I was still smiling.
Quality and Durability
This is not my first canister stove from MSR. I've owned the PocketRocket for years and can only guess how many hundreds of meals I've cooked on it without one problem. When purchasing from MSR I've never had a problem. This stove is made in the U.S.A., and I've never heard of any quality control problems from them.
This stove is no different. It is beautiful. I find beauty in items that have a pure flow and functionality. To me, it's functional art. The Windpro II is nice. The fit and finish is that of a stove that is worth its $99 price tag. I could not find a flaw in the construction of the unit, and it feels solid and durable. I have no doubt it is going to give me years and years of maintenance-free use.
During the testing of the stove this winter, I had a cold water immersion in my kayak, and had to ditch the stove on shore where it washed up. I came back the next day with the local Fire Department to collect my abandoned items and discovered I had left the stove submersed in water for over 24 hours in my cook kit that had filled with water.
It still looks brand new. I cannot find any rusting or corrosion even after sitting in water for over a day. I feel this is beyond what the designers intended, but it held up wonderfully on an unexpected accident. For me it goes a long way in describing the quality of MSR products. Thank you, MSR.
The Setup
When you get to camp at the end of the day, you're hungry and tired... in that order. The last thing you want is a complicated kitchen when all you want is a hot meal. Setup for the Windpro II is beyond easy. The burner and fuel line is one unit that collapses for packability and it easily setup. Included is an aluminum base plate to reflect heat from the ground and a windscreen to keep everything hot. All you need to do is attach a canister and the canister stand for inverted canister cooking and go. No priming and no tools required.
Having a remote burner as opposed to a canister base stove allows you to add a windscreen safely. Having a canister reach temperatures above 113 degrees can lead to a canister rupture, and that's bad. Don't use canister base stoves and a windscreen together.
Cooking
Cooking with the Windpro II is straightforward and predictable. The stand is wide and can easily accept a larger pot or skillet safely. If you're a guide or an expedition leader, this would be a good stove to have along. Trying to make a stove designed for one to two people do a job it wasn't made for will make you enjoy having a larger stove like the Windpro II.
I cooked a meal for four people that included chicken burritos, cooked veggies, cornbread, and hot chocolate for dessert. I am not a cook, but I felt pretty good after that feat in the woods. Having a pair of Windpro II stoves working at once would give you more options than I would know what to do with. I was still smiling.
I did notice that flame adjustment is delayed. I got me into trouble with my cornbread and I almost burnt it. Once you get the feel for the adjustments though, you can better predict the need to give yourself more time when changing the flame height.
Also, when inverting your canister, make sure you adjust the flame down because it's going to start roaring. It made cold weather cooking a breeze, and I felt confident I could have taken this stove out in even the most brutal of conditions and had a hot meal.
Packability!
The Windpro II comes with a windscreen, base plate, carry bag, and a field tool for making repairs in the wild. All this can fit into my one-liter imusa pot. It kept it nice and secure, but I also felt that if I had to use just the soft bag that is included from MSR that it would have been secure. I am not ginger with my things, but I also am not the kind of hiker who abuses his stuff either. If I packed it in the middle of my bag with care, it would be fine. This stove is tough.
My small fuel canister could not be put into the same one liter pot with the stove, but for me, it wasn't much of a concern for the fact that when I use this stove it will most likely be cold outside and I'll want my fuel canister accessible upon coming into camp so I can slip it into my coat and warm it while I set up my camp and kitchen.
The Bottom Line
The Windpro II from MSR is a solid performer. It has addressed the weakness with the original Windpro's fuel system and made significant improvements. Being able to invert the canister has made this a true four-season stove ready for your next winter adventure.
With so many plusses, and only one discoverable con being the burner adjustment delay, I would definitely recommend this stove to anyone wanting a quality built, American made stove that will outlast many other options at the same price.
Source: received for testing via the Trailspace Review Corps

User friendly, super light and compact, easy to use stove with moderate ability to adjust burn (simmer verses boil only).
Pros
Light
Compact
Effective wind break/screen
Easy to use
Stable footing
Nice pot/pan support
Cons
Burner adjustment "delay"
Neat little stove that is perfect for backpacking. The wind breaks work as designed and the cutout that allows easier access to the pot or fry pan was very thoughtful. The gas supply line that lets you relocate the tank out from under the burner also creates a little bit of a delay when making burner adjustments as it holds a little gas & pressure. So when fine tuning burner strength or intensity, make adjustments slowly. 
The good news though is the simple fact that you can adjust intensity and this is not one of those "boil is the only function" stoves. It does not come with a built-in igniter and I prefer that as it adds weight for a component that has a very limited lifespan.   
I did not time any boils, but when using with the Optimus Titanium cookset it was bringing water to a rolling boiler super quick and I suspect it is very competitive in that arena (although while backpacking, I never understood why this was a criteria).
The stove pan support and legs all fold nicely together to conserve space, but are amazingly supportive and tough for a stove of this size. If you are cooking from more than one person or use larger cookware, it's a feature you are going to really appreciate. Oh, and the stove with small tank, all fit inside my cookware pot/top.  (Light/Tight & Right) is the way I like them and this stove fits the bill.  
Nice stove that I would certainly recommend to anyone who is concerned about stove size, space and reliability. You get all three traits in a wind proof package here for an affordable price. Well done, MSR.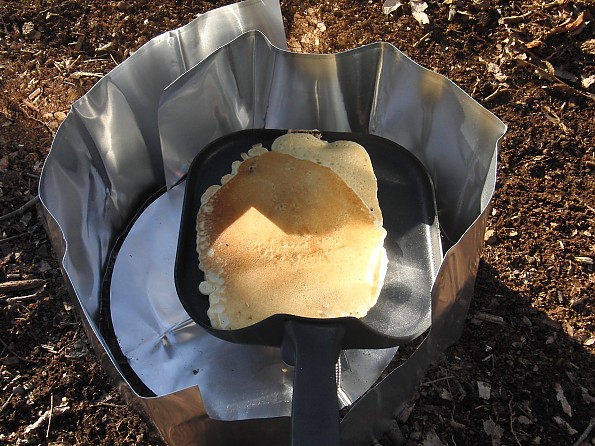 Source: bought it new
Price Paid: $100

This is a solidly built stove, easy to use, and I would recommend it to anyone.
Pros
durable
compact
lightweight
easy to use/setup
When I finally had to buy a new stove, I knew what I wanted. Light, durable, easy to use, handles big pots. I got that in the WindPro 2.
When I first lit it, I was impressed with the burner. it puts out a lot of heat, something you need with bigger pots. it boils a quart in about three minutes, which is good enough for me. I could never understand the point of how fast your water boils — are you in a hurry? I'm not - I look for fuel efficiency over boil time but I can see the connection - the longer the boil time the more fuel used, but trust me this stove boils plenty fast.
It's also easy to set up, the legs snap on to the valve for easy inverting — and when you do get ready for a volcano, as I found out. I was cooking ravioli and I decided to invert the canister without adjusting the flame down and my ravioli boiled over...it was more difficult to get an adjustment with the canister inverted, but for boiling water in colder temps/low fuel situations it is more than adequate performance.
I also like the windscreen that comes with it — easy to use as well and increases the fuel eficiency. I didn't have it out in very windy conditions but I did notice an improvement in boil time with the windscreen. The delay in adjustment is the only drawback, and is not much of one. Once you get used to it it's easy to deal with. It delays because of the long fuel line, which is understandable.
This stove also handles large pots well. the legs are sturdy and well made. I didn't once feel that it was unsafe with a big pot. Just be sure you let it warm up thoroughly before inverting - I didn't the first time and it flared on me - the only time it did.
All in all this is a solid, easy to use stove, I would recommend it to anyone.
Source: bought it new
Price Paid: $99

This is a very nice stove.
Pros
The grips on the pot stand keep the cook pot in place
Compact
The control valve works great for simmer or fast cook. It get super hot quick. Functions just like you would want it too. Bought it at Cabela's.
Source: bought it new
Price Paid: $79

Your Review
Where to Buy
Help support this site by making your next gear purchase through one of the links above. Click a link, buy what you need, and the seller will contribute a portion of the purchase price to support Trailspace's independent gear reviews.
You May Like
Specs
Price
MSRP: $99.95
Current Retail: $109.99-$134.95
Historic Range: $74.99-$134.95
Reviewers Paid: $79.00-$100.00

Fuel
isobutane/propane, MSR IsoPro

Boil time for 1 L of water
3.6 minutes

Water boiled per 1 oz of fuel
1.8 liters

Dimensions
3 x 4 x 6 in

Weight
6.6 oz

Recently on Trailspace