Mystery Ranch Coulee 40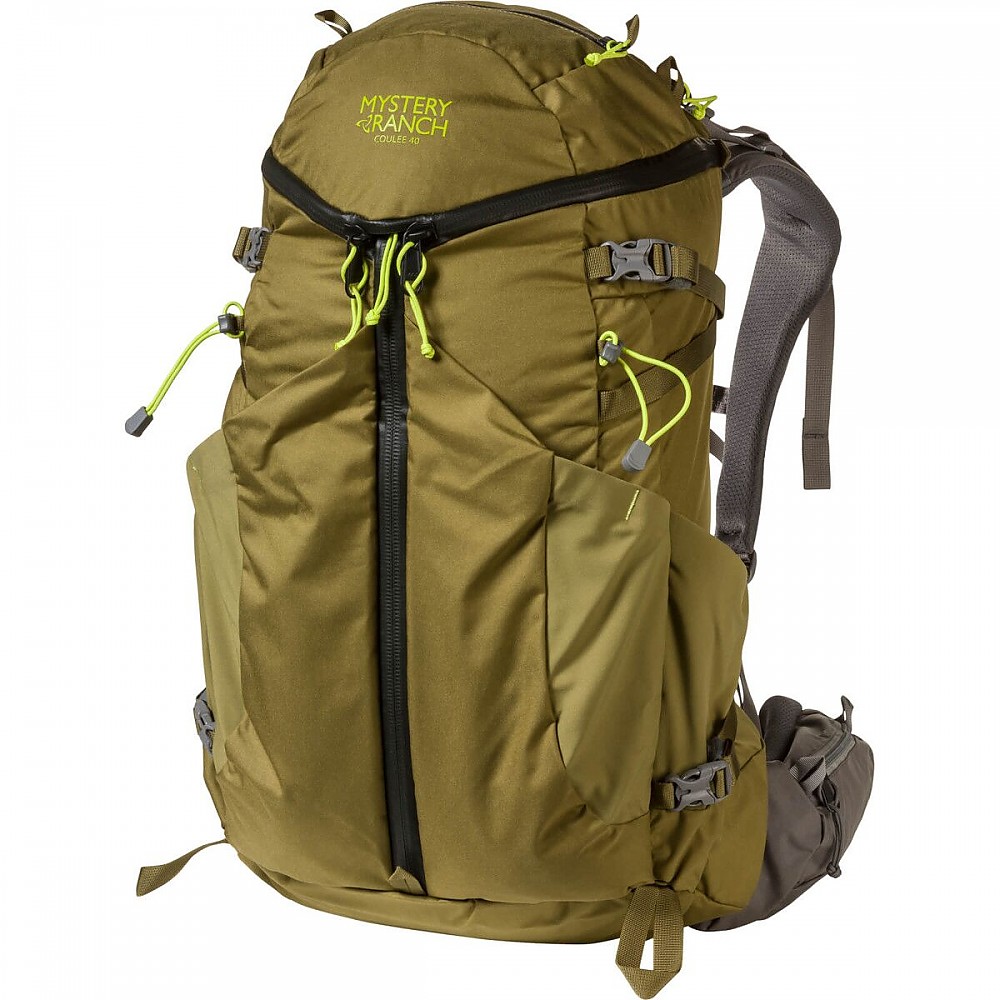 The Coulee 40 could either be a really large daypack, think carry stuff for a small family, or serve you for overnights with lightweight gear. The two fiberglass stays help it carry quite a bit of weight comfortably, and the hip and lumbar pads are very good as well. The key feature that makes this backpack great is the three zippers that allow full access to everything. It's outstanding, my new favorite smaller backpack.
Pros
Comfortable and capable suspension
Easy access to contents
Solid hydration options, whether you use reservoirs or bottles
Unusual storage options
Fit adjustment
Cons
3.8 pounds, on the heavier side
BASIC DETAILS ABOUT THIS BACKPACK
The Coulee 40 is a backpack from Mystery Ranch, the Montana-based backpack company founded by the same guy that brought us Dana Design backpacks years ago. This pack holds about 2400 cubic inches of your stuff, primarily in the main storage area, but with a few interesting other spots. The frame consists of a shoulder "harness" that incorporates a hard plastic piece and adjusts up and down to fit your torso length to a "T", a wide-ish hip belt that wraps around your hip bones and keeps weight off your shoulders, and two synthetic/composite stay rods inside the pack that make up the key portion of the internal frame. 
Adjustments abound on this backpack. The hip belt tightens by pulling inward on either side. You can move the sternum strap up or down to suit you. Of course, you can pull the shoulder straps tighter and pull the backpack closer to your back with straps on each side. The photo below gives a good view of the compression straps—and some exterior pockets, as well as the three-zip opening.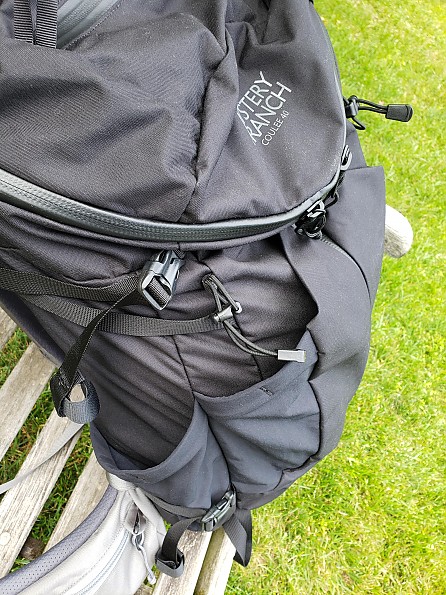 A key benefit of this backpack, like all of Mystery Ranch's larger backpacks I have used, is that the entire shoulder harness—both shoulder straps, the upper back padding, and the hard plastic piece they are attached to—can move up and down a number of inches to fit your torso. Basically, a wide surface on the interior of the shoulder assembly is velcro/hook and loop and can move up and down. The initial "setting" process takes a little time and some effort, and it's easy to scratch your hands getting it right from the velcro. Once it's done, the shoulder assembly is fully anchored, and you get what amounts to a perfect/custom fit to your torso length.  
The backpack has features you might expect and might actually use. Twin ice axe loops are paired with stretchy attachments. Both sides have excellent compression straps that are wide and easy to use. The backpack is made of 330d nylon—a durable, tightly-woven nylon that isn't extremely heavy. I get into some specific features like hydration and storage in more detail below.
The Coulee 40 weighs a little less than 4 pounds. That's on the heavy side for backpacks with this amount of storage. If you like gear that is a little more durable and more capable of carrying extra weight, the limited additional heft won't trouble you. For the sake of comparison, though, the slightly larger Osprey Exos 48 only weighs about 2.5 pounds, and the ultralight 60 liter ULA Ohm weighs about 2 pounds. That said, as I address below, there are tradeoffs to going with an ultralight option vs. this backpack, depending on what you carry.
HOW IT CARRIES
When I start using a new backpack, I like to understand what I'm dealing with. So, I take it on some short hikes with varying amounts of weight, to see how it feels. For a backpack this size, I'll try between 25 and 40 pounds, though I often hike with quite a bit less than 25 pounds during the summer. Backpacks with no frame or a weak frame usually max out in the 20-25 pound range, after which they become pretty uncomfortable to carry. A real frame, usually made of stiff aluminum, steel wire, or composite as the Coulee uses, should be able to carry at least 35 pounds comfortably. In addition, the hip and shoulder padding needs to be firm enough that it doesn't sag and well-designed to rest comfortably. 
Below is a view of the backpack opened up with a large blue silnylon bag stuffed with gear. You can see where the two stays go to the top of the backpack.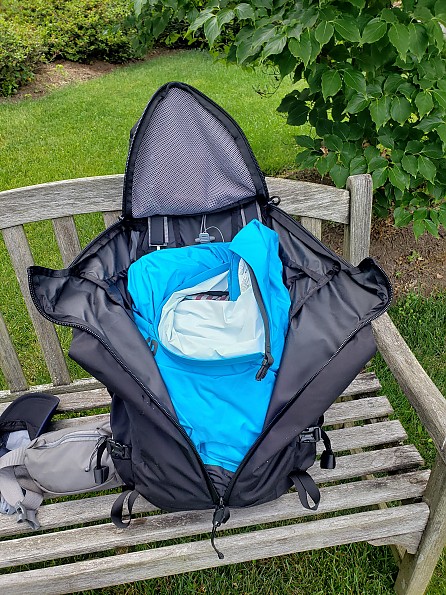 The two white rods on either side of the hydration sleeve (the hydration system doesn't come with the backpack) are the pack's internal frame.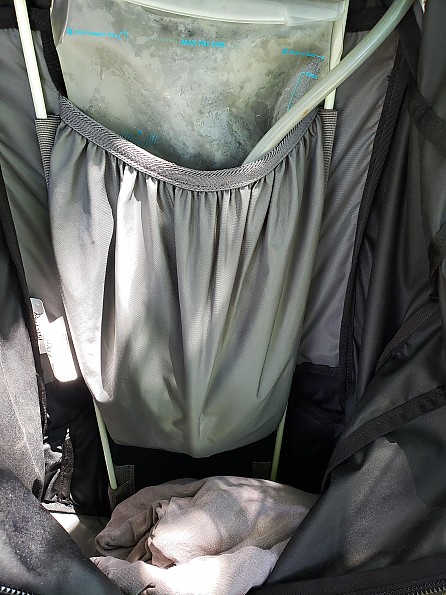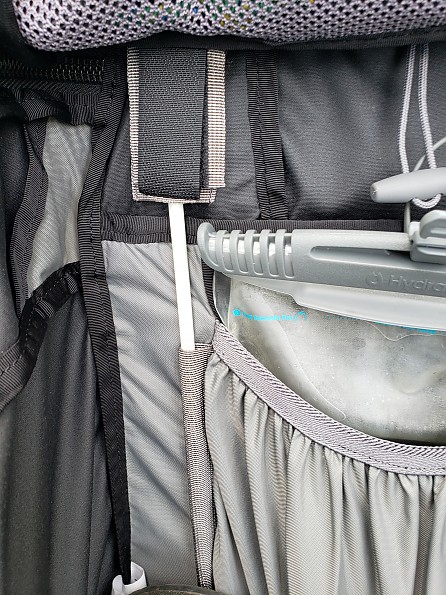 The photo above shows one of the frame stays at the top. Incidentally, it also has a nice closeup of a hydration reservoir in the sleeve.
This one falls firmly into the latter category. 35 pounds was no problem. Frankly, it's hard to fit gear that weighs over 35 into a backpack this size. The only other backpack this size that has carried weight so well for me is a Boreas Lost Coast 45 I reviewed five or six years ago, which has a steel wire frame.  
The padding is comfortable, even fully loaded. Note, this isn't a backpack with a trampoline back, so your back is likely to get a little more damp from sweat than with a pack that has space between the trampoline and the rest of the pack.  
ORGANIZING YOUR GEAR
The Coulee's primary organizing thought is that you don't need lots of internal storage pockets because you can access whatever you need by unzipping the pack. It's a great design. If you like treating it like a top loader, just open the two top zippers next to the lid. If you want to open the entire thing up, open the main zipper. I took the photo below mid-hike in a national park nearby, after I took out my hammock, straps, and water bottle to hang out on a particularly steamy day.  
You can also see above that the hip belts each have a zippered pocket, and the back of the pack has two open pockets for stuffing things into—the larger pockets are stretchy material. 
In the photo below, the bag is mostly empty, except for my sandals. This also gives a good view of how the frame is attached to the top of the bag and of the hydration sleeve inside.


The hip belt pockets are tremendous. Easy to open and roomy. My relatively large smart phone fits easily, as does my portable GPS, or a couple of energy bars.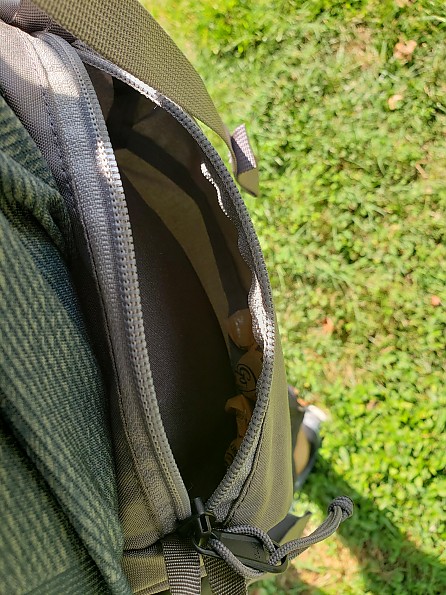 The lid has two pockets. the smaller top pocket is really small—less volume than the hip belt pockets, large enough for keys and a phone perhaps. The larger pocket has much more room, a place to stow a hat, light gloves, shades.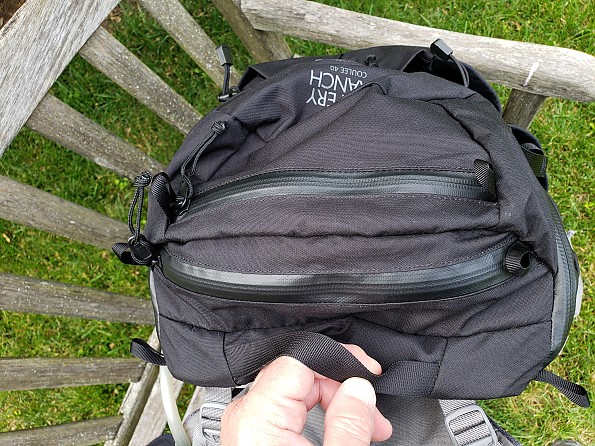 One of the earlier photos shows the side and back pockets better. The side pockets can each hold a liter water bottle or a comparable amount of other stuff. The back pockets are large enough to grab a rain jacket, foldable/portable dog water bowl, fuel bottles, etc. Note the two back pockets are open; they don't zip shut or have any kind of flap. Because the material is partially stretchy, though, I haven't had anything fall out. Then again, I also haven't hung it upside down to test that. 
HYDRATION
I already included a few photos of the hydration sleeve inside. It is a big improvement over old-school Mystery Ranch packs that sometimes dealt with hydration reservoirs as an afterthought. The sleeve swallows a 3-liter reservoir without a problem, and the backpack has built-in ports for the hose. The shoulder strap (right side) has elastics on it to hold the hose in place. Works great.

Alternatively, you have two pockets (see one of them behind my shoulder) that can each hold a water bottle if you prefer. The pocket has some stretch; it works fine with a typical Nalgene or similar bottle; a steel Hydro Flask felt a tad like it might fall out due to the weight.  
DURABILITY
It's always a little silly to judge a backpack from a few months of use. Nothing on the Coulee has failed, loosened, or torn. The extra weight comes in large part from a relatively robust pack bag material.
I do think it's worth mentioning that I have two older Mystery Ranch backpacks—both so old the models have been discontinued. Both are made from somewhat heavier nylon than the Coulee; both have been basically impervious to damage other than years of wear and tear (I replaced the shoulder harness on a Mystery Ranch Snapdragon when the nylon near the plastic frame sheet wore a hole in it—this was an internal location that sustained years of rubbing, not an external tear or scrape.  
COMMENTS AND OBSERVATIONS FROM USING IT
I have been using the Coulee 40 for day hikes since I purchased it a few months ago. Distances ranged from a few miles to day-long hikes. I generally carried 20-25 pounds, with a healthy percentage of that being water because it has been very hot and humid almost all summer. I also took some hikes intentionally loading the pack to 30-35 pounds. Observations, in addition to the comments above that derived from using it:
The big outer pockets on the back are very good for rain jackets that get wet, then stripped off. One of those pockets also became "the dog pocket" for her water, folding water bowl, leash.
One of the most comfortable backpacks to carry, even fully loaded. A big step up from a comparably-sized Mystery Ranch Snapdragon from 12 or so years ago.
I like the side pockets much better for storing snacks or a phone than for water bottles. The pockets are far enough back that reaching for a large bottle involves contorting your arm a little.
The lumbar and back pad gets damp from sweat.
Love the hip belt pockets, use those all the time.  
Multiple ways to stow trekking poles—side pockets and compression straps are an option, but I liked using a small carabiner looped through the ice axe loops and the poles' wrist straps, plus the tool grabbing elastics on the pack.  
Easy to use hydration, another step forward for this company.
TAKEAWAYS
The 35-45 liter backpacks intrigue me—with a demanding job and more limited travel (multiple kids in college sometimes have that effect), I find myself using these more than others. I have a couple of comparable specialty packs that are made primarily for scrambling and rocks—ballistic nylon, frameless, brutally strong haul loops.
Setting those aside, this could easily put at least a couple of other packs I have into retirement. I appreciate that this has plenty of modern features and has adopted some lighter-weight or more modern materials yet doesn't completely let go of its overbuilt Dana Design heritage—it can carry a lot of weight comfortably and is built to last for years (decades?). 
Strongly recommended.  
Background
At least a dozen day hikes and at least three dozen training walks carrying weight inside.
Source: bought it new
Price Paid: $169 on sale

Excellent review. I agree almost completely with Andrew's assessment of the Coulee 40. This is a great overnight or weekend pack, depending on the amount of equipment you carry.
Pros
Bulletproof construction
Great weight distribution system
Highly adjustable fitting method
Numerous outside pockets
Cons
Poor breathability on back in hot weather
No way to compress top with 3-zipper access
Lacks top and bottom straps for strapping on external pads
I've had the Coulee 40 for only a short time, but it has all the same qualities that I've come to love from both Dana Gleason's companies, Dana Designs and Mystery Ranch. They all have a heritage of quality, excellent weight distribution harness and belt design, bulletproof stitching (despite being made overseas), and a lack of superflous features that are obviously designed only to market the sale of packs. 
Yes, the pack is a tad heavy for its size, but the hip belt and harness more than compensate for the weight in the way it distributes the total loaded pack weight. I also think that at 40L it is slightly under-rated in its size. I can load it with the same gear that I used to get into an Osprey 48L pack without having to go to the outside pockets on the Coulee. I also have the Mystery Ranch Stein 62, and it seems to handle the contents that I used to put in a 70L pack, so no surprise that it might be a little larger than 40L.
I do not like to use a hydration bladder, due to the way it pushes on my back, so I can't rate the use of a hydration bladder from experience.
If I have one complaint, it is that the three-zipper access system makes it impossible to compress the top if I'm using it without a full load. The top collapses in on itself, which is really no big deal. I would prefer a couple of tie-down straps on the lid so I can strap my solar lantern on the top for recharging while hiking during the day.
I was so impressed with the overall design of the pack that I've added the Coulee 25 to my pack arsenal as a day hike/carry-on pack. Both the Coulee 40 and Coulee 25 have removable hipbelts if you want to use them without a hipbelt.
In summary, my experience is that you can't go wrong with any Mystery Ranch gear. I highly recommend this pack.
Background
I am a longtime backpacker (50 years) and have owned just about every type of pack known to man. Dana Designs and Mystery Ranch are far and above the best of the best. If you are an ultralighter, this is not the pack for you, but if you want to get into the backcountry comfortably with an unbroken piece of equipment, go for this pack.
Source: bought it new
Price Paid: $173

Your Review
Where to Buy
Help support this site by making your next gear purchase through one of the links above. Click a link, buy what you need, and the seller will contribute a portion of the purchase price to support Trailspace's independent gear reviews.
You May Like
Specs
Men's
Price
Current Retail: $102.64-$248.95
Historic Range: $102.64-$249.00
Reviewers Paid: $169.00-$173.00

Weight
3.8 lbs

Volume
2441 cu in

Dimensions
28.5 x 16 x 12.5 in

Women's
Price
Current Retail: $174.26-$248.95
Historic Range: $111.71-$249.00

Weight
3.8 lbs

Volume
2441 cu in

Dimensions
28.5 x 16 x 12.5 in

Recently on Trailspace