Mystery Ranch Sphinx 65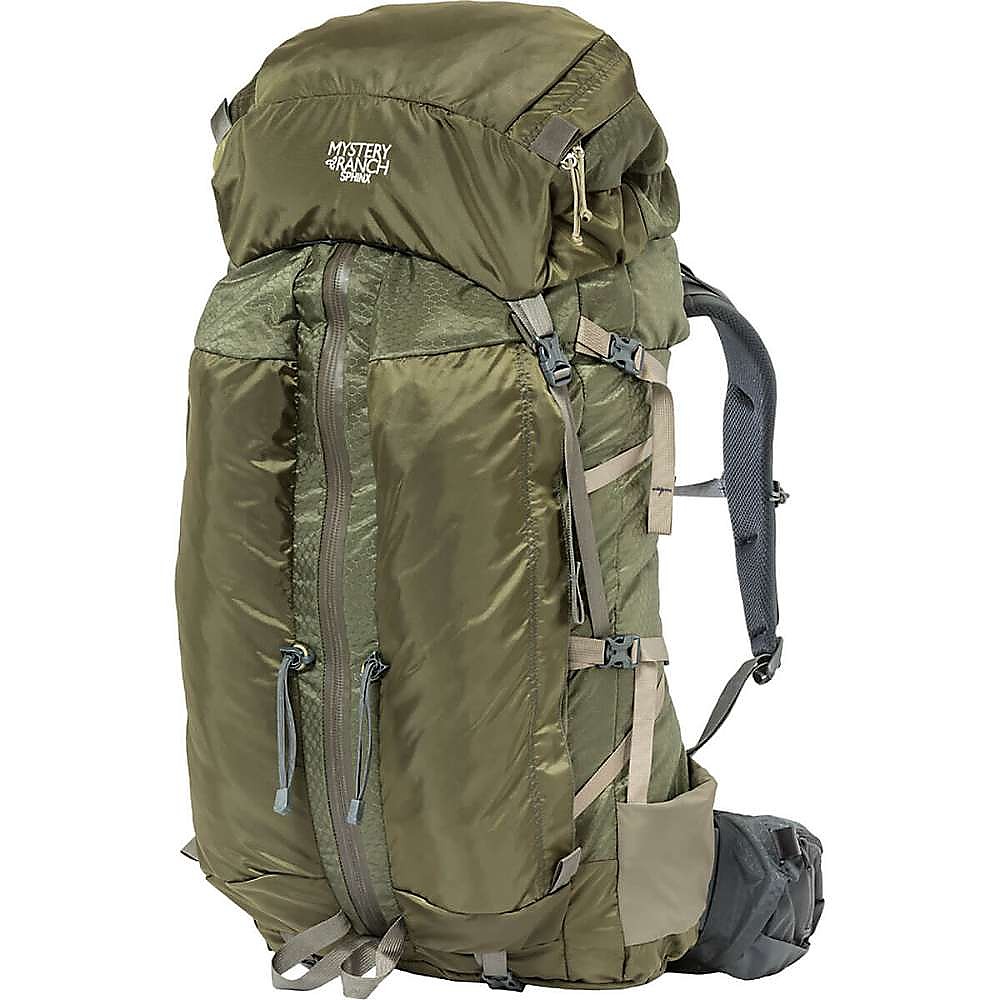 The Sphinx is a 65-liter volume panel-loading backpack made to Mystery Ranch's exceedingly high standards. Like many of their packs, it's a workhorse that can adapt well to the task of the day.

I found the pack ideal for ice climbing and backpacking requiring off-trail bushwhacking, as the front zipper provides instant access to your rack and rope while keeping the outside of the pack as clean as possible.
Pros
Waterproof, lidded closure
Thick Robic fabric takes abuse
Stellar harness system
Robust, fully-waterproof panel zipper
Exemplary hip-belt pockets
Cons
Shoulder straps might feel thin for some users
Best For: First Responders and Medics that need immediate access to packed items. Climbers, backcountry guides, and Rangers. Any backpacker keen on staying organized. Hunters and birders.
Design
A mid-size panel-loading backpack, the Mystery Ranch Sphinx (and its sister, the Mystic) makes extensive use of cutting edge Robic fabrics and efficient engineering to keep its weight at five pounds and some change.
The Sphinx uses Mystery Ranch's Adventure Frame yoke and harness, one of their more lightweight, dynamic systems. The Y-style upper harness and hip-belt marry wonderfully to two composite stays which should transfer weight to your hips quite effectively.
The hip-belt is engineered in keeping with the pack's intended upper weight limit: it is well-padded and partially stiffened, of a wrap-around type. That is, it is sculpted in three dimensions to better grab your hip-bones and prevent slipping while you walk. A differentially-cut hip-belt pocket on each wing will swallow both smartphones and GPS equally well.
The side pockets are on the smaller side, but are a stretchy mesh, and will hold our near-ubiquitous Smartwater 1L bottles just fine. Side straps and buckles are full size, full-strength affairs, and are routed so as to not interfere with whatever's in the pockets.
A smidge bigger than the old DD side-pockets...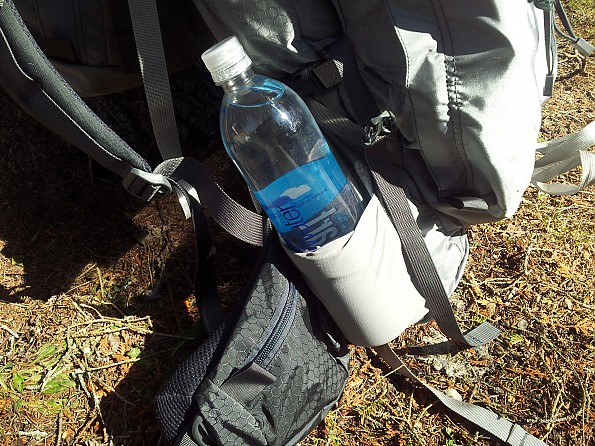 On the back of the pack we find the two signature Dana-style vertical tube pockets. Big enough to swallow tents and shoes, but placed smartly enough—behind the swing of the arm and lofted above the ground—to stay out of the way when trekking through brush.
If it ain't broke, don't fix it...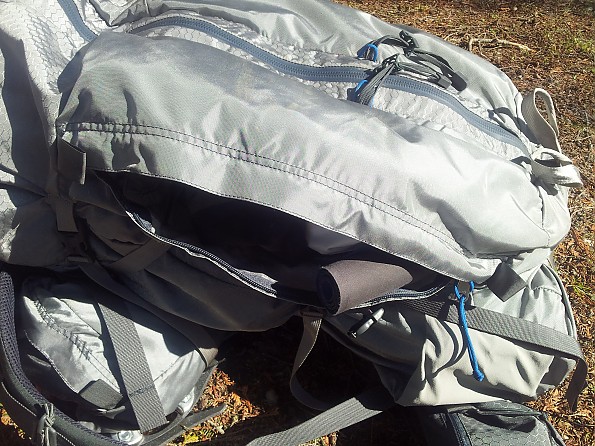 Between the tube pockets a pair of stout elastic tool keepers are sewn into a main seam, flanking the nearly full-length panel zipper. These pair up with ice tool loops at the bottom of the pack.
The main zipper is a beefy, waterproof YKK unit, protected by a thick rubbery shield. A reinforced buckle at the top of the track takes tension off the zipper (...unintentional alliteration FTW!). All zipper pulls have approximately 3 inches of para-cord larks-head-hitched through them to make operation stupid simple even with big dumb mittens on.
Front zipper and zipper pull detail...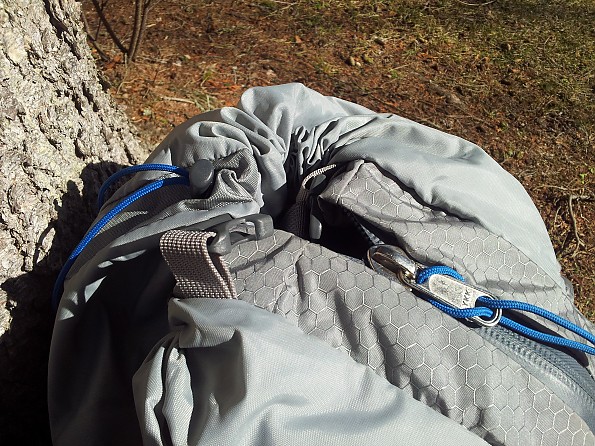 The lid sports a large top pocket with a full-wrap zipper; it will swallow a belay jacket if asked. Underneath the lid is a separate mesh pocket with the obligatory key clip. The lid is sized large enough to keep the drawstring-cinched extension collar covered even when bursting full.
The lid is anchored to the same point as the load-lifter straps, the upper ends of the frame stays, and is removable. Such a design 'ties' the upper load-bearing points back together and re-directs their load directly down the user's spine. A very efficient design in both concept and application, tying the load back to the frame-sheet as quickly as possible directs forces in a manner more favorable to forward momentum, as opposed to shifting and sliding and countering your movement.
Underside of lid, hanging directly off frame stays...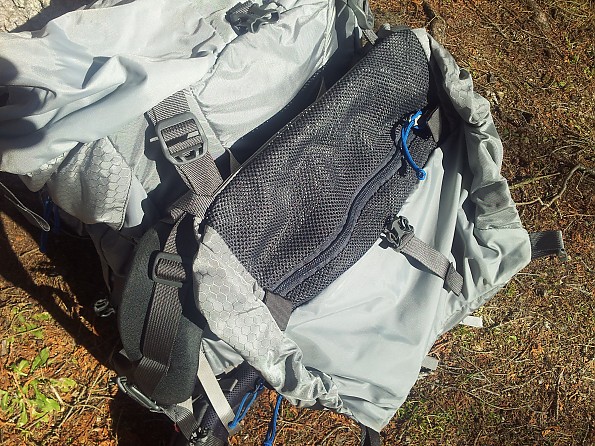 There is an internal stabilizer strap as well, one which can be routed a number of ways and attach to a couple of buckles to keep whatever load you want secured, secured.
Load security seems to be the phrase of the day, actually. The side compression straps, in concert with the internal stabilization strap and the compression from the lid, allow the user to have effective compression on a large range of load sizes. The Sphinx can go from a day-pack to a 70-L hauler in the blink of an eye
This compression system is what makes the panel-loading design work so well in practice. The load, fully stabilized, can be accessed with just one pull of the center zip. Nothing gets in the way, and nothing shifts. Things placed under the lid, on-the-fly, stay there until you stop hiking.
All the other, usual suspects are present as well: A hydration sleeve and tube keepers, and adjustable sternum strap, and a plethora of lashing loops to affix additional gear.
Performance
The Sphinx does everything a reasonable person could want it to do, and it does it with a smile and "Yes please; may I have another?" Using this pack, one can tell a number of smart people came before you to ensure your experience meets your exacting standards. The last pack I owned that made me feel so confident in my abilities, that was so heads-and-tails above anything I'd used to that point, was the ULA Catalyst. In this fool's opinion, the Sphinx somehow eclipses that wonderful pack in terms of the ever-present features-to-weight ratio, being a solidly-built chameleon with a wide range of both purpose and capability.
Definitely NOT ice bouldering at an undisclosed location...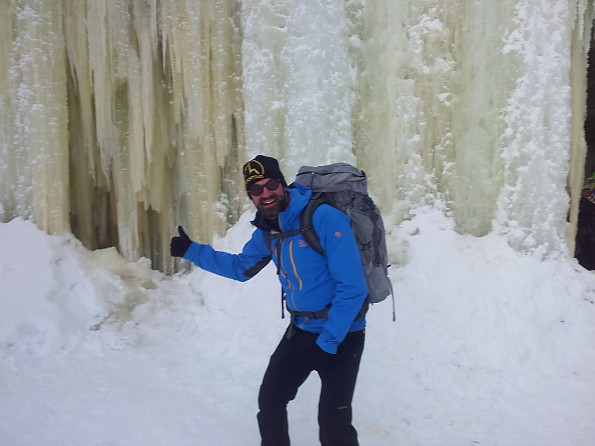 I used it mainly as my haul bag during this year's ice climbing season: it held a 70M 10mm rope, lead rack, and various anchor-building and self-rescue bits. Water and food for a night out, and the ten essentials for a UP winter day, plus snowshoes, meant 60-70lb loads at times. (45 pounds more commonly.) This 5lb pack handled these loads admirably, allowing great organization with a myriad of pocket options, and a capable suspension that transferred weight effectively and comfortably.
Of course, this is all to be expected. Getting the Sphinx in the mail is like getting handed the keys to a Ferrari and being told "See what you can break." Even so, it is a good sign when experiences match expectations. Still, you've almost got to hold things like this to a higher standard; you have to try harder to find shortcomings.
So I've snagged it on rotten sandstone trying to squeeze past waterfalls and the Robic fabric doesn't seem to care. Glissaded down a snow chute in three feet of powder, laughing off the bracken and bramble. Post-holed across dozens of creek crossings in that same god-forsaken powder.
And all this with two ice tools hanging off the back, handles held snug only by the two elastic pulls. I thought the cinches might be overpowered by all the beech and maple underbrush encountered getting to the base of so many Pictured Rocks National Lakeshore waterfall climbs, but they held fast and seem like they'll pass the test of time. I'll certainly update this review if needed.
But that main center front zip is brilliant in the field. You drop the pack and open it, and then you get what you want. The oversized YKK track, covered as it is by thick rubber, takes a little force to slide but is reliably waterproof. I've climbed melting water ice with the pack on, the creek pouring down on top of me, and its contents stayed dry. All the regular zippers are stout YKK pieces too, and have full flaps their entire length, shielding them properly from water intrusion.
60 pounds indeed seems to be the upper comfort limit of this pack, for me. This seems a remarkably acceptable figure for the feature set and price point ($300). At the upper weight limit the shoulder straps can feel thin, but as weights usually come down quickly over trips as food and fuel is consumed, a day or two at 60 pounds is certainly manageable.
Though MR lists the capacity at 65 liters, I'd say that it just tops 70 with the extension collar bulging. There's plenty of room to over-pack, but if you keep your loads under 50 lbs you'll have to work really hard to complain about something.

"that's it?" -Sphinx, probably...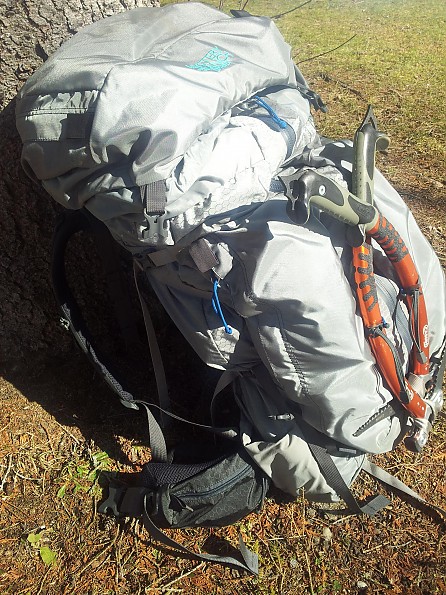 Properly sized—there are six sizes to consider, from XS to XXL—and loaded within its weight range, the Adventure Frame yoke and harness is at the top of its class. It moves with me, allowing me to focus on the terrain and task at hand.
When I say that I consider the Sphinx to be a world-class backpack, I mean that I get to trust it, and forget about it. There's no "I wonder about that buckle..." or "I don't like the look of that zipper..." with the Sphinx. Everything about it is trustworthy.
Cleanup & Maintenance
The Robic fabric, thick and waterproof, does a remarkable job of both not getting dirty in the first place and shedding dirt as it dries/moves. It seems about as durable as 500D Cordura, but with a noticeably stiffer hand, likely on account the thicker waterproofing.
Most stubbornly embedded dirt can be spot cleaned with a dry toothbrush. A wet toothbrush with whatever mild cleaning solution you like should be used to spot clean the more doggedly-resistant stains. Dry it hanging, in a room.
Soapbox
So yeah, how do you objectively review that which you are very likely to think positively of?
I wonder if you took a couple people unacquainted to backpacking and gave them a Sphinx and a Alibaba-Express Chinese knock-off 'Expedition Pack' and asked them to compare and rate each pack, if they would put the MR as far above the knock-off as I likely would. I just wonder how much my own jaded familiarity with what's currently available to me colors my perception of it. I find comparisons help, reference points, in that weird way that sometimes a semi-circular definition is the best way to explain something.
So I make comparisons. I have a Dana Designs Astralplane Overkill, and a DD Bomb Pack Overkill. I note the same attention to detail in reinforcement and stitching between the Sphinx and these venerable standards. I see the parallels in the harness designs, noting the simplicity in function of the newer design. There are indeed areas the Sphinx seems to make improvements on the old DD packs, in terms of the hip-belt design and efficiency.
Mystery Ranch is the linear progression of Dana Designs, even though the brand was sold off and discontinued long ago. Mr. Gleason's original designs are masterfully improved upon here, showing an intimate knowledge in the synthesis of adapting real-world needs to the best available engineering options and sewing techniques.
And so you take the Ferrari out for the day, for the week, for a few months, and you put it through its paces. You take it past its limit over and over again. And you realize that you're outclassed. That this thing exists to be better than your expectations; that such a conclusion is its purpose; that it was created specifically and singularly by artists who know better than you what you want. That you just get to be witness to it.
Conclusion
The Sphinx is representative of a new foray into American-designed, foreign-produced packs for Mystery Ranch. These packs use the best fabrics on offer, with evidently some of the best pack-builders in the world behind the machines.
This uncompromising expectation for a backpack is resultant from Mystery Ranch's stellar reputation, as they consistently rank among the best packs in the world. To throw such weight behind a new and metaphorically-crucial product and manufacturing direction, Mystery Ranch needs the Sphinx to lead the way.
The Sphinx simply can not fail, and it hasn't. It has a near-perfect suspension and a purpose-based design epitomizing efficiency. It's thrived and excelled as my multi-day trekking pack in any season, in all conditions. It's maybe the best panel-loader ever. Exactly as Mystery Ranch wants it.
Testing Conditions: Hiawatha National Forest, Pictured Rocks National Lakeshore Trail, and Escanaba State Forest in Michigan's incomparable Upper Peninsula: Late summer, fall, and winter temperatures ranging from -10 to 70 degrees Fahrenheit.
About the Author: Vince Contreras has been working as a professional Forester and Ranger for various federal land management agencies since graduating with a Bachelor's Degree in Forestry from Southern Illinois University in 2010. He currently resides in Michigan's Upper Peninsula, a Forester and Wildland Firefighter for the US Forest Service. He enjoys rock climbing, backpacking, and debating nineteenth-century German Idealist philosophy. Other hobbies include leather-working, bushcraft, and really, just creating original things.
Source: received for testing via the Trailspace Review Corps (Sample provided by Mystery Ranch for testing and review)

Your Review
Where to Buy
Help support this site by making your next gear purchase through one of the links above. Click a link, buy what you need, and the seller will contribute a portion of the purchase price to support Trailspace's independent gear reviews.
You May Like
Specs
Price
MSRP: $299.00
Historic Range: $182.61-$299.00

Volume
3960 cu in / 65 L

Weight
5.31 lb / 2.4 kg

Frame System
Adventure Frame

Country of Manufacture
Imported

Intended Use
Backpacking, Lightweight Backpacking, Weekend Backpacking

Recently on Trailspace