NEMO Cosmo Air & Pilllowtop 1P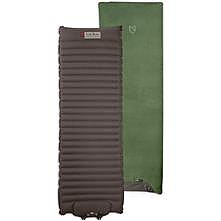 The Nemo Cosmo Air and Pillowtop 1P is an amazingly comfortable, luxurious sleep system! I know of nothing that compares to its plush comfort. Although heavy, its price and comfort outweigh all the cons!

I recommend this product to anyone that wants extremely luxurious comfort and doesn't mind some extra weight.
Pros
Inexpensive, for all that you get
Amazingly plush, soft comfort!
Well designed and built
Pad and pillowtop can be separated
Built-in footpump
Nice included accessories
The price and comfort outweigh all cons
Did I mention luxurious comfort?
Cons
Fabric seems to attract dirt/debris
Heavy
Awkward to inflate unless standing up
Tedious to roll up
Tedious to separate
Did I mention HEAVY?
*Reviewer note- Nemo makes the Cosmo Air and Pillowtop 1P in two (2) different versions/colors.
There is the older version, with "coyote" colored pad and tan/light brown Microsuede pillowtop; and the newer version, with "skyburst orange" colored pad and gray Polyester Ripstop pillowtop. The name, weight, temp ratings, dimensions, and price are identical. Both are still available for $143.
This review is of the older, "coyote" color version.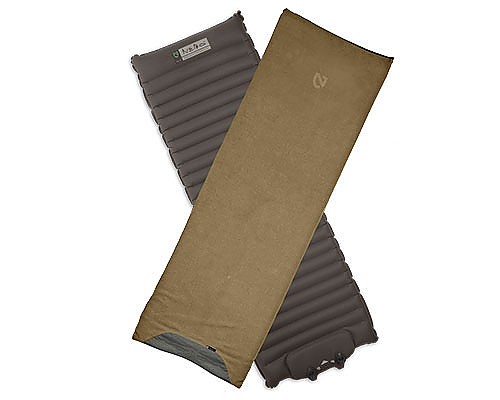 Manufacturer's Specs:
[website]
Minimum Weight: 3 lbs, 13 oz / 1.8 kg
Minimum Temp. Zone: 15 to 25 F / -9 to -4 C
Shape: Rectangular
Width: 25 in / 64 cm
Length: 76 in / 193 cm
Thickness: 4 in / 10.2 cm
Insulation Type: Air
Packed Size: 8 x 12 in / 20 x 30 cm
Fabric: Washable Polyester Microsuede
Included Accessories:
Compression Strap
Drawstring Stuff Sack
Repair Kit
Cosmo Air and Pillowtop 1P
LIGHTWEIGHT, VERSATILE, HIGH LOFT SLEEPING PAD
A remarkably comfortable inflatable mattress system including an air mattress with 4" of loft and a removable Pillowtop™ for additional comfort and warmth. Inflates in under a minute with the built-in foot pump and deflates in seconds.
Temp Rating [on product]
30F to 40F
Minimum Temperature Zone
5F to 15F
With Pillowtop SE

Specs for pad alone:
[on product]
"The Cosmo SE takes inflatable comfort to another level. Cosmo Air SE is a lightweight sleeping pad with a built-in foot pump. This pad has a generous 3" thickness, but weighs under 2 lbs, making it ideal for the field. "
Weight: 1 lb, 13 oz / 822 g
Width: 25 in / 64 cm
Length: 76 in / 193 cm
Thickness: 3 in / 8 cm
Pack Size: 9 x 4.5 in dia / 23 x 11 cm dia
Fabric: 75D Polyester
Cosmo Air SE
Top 100% Polyester
Coating 100% Polyurethane
Filling 100% Polyurethane Foam
[*I think this is a misprint, as there is no 'filling' in the pad]
Bottom 100% Polyester

Specs for Pillowtop alone:
[on product]
"Cosmo Pillowtop SE a plush cover for your Cosmo Air SE that adds 25F of warmth. Features a removable 1" layer of comfort foam nested in a washable microsuede top. "
Weight: 2 lbs, 1oz / 922 g
Width: 25 in / 64 cm
Length: 76 in / 193 cm
Thickness: 1.0 in / 2.5 cm
Pack Size: 11.5 x 8 in dia / 29 x 20 cm dia
Fabric: Washable Polyester Microsuede
Cosmo Pillowtop SE
Top 85% Polyester + 15% Nylon
Filling 100% Polyurethane Foam
Bottom 84% Polyester + 16% Spandex
Mesh 100% Polyester

The System: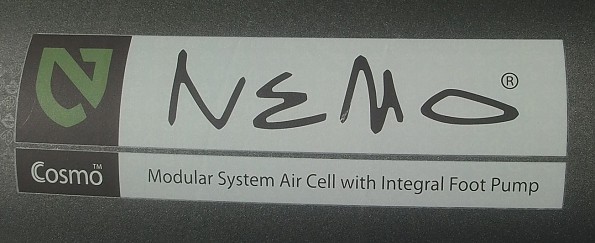 As you can see, this was specifically designed to be a modular system. And it is a great system! I know of nothing else that compares to it for comfort.
The pad alone is three inches thick, and the Pillowtop adds about another inch. This is plush luxury in or out of the backcountry!
But that plush luxury comes at a cost—weight. The system weighs about 4 lbs. Yes, you can take it backpacking- if you don't mind the weight, but, the combo is not really ideal for backpacking.
Even the manufacturer's description states, in part, the following:
"Join the pad and the Pillowtop and it might be the most comfortable thing you've ever slept on. Slide the Pillowtop off and you've got a great pad for backpacking. It's one sleep system for just about any adventure." [emphasis added]
Obviously, even the manufacturer did not intend for the system to be backpacker friendly.
Don't misunderstand—I love this pad and "pillowtop" combo! I hate to repeat the manufacturer's claims, but it really IS one of the most comfortable things you can sleep on!
But, this would be a better choice for car camping, canoeing, or indoor use as an extra "bed", like when you have company spending the night.


Notice that my pad and pillowtop combo consists of a Cosmo Air SE & Pillowtop SE. I really have no idea what makes them an "SE" version, as far as I know, there is no difference between mine and any other version.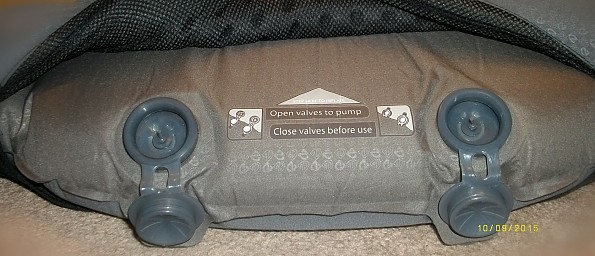 Here you see the built in foot pump (with the valves in the 'open' position). This is awesome! You just place your foot on it, and step... release... step... release... and so on until inflated.
But keep in mind that the foot pump was designed to be used while standing up. So when trying to inflate this pad while inside your tent (like say, in inclement weather), it is a little tricky and awkward!
I have found that it takes between 35 and 45 pumps to inflate—depending on outside air temperature and your desired firmness. Still much better than using your lungs!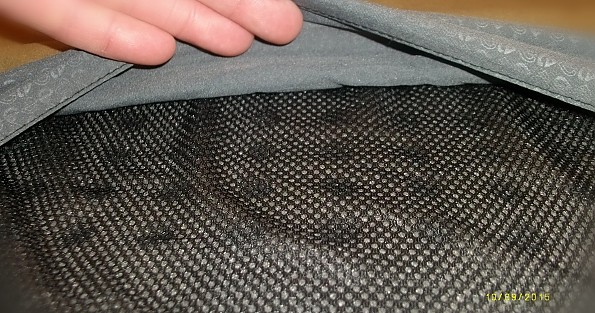 Here I have pulled back the top layer of fabric so you can see the foam pad that is between the fabric and the pad itself.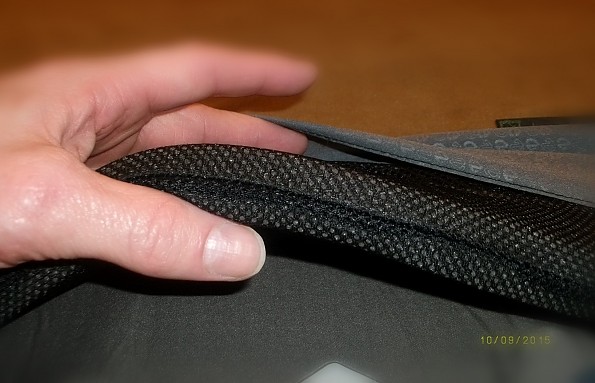 This gives you a better idea of exactly what you will be sleeping on. Notice that the foam is encased in a mesh... bag, for lack of a better word.
This gives the foam some protection, while still allowing breathability. This is a nice feature, but it does add weight. But, then again, this system was designed for luxury, not low weight.

As you can see, when the system is fully inflated, you are getting considerably more than the stated 3-inch thick pad plus 1-inch thick foam.
But what the photo was intended to show is the "raised baffle" at the head end. This is basically a pillow all by itself. The manufacturer states the following about it:
"The large Pillow baffle at the head end of the pad ensures that your pillow doesn't slide off in the middle of the night, and gives a couple extra inches of height for supreme sleeping comfort."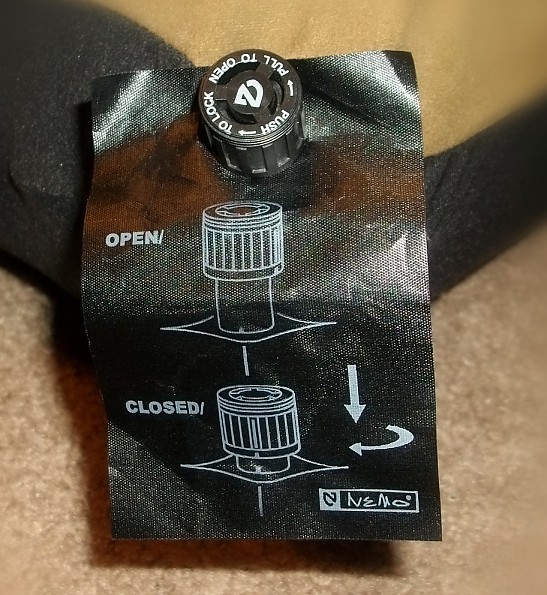 The small twist valve makes minor adjustments easy. This small valve is very similar to the valves you find on most self-inflating pads.
The difference here is that the Nemo valve actually works well, and is easy to use. It opens and closes with minimal effort, and stays where you put it.
If you've ever had to fight with the valve on other brands of pads (I'm looking at you, REI and Therm-a-Rest!), then you will do a little happy dance every time you use the Nemo valve!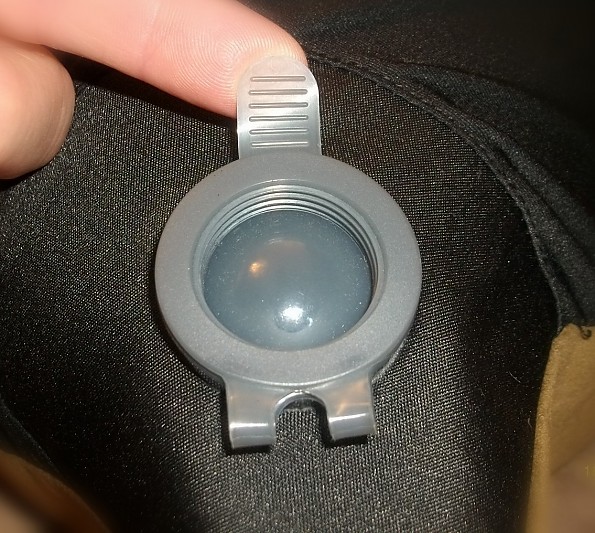 The large dump valve makes deflating a snap. Maybe even quicker than a snap!

Accessories: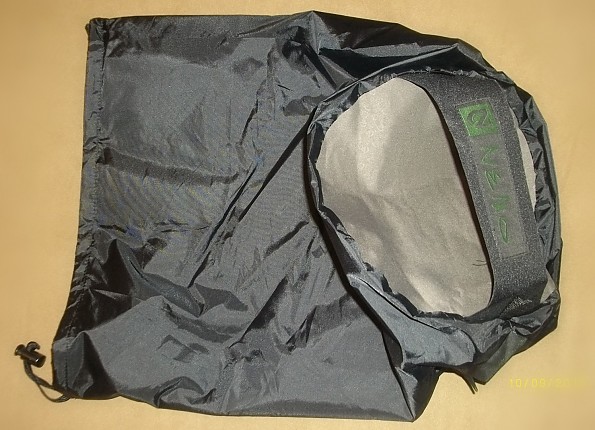 Nemo includes a nice stuff sack. It has a doubled flat cord drawstring with standard barrel lock. It also has a grab handle at the end opposite the opening. Yay! ALL stuff sacks should have those!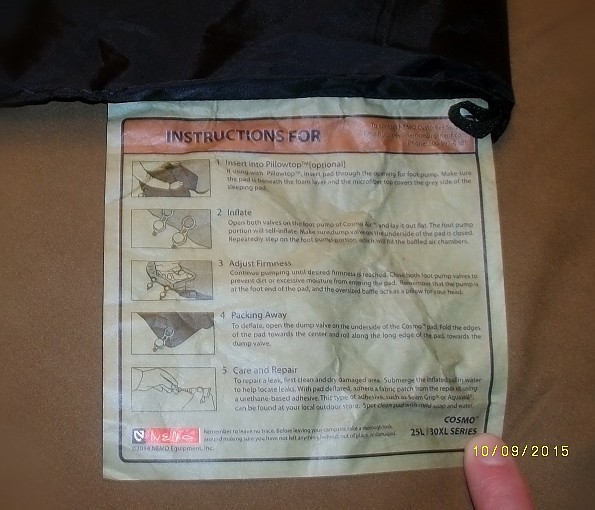 You will find instructions AND...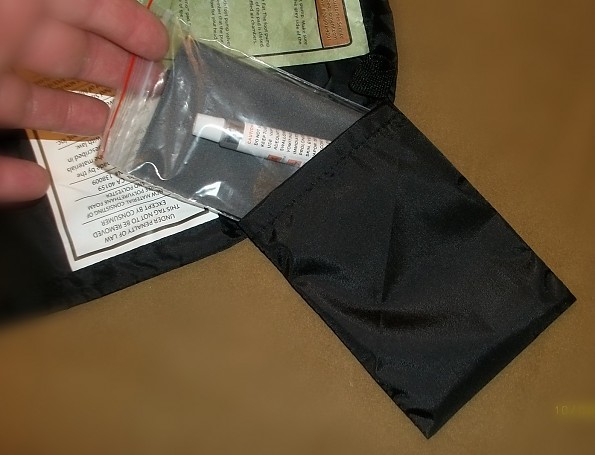 ... a repair kit sewn into the stuff sack. Very nice.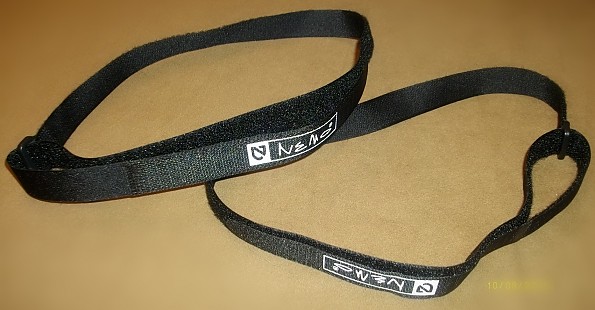 Nemo also includes two (2) adjustable hook & loop closure compression straps. These are very simple, but very nice.

Rolling/transport:
Rolling the system up for transport is a little tricky, and takes three (3) hands to do it efficiently! I couldn't do it and take pictures of the process at the same time.
If you are familiar with Nemo pads, then it is very much the same process, except more tricky with the added thickness of the pillowtop.
You basically fold the long sides of the combo toward the center (like folding it in thirds), and then roll from the foot end toward the head end and dump valve. Of course, you must first deflate the foot pump.
None of this is difficult with the pad by itself, but with the combo together, it becomes tricky. The foam doesn't want to stay folded, so you have to hold both sides while rolling- quite tricky!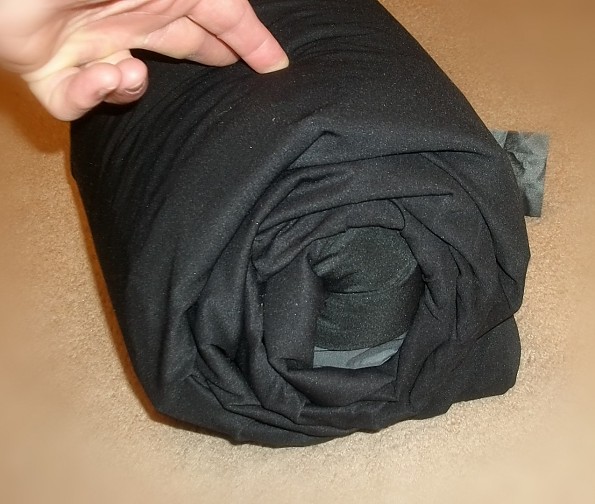 This is what it looks like if you manage to fold and roll correctly—it may take several tries! But, if you let go of it when it is rolled up (like to put the straps on), it will immediately come undone!
The best way to get the compression straps around it once it is rolled up, is to lay the straps out ahead of time, and roll the combo onto the straps.
Then use a knee to hold it, while you use your hands to manipulate the straps. Or, better still, just get someone to lend an extra hand!
This is certainly doable by one person, but, like I said—it is tricky!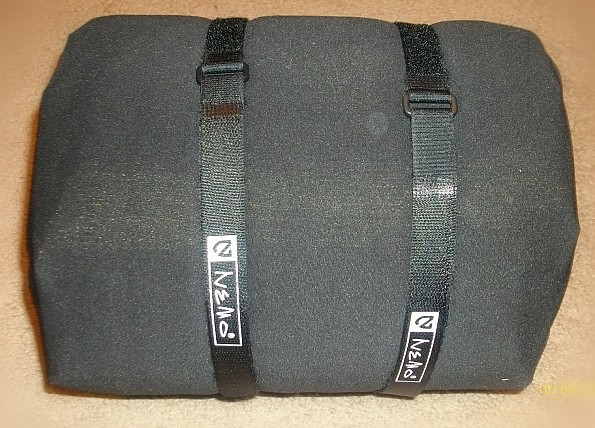 This is what it should look like when you are done.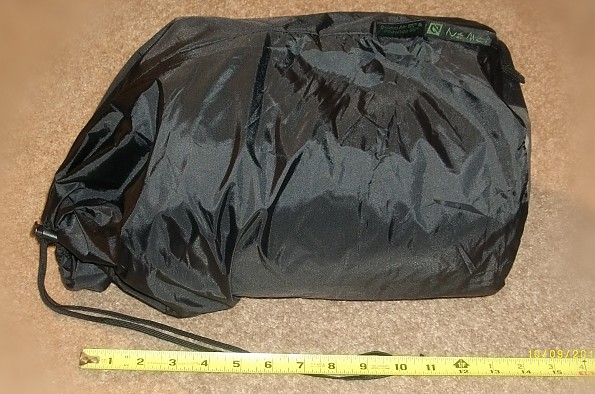 Once it is in the stuff sack, it measures approx. 11" x 9". You should be able to see in the photo that the stuff sack is several inches larger than it needs to be.
I'm thinking this was done purposely, in order to allow for users that are unable (or unwilling!) to roll it up correctly. I'm being serious—it's NOT easy to do correctly!

-The Pad alone;
The pad and pillowtop are pretty easy to separate. Just deflate, and then pull the pad out of the pillowtop.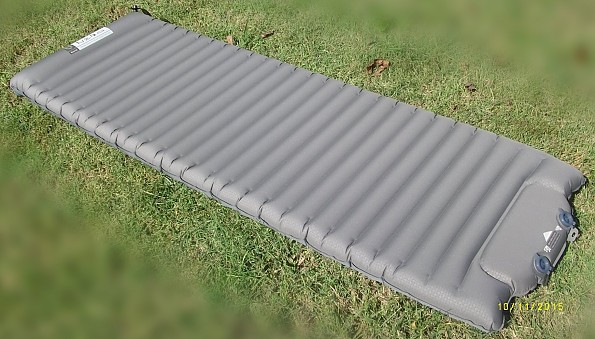 Once separated, the pad is a normal Cosmo Air sleeping pad.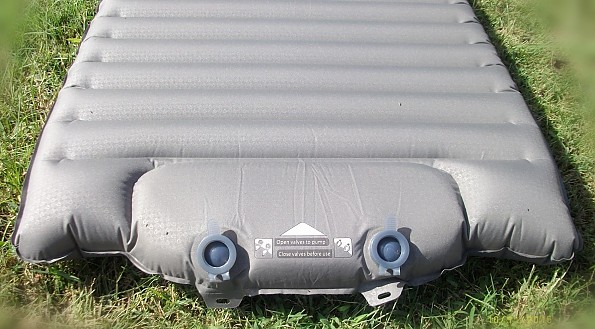 Here you see the foot end of the pad by itself. Notice that the valves are in the "closed" position. This keeps foreign objects out of the pump, and prevents air leakage from the pump.
When fully inflated (approx. 45 pumps), the measurements that I got for the pad by itself are as follows;
3"      from floor to seams (low spots, or "valleys" between baffles)
3.25" from floor to tops of baffles (highest points)
5"      from floor to top of baffle at head end (raised "Pillow baffle")
Even by itself, this is a very plush sleeping pad.

The Pillowtop alone: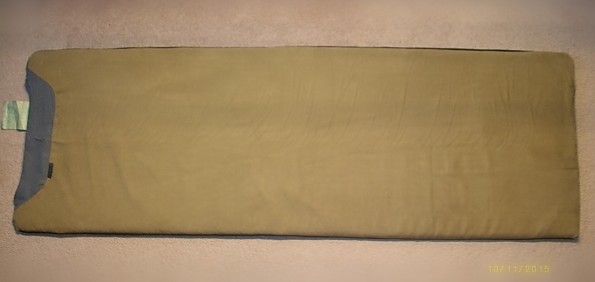 Here you see the pillowtop by itself.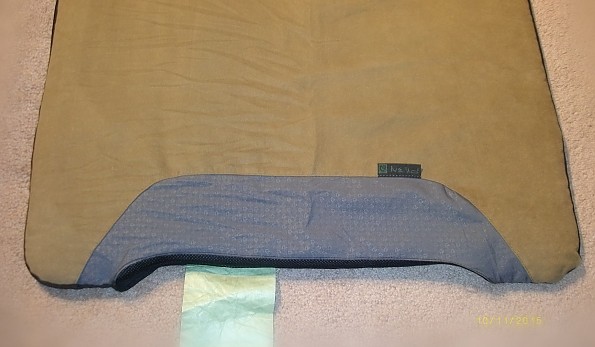 This is the foot end of the pillowtop, where the foot pump would be.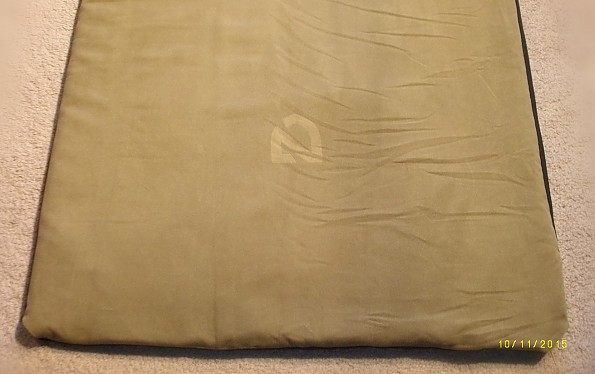 And this is the head end of the pillowtop, where the adjustment valve (on the left) and the dump valve (on the right) would be.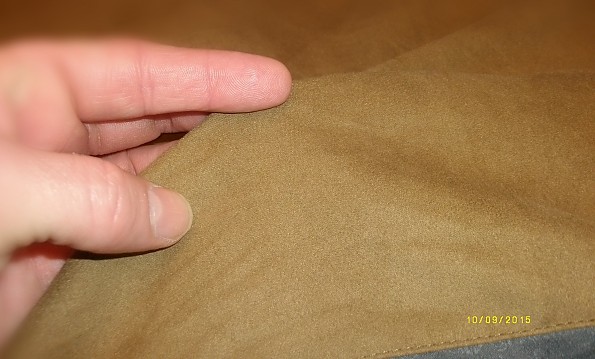 The pillowtop has a very soft, comfortable fabric on top that feels similar to a brushed velour. Nemo calls it a "Washable Polyester Microsuede".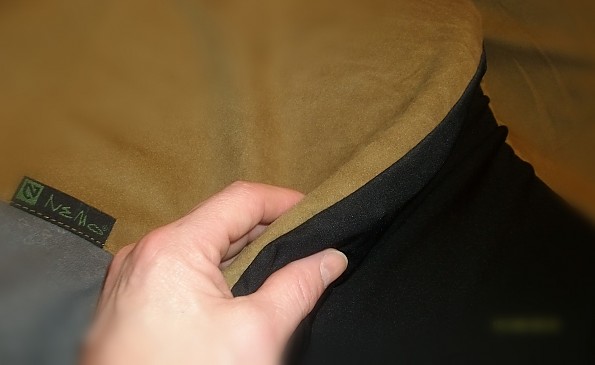 Here you see the side and seam of the pillowtop, with the seam marking the transition between the different top and bottom fabrics.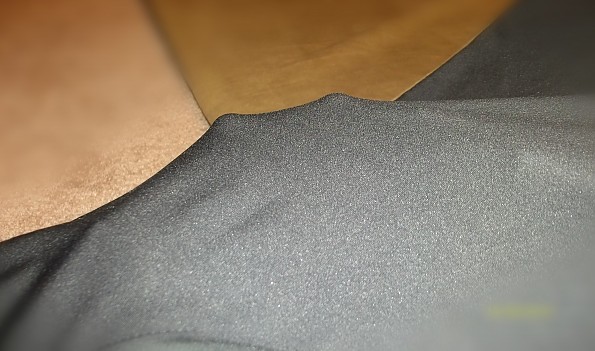 The bottom fabric of the pillowtop is a stretchy fabric, not unlike spandex pants.
(84% polyester and 16% spandex explains that)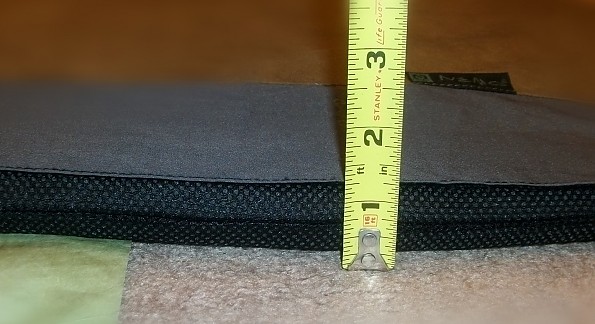 Here you see that, as with the pad, you are actually getting a bit more than the stated thickness. In this case, more than the stated 1" of foam.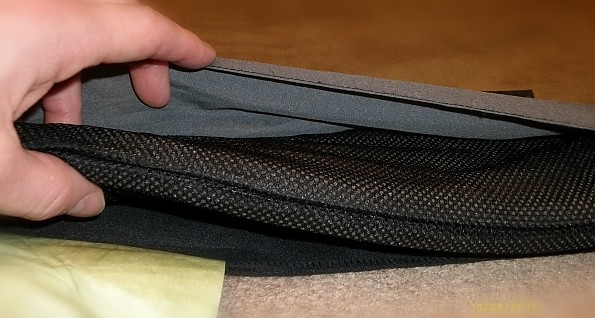 This photo gives you a better idea of all the layers that make up this sleep system. Added all together, it is like a multi-layered sandwich, that goes like this:
(You)
(sleeping bag liner)
(sleeping bag)
microsuede top layer
mesh
foam
mesh
(mattress pad)
stretchy bottom layer
(tent floor)
(ground sheet)
(Earth)
You are looking at some serious separation, and protection, between you and the ground! What's not to like about that??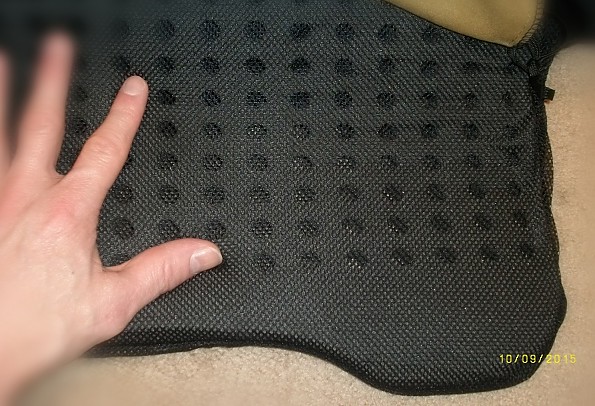 Here is a better look at the foam inside the pillowtop. Notice the pattern of holes in the foam. This provides breathability, and (at least in theory) uniform compressibility.
The foam (with its mesh 'bag') is removable from the outer layers, to allow the exterior to be washable. I haven't tried this yet, but I can already tell that it may be a tricky process getting the foam in and out.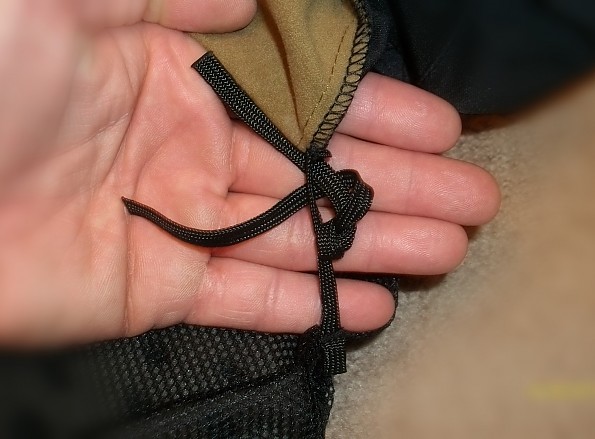 The exterior cover, and the inner foam with mesh, are tied together. So, assuming you take them apart, I guess having tie-out points to line up would help in reassembling it.
Putting the pad back inside of the pillowtop can be a little tricky...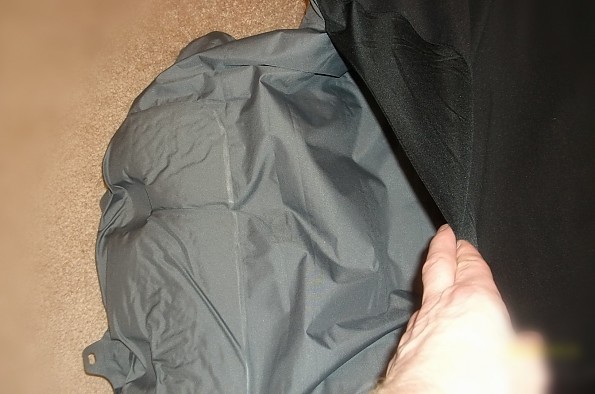 ... and is best accomplished by inflating the pad slightly, and flipping everything upside down. You also want to ensure that you insert the pad between the foam and the bottom (stretchy) layer. Having everything top down helps to make sure you get it right.
Of course, also make sure you put the correct end in first! Insert the head end (with dump valve and small adjustment valve) first!

Use:
I decided to add some photos of the product inside of a tent, as it would be used. Actually, I DID use the product, in the tent shown, that very night.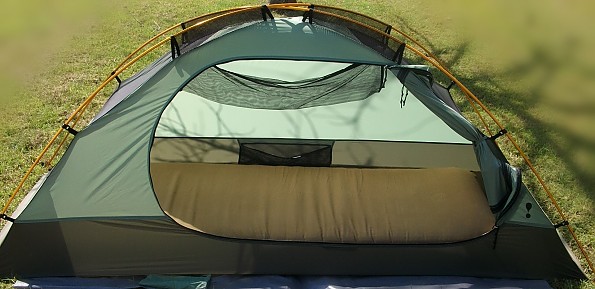 The tent is a Eureka! Backcountry 1. This tent measures 8' x 3', and as you can see...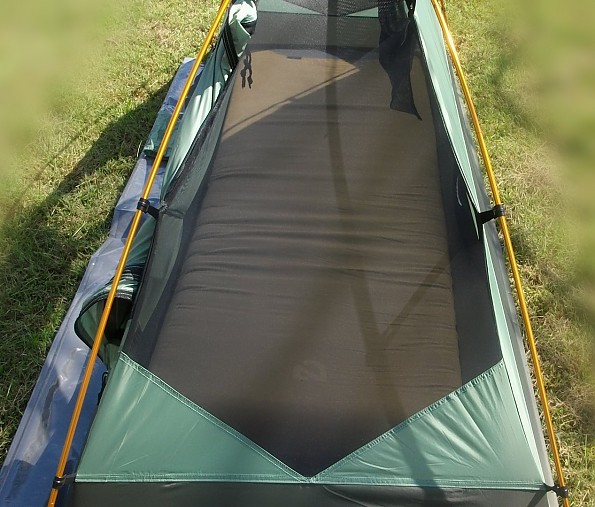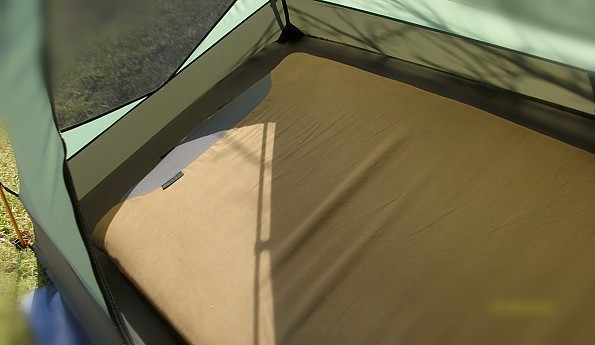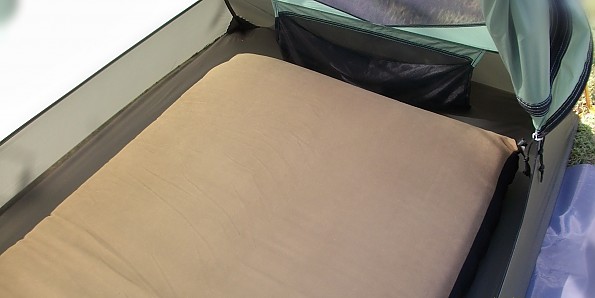 ... the product takes up quite a bit of the floor space. At 25" x 76", this is not a minimalist sleeping pad. It is made for luxurious comfort.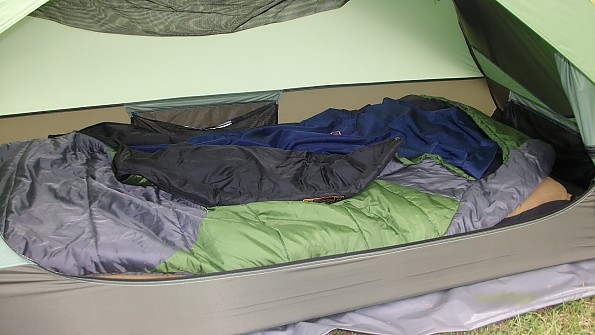 The morning after! Ahhh... there is nothing like sleeping outdoors- especially on such a luxurious mattress pad/pillowtop combo!
Pictured with the product, in the Eureka! Backcountry 1 tent, are a Chinook Pongee Mummy Liner and a High Peak E-Z Pak 1000 sleeping bag. (Please see my reviews of those, as well!)

The Downside:
As previously mentioned, it is tricky and awkward to inflate this pad inside of a tent.
Dirt, leaves, grass, etc. clings to the fabric on both sides, and is a bit difficult to remove.
(a shop vac, or a lint brush/roller are the best ways I have found)
It is tedious to roll up and pack the pad and pillowtop together.
It is also tedious to insert/remove the pad from the pillowtop.
I can see (but have no first hand experience) that removing/replacing the foam from the outer cover could be tricky.
The combo is heavy, weighing 64.1 oz / 4.01 lbs in the stuff sack.

Conclusion:
I can't comment on its durability yet, as I haven't used it enough. Nor can I say if it will repeatedly handle the abuse of backpacking. Most of my use has been car camping and indoor use, which I believe is what it was mainly designed for. But, so far so good.
Regardless of the "negatives", the Nemo Cosmo Air and Pillowtop 1P is an amazingly comfortable sleep system!
It is warm, soft, and plush. It is well designed and built.
If you are looking for luxurious comfort, without thought to weight, then I really can't think of anything that even comes close to the Nemo Cosmo Air and Pillowtop 1P.
But as for the weight, remember that you can separate the pad from the pillowtop and have a very nice pad that weighs less than two (2) lbs. This is a huge plus, and major selling point!
At $143 for either version/color, you simply can not beat this for plush comfort! Get you one!
Good luck and get out there!
:-)
And if you liked my review, please vote it up! Thanks!
Source: bought it new
Price Paid: $143 direct from Nemo

Your Review
Where to Buy
Help support this site by making your next gear purchase through one of the links above. Click a link, buy what you need, and the seller will contribute a portion of the purchase price to support Trailspace's independent gear reviews.
You May Like
Specs
Price
MSRP: $199.95
Historic Range: $129.98-$219.95
Reviewers Paid: $143.00

Weight
3 lb 15 oz / 1.77 kg

Width
25 in 64 cm

Length
76 in / 193 cm

Thickness
4 in / 10.2 cm

Recently on Trailspace