NEMO Cosmo Insulated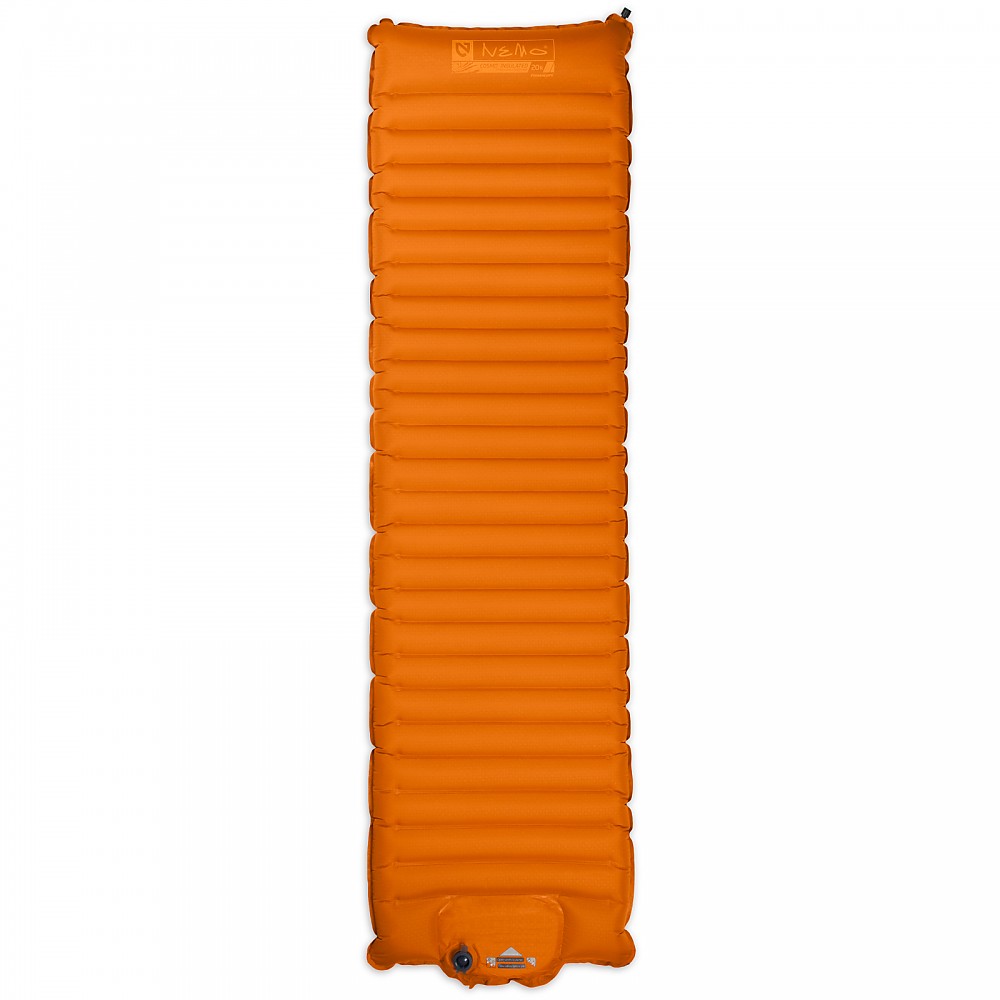 Version reviewed: 20R
A comfortable insulated pad that has an integrated foot pump which allows for quick and easy inflation without having to huff and puff or bring along any extra pumps.
Pros
Integrated foot pump with one-way valve
3-season (could easily be stretched to 4 season)
1-2 minute pump time
Horizontal baffling — feels stable and doesn't rock
Insulated
Cons
Foot pump valve is difficult to open
The NEMO Cosmo Insulated 20R is a pad that has exceeded my expectations. I wanted a pad that was first and foremost comfortable and allowed me get a full night's rest. Secondly, I wanted a pad that would perform well during the chillier nights (although I must admit, I never sleep outside when it's REALLY cold). Lastly, I wanted something that was easy to inflate/deflate, pack and carry. This pad has met all those demands.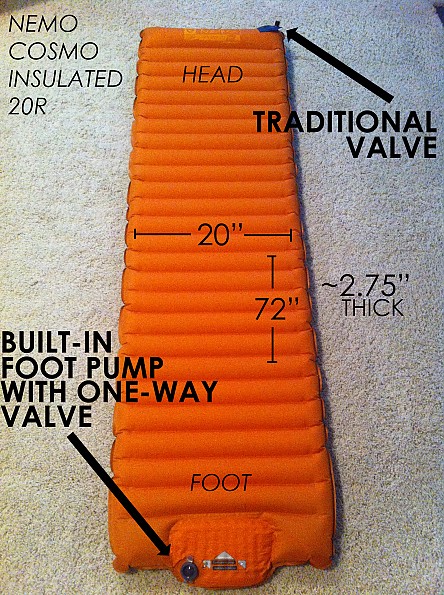 Comfort: I've never owned a truly good sleeping pad before, but I've borrowed a variety of friends' pads in the past for a night here or a weekend trip there and they typically left a lot to be desired. This was the first horizontal baffling pad I've slept on and while I can't say for sure that this is the biggest difference, I tend to think it has something to do with the comfort of this pad.
It feels stable, doesn't rock and the head is elevated slightly to provide a little extra boost for your pillow. I've never awoke from being uncomfortable on this pad, which is a far cry from other pads I've slept on. 
Chilly Nights: I've owned this pad for seven months now, sleeping on a 12-15 nights and doing so while using two different bags — a Marmot Trestles 15 (review forthcoming) and a Marmot Aspen 40 Minimalist (review also forthcoming). The coldest night I slept on it was 40°F, so I have yet to truly test its temperature rating of 20°F.
It performed very well at 40°F. If I have the chance to take it out on a night that drops below 40°F, I will update this review accordingly, but in all reality, it's a rare occasion that I sleep outside when it's that cold (So why do I own a 15°F sleeping bag…good question). 
Inflate/Deflate: When I bought this pad, I didn't realize how quickly I was going to fall in love with the integrated foot pump. Again, I bought it primarily for its comfort and its insulation, not the foot pump. However, the foot pump is among its best qualities.
With the one-way valve open (more on that later), all I have to do is repeatedly step on the foot area and in 1-2 minutes (depending on the speed in which I'm stepping) the pad is fully inflated. It's so incredibly simple and works flawlessly. No threat of moisture getting in (ie: pads inflated by human breath) and I don't have to bring along any extra pump. 
When deflating, I simply open the other, more traditional valve located at the head of the pad, and start letting air escape. Pretty simple stuff.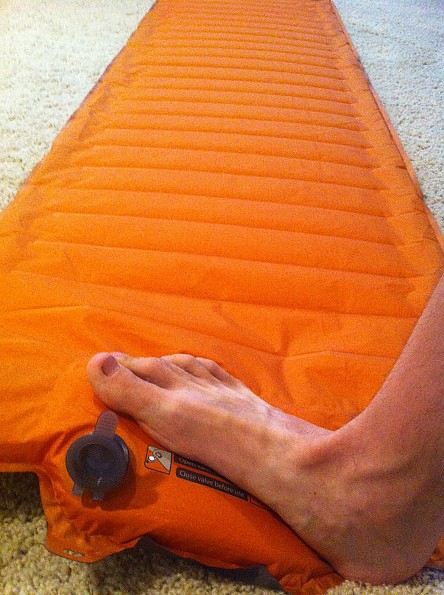 Action shot! I realize now that a demo video would have been much more helpful. Sorry.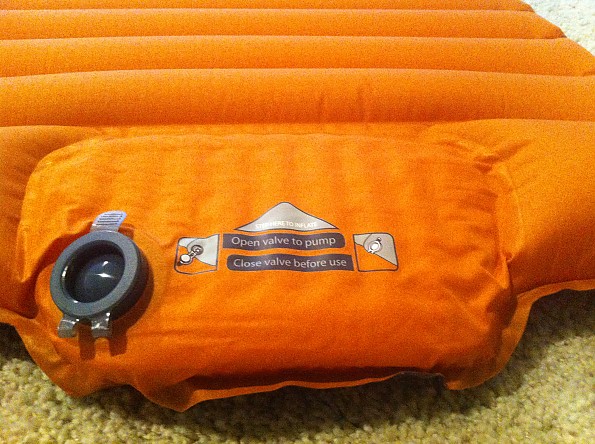 Close-up of the integrated foot pump area. 
Other Bits: The pad has a layer of PrimaLoft insulation, and is made with 75D PU polyester. It comes with a compression strap (very helpful) and stuff sack, as well as a small repair kit (which I haven't had to, nor do I hope to, have to use). It packs to roughly 8.5"x5" and is a little under 2 lbs (Note: the manufacturer's specs say 1lb 12 oz., but my scale reads a little north of that.)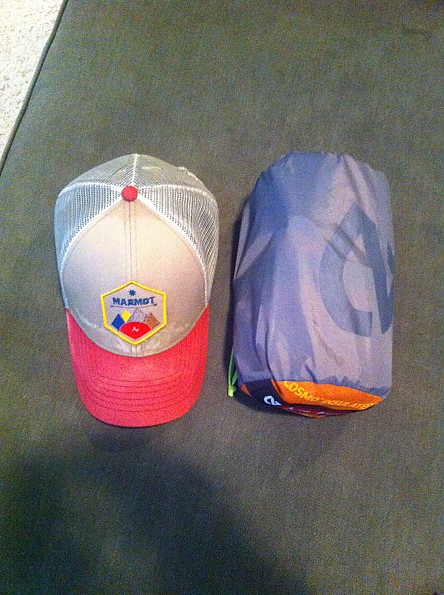 Size Comparison: The NEMO Cosmo Insulated 20R fully packed with its compression strap and in its stuff sack beside a standard sweat-stained adult ball cap. 


The One Drawback: The only thing about this pad I've found that I don't care for is the sheer strength it takes to open the foot pump valve. Seriously, like He-Man strength! Okay, it's not that bad, but I do constantly worry about ripping the cap off completely or tearing a seam because of how much force it takes to open the valve. I hope the more I use it, the easier it becomes to open the valve. 
Recommendation: Heck yes, I recommend this pad. As I mentioned before, I'm not a pad enthusiast and this is the first real pad I've owned myself, so I don't have lots to compare to. However, getting a full restful night's sleep is crucial to me and every night I've slept on this pad, I've been gifted with a full night of interrupted sleep. That deserves my recommendation. 
Source: bought it new
Price Paid: $140 USD

Version reviewed: 30XL
Super comfortable. No pain in the morning after sleeping on it. Takes only 3-5 minutes to fill and less to drain it of air. Nice and big surface area with this model, and it is thick, so you don't feel the bumps in the ground underneath the pad while you sleep.
Pros
Thick — can't feel ground anomolies under the pad
Pretty quick to fill up with air
Uses "non-breathed" air, so inside of pad does not mold or breed bacteria
Cons
A little heavy, but not so much, and oh so comfortable
I really find this product cozy and comfortable to sleep on, and pretty quick to pump up with the internal air pump. I ordered the wide and long version, so 30 in x 80 in. Here are the specs:
Specs:

2 lbs 2 oz / 970 g

Minimum Temp. Zone:

30 to 40F = -1 to 4C

Shape

Rectangular /

Width

30 in = 76 cm

Length

80 in = 203 cm

Thickness

4 in = 10 cm

Insulation Type:

Air

Packed Size

11 x 5 in dia = 28 x 13 cm dia

Fabric:

75D PU Polyester Ripstop

Color:

Skyburst Orange
That made all the difference, as I am a stocky guy. I choose the XL to fit me, and also because the fold up size and extra weight was worth the extra room, and not too much extra, compared to the other sizes: 
Weight
Regular: 1 lb 7 oz / 668 g
Long: 1 lb 13 oz / 810 g
X-Long: 2 lb 2 oz / 970 g
Sleep Dimensions
Regular: 20 x 72 in / 51 x 183 cm
Long: 25 x 76 in / 64 x 193 cm
X-Long: 30 x 80 in / 76 x 203 cm
Packed Size
Regular: 4 x 8 in / 10 x 20 cm
Long: 4.5 x 9 in / 11 x 23 cm
X-Long: 5 x 11 in / 13 x 28 cm
For size comparison: The Jetboil
Dimensions: 4.1" x 7.1" (10.4 cm x 18 cm)
(without fuel canister)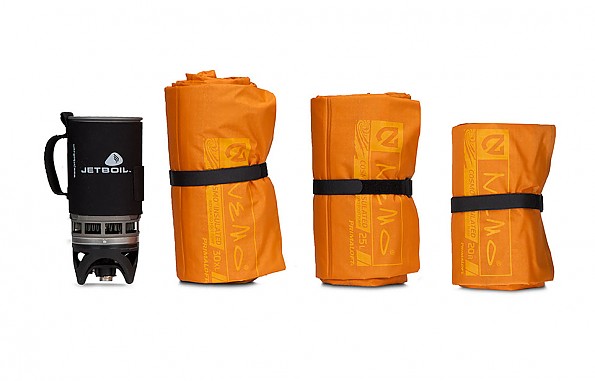 I have yet to get it back into the stuff sack it comes with, as I have only folded it into thirds, and I think you need to somehow fold it in fourths, but I don't see how to do this if the internal air pump takes about 1/3rd of the pad width. To save a bit of weight, I ditched the bag, as the pad stuck out of it a good way, and just went with the Pad and its Velcro straps. It is more simple that way and less to lose or blow away.
Super fast to take down and pack. All you do is open the port on the underside of Pillow end, and start folding at the foot, where the pump is, pushing and folding the Pad towards the open vent at the Pillow end of the Pad, and the air rushes out in no time, and the folding is effortless. 3 minutes to pack up.  For this beginner, that is perfect, and easy to do.

I should also mention that you cannot feel anything that is under the pad once it is inflated, and sleeping on it, is very very comfortable. No aches and pains in the morning, that I have found. I chose the  insulated Pad, so I could  use a backless sleeping bag with it, though I have never tried it that way. I only used a regular synthetic  or down sleeping bag with it, and that was very warm and comfortable on top of the Nemo Cosmos XL Sleeping Pad.
The pad has a built in headrest or pillow, that is not too big, but just about the right size if you have a pillow with you or fold up some clothing to make a makeshift pillow. Lastly, every time I get this item out, I am so thankful that  I have it with me. It is so good to sleep on, and weighs very little, given the comfort value.
Here is a Youtube video about the Nemo Cosmo Air. Please note, the new ones are Bright Orange:
Source: bought it new
Price Paid: bought it at retail

The Cosmo 20r is a great balance of comfort and weight. The integrated foot pump is probably where the weight and size come from, but it is so handy and fast. I have used other integrated pump pads and this one is the fastest, lightest, and the most comfortable I've used.
Pros
Integrated foot pump
Lightly insulated
Packs small
Relatively lighweight
Cons
Awkward design for rolling into the provided sack
Ease of Use: Everything work as it should and is one of the more efficient integrated pump pads I've seen.
Features: Has a small valve on the "top" corner designed to release pressure while lying on the pad to reach optimal comfort.
Construction & Durability: It has only been on a couple of trips, but so far I have no concern about its durability or quality.
Conditions: I have used this pad in the BWCAW for a spring and fall canoe trip. It also came along on our family camping road trip to Theodore Roosevelt NP and the Big Horn NF. It was a fight for who got to use the Nemo pad. We compromised and my wife used it the whole time.
Source: bought it new
Price Paid: $120

Version reviewed: 25L
Pros
Gets the furnace going putting air into it
Easy to deflate
Pumping this pad up takes a few minutes and I stay warm pumping it up. The valves where you pump get stuck on the inside of the pad. I have to pull the pad apart so air can move through the chambers.
I used this in -5 degrees with my -25 degree sleeping bag. After half an hour I could start to feel the cold on my butt and about an hour later my shoulders started to feel the cold.
Source: bought it new

Version reviewed: 20R
Great for saving space on my motorcycle.
I ride and camp from a motorcycle and bought this to replace my rather large 30" wide Thermarest. It's less than half the size rolled up but even more comfortable.
The built-in pump is nice although the valves can be very difficult to open when new. I made a cover for it and zip my sleeping bag to it, copied Big Agnes's idea.
Source: bought it new

Your Review
Where to Buy
Help support this site by making your next gear purchase through one of the links above. Click a link, buy what you need, and the seller will contribute a portion of the purchase price to support Trailspace's independent gear reviews.
You May Like
Specs
Price
MSRP: $159.95
Historic Range: $84.97-$219.95
Reviewers Paid: $120.00-$140.00

Weight
2 lb 2 oz / 966 g

Width
25 in / 64 cm

Length
76 in / 193 cm

Thickness
3 in / 7.6 cm

Recently on Trailspace