Marmot Trestles 15


At entry-level price and above entry-level quality, this is an excellent 3-season bag that can withstand mild winter temps. It's just not very lightweight at 4 lbs.
Pros
True to temp rating
Entry-level price, with better than entry-level quality
Two-way zip on both sides for easy ventilation and entry/exit
Cons
Compressed size (it's a biggin)
Weight = 4 lbs. (1.81kg)
Conditions: I bought this bag nearly five years ago because of an increased interest I was taking in colder weather trips and my Marmot Alpine 40 Minimalist wasn't cutting it for lower temps. However, I liked my previous Marmot bag, so I stayed with the brand (and price range) instead of going all-in on a down bag.
Someday I hope to upgrade to a down bag, but that just hasn't happened yet. This bag has been mostly used during autumn and spring trips and only two winter trips with the lowest recorded morning temp being 18°F. It has been on trips in the Appalachians, the Adirondacks, and the Cascades, as well as lesser known, yet equally awesome places. 
Warmth: The temperature rating was the main reason I purchased this bag. As stated, my previous bag wasn't made to withstand cool/cold weather trips, so I knew I needed a a real three-seasons bag. So far, no signs of drafts or cold spots.
I've only taken it down to 18°F, so I haven't exactly tested its limits. At 18°F though, it was very comfortable, coupled with the NEMO Cosmo Insulated 20R, a polyester base layer, and a fleece top. 

Fit/Comfort: As a tallish guy with a slimish frame (6'2" and 190lbs.), this is a very nice fitting bag. I'd say the long version would be ideal for anyone 6' or taller. My wife is a couple inches shy of 6' and there is excess in the foot for her. Hood and foot are nothing spectacular, but are pretty standard. Draw cord on hood and insulated draft collar both do a fine job at keeping warm air in and not being too restrictive. 
Entry/Exit: With its dual-way double zipper feature, this makes exit and entry very easy. The first zipper is a full-side zipper that extends all the way around the footbox (this provides foot venting if need be). The other is on the opposite side, and is only a quarter zipper.
This makes it not only a breeze to vent on warm nights (I do sleep a little warm), but also it makes it easy to unzip in the wee hours of the morning when nature calls. You don't have to remember which side of the bag the zipper is on in order to escape. 
Packability:While this bag is great in many regards, the packability is not ideal. Fortunately I carry a bigger-than-I-really-need Osprey Atmos 65, so there is enough room for this compressed bag. Any smaller pack and this bag would likely take up too much space in the pack. And at 4 lbs. (1.81kg) it's also not the lightest of bags around, but not too terrible for the temp rating and being synthetic filled.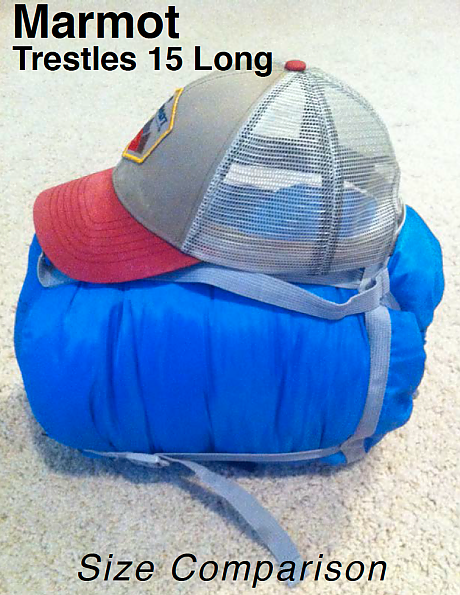 Construction/Durability: While this isn't a top-of-the-line bag by any means, the construction seems to be good enough to withstand the normal wear and tear of camping/hiking. I've slept in this bag 50-60 nights over the course of five years and it is in very good condition still. It hasn't noticeably lost any loft. I do store this bag loosely in a dry conditions when not in use.

Recommendation: I would recommend this bag to those who are looking at entry-level priced bags (i.e. <$100) but don't want to sacrifice quality, or to those who already have a high-quality bag and want a reasonably priced back-up or spare just in case. 
Source: bought it new
Price Paid: $90

Version reviewed: Long
Providing an excellent value in price, the Marmot Trestles 15 is true to its temperature rating and has kept me warm for many years, even in damp/wet conditions. At 4 lbs 1oz (for long size), the bag is a bit on the heavy side for long trips.
Cons
Weight
Zipper snags easily
I purchased my Marmot Trestles 15 for a 5-night backpacking trip to Isle Royale National Park in 2007. It was my first time in a true backcountry situation, and I had no idea if I would every do it again. So I bought this bag primarily on price.
I ended up having a lousy tent during a week where rain and snow were daily occurrences. What saved that trip was this bag—keeping me warm and comfortable, even in a leaky tent. The outside of my bag was slightly damp every morning, but I was warm and dry inside. As the joke went with the other guys, "Your tent sucks, but you have a great sleeping bag."
Since then, it has seen use on many occasions in all kinds of weather. Even though I now own a down sleeping bag, my Trestles still gets a work out. I use it on short walk-ins to a camp site or when I haul gear in on my ATV. I save the down bag for true backpacking.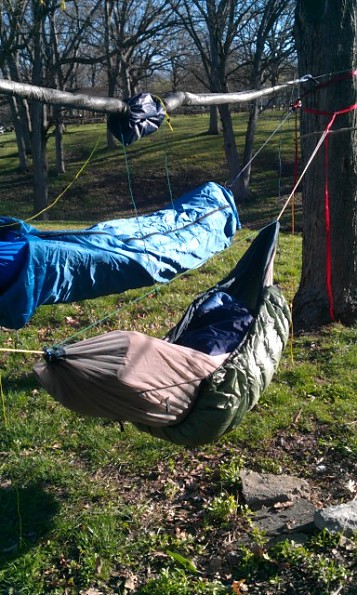 Trestles inside my hammock and UnderQuilt.

Warmth: I have used my Trestles into the low teens. My feet tend to get cold below 15°F, but the rest of my body manages well. Wool socks solve this.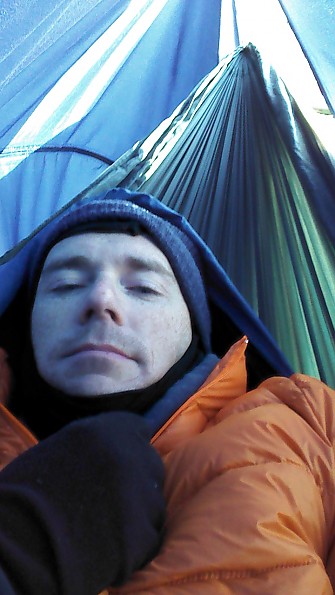 13 degree morning in my hammock and Marmot Trestles.
Fit & Comfort: On my 6'2", 190lb frame, I find the Long version to fit me perfectly. I have enough room to move around a bit, without feeling claustrophobic.
Entry & Exit: The zipper is what knocks this down 1/2 star. There is definitely a sense that you are "fighting" the zipper as you get in or out. Experts suggest doing some sit-ups in your bag after you get into it to get warm—no need when you are trying to get the zipper closed. Late night trips to the bathroom can be a pain!
Moisture: As I stated before, I woke up three mornings in a row with a leaky tent. The outside of my bag was damp, but I was warm and dry inside.
Packability & Loft: The bag does not compress very well. It takes up a significant portion of a 65L pack. It lofts up well, even after 6+ years of use.
Durability: I treat my gear well, and after 6+ years, I feel I could sell this bag in "very good" condition. This speaks to the quality and durability of the bag.

Conclusion
While some would label this an "entry level" bag, I find this product to be a lot of "bang for the buck." No, I wouldn't haul this into alpine conditions, but for spring and fall camping this is an exceptional value. I've yet to find any synthetic bag so much better that it is worth paying more for.
Source: bought it new
Price Paid: $75

This synthetic bag will take you where you need to go, on a budget and in style. Its rating runs true (depending on how warm of a sleeper you are, of course), and will stave off the cold even in shoulder seasons. It is a must-have sleeping bag for those new weekend warriors and those on a budget.
Pros
Good price
Packs down well
Durable
Cons
Zipper issues
Not the lightest
I've had this bag for a year now and am very pleased with how it has taken care of me. It is a great bag for those needing warmth but not ready to make the plunge into pricey down bags. I've used it in the cool summer months of CO, chilly late spring NM, and arid and warm TX highlands. Short and sweet: it does what it's supposed to do!
I am just shy of 6', 165lb, and a pretty average warmth sleeper. I have the Trestles Long, which runs just a little long and wide on me, but leaves me room to grow and wear layers or store layers at my feet. The half zip on the left side is handy for sitting up or ventilating.
The hood is okay... Not the best, but I've been able to manage fine with it. Pretty good loft for a synthetic fill, in my opinion, and packs down well inside my ALPS compression sack. Don't use the compression bag that comes with it. Not nearly good enough for the job. 
Finding the right layering for sleeping can be tricky, mostly I've struggled with sweating and sticking to the inside of the bag. The coldest I've taken this down to was 11 degrees while snowshoeing in NM. I stayed toasty all night. Granted, I had on pretty much all my layers, but still, I was pleased with the Trestles.
I'm not sure how much lower than 10 degrees I would want to go in it, though. With the right sleeping pad and layering I'm sure 5 degrees is not a stretch, however if you're expecting anything lower, you will want to look elsewhere.
My main issue with this sleeping bag are the zippers. I don't think I've gotten a clean zip once, and I'm sure you'll find this consistent with most reviewers. This is only a bother if you're in a hurry to snuggle up or get out to take a leak and there is a zipper-jam. 
Overall, I think the Marmot Trestles 15 is a MUST HAVE for anyone who is excited about backpacking but isn't ready to drop $300+ on a down bag. It is decently lightweight and compressible for its quality and is in my opinion one of the best deals on the market. On Backcountry.com I got mine on sale for $87 - a steal!
While there are other very good options out there like the North Face Cat's Meow or even other Marmot bags, I would definitely recommend the Trestles 15.
Source: bought it new
Price Paid: $87

Works great, stays warm, even when partially wet. Heavy and bulky for backcountry, which is enough inconvenience for the star deduction.
Pros
Warm
Comfortable fabric, well made
Got great night's sleep out of it
Affordable
Cons
Too heavy for backpacking
Too bulky for a 55 liter bag
Synthetic, it's got the pros of warmth, even when it gets moisture. And let's be honest, warmth is more important when its below freezing, and worth carrying about 3 more lbs than most down bags that keep you as warm in the same temps.
But that's just it, if you can afford to carry less, then good for you—a down bag especially one of those new water resistant kind of down stuff is going to be your weightless dream come true for a long distance through hike. This bag is not quite that, but it's still pretty good.
This bag is not for the money bags, this is for those who don't want to spend $100s to spend the night in the woods. That being said, winter camping is the most expensive of all seasons because of what you need to stay comfortable. This is probably the best of the most affordable options out there for a backcountry hiker.
I recommend getting an alternative compression bag or figuring out a way to condense as best as possible for your trip in to basecamp. But hey, once you get there, you are so glad you have it. The fabric is high quality, it has a convenient stash pocket (especially for the solo campers for safety reasons), the filling is dense and pillowy. Zipper doesn't catch too much. It feels nice to take naps on top of, just as much as it is to sleep in.
Also I can unzip the lower half of it and let my legs slip out some if I get too toasty. Toasty is key here, I believe it holds up true to its temp when wearing proper PJs. It's spacious for a mummy bag, got no problems there. Its hooded part can pull around the face quite nicely and works not half bad for a pillow, or to just stuff some clothes behind your head.
The cons: bulky and heavy. Not a fan of how big it is to fit into a bag. I typically put my tent on the bottom of the outside of my bag, but I feel like this sleeping bag makes me have to reevaluate that choice.
The tradeoff is the luxurious comfort. Is it worth the bulk and weight to the hiker? I say read the weather. If it's rain, take the Marmot, if it's dry, stick with down. Wet conditions and affordable options in 15 degrees are what's going to truly determine the value of this bag to its buyer.
Source: bought it new
Price Paid: $86.99

Very good product for its price. Both my wife and I each have one and we like it very much. I backpacked 33 kilometers/ 20 miles and spent two nights in the backcountry and was happy with this bag.
Pros
Warm
Glow-in-the-dark zipper pull
2 zippers: 1 full, 1 half
Large hood
Comes with a compression sack
Cons
Zipper got stuck a couple of times on the draft tube
Slightly heavy for backpacking, but the lightest I could afford
This sleeping bag kept both my wife and I warm. We each have one. I'm a hot sleeper and had to undo the zipper and stick a foot out. My wife is always cold and found this bag warm and cozy. The temperature went down to about 55 degrees, not exactly cold but cool and damp enough to potentially ruin a good night's sleep.
I am 5'10" about 170 pounds and I fit perfectly with room to spin over onto my side. The hood is very large and spacious but can be cinched smaller with two separate drawcords. It is made of a shiny material that allows you to slip right in, which is handy when in the middle of the night you have to go to the washroom and don't want to make a lot of noise unzipping the whole zipper—slip up and out, slip down and in! The zipper on one side is a full length zipper stopping at the ankle the other side is a half zipper.
This is a synthetic bag so moisture did not effect its performance. We hung them to air out every day. The bag compresses down in the compression sack that it comes with it to a very small size compared to others in its price range and puffs right back up.
I've used the bag for four car camping trips and one backpacking trip and am very happy with the purchase. Sure it could be a bit smaller/lighter, but how much can you expect from a synthetic bag for $120 (Canadian)?
Source: bought it new
Price Paid: $120

Great sleeping bag for comfort and warmth. Best mate-able mummy bag I've ever had! Lightweight but a little bulky. Great choice for backpackers with down allergies.
Pros
Comfortable
Mate-able
Zippers on both sides
Lightweight
A really comfortable sleeping bag. My boyfriend and I needed to purchase new bags for summer and fall backpacking. We wanted bags that were mate-able, lightweight, and we couldn't get a bag with down fill due to an allergy I have. We also didn't want to break the bank.  
On its own or zipped with a mate the bag is warm, happily camp into late October in the Northeast in this bag, no drafts and can easily hunker down against the cold. The second zipper that goes about halfway down is wonderful when using as a mated bag, allows for ease getting in and out as well as more comtrol if it gets a bit warm and you need to unzip.
Plenty of room to move around in the bag in the shoulders and legs. We are a medium build couple at 5'4" and 5'6" and purchased a right and a left of the regular. I think some places sold as a women's bag.  
Bags are well made, zippers occasionally jam up, but not badly. They easily zip together, stay together and zip apart when need to. Have a nice little pocket on the inside of the bag for my glasses, the zipper pulls are glow-in-the-dark as well, which is pretty nice. When they get wet they stay warm and can dry out quickly.  
The compression sack that comes with the bag is pretty lousy, I purchased a four-point water resistant 20L compression sack for mine that gets it a little smaller.  I don't know of any down-free bags that compress smaller.  
Overall very happy!  
Source: bought it new
Price Paid: $105

This is actually a great bag.  I have had it now for 2 years and have used it extensively and it barely shows any wear.  I have used it in temp ranges from 15 degrees to 55 degrees and have never been uncomfortable.  
I love the fact that you can control the climate in the bag!  The one side you can zip the bag down a quarter way and the other side is a full zip.  When the temps are warmer, you can unzip both sides and fold the top back.  When the temps are colder you can zip it completely up and be comfortable.     
As far as getting cold, you have to take into consideration how you sleep normally.  If you sleep warm like I do, then a 15 degree bag will work down to 15 degrees and maybe lower depending on how you dress and if you buy a liner (a use a cotton Alps Mountaineering liner mostly to keep the inside of my bag from stinking and wearing out).  If you sleep cold (meaning that you need to wear extra covers) then you would be better off buying a zero degree bag.  Everybody sleeps at different temps and when buying a bag you must know how you sleep.
I have also read reviews on the zippers getting stuck.  This reviews usually come from those who do not know how to use a zipper in a bag.  I have never had any issues with the zipper!
In the end, this bag is warm and roomy and of very good quality.  I would recommend buying this bag (my dad also bought one this year after using mine for a cold weekend) to any one.  
Also, store your bag unrolled (in a storage bin or under your bed).  If you keep a bag rolled up, the insulation slowly decompresses over time and your bag will not keep you warm.  Even after 6 months, your bag will not be as efficient! 
Price Paid: $60 on sale

This is a very comfortable and warm synthetic bag for 3-season use. It has one of the best price-to-warmth ratios I have found. It is roomy with a number of good features which set it apart.
Pros
Warm
Very roomy both in shoulder size/length
Quality materials
Strong zips and stiching
Cons
Not the lightest
Does not pack small
This is my main cool/cold weather bag, I use it from Autumn thru to Spring. I have the XL version which is 6'6" as opposed to 6'3" long, shoulder width is the same as the standard version.  I appreciate the room and length as i am tall (6'4") & large (230 Pounds). I am impressed by the materials and fine construction.
N.B: This is not an Alpine bag I have used mine down to 20 degrees and found it fine, supposed to be good down to mid teens. Personally, I would not use it much below 20 degrees.
It has shoulder and neck drawcords, a good waterproof outer material and a handy key/MP3 pocket. The provided cram sack is excellent: good quality, well thought out and waterproof. The Trestles is a good choice if you are expecting moist conditions as it is moderately waterproof and can be dried quickly.
I have used mine extensively for 2 years and it still looks as new.
A good choice in a synthetic bag.
Source: bought it new
Price Paid: $110

Although i live in virginia and hike mainly in summers, I wanted a cold weather bag that wouldnt break the bank. My prayers were answered with the new Trestle line by Marmot. The first weekend i bought it in March i went camping during an unexpected cold snap ( 20 degrees) and i actually had to unzip a bit to cool off.
While it may not have some of the bells and whistles of its more expensive brothers the Trestle is a steal. I paid 129 for the long extra-wide. The regular comes in at a paltry 99 bucks!!! while it does weigh 3.11 for the extra wide it stuffs nice and small and since it keeps true to its temp rating i dont have to worry about bringing too many extra clothes to keep warm while sleeping. Besides the weight the only drawbacks i can see are the fact that it doesnt unzip all the way which doesnt allow one to vent their feet, and i wish Marmot would have put a pillow pocket in it like it did with the other new bags. I mean glow in the dark zipper pulls are nice but id rather have a pillow pocket.. And while on the subject can all bag manufacturers take a cue from Sierra Design and put pad locks on all sleeping bags!!!!
Design: mummy
Fill: polarguard HV
Temperature Rating: 15f
Weight: 3.11 lbs ( long xtra wide)
Price Paid: $129

Great bag from a great company at an even better price.
Bought one for myself last fall. I got about seven trips in it so far, all on the AT or Mountains-to-Sea Trail in East Tennessee and Western North Carolina. The coldest night so far was 25 degrees and I had no issues with getting cold.
You can get bags that compress smaller and weigh less, but not for 104$. The zippers can be a pain as most previous reviewers noted, however I think I have figured this out just through trial and error. Leave the quarter length zipper up at all times, roll onto your side, and pull the draft tube up, then zip it up all the way. As you get warm unzip to vent as needed.
If you are like me and trying to outfit the whole family you will understand that compromising on weight and stuff size to keep everyone warm and comfortable while not blowing up the budget makes this bag a great choice.
Source: bought it new
Price Paid: 104$

This bag is great in temperatures around 30F. My fiancee and I (she has the women's Trestle 15) tried it in the high 20s this past weekend and had pretty chilly feet by morning. We are going to give one more try in the colder temps and see if making some changes to our sleeping configurations might make the difference. If it doesn't work, I'm going to see if I can't return them or sell them and get some warmer bags.
We do like the mateable feature for warmer temps (around 40F) but won't dare do it below 35F. They also stuff down pretty small for synthetic bags and just barely fit in our sleeping bag compartments on our backpacks but they're pretty roomy bags. The pocket inside is pretty big and will hold a lot but the velcro closure on it is small and stuff can slide past it and fall out (like a phone or ultra compact camera).
In the end it all depends on if you sleep warm or cold. If you need more warmth, try down. That's where we'll go next.
Design: mummy
Temperature Rating: 15F
Price Paid: $85

The bag is super warm, even on Mt. Whitney, and adequately warm when using in just a hammock. It is very bulky and does not compress as well as most other bags, but for a synthetic bag at a great price you can't complain too much.

It kept me warm and dry and that's what is important. I wouldn't recommend it for long backpacking trips as it is much too bulky, but winter camping would be perfect.
Cons
Bulky
Zipper snags sometimes
I used this bag on a week-long trip to Mt. Whitney and the bag was super warm sleeping in tents at 13,000+ ft! I slept in a hammock on some nights and with a sleeping pad and just this bag I was very comfortable. I was so warm on the ground that I slept with it unzipped most nights.
The bag has a full zipper on one side and a shorter length zipper on the opposite to get in and out more easily.
It does not pack as well as you may wish, but if you try hard enough you can make it work. Does not compare to the compression of down bags though.
The zipper snags sometimes, so be careful of that. So far I've had no damages or complaints with the bag since I bought it last spring.
Source: bought it new
Price Paid: $90

I had a Cat's Meow 20F that I froze in the first night (fully clothed, in a wooden shelter, at about 40F) and just about every night after that; I was cold even in mild (60F) conditions. 
After more than 30 nights in it I finally gave up on it and got a Marmot Trestles 15F long extra wide.  I was concerned about the weight but did not notice it at all on a week-long 50 mile hike. The extra weight is more than compensated for by the quality of sleep I now get.  I am comfortable in just boxers and a tee even at 35 deg F.  Not ultralight, but it definitely is ultraplush. I love my Marmot Trestles 15F.
I was worried that I would be too hot in it, but that has not been a problem; although I have never used it above 65F.
My son has one; his friend has one.  We all love 'em.
Price Paid: $120

I live in New Zealand, and have used a Marmot Trestles 15 for the past 3 years. It's my first really good sleeping bag, so I don't have much to compare it to. 
It's been a really good bag, good for using inside the huts, where it's quite warm. But I usually prefer to sleep outside, using a bivvy bag. In freezing conditions, in Trestles 15 and bivvy bag, I am only warm enough if I have piles of clothes on as well, and then I have to huddle in a kind of foetal position. I am female, and a very cold sleeper. 
I like my Trestles bag,  it is very good quality but I am soon going to try a down bag.
Price Paid: $NZ 178

VERY warm. Used this bag in the Grand Canyon when temps were in the 10°F range for several nights. Bag was super cozy and I wasn't cold any of those nights.
This bag, for the price, is excellent. It might not be as light as some others, but for $100 you can't beat its warmth and compression. 
Source: bought it new

A warm, synthetic fill bag that keeps out the cold, but packs up poorly.
Pros
Great hood
So warm for the weight!
The bag was purchased to replace a worn-out summer sleeping bag with a real 3-season bag, and I have used it throughout Quebec in some chilly, rainy weather in Gaspesie and Monts Groulx, and some frosty mornings while car camping north of Lac St-Jean for about 6 months.
This bag is plenty warm, with a hood that keeps out all drafts. I purchased the long sized bag, but really, at 6'1, the long is too long — there is so much room in the footbox that my feet really can't warm up that space, so I have to tuck it around.
Getting in and out was never a problem, and so far the bag has not shown any signs of wear.
The big drawback of the bag is the packed size; I exect a synthetic bag to be bulky, but this bag, when compressed, most resembled a bowling ball in my backpack, taking up more space than I could afford.
Source: bought it new
Price Paid: $99.86

Great bag. Good for 30 degrees.
Pros
Comfortable
Packs tight and compact
Dual zippers
Cons
The length difference between men's and women's
Very good bag. NO more rolling up to pack it, just stuff it in a sack! Awesome. Generally it's good for about 30 degrees, but I am always cold. 
IF YOU ARE INTENDING ON CONNECTING THIS WITH ANOTHER MARMOT BAG LOOK AT THE LENGTHS!!!!! We bought a men's medium and a women's medium and when we went to zip them together the men's was 4-6 inches longer. We are still able to link them but there is overhang. 
Source: bought it new
Price Paid: $68

Very roomy comfy bag for three-season use. Used for some autumn backpacking in the B.C alpine, whilst not packing very small the weight-to-warmth ratio is very surprising for the price.
Pros
Warmth
Warm-to-weight ratio
Would recommend making the room in your pack for this excellent value synthetic bag.
Source: bought it new
Price Paid: $110

My Marmot Trestles has served me well for a couple of years, except for my early spring trips in Virginia. When temperatures dipped into the 20s on my first trip, I absolutely froze. I chalked it up to not having my wooly longjohns, but I still froze the next March when temps again fell into the 20's. Perhaps my experience is different from the other reviewers because I am a woman. I still rely on my Trestles for those damp trips in the late spring and early fall in Virginia, but I'm looking for something warmer for those colder nights.
Design: Mummy
Fill: synthetic
Temperature Rating: 15 degrees F
Weight: 3 lbs. 4 oz.
Price Paid: $99

This bag has all the quality workmanship I expect from Marmot. So I think it's a great buy for the price. On a late fall trip to Glacier Nat'l Park the temp dropped into the low 20s. I was very cold in this bag that night. Some of that has to to with my mostly mesh tent not being great for winter weather. Anyway, for me this is a great bag for the 30-50 temp range.
Price Paid: $80

Great sleeping bag. Kept me very warm in all situations I've used it in so far. The reason I didn't give it 5 stars is that my wife, who is a cold sleeper, was cold when the temperatures hit the low 30's. So from what I have seen the temperature rating works for me who sleeps warm but not for my wife the cold sleeper. Great compressability and great value. All in all money well spent.
Price Paid: $60

I've used this bag at below 0 a few times without a tent, full length ground pad only. I slept in layers and was chilly (feet) in the morning, but everything worked out ok. I typically handle colder temps well, so keep that in mind. It's very comfortable between 15-30 with next to nothing on. I would recommend this to anyone who 'might' camp a few nights near zero, but mostly at 10 degrees or above.
This is a wonderful bag! My old Kelty was shredded after 10 years of use, and my softshell was Marmot so I decided to give their bags a try. Once again marmot didn't disappoint!
The only complaint I have is that I roll, and it's not super roomy! or else I would've given it 5 stars.
-pirate

Design: Mummy
Fill: synth.
Temperature Rating: 15 f
Weight: 3 ish?
Price Paid: $89.99

Good for 3-season conditions, but you need a good pad. I've slept on the -2 Celsius and the temperature inside the bag was perfect, but I've very cold feeling from the ground. I used normal 1-stratum pad - 10mm but actually that wasn't enough.
Design: mummy
Fill: insulation: 100% polyester; doublure: 100% polyamide
Temperature Rating: -9 celsius
Weight: 58 oz
Price Paid: 96$

Your Review
Where to Buy
Help support this site by making your next gear purchase through one of the links above. Click a link, buy what you need, and the seller will contribute a portion of the purchase price to support Trailspace's independent gear reviews.
You May Like
Specs
Men's
Regular
Long
Price
MSRP: $99.00
Current Retail: $89.25-$125.95
Historic Range: $59.85-$231.93
Reviewers Paid: $60.00-$129.00

Weight
3 lb 14 oz / 1764 g
3 lb 14 oz / 1757 g
Fill Weight
2 lb 3 oz / 992 g
2 lb 4 oz / 1020 g
Temperature Rating
15 F / -9.4 C
15 F / -9.4 C
EN Comfort
23.7 F / -4.6 C
23.7 F / -4.6 C
EN Lower Limit
11.8 F / -11.2 C
11.8 F / -11.2 C
EN Extreme
-22.5 F / 30.3 C
-22.5 F / 30.3 C
Fill
SpiraFil High Loft Synthetic
SpiraFil High Loft Synthetic
Max User Height
6 ft 0 in / 180 cm
6 ft 6 in / 200 cm
Hip girth
58 in / 147 cm
58 in / 147 cm
Foot Girth
40 in / 101 cm
40 in / 101 cm
Women's
Regular
Long
Price
MSRP: $99.00
Current Retail: $89.25-$129.00
Historic Range: $57.82-$129.00
Reviewers Paid: $68.00-$105.00

Weight
3 lb 10 oz / 1644 g
3 lb 14 oz / 1757 g
Fill Weight
1 lb 12 oz / 793 g
1 lb 13 oz / 822 g
Temperature Rating
15 F / -9.4 C
15 F / -9.4 C
EN Comfort
28 F / -2.2 C
28 F / -2.2 C
EN Lower Limit
16.7 F / -8.5 C
16.7 F / -8.5 C
EN Extreme
-16.1 F / -26.7 C
-16.1 F / -26.7 C
Fill
SpiraFil High Loft Synthetic
SpiraFil High Loft Synthetic
Shape
Mummy
Mummy
Max User Height
5 ft 6 in / 170 cm
5 ft 10 in / 200 cm
Hip Girth
58 in / 147 cm
58 in / 147 cm
Foot Girth
38 in / 96 cm
38 in / 96 cm
Price
$99.00 USD
$109.00 USD
Recently on Trailspace