NEMO Moki 3P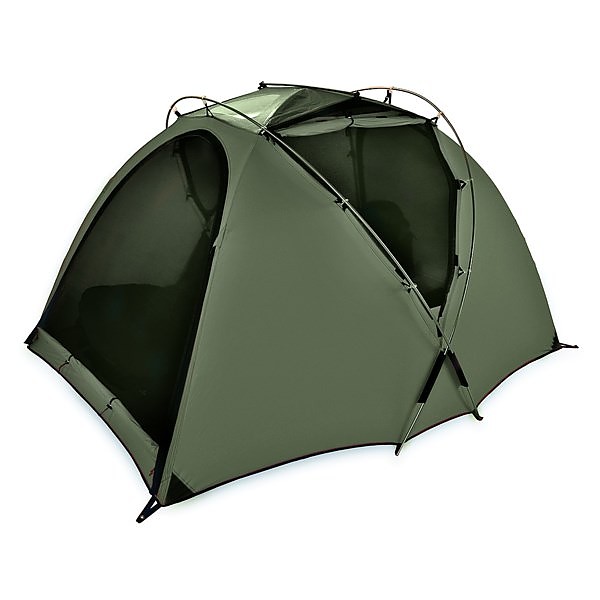 I just spent my first few nights in the Nemo this past weekend. The temp was about -10 with a slight wind. I was juiced up to try the tent so I was heading out no matter what. I tend to spend a fair amount of nights camping between -15 and +20.
The first thing I noticed about the tent was that it pitched very tight. I was actually a little worried pushing the poles into place. The one thing I can say is that there will not be any flapping with this tent. This thing is strung like a banjo.
The craftsmanship seems to be excellent at this point. Everything was cut and sewn well, nothing that stuck out as being cheap. Everything seems to be built to last with this tent.
I did not realize how large this tent was going to be until I actually put it up. I was expecting a slightly oversized two person tent but it is a full three person tent without a doubt. The ceiling is nice and high and the tent makes the most of the interior space with steep walls. I actually would prefer a slightly smaller tent but the windows in the ceiling and the venting options were just too tempting to pass over.
There is not really much of a price break for the Tenshi. The Tenshi is lighter and smaller but seemed to lack some of the other features that I was looking for. I won't be using this tent in the mountains so hiking this around in the flatlands of Wisconsin and Michigan won't be an issue. They give you a couple stuff sacks that you can use to split up the tent which is nice.
The tent stakes are like MSR stakes and are very strong and durable. My one issue with this type of stake is that when you pound them into frozen ground they are next to impossible to remove. If you pull on the attached string/rope they just rip off. I actually have some other stakes that I use in the winter. The one thing I can say is that they are much better than what you get with most tents.
There is a really nice compression sack that you can put the tent in to compress it down nice and small. This is a great touch. In the catalog and in the instruction book it looks like both of the stuff sacks are a compression style bag but only one is. I don't think you need two, but the picture is a little misleading.
The one thing that many dual entry tents overlook is a way to stuff the door out of the way. It would be nice if they made the door zip 3/4 of the way around and then tuck into a net pocket. I find that my tent doors get very abused because you are walking on them with wet and dirty boots...etc. I worry a little about the durability of the waterproof breathable coating on the inside of the door. I could see this getting scuffed off with time. Ice boots and hiking boots can be rough on stuff. Only time will tell.
The tent performed well over a two night outing. I found there to be next to no frost or moisture inside the tent. I used both of the roof vents which seemed to eliminate any moisture issues. I normally have another person with me so the moisture given off by one person is far less than normal. The tent was very stable and I had plenty of room for all of my gear. I think that two or three people would have enough room for gear in this tent and the vestibule.
Minor complaints....very minor.
1. There are four little mesh bags sewn into the tent doors near the floor....what the heck are they for? There is no mention of what purpose they serve. I guess you could put some small stuff in them but they are just strange.
2. The big stuff sack that you can put everything into loosely is short and fat rather than long and slender. I would prefer it to be long and slender and be a tighter fit. It is a 10 gallon bag with 5 gallons in it.
3. I wish there was a way to avoid seam sealing the tent. There are a number of external seams that need to be sealed...I hate seam grip. It never looks "good" and tends to stick to its self forever.

4. This tent is a little pricey...but you are buying from a small company with pride in what it is doing...the product is excellent.
I have been using the same Sierra Designs Tiros Convertible for the past 8 winters. That tent was bomber as well, but the technology is so much better now. The Tiros would always frost up, the fly would flap all night long and there were a million straps to clip and tighten. Until now, I really had not found a tent that I felt was that much better.
I know that my cons are very minor but I felt like I needed to give this tent a 4.5 since it was not perfect. I would recommend this tent to anyone who wants a four season tent you could use in the summer. The tent is bomber and has excellent attention to detail...I just wish I knew what those silly mesh bags were for.
Happy camping!
Design: Four-season freestanding
Sleeps: 3
Ease of Setup: Simple concept...interior poles are very tight to get in with cold fingers.
Weight: 7.5 w/out vestibule and maybe 10.5 complete.
Price Paid: $695

I was looking for a tent that would cover many different camping situations. I am mostly camping with my son who is a boy scout. We are located in south Florida for most of the trips but now that my son is older we plan to travel outside of the Florida area and wanted a tent that would handle any situation that would come up.
I looked at many tents most of them were online and would read reviews like this one to get a better feel for what was good or great. The Moki from Nemo is "Great". I can't say enough about the customer service I received from them. I called several times to ask questions and make sure that the $700 spent on this tent was worth it.
At first I thought that this tent was for mountain climbing, and base camp expeditions. Well it is, but because of the design, it is a good all around tent for almost any camping experience. I recently used it in Jupiter, Florida, on one of those muggy hot nights and had no problems with condensation on the tent at all. The vestibule did have some condensation. I purchased my Moki with the footprint and paw print. I would recommend both with the initial purchase.
PROS: Easy set up,sturdy,plenty of ventilation vents, roomy and major cool factor.
CONS: The tent is set up to share the load with others and comes in different bags, tent compression bag, pole bag and then a bag for stakes, paw print and footprint.
I have carried it all in one backpack and hiked about 3 miles to camp with it in my Marmot and I still had room for my other gear for the weekend. There are many of nice features with this tent and I recommend it to anyone.
Design: four season
Sleeps: 3
Ease of Setup: After the first few times sets up in about 10 min.
Weight: Depends on features purchased
Price Paid: $699

The material of this tent is amazing! I used it for multiple trips in the winter, including a night of camping on the ice, in the middle of huge frozen lake, in a windy -20c. I zipped it up close to suffocation level with 2 people inside and there was NO condensation. Everything was bone dry in the morning and we were warm. No flapping, no noise, no ice....
On an other ski trip the temp rose to a sunny +1c. I was afraid the tent would melt in the 2 meter snowpack, so I was really glad to be able to open-up everything, great feature!
The side doors are a plus, the set-up is easy (no fly to mess with!), the inside is HUGE. Great tent for carrying in a pulka, for shorter trips or to divide between 3 people (it's a bit on the heavy side).
It lost half a star when I noticed some water seepage this summer. The tape in the corners ripped because of the tension of the poles. Easy fix with Seam Grip.
Overall, for anyone who's ever been stuck in one of those tiny 2-man mountaineering tent and hated it, this tent is for you!
Design: four-season freestanding dome
Sleeps: 3
Ease of Setup: easy
Weight: 9.1 pounds with vestibule
Price Paid: 500$

More wasted money.
Cons
Everything esle
Very heavy
Guy out points are poor for strong wind, not enough
Water pissing in
Stupid rubbers on peg-out point useless in strong wind
I can go on
Used the tent several times, seam sealed as specified and still finding the Pawprint wet. Last night it poured down and I woke to find a puddle in one corner. This was after clagging the tent up with seam sealer.
The inside always wets out and wet patches appear all over inside and in most cases droplets run down on the inside. Not condensation — water from outside. I guess the United Kingdom must get more rain than anywhere else as not a bad word to be said anywhere.
Being a single skin the floor is attached to it, so no escape for them droplets, oh and the puddles in corners. Oh well another waste of £800 for the SE with extra porch and poles. Thought the BD Bombshelter was bad, you should see this.
Source: bought it new
Price Paid: £800

I have taken the Moki to Alaska twice now. Both times we stayed on the glacier for over two weeks.
It is a great base camp tent for two, or an "on route" tent for three (or four little people). It's bomber. I'm a gram geek, so I removed several screens (no bugs on the Ruth Glacier), the stake down points, and a few other things I thought were unnecessary.
That being said, these tents have so many great features. It vents well, and can take an Alaska sized beating from the wind and snow and be fine.
Here are my personal highlights:
Strong fabric
Vents well
Strong poles
Big (removable) vestibule
Strong construction
Price Paid: it was a trade

Your Review
Where to Buy
Help support this site by making your next gear purchase through one of the links above. Click a link, buy what you need, and the seller will contribute a portion of the purchase price to support Trailspace's independent gear reviews.
You May Like
Specs
Price
MSRP: $799.95
Historic Range: $16.99-$849.95
Reviewers Paid: $500.00-$699.00

Minimum Weight
8 lb 7 oz / 3.8 kg

Packed Weight
11 lb 14 oz / 5.4 kg

Floor Dimensions
90 in x 75 in / 229 cm x 191 cm

Interior Height
48 in / 122 cm

Floor Area
43 sq ft / 4.0 sq m

Vestibule Area
12 sq ft / 1.1 sq m

Packed Size
18 in x 8 in / 46 cm x 20 cm

Tent Shell Fabric
40D OSMO Waterproof Breathable

Fly / Vestibule Fabric
30D PU Nylon

Floor Fabric
70D PU Nylon