NEMO Morpho

The Morpho has been discontinued. If you're looking for something new, check out the best three-season tents for 2023.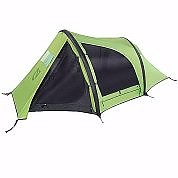 I was intrigued by the MORPHO tent design for bike touring. Light weight, single wall, open and airy with no poles sounded like a touring cyclist's dream. It turned out to be my nightmare. The only good things about the tent were its weight and quick set up time.
I could not use the side doors if it was raining or there was water on the top of the tent because it would drain in.
The condensation that accumulated on the inside of the tent was beyond any anticipated expectations. I tried every way imaginable to reduce the condensation to no avail. Every morning I had to wipe off the inside top and sop up the puddles underneath any gear that was stored in the tent.
I could not use the vestibule for storing gear because I had to move up to that space to sleep to keep the bottom of my sleeping bag (where your feet are) away from the sloping top and walls to keep the sleeping bag dry.
It also developed 2 small holes at the back of the tent where the stakeout pulls attached.
I used the tent for a total of about 40 nights and would have returned this tent after a few days but I was in Europe.
When I returned home I contacted NEMO and they said to send back the tent so they could look at it. They found that the floor had also started to delaminate (something I did not notice).
They offered to replace the tent with the new version and refund the difference in price from what I paid and what it sells for now. This was not acceptable because they did away with the side doors so now you have to enter through the vestibule where your gear is stored. I would not have purchased a tent designed like this.
They offered to replace it with another model and refund the difference. I did not like this option because if I thought they had a better option I would have purchased it in the first place.
I asked for a total refund based on the fact that the tent did not come anywhere near my performance expectations, developed holes, and the floor started to delaminate. I was told that they couldn't offer a refund based on principle. Two of the people I talked with suggested that I sell the tent to recoup my cost!!!!! They use completely different fabric now.
Customers should not be test dummies. NEMO's warranty states: "If one of our products does not meet your expectations during its useful life, we promise to repair it, replace it, exchange it, or give you a refund."
What part of refund don't they understand!!! I don't think 40 nights use is past the "useful" life of a tent.
So now I am stuck with the LOSI. After setting it up and using it once I am convinced that it will not stand up to the rigors of bicycle touring. It is smaller in space than the MORPHO and not something I want to keep.
I am someone that likes to give the small guys a chance. Had they refunded my money I would consider buying from them again. It seems that they are more concerned about short term profits than long term customer satisfaction and integrity.
Sleeps: 2

Your Review
You May Like
Specs
| | |
| --- | --- |
| Price | Historic Range: $229.95-$565.00 |