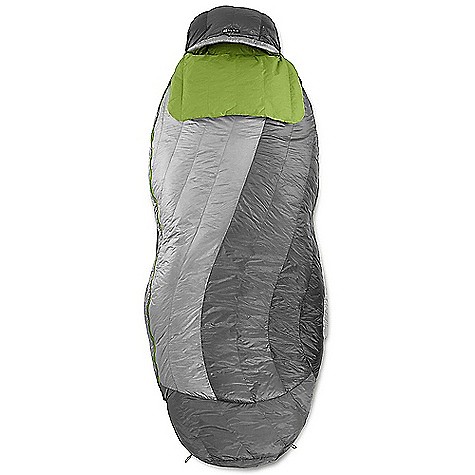 Side sleepers, rejoice! Nemo's Spoon Shape sleeping bags mimic your body's curves for greater comfort and warmth on the trail. The spoon-shaped Nocturne 30 is wider at the shoulders, tapered at the hips, and wider again at the knees for greater movement and flexing in any position all night.
Filled with 700 power down, the Nocturne 30 (-1°C) weighs 2 pounds (907 g). If things get wet, DownTek nanotechnology will help keep you warm.
Insotect Flow vertical baffles and gates keep down insulation from migrating and help prevent cold spots, though you can redistribute down up and down if you like. Underneath there's 10 percent less fill.
The Nocturne 30 sleeping bag features a fully insulated Blanket Fold to hold in warmth, pillow pocket, zippered pocket for your watch, 15D nylon ripstop shell fabric with DWR, 30D nylon mini ripstop lining, and waterproof/breathable footbox.
Specs
Price
MSRP: $349.95
Historic Range: $131.73-$369.95

Temp Rating
30°F / -1°C

Fill
700 fill power down with DownTek nanotechnology

Minimum Weight
2 lb 0 oz / 907 g

Packed Size
13.5 x 8.5 / 34 x 22 cm

Reviews
1

review

5-star:

0

4-star:

0

3-star:

1

2-star:

0

1-star:

0
The Nocturne 30 is good for lightweight backpacking in temperatures near or at its stated rating and in wet climates. I'm a warm sleeper and I would take this bag down to its lower range with no fear. I found the footbox to have cold spots in certain scenarios and I think it needs some work (either in baffling design or materials: I'm not sure what the fix should be), but it is not a deal breaker for a shorter person like me (5'7").
Pros
True to temperature rating (this is a very warm bag)
Very light weight
Water resistant
Shape is really nice for those that flop around at night.
Cons
Footbox is prone to cold spots if you press your feet into it too much (as is all down when compressed, but this is something more than that)
Slight vapor barrier effect (mostly noticeable if you are already wet when getting in)
Zipper is hard to put back together if you completely unzip and separate the bottom stop
Exterior fabric is so smooth it tends to slide a bit more than other bags I've used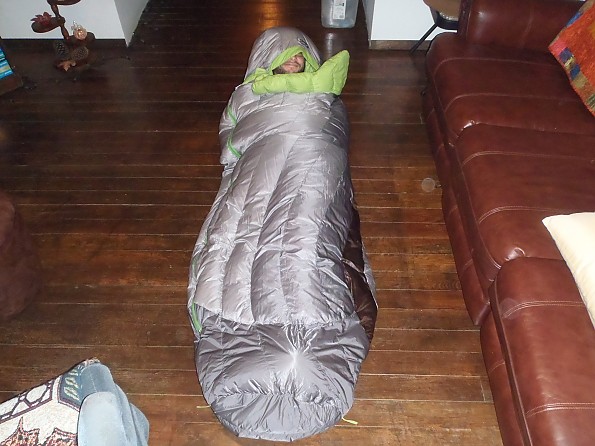 Living Room Demonstration for clarity — field photos below
About me and my backpacking trips: I live in Knoxville, Tenn., USA and 99 percent of my trips are in the Southern Appalachian ranges. I usually go for short two-day two-night trips, year round. As it turns out I got to take this bag on a bit longer trip.
If you require further veracity regarding me, you can register at Trailspace and see a list of the last two years of my posted trip reports in my user profile using this link.
Testing Notes:
This initial review is based on my experiences over six backing trips covering 12 nights and about 195 miles of backpacking in the Southern Appalachians.
All ambient temperature measurements were done with the Ambient Weather model WS-108 Keychain Altimeter, Barometer, Thermometer & Compass.
Good info for a sleeping bag review: I'm a warm sleeper.
About the Nocturne 30:
The NEMO Nocturne 30 is rated for use in temperatures down to 30 degrees Fahrenheit, is spoon shaped (for side sleepers), has a waterproof breathable footbox, is stuffed with 700 fill duck down, has specialized baffling designed to prevent cold spots, and uses a fairly new technology called DownTek. The primary feature of DownTek is its ability for down to maintain its insulating properties even when wet.
I tested a 2012 limited edition sample of the Nocturne. NEMO's full line of sleeping bags, its first ever, will be available in 2013.
For the manufacturer's product page, use this link.
To see a neat video of DownTek use this link.
Initial Impressions:
The Nocturne bag I received weighed 2.1 lbs (NEMO publishes a weight of 2 lb 0 oz), although it feels lighter than that when handling it. The stitching and fabric construction are of very high quality.
The exterior material (15 denier down-proof ripstop nylon with a DWR treatment) has an incredibly smooth texture. Combined with the remarkable lightweight, diagonal Insotect baffles, and spoon shape profile, it created a high "coolness" factor.
Of course the "proof is in the pudding" as they say.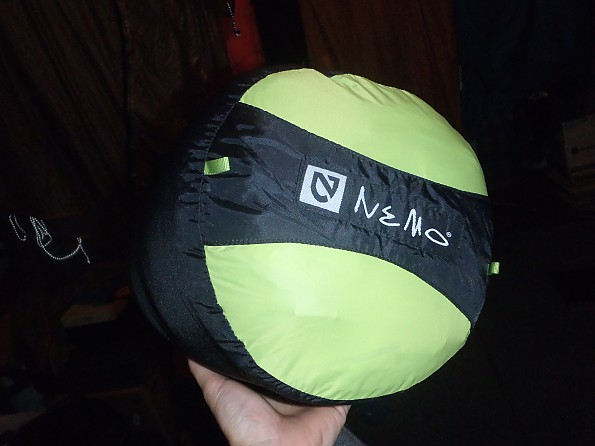 Out of the box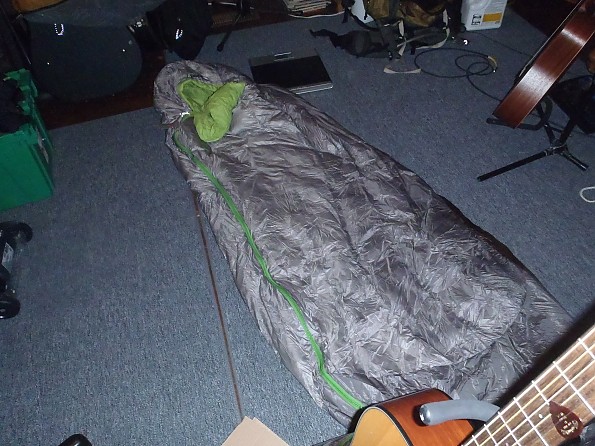 Spread out on the floor after opening
Features:
Spoon Shape: I really enjoyed the roominess of the Nocturne bag, thanks to the spoon shape profile. The spoon shape worked well for me. It's wider at the shoulders, tapers down to the hips, and then widens out, letting you bend, shift, or flop around.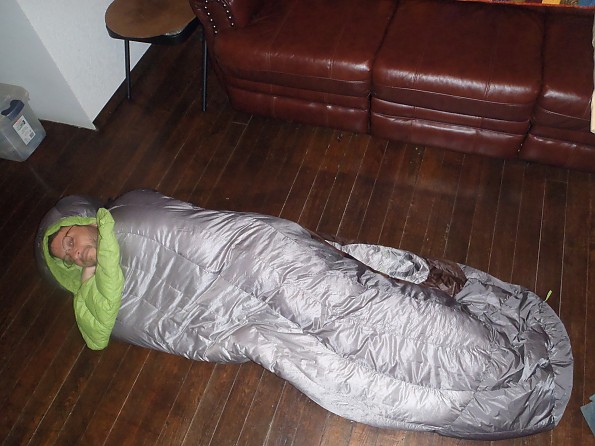 On my side—notice the girth of the lower section; this works for floppers.
Hood: The drawcord on the hood works OK, but is not great. I found it a little hard to adjust, even without gloves on, but it was not a big problem. The hood is quite roomy, which is good for stuffing it with extra clothes to use as a pillow.
Zipper: I had some issues with the two-way zipper after separating the bottom stop; it was hard to reattach after I completely unzipped the bag one night. NEMO walked me through the function of a two-way zipper and I was able to reattach the bottom stop albeit with no small effort.
However, the travel motion of the YKK zipper was excellent. It worked well with few snags and very well compared to others I've used.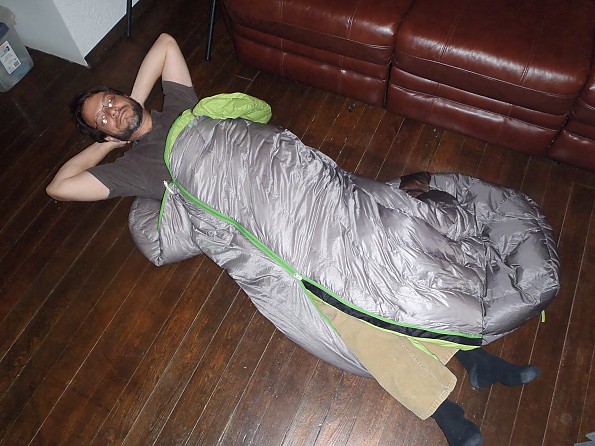 Demonstrating one way to use a two-way zipper: you can open it up to let your feet breathe.
**Loft / DownTek / Moisture:
The loft of the bag was very good. I usually hike long days with the bag as compressed as it can be in the bottom of the pack; the Nocturne puffed up nicely every time.
The exterior fabrics (15 denier nylon with DWR on the exterior) seemed to be quite moisture resistant, and that fact also caused me some confusion about the effectiveness of the DownTek treatment on the 700 fill down (DownTek nanotechnology claims to make down clusters and feathers more water repellent and thus insulate better when wet):
I'm honestly not sure what to say about the DownTek treatment: We are supposed to test the equipment as we normally would use it. Well, I normally am very careful to keep my down items dry. I went a little outside my usual practices to test this bag, but never actually soaked the bag intentionally and slept in it.
I did get the bag quite wet from external condensation and body sweat and rain; it never lost loft or felt less insulating so maybe it does work as advertised.
Perhaps I'll take the opportunity to soak the bag and get in it, but until then I can't really confirm or deny the efficacy of the manufacturer's claims. Based on my experiences thus far, I tend to think DownTek works as stated, but have no real verification. 
Blanket Fold: I liked NEMO's Blank Fold feature and thought it added a bit of coziness to the bag. The Blanket Fold is a fully insulated flap of fabric at the top of the bag, that tucks in to stop drafts and trap body warmth.
Field Use Log:
My first trip with the NEMO Nocturne 30 was in the Smokies at campsite 50. The nighttime temperatures only reached about 52 degrees. I could not even drape the Nocturne over me without getting too hot. In fact I slept on top of the bag in a short sleeve shirt and synthetic briefs (and on top of my NeoAir All Season pad) and was still a little too warm for comfort as it seemed to really reflect my body heat back at me in a "heat field":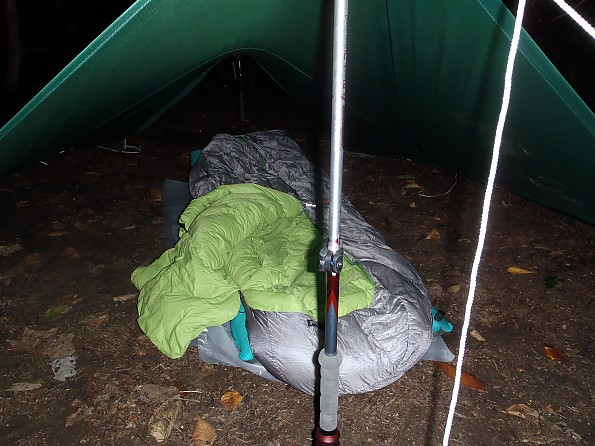 Smokies Campsite 50 — 52 degrees was too hot
The second trip was in the Mt. Rogers area of Virginia. The temperatures reached 42 degrees Fahrenheit (at last measurement). That night provided more useful experience on two fronts:
Apparently I had completely unzipped the bag on the first night's use (separating the bottom stop). Well, at bedtime (well past dark) I could not get the zipper to reattach. I spent that night holding the bag together in a stiff wind while sleeping under a tarp.
I thought the product was damaged and later contacted NEMO for advice; they walked me through the function of a two-way zipper and I was able to reattach the bottom stop albeit with no small effort.
I don't like the bottom stop on the YKK zipper they have chosen and don't consider it a precision mechanism. However, I do like the travel motion of the slider: it works very well compared to others I've used.
The second experience from that night was that I awoke to find that the exterior fabric of the bag was extremely wet from condensation. I never noticed a loss of warmth; that could be because of DownTek or it could be that the water didn't penetrate the exterior fabric. Hmm….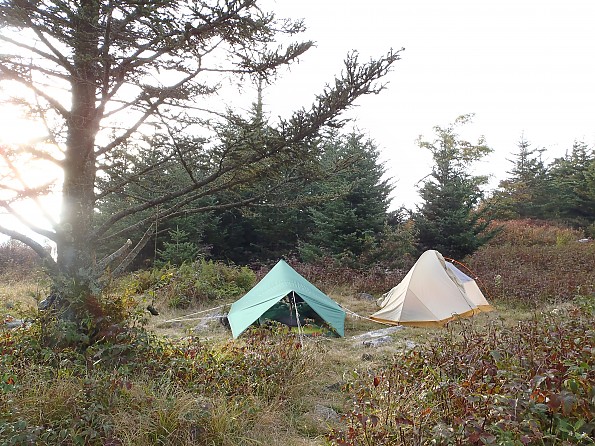 Mt. Rogers — NEMO bag is under tarp
The third trip was quite interesting and offered even more insight into the product but I didn't intend to uncover it this way:
I had wanted to do something ostentatious and try to spend the night on the roof of the Mt. Sterling Fire Tower in the Smokies. (Trip Report is here). I didn't make it through the night, but I did experience incredibly strong winds on the roof of that tower. I didn't have a means of measuring the wind speed, but they were strong enough to actually lift my body partially off the tower when the wind got under my sleeping pad.
Well, the wind sheared right through that sleeping bag (not a knock on it, it doesn't claim to be windproof) but the wind really cut through the foot box. So much so that it drew my attention to it for the remainder of the testing. NEMO says the footbox is designed to be waterproof breathable to protect against tent wall condensation.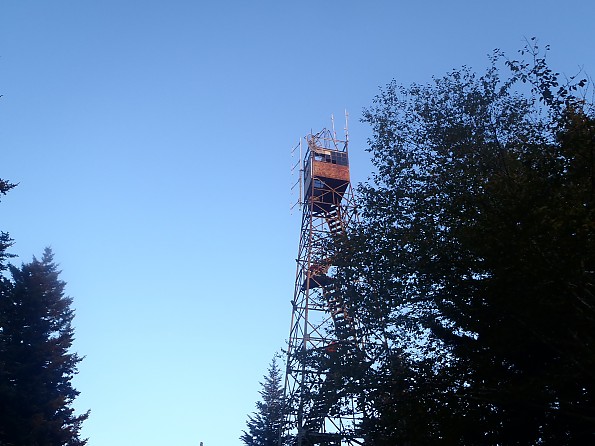 Firetower — 60 feet high and at 5,902 feet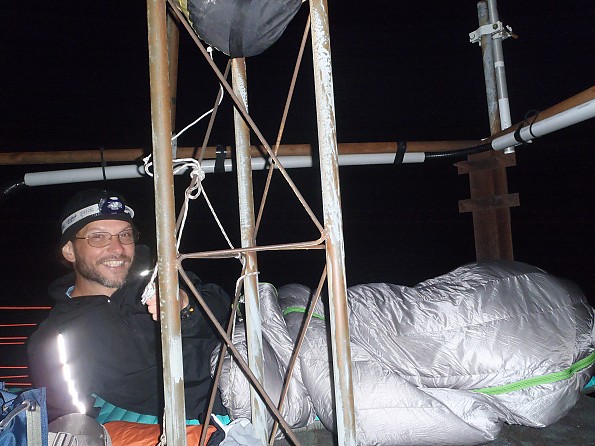 On top of the tower—what a night!
The fourth trip was a cowboy camp in the Smokies at campsite 18. I slept under the stars (intentionally with rain in the forecast) but it never rained, of course. LOL, I made some effort to get the bag wet in a normal scenario…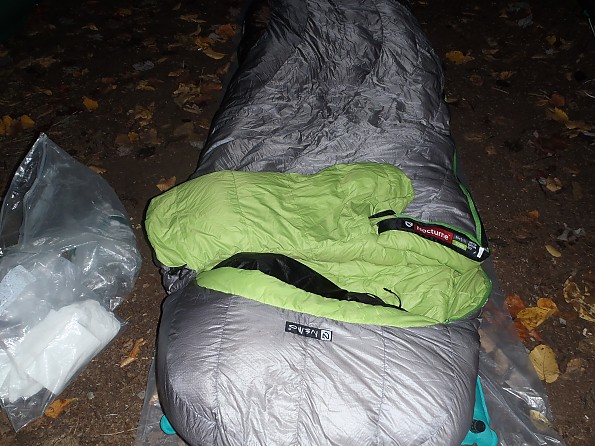 Cowboy camp at Smokies site 18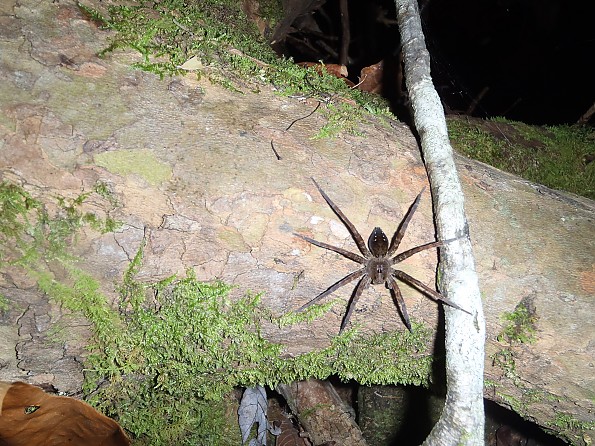 Downside of Cowboy camp at site 18 :)
The fifth trip was a 90-mile section of the Appalachian Trail, which I traversed in five nights. On that trip I encountered various situations; one of which was getting sweaty from overexerting but then stopping in a windy/cold location and having to get in my bag before chilling.
I noticed that it took far longer to get dry than what I'm used to. It was as if the bag didn't breathe much at all. The best practice is to get dry before getting in the bag, but sometimes you have to jump in or risk hypothermia.
On two other warmer nights I noticed feeling more moist than usual and concluded that not as much vapor escapes the bag as does my other bags. In fairness, I'm a sweaty dude and in dry cold weather it's not an issue.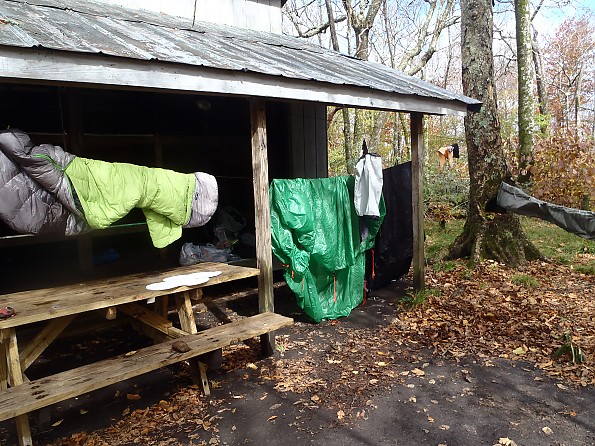 Airing out the bag at Bald Mountain Shelter
The sixth trip was to the Smokies in the wake of Hurricane Sandy to play in the snow. This proved to be a really great bottom end test. This was my only use of the bag in a tent. I measured a temperature of 35 degrees Fahrenheit inside the tent (last measurement before going to sleep) and slept on my usual NeoAir All Season pad while wearing a 150 weight merino wool short sleeve shirt and synthetic briefs. I was toasty warm. I confirmed my earlier observation of cold spots if you pressed too hard into the footbox at certain angles.
Snow camp at Smokies site 27—tent perspective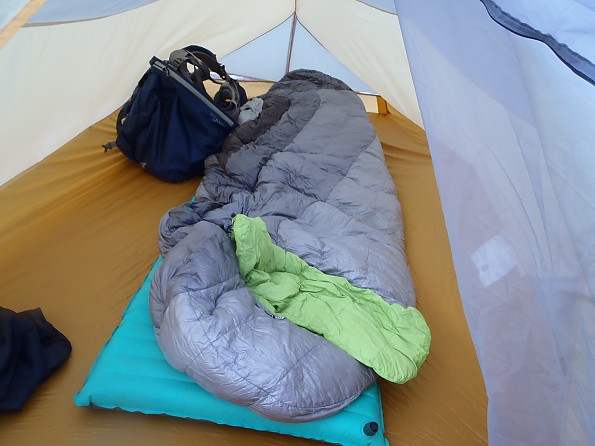 Bedding down at 35 degrees Fahrenheit
Conclusion:
I think the NEMO Nocturne 30 is good for lightweight backpackers who use it in temperatures near or at the stated rating and in wet climates (NEMO will also offer a Nocturne 15). I found it true to its temperature rating and as a warm sleeper, I would take this bag down to its lower range with no fear.
Though the waterproof-breathable footbox had cold spots in certain scenarios, it was not a deal breaker for a shorter person like me. While the zipper caused some difficulty and I noticed a slight vapor barrier effect, the bag's Spoon Shape is really nice for those that flop around at night, and the bag was quite light. 
Source: received for testing via the Trailspace Review Corps (sample provided by NEMO for testing and review)

You May Like
Recently on Trailspace