NiteCore NU25

The Nitecore NU25 is a tiny headlamp with a rechargeable internal battery. Packed with features including three lamps, SOS mode, plus the ability to lock for stowing, this little lamp delivers on trail.
Pros
Small and light
Bright modes are really bright
Low light setting uses very little power
Recharges fully in 2 hours
Cons
Shuts down if it gets cold
Has to be turned off to use power meter
Tiny headlamp has tiny buttons
High output eats battery fast
Specs:
Headlamp Weight: 1oz/28g
Headband Weight: 0.9oz/26g
Headlamp Dimensions:  2 x 1.25 x 1 in
Headband Dimensions: 1" band 29" fully extended but not stretched
610mAh Li-ion internal battery
360 Lumens max output
1m impact resistance
IP66 waterproof rating
Features: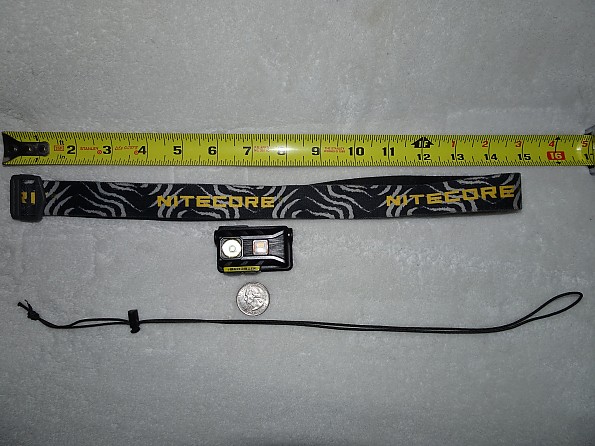 Top to bottom: Removable headband, NU25 unit, US Quarter, shock cord mod.


Despite the tiny size the NU25 is a full featured headlamp with three individual lamps. The primary employs a Cree XP-G2 S3 LED mounted in front of a shallow reflector. There are also two other LEDs, one red to save night vision and the other a high CRI to provide more natural color.
The lamp housing has a multi function clip permanently attached. The headband attaches to this clip or can be removed and the clip used to attach the lamp to a hat or pack strap.
A couple of other neat features were the self preserving auto step down from the high output Turbo Mode if overheating is detected and the ability to get some idea how much charge you have left from a built-in power meter that will flash to tell you if you have over half a charge, between 10 and 50 percent or less than 10 percent left.
Modes:
The primary lamp has four brightness levels: Low (1lm), Medium (38lm), High (190lm), Turbo (360lm). There are also two flashing modes, SOS and Beacon (360lm).
The red LED has two brightness levels: Low (0.9lm) and High (13lm). It has a Caution mode which flashes (13lm).
The High CRI LED has a single mode (20lm).
Range, Beam & Brightness:
The NU25 primary LED uses a shallow reflector that creates a beam about 100° which lights up a nice wide area in camp or on trail. It does limit the effective range somewhat, especially when using the power saving, lower light setting. The higher settings put out enough light that even when diffused at a distance objects are still well defined. The high CRI output made a notable difference for color perception, but seemed to have a limited range in terms of that effect. Best for photography or close up work within a yard or two.
Demonstrating a headlamp via pictures is difficult, but here are a series of pics with notes under each. To my eyes I saw very little difference between the medium and high settings in the field. Up close there is more of a noticeable difference, but not as much as the specifications would suggest. I don't have any light metering capability so I have no idea what the numbers are, but both settings put out a lot of light.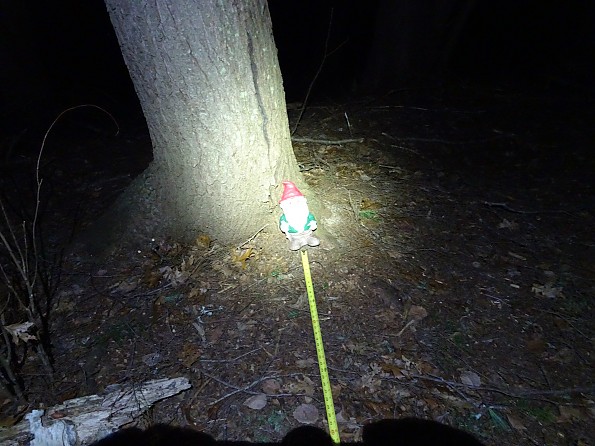 Distance of 5' on medium setting. High and turbo too bright for pics at this distance.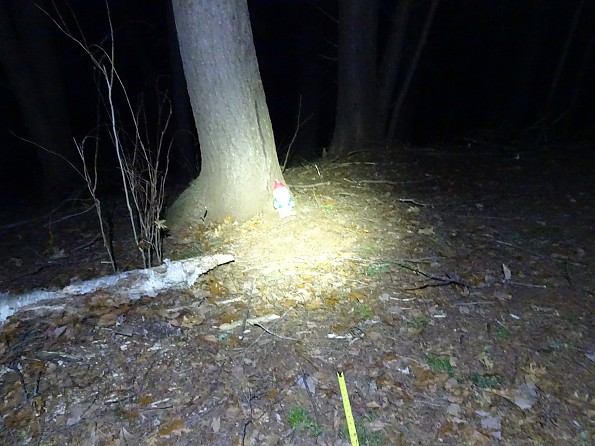 Distance of 10' on medium setting.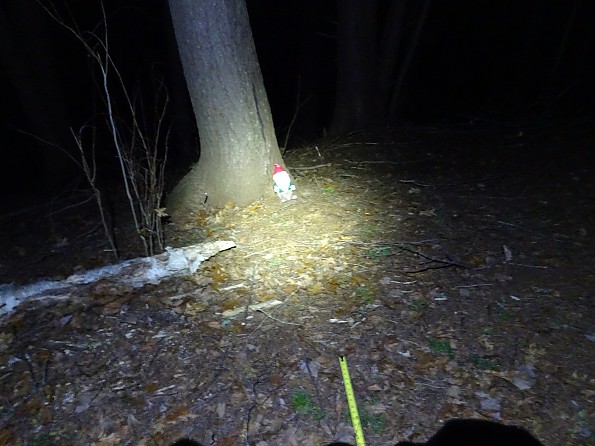 Distance of 10' on high setting.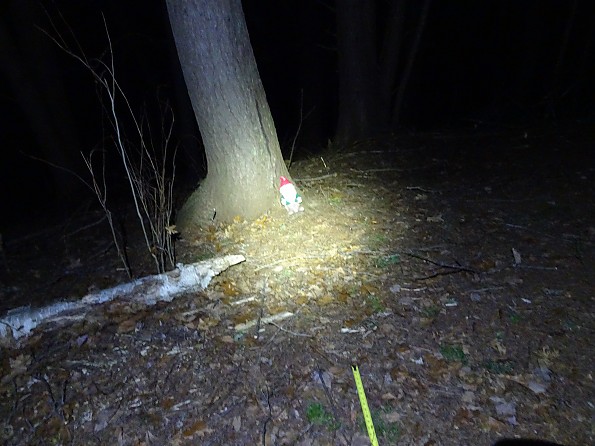 Distance of 10' on turbo setting.



                                         Distance of 20' on medium setting.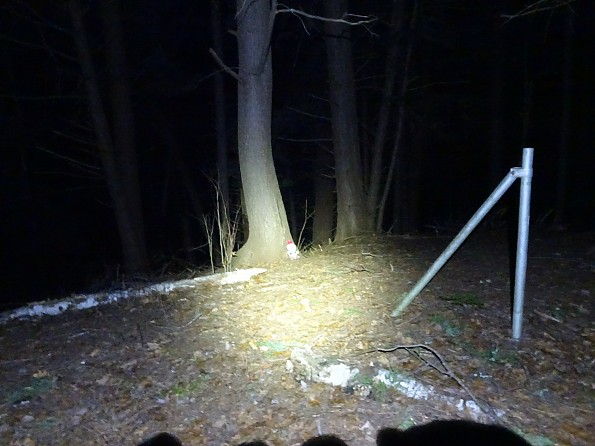 Distance of 20' on high setting.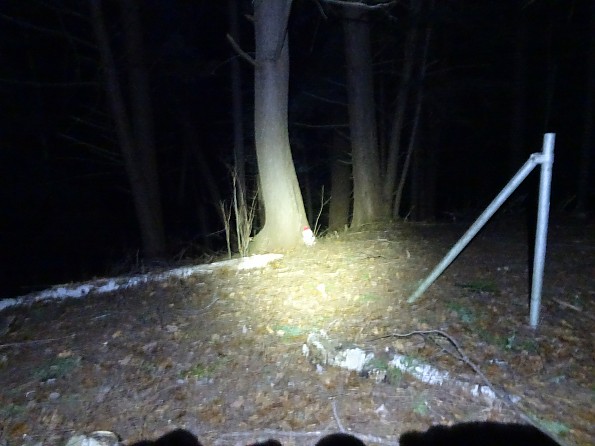 Distance of 20' on turbo setting.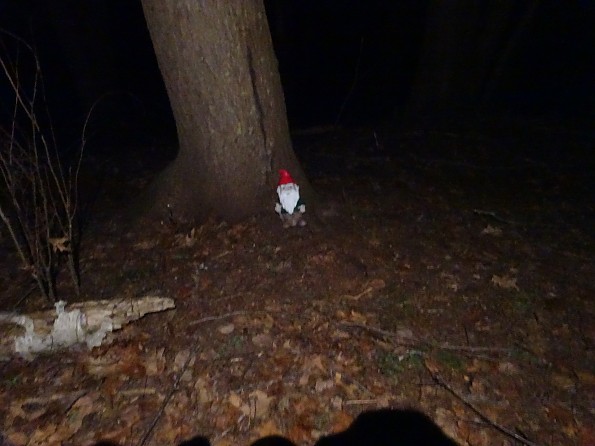 Distance of 10' with high CRI lamp. Note the color difference.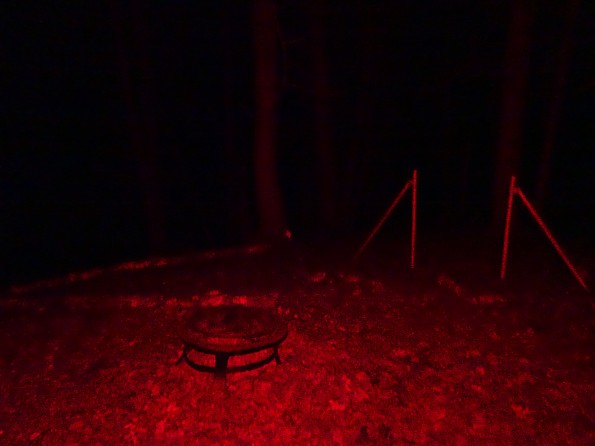 Distance of 20' with red lamp on high setting.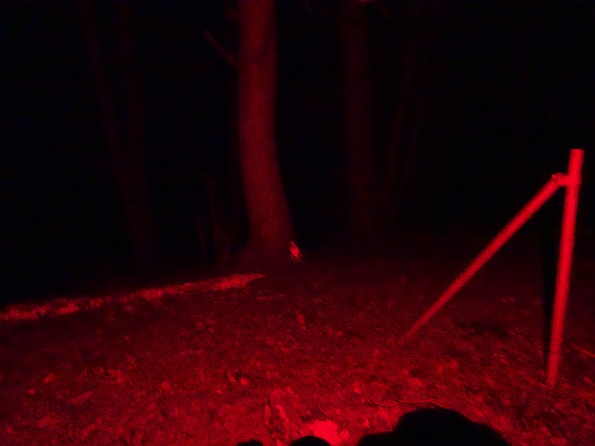 Distance of 10' with red lamp on high setting.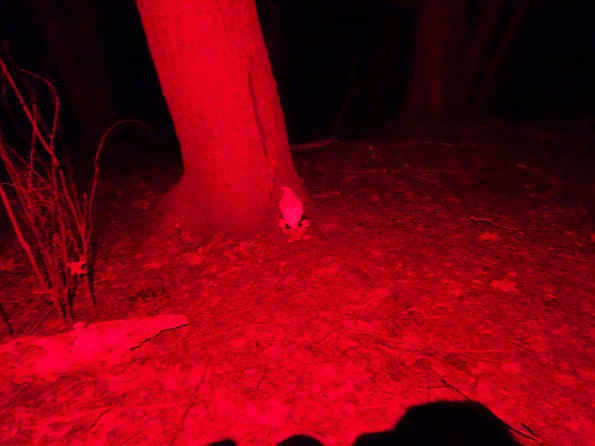 Distance of 5' with red lamp on high setting.


Given the wide beam this lamp loses a lot of effect at longer distances. It will light up objects well enough to identify the familiar but is of lesser use dealing with the unknown. Useful enough in camp or on trail. Of less value for scanning a cliff face or plumbing the depths of a well.


Burn Time:
This turned out to be the hardest part of testing out the Nitecore NU25 for this review. While initial tests on higher settings went quickly, the test to see how long it would run on the lowest setting went on for so long I eventually had to give up.
On either medium or high settings the 610mAh internal power bank lasted for about two hours before shutting down. At that point I could turn the lamp on the lowest setting and still get some light, though it was reduced from full output.
The low setting is where things got interesting. While the output dropped over time the lamp refused to stop putting out useful light. Testing went on for weeks and each night I'd shine the light around a dark room and see well enough to do camp chores. I finally turned the lamp off after 664 hours (over 27 days!) of continuous use and found that there was still enough charge in the battery to turn on the high output lamp.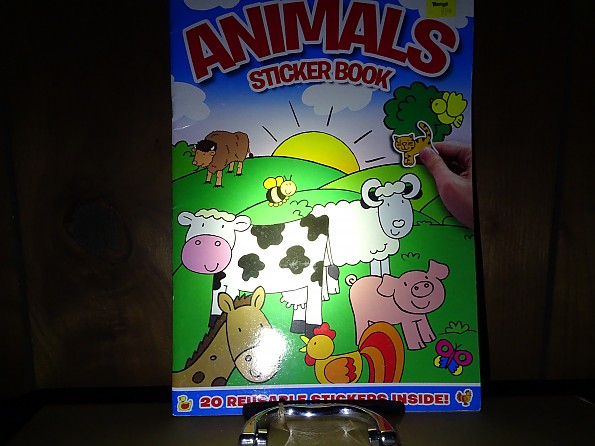 Distance of 18" on low setting with full charge. Plenty for reading plus good color.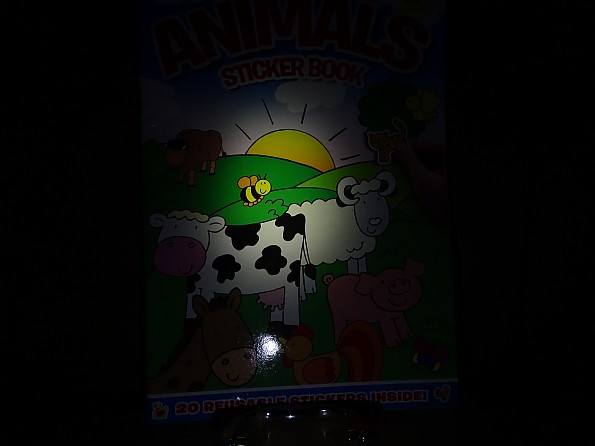 Distance of 18" on low setting after 664 hours of nonstop use. Only central beam remains, but it is bright enough to see clearly in that small area. 28 days on a single charge is amazing!

The output dropped dramatically over the first week, but then held steady at a low, but usable level. This is about the same amount of light produced after running the battery down on high. This gives you some reserve if you needed to dig out your battery pack rather than leaving you in the dark.
Charging:
I found I was able to get a full recharge in right around two hours using either a wall outlet or battery pack. On trail I would top it off after a few days if I was charging my inReach or other electronics, but after testing at home I feel silly about that now.
Weather:
The rubber seals on the top buttons and bottom facing power port keep water at bay. The rest of the casing is solidly joined so rain isn't an issue. Cold on the other hand was not a friend to that tiny battery pack. After a 14°f night knocked it out of commission I learned to sleep with it around my neck on cold weather trips. Being so tiny that wasn't an issue for me.
Ease of Use:
              Lots of features if you can remember the codes and press the buttons.
The buttons are tiny. At about 5/16th of an inch on their wide side there is no other way to describe them. I have huge fingers, but I think even normal folks may find these a bit of a challenge to use with gloves on. It can be done, just not easily.
Testing Conditions: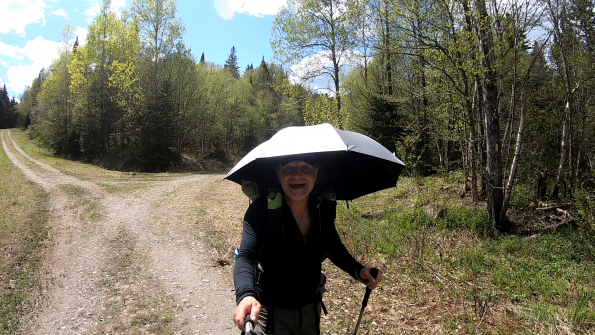 Big trails are the time for tiny gear. The mighty Cohos Trail in June '19


I took the Nitecore NU25 along on every trip this year. Hundreds of miles in the pack and over 60 nights in the woods. Most use was in camp as I try to avoid night hiking since it interferes with eating and sleeping.
Conclusions:
The Nitecore NU25 is popular with distance hikers for good reason. Tiny and light to carry, yet does what you need in camp. The one drawback for serious distance hikers would be the limited battery life on the higher settings. Most folks are not going to want to night hike on the lowest setting. Having only two hours of light dictates the use of an external battery pack with a cord running to the lamp. Haven't done it myself, but have heard from others who do just that.
As someone who doesn't need hours of high output use I found the NU25 to be a very functional headlamp. Taking off the stock headband and replacing it with shock cord takes the total weight down to 30g or just over 1oz. Since I already carry a power bank for my inReach and cameras I'm prepared in case I need emergency light for an extended period of time.
The lowest setting was enough for me to read with when fully charged. In fact I rarely used the higher settings because they were so bright. The powerful beams were most useful when needing to do detailed work like threading fishing line through a hook. For most purposes I found the lowest setting gave me enough light to do what I was doing, though I admit I have pretty good night vision.
Over all I have mostly good things to say about the NU25. The number of features in it surprised me. I bought it for the size and weight, but finding lockout ability, power metering and three different LEDs left me feeling like I had a headlamp worth carrying even when size and weight weren't important. Probably not best for night hikers unless you are OK with the external battery thing. Otherwise I think most folks will appreciate this little light.
Experience
I own a bunch of headlamps including Black Diamond and UCO. The NU25 was used for four seasons in Maine and New Hampshire on numerous backpacking trips.
Source: bought it new
Price Paid: $36.95

This is a fantastic headlamp. It's unbelievably light, bright, and has many features for a minimalist headlamp.
Pros
rechargeable
extremely lightweight
high CRI mode is great for eating
lots of features but simple to use
bright
This headlamp lasts a very long time on a full charge. As a thru-hiker, my main concern was weight and this Nitecore does not disappoint—with a "custom" strap (just a bit of elastic cord with a few adjustable knots) it comes down to just 32g. It has withstood all sorts of weather conditions from well below 0°c to rain and hailstorms at altitude in the Rockies.
It is surprisingly bright and full-featured for such a minimal headlamp, but the feature I used the most and did not expect to care much about was the high CRI mode. Normally when eating a meal by headlamp light the food looks pretty gross as a result of the lighting, but the high CRI mode makes a huge and unexpected difference in this respect, and if for some reason I need a new headlamp I will certainly be looking for this feature again.
The brightness is more than sufficient for hiking needs and I found that I almost never used the max setting. The red light is quite bright as well.
Overall it is a fantastic headlamp. I just wish that it had usb-c charging instead of micro-usb.
Experience
I've owned many headlamps over the years, and I've had this one ~2 years. I've used it on several thru-hikes and for general camping.
Source: bought it new

Your Review
Where to Buy
Help support this site by making your next gear purchase through one of the links above. Click a link, buy what you need, and the seller will contribute a portion of the purchase price to support Trailspace's independent gear reviews.
You May Like
Specs
Price
MSRP: $36.95
Current Retail: $36.75-$36.95
Historic Range: $36.75-$36.95
Reviewers Paid: $36.95

Max Output
360 lumens

Max Beam Distance
81 m

Max Beam Intensity
1650 cd

Max Runtime
160 h 0 m / 6.66 d

LED
CREE XP-G2 S3 LED

Reflector
OP

Battery
Rechargeable Li-ion

Special Modes
Location Beacon,SOS

Beam color
White light, High CRI, Auxiliary Red Light

Length
55.5 mm / 2.18 in

Head Size
55 mm / 2.16 in

Weight
28 g / 0.98 oz