Norrona Recon 125L synkroflex Pack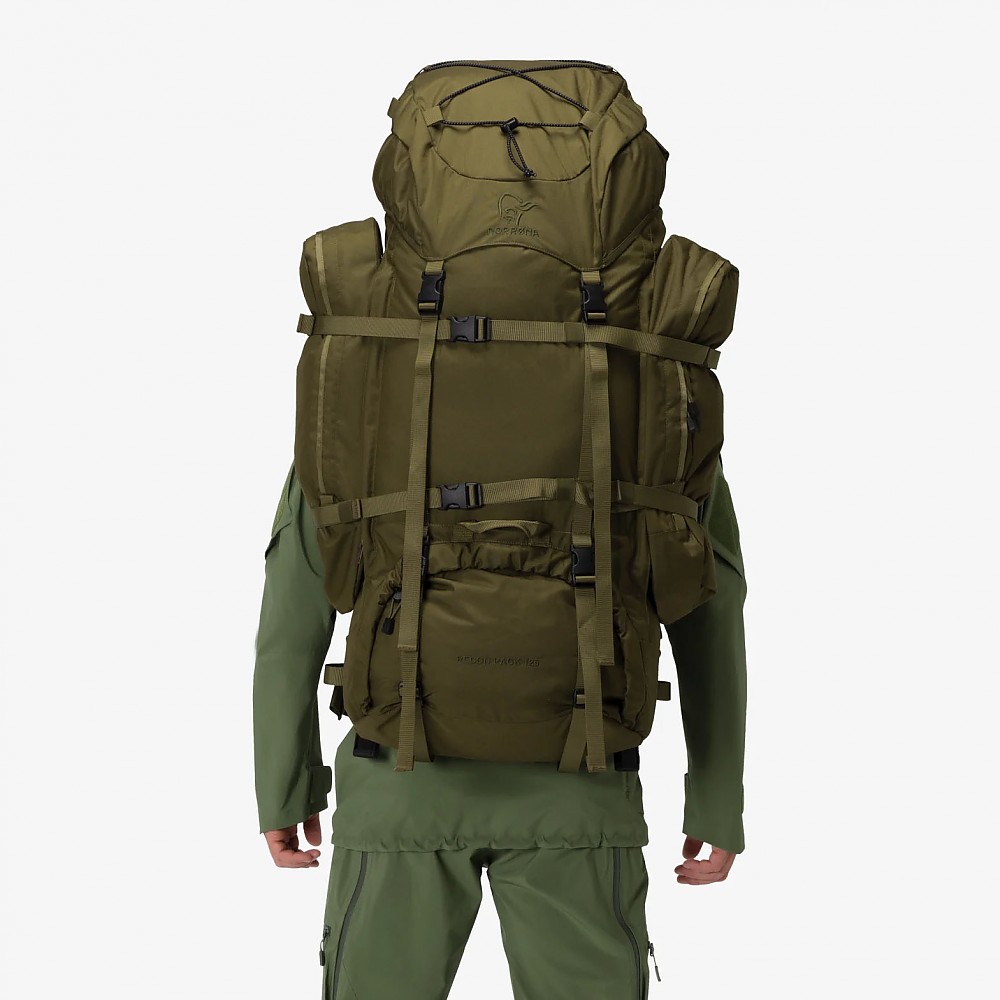 High volume external frame with innovative features. Took 1/2 star off for hip belt tightening straps.
Pros
Hip belt two-piece adjustable
Volume
Side pockets removable
Easy to adjust torso and hip belt for body size
Compression straps multiple
Pulk rings
External frame
Load lifter straps
Cons
Hip belt tightening mechanism
Weight
No pockets on hip belt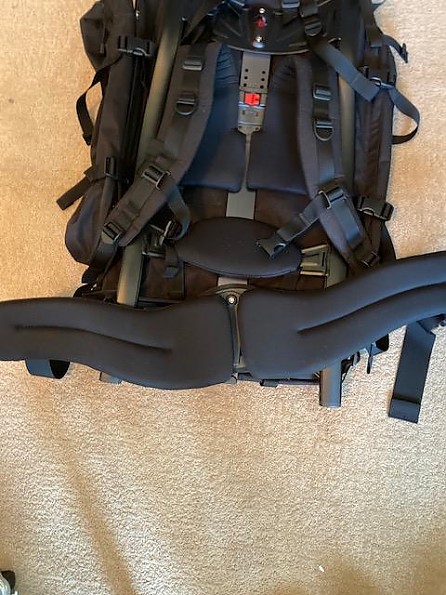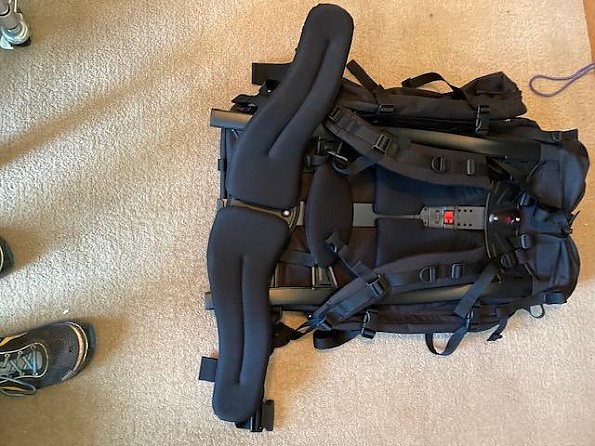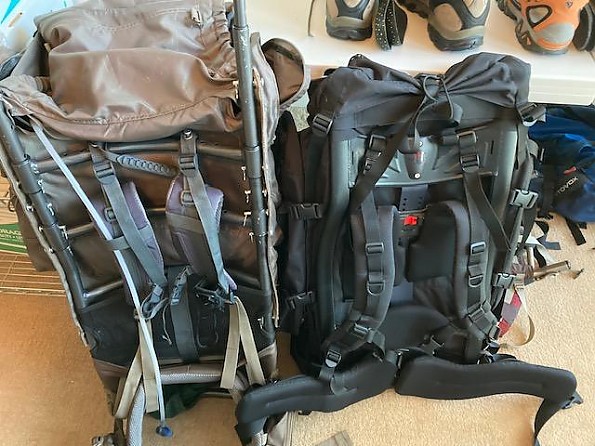 Interesting pack. The worst thing about the pack is the hip belt tightening. Instead of pulling the straps inward, you pull them outward. What I wind up doing is tightening the hip belt before I snap the buckle closed.
Which leads me to another point. I am a 34-inch waist. The hip belt is adjustable but I doubt a 31-inch waist is in the range of adjustment. 33 is close to the minimum. The hip belt is unique. You have to see it to understand it. It moves with you. Awesome.
Second worst thing is the weight. The pack is heavy.
Now the good. 125 liters! My Alps Z with a bear canister on the bench is 97 liters. 125 liters means I can go snow camping and carry everything I need for 10 days. And with the pulk rings could even go longer. Think NATO troops in the winter defending the border in negative 40 degrees.
The hip belt size adjusts sort of like an Osprey (with lots of Velcro). The torso adjustment is super easy and fast. Literally takes 30 seconds. Is mechanical, not velcro.
I bought mine used. Would I pay 700 dollars for a new one? Probably not, unless I did a lot of snow camping or three-week summer trips. Which I would do if I could find a willing partner.
Experience
Over 50 years backpacking
Source: bought it used
Price Paid: 300 dollars

Used this backpack for approximately 15 years. Best use for heavy loads.
Pros
Rugged
Handles loads up to 50-60 kg well
Well made harness system
Rings for pulk in the belt
Roomy top cover
Detachable side rooms
The carry system on this backpack is impressive. The foam straps feel molded to your body. The quick height adjustment is very easy to use. It also adjusts well from a tight fit in challenging terrain to more relaxed in easy terrain.
The backpack is huge! 125L is a lot. The backpack is designed for hunters and recon troops who need to carry a lot of heavy equipment or even a whole reindeer. In this size of backpacks there is not much made that can compete with the Reconpack.
I have used this backpack for 15 years, and I guess it will last 10 more. I also used it in the army. 
Source: bought it new

Nothing comes close.
Very comfortable with 35+ loads. Some of the "toughies" out there complain that it's too big. Well, the space you don't need you don't use. Compression straps takes care of that.
If you ever have to lug a Barret .50cal around in mountainous terrain, this is the pack you want. Or if you go hunting for caribou for a week and have to carry your kill out, this is your pack. It simply melts on to your back and becomes a part of you. No left/right dingly-dangly. Its' on your back, in the same spot all the time. Period.
If you load it with 40+ kg, your legs will fail on the test, not your back.
You don't have to be too careful when packing it as it is very stable on your back, using the previously-mentioned compression straps. The craftsmanship is second to none. All seams, zippers, straps and attachment points hold up to more than you really should ask for.
Basically the best backpack for heavy loads that I have tested. (Vulcan is one of them.)
Price Paid: 450 eur

The Recon Pack is a real monster and THE backpack for people who carry bulky and/or heavy crap around! Its carrying system is as comfortable as its well-designed simplicity.
The two side-pockets can be zipped together to form a smaller daypack (like the Berghaus Vulcan), the main compartiment can be split in two (the lower part has a big zip), the toplock has 1 external pocket and 1 internal, since it is designed for the Norwegian Jeger (commandos) it even has a small covered opening for a radioantenna .
There are plenty of attachment-points all over the pack.
Only available in olive green (there 's also a camo version, but that's only for the Norwegian army-boys), but the only drawback is that you can only get Norrona-gear in Norway! (by my knowledge)
Anyway this pack is just excellent and has lots 'a good karma!
Design: external
Size: 125 liter
Number of Pockets: 1 large +2 detachable sidepockets+2 in toplock
Max. Load Carried: 46 kg
Height of Owner: 1,90 m
Price Paid: 3995 Nkr (apr. $435)

Have recently just getting the Recon from Tamarack UK. I have been trying to get one for quite some time without any sucsess! So they are very hard to get. Anyway I have been using the Webtex Bergens for years and they are great and do the job fine but the Recon pack is just up another level you can really appreciate the quality and the design of the Recon pak once you get your hands on one, they are very comfortable to wear. The ajustable back system is exellent and the whole sak is very versatile, fantastic quality and first rate workmanship, well worth the money.
Design: external frame
Size: 130 liters
Number of Pockets: 4
Max. Load Carried: 90 pounds
Height of Owner: 5ft 9inches
Price Paid: $330

Having used this backpack as a "Jeger" in the Norwegian Army for some time I admit that for the really heavy loads nothing comes close. It might seem a bit old-fashioned but is probably one of the best exframe backpacks I have ever worn.
After one year of much abuse it looks just like new. Not very fancy, because it doesn't need to be. The frame can also be used alone if you need to carry something big, like for example a dead reindeer (done that!) or a 0.5 machine gun. Not too great to ski with due to the size of the side pockets.
Design: External Frame
Size: 130l
Number of Pockets: 2
Max. Load Carried: 56kg
Height of Owner: 185cm
Price Paid: $500

This is a pack designed for the Norwegian Army Recon forces, and is used with a numer of special operations units all over Europe. The backpack is also suitable for long distance trekking, and all sorts of hunting. It's waterproof, and extremely ressistant to damage.
It is constructed to carry large and heavy loads, which you find in military units. A great backpack.
Design: extrenal frame
Size: 125liters
Number of Pockets: 4
Max. Load Carried: 58kg
Height of Owner: 180
Price Paid: $500

Picked up a used Reconpack at a yard sale. Used it once and it's excellent. Much superior to anything currently on the market.
Easy to adjust and wear. Excellent storage capabilities. The two external side pockets convert to a day pack, both zip together. I will not be in the market for a backpack for a long time. Six stars.
I have used this product for about three years in the Norvegian army (recon)! It's superb!!!
Your Review
Where to Buy
Help support this site by making your next gear purchase through one of the links above. Click a link, buy what you need, and the seller will contribute a portion of the purchase price to support Trailspace's independent gear reviews.
You May Like
Specs
Price
Current Retail: $699.00
Reviewers Paid: $300.00-$500.00

Weight
4674 g