Norrona Trollveggen Gore-Tex Pro Bib

#6 in men's Snowsport Pants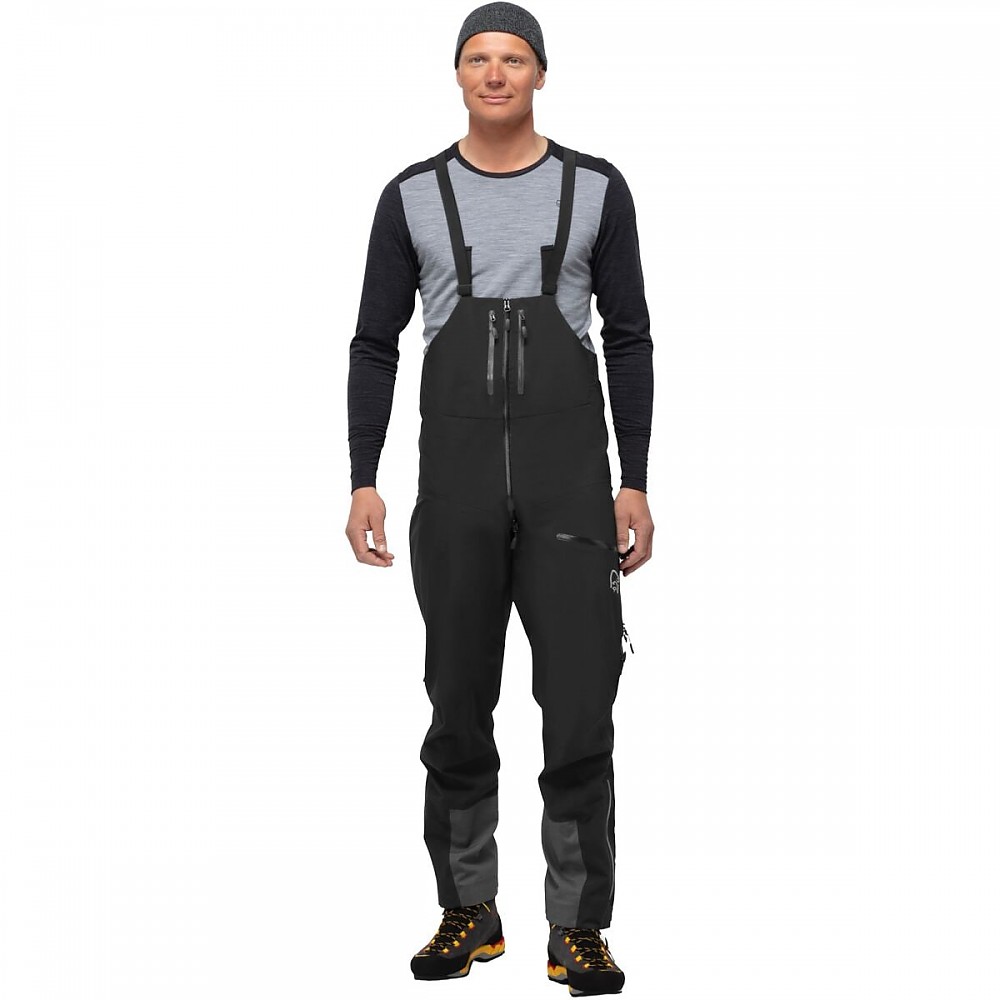 A top-quality (and top-price) Gore-Tex Pro bib. Tough, waterproof, breathable, and wind tight. Built for mountaineering but works well for rando/telemark and light backcountry skiing. It'd be a shame to use and wear it out away from snow and ice.
Pros
Top quality materials and construction
Highly waterproof and breathable Gore-Tex Pro
Built-in gaiter (removable in newer version)?
Gusseted ankle accommodates both ski and mountaineering boots
Drop seat zipper doubles as thigh vents
Cons
Long sizes please!!
Could use another thigh pocket
Shoulder strap can twist uncomfortably in back
No women's sizes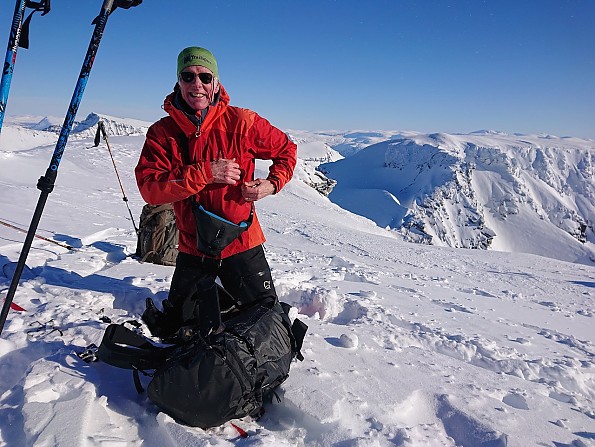 Like many outdoor people, I'm always on the lookout for a deal. Not to the point where I obsessively pick through sales racks of outdoor clothing or haunt discount websites, but I'll take a peek if I'm passing by. Sometimes that works out well, with a score on some quality item at a deep discount. Sometimes, not so much.
Take, for example, my search for some decent shell pants for backcountry skiing. Most outdoor wear, and especially shell layers, comes in the four canonical sizes, made for the all-around average guy. But I am tall and skinny and reluctant to pay top dollar for badly fitting clothing, so instead I get my badly fitting clothing at a discount. I have gone through a couple of pairs of shell pants that have seen a lot of use but always seem to be falling off my hips. I try a pair of mediums on, seems like they're long enough to cover the tops of my boots, a little loose but with some Velcro tabs to pull in the waist, and a belt can take up the rest. And the price is good. Then after a couple of uses I find myself constantly tugging the waist up, or maybe they aren't quite long enough to stay down over my BC boots. Bummer.
What I really wanted all along was a decent pair of bibs that stay up on their own by virtue of suspenders and keep my backside dry in the event of a powder fall. Never found any of those on sale. So I finally decided to go down to the upscale Norrøna Concept Store in downtown Trondheim (kind of like an Apple boutique, 100 percent Norrøna gear, all clothing except a few climber' and skiers waterproof packs), try a few things on, and pay the piper's full price if I found something that looked like it would do the job. The Trollveggen bibs don't quite solve the fit problem, but at least stay up, and really deliver on performance.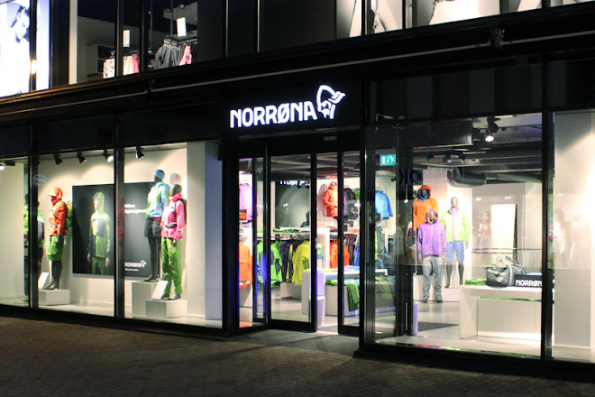 As noted previously, Norrøna is known in Norway as the best outdoor clothing kroner can buy, uncompromising in design and quality and doubling as street fashion, á la Patagonia, in some circles. My wife, daughters, and son-in-law have all been decked out in various Norrøna items for years, but I've avoided it because I choke on the high price, along with the fit issue. But the Trollveggen stretch hoody, a Trailspace Review Corps assignment, sure worked out well, and these bibs are next in line.
Norrøna bills the Trollveggen line as "the first choice for mountaineers with high expectations for innovative functionality and high-performance weather protection", with a full set of layers from skin to shell and even a couple waterproof packs. Although the Trollveggen gear is billed more for mountaineering than skiing, I chose the Trollveggen bib over the ski-specific choices like the Tamok bib because they are adaptable to a variety of different boot types and I preferred the lighter feel of the fabric as compared to the Tamok bibs that I also tried on.
The main fabric is top-of-the-line, three-layer Gore-Tex Pro, described by Gore-Tex as Durably Waterproof, Extremely Breathable, Totally Windproof, and Very Rugged (scores of 6, 4, 6, and 6 out of six, respectively). It has a durable surface feel much like the 60/40 fabric of yore and a smooth liner that doesn't feel rough or clammy on bare skin. All seams are taped. I have been out in wet, falling snow, sat in or kneeled in snow here and there, and worn the bibs under a jacket in a cold shower for 6+ minutes as part of my waterproofness test of the Helly Hansen Rivaridge jacket.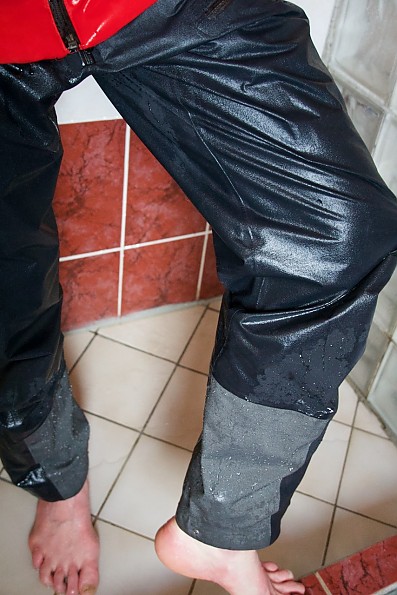 The bibs and my underlayers remained dry inside in all cases, with no apparent leakage or condensation, vouching for both the waterproof and breathability claims. It's also been a windy winter, and I have worn the bibs in comfort on all my summit and hut tours since December.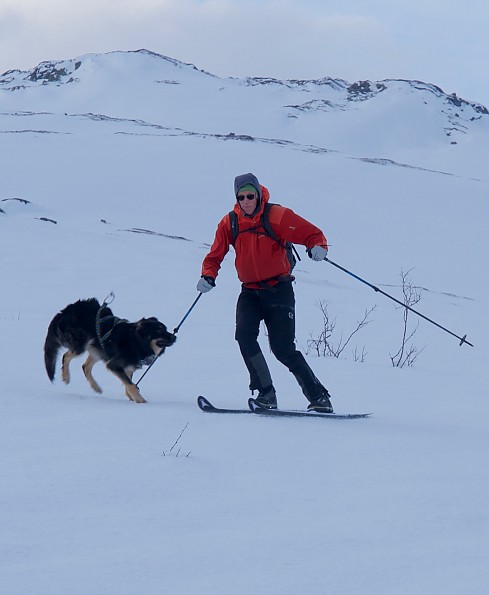 While I have mainly worn them over a full base layer, on a recent outing in spring conditions I wore them over a pair of mid-thigh length lycra shorts and found them to be surprisingly comfortable on bare skin.
The back panel and internal gaiters are a breathable stretch fabric, and the inside ankles are panels of tough Vectran (a Kevlar-like fiber) fabric to ward off ski edges and crampon points.
All six zippers are water resistant: front, two chest pockets, two for opening the lower legs, and the long drop seat zipper, which extends down the side of the legs with extra zipper pulls to double as leg vents. The front zipper has a second pull so that it can be opened up from the bottom for men's peeing convenience. All the zippers have cord-extended pulls for grabbing with gloves or mittens.
Fit (on me) and Comfort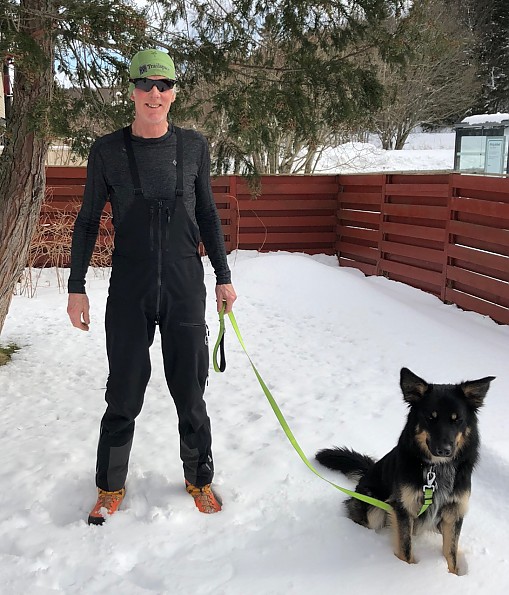 The Trollveggen bib comes in six men's sizes, XS to XXL. There are women's sizes in most other Trollveggen items and in other Norrøna collections, but for some reason not the Trollveggen bib. I'm 193 cm / 75 in tall, so by Norrøna's size chart my all-around size is XL. If I measure my leg length and hips according to Norrona's instructions, the size chart puts me in an XXL and right on the boundary between S and M, respectively.
So what's a tall skinny fella to do? I tried on M and L, the former was a bit short in the leg, the latter hopelessly elephantine on the waist and butt. So I went with M.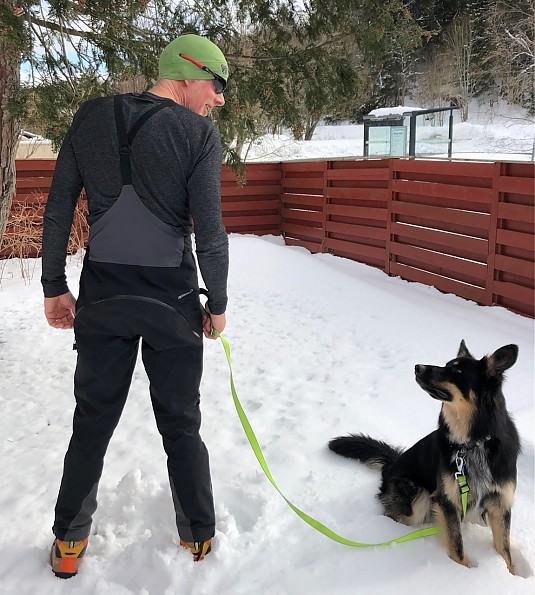 Ideally, I want my shell pants to be loose but not baggy in the butt and legs, long enough to stay down over my boots, and to stay up on my hips, preferably without needing a belt. With bibs I don't have to worry about the last criterion, but it's nice that the Trollveggens can be pulled in a bit at the waist so that they aren't snow or air scoops when worn without a jacket. The butt fit is not bad, maybe a little bit of an elephant look but I know I'm hard to fit down there.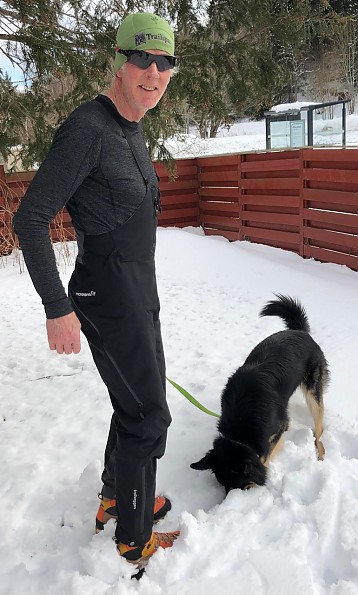 The leg length is fine for high-top rando and telemark boots, but, as the size chart would predict, 5 cm / 2 inches too short to work well with a lower cut backcountry ski boot or a mountaineering boot—I have to straighten my leg out when pulling the gaiters and cuffs over them, and the gaiters will pull off the mountaineering boots without a heel cord.
So, I have gone and done what I've feared all along, paid a top-shelf MSRP for a very nice article of clothing that doesn't fit quite right, although a lot better than some of the other off-the shelf pants I have tried and owned. But the performance of these bibs is good enough that I don't regret the purchase, I just wish that Norrøna and pretty much every other outdoor clothing maker would recognize that there is some reasonable demand for long sizes.
Functional details
Pockets
The Trollveggen bibs have a minimalist thee pockets. The two chest pockets are big enough to hold a big smartphone, but not a whole lot more.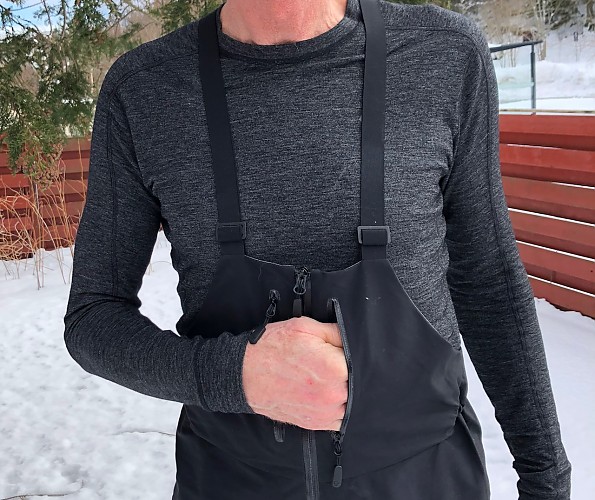 A topo map folded into a small rectangle won't fit comfortably in the chest pockets, but will zip into the left thigh pocket, which can also accommodate a map folded into a tall rectangle if the zipper is left open.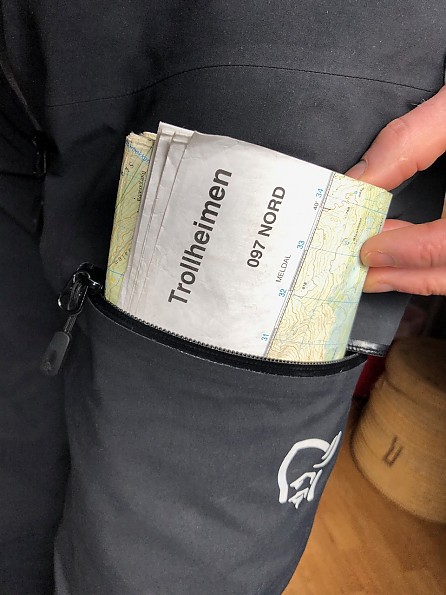 The thigh pocket also has a deep inner key pocket that accommodates my old handheld GPS rathe nicely. Lately I have been taking my avalanche transceiver out of its body harness and zipping it into the thigh pocket, where it rides more comfortably and is more accessible than with the traditional body carry. Given these competing uses I wouldn't mind having another pocket on the right thigh for that folded map.
Upper body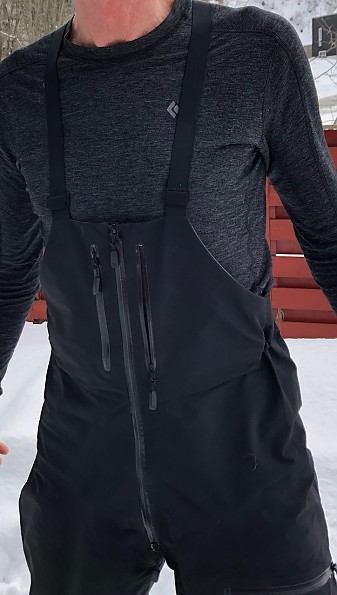 The shoulder strap is a single length of elastic webbing that passes through a d-ring that is anchored to the back panel. It can twist a half turn on the d-ring, with the result that the straps can twist and feel uncomfortable on the back. I think it would be better to lock the strap in place on the d-ring with a line of stitching so that it won't twist. The length of both the shoulder straps can be independently adjusted in front anyway.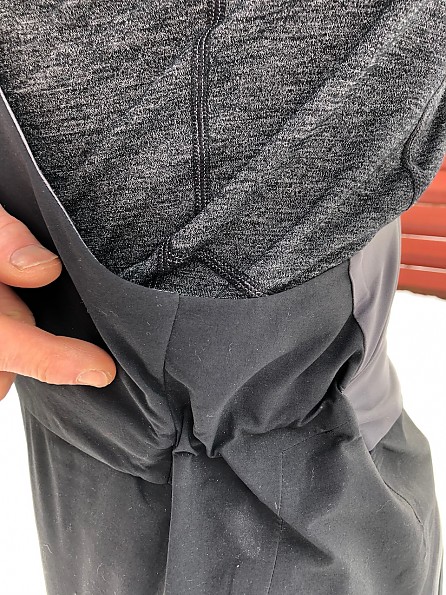 The waist can be pulled in via slidelocks hidden in the chest pockets, on short lengths of shock cord that extend to the back panel. This helps snug the bibs around my relatively small waist, but doesn't make the butt fit any better. Let it back out a little and the bib fits nicely over a not-too-bulky mid layer like a fleece jacket.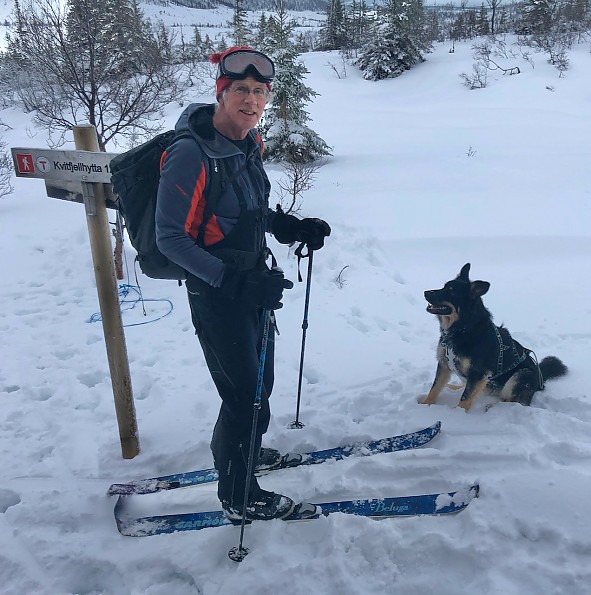 Butt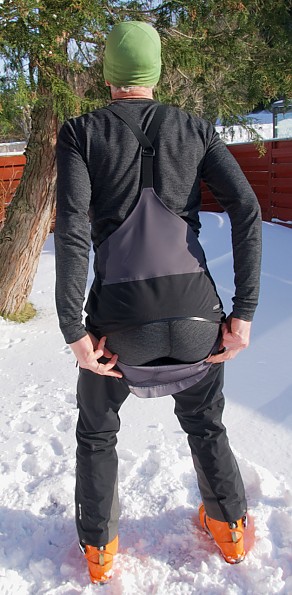 The drop seat zipper has no less than four pulls, two upper to drop the seat and a lower one on each leg to open up the leg vents.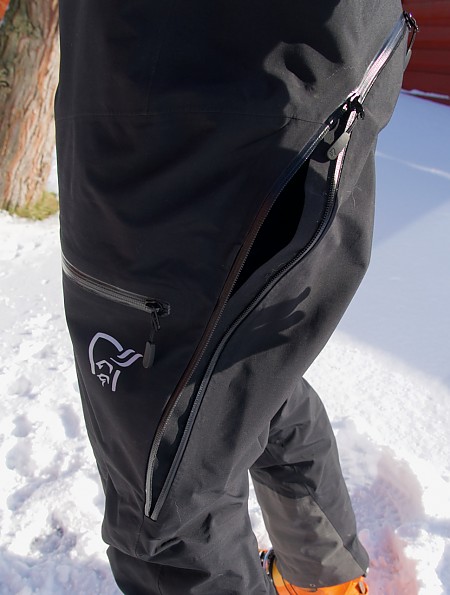 The drop seat is a nice feature on a visit to a cold out house, where the mission can be accomplished with minimal skin exposure. This and other operate smoothly enough to open and close one-handed. I prefer to park the upper zipper pulls to one side, where they won't dig into my back when I sit.

Legs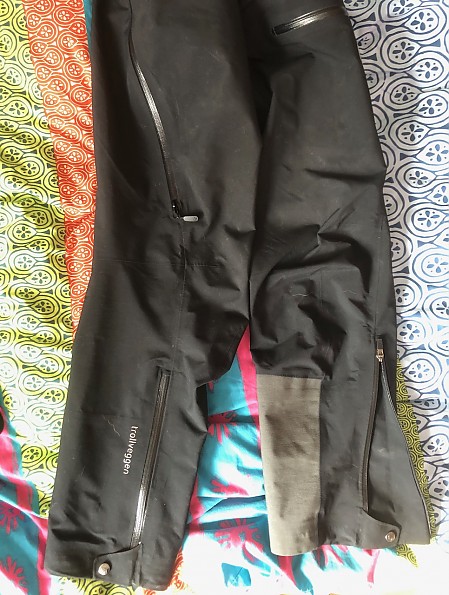 The legs are slightly precurved via darts behind the knees. This gives a little more freedom of movement in activities that involve a lot of lower body action.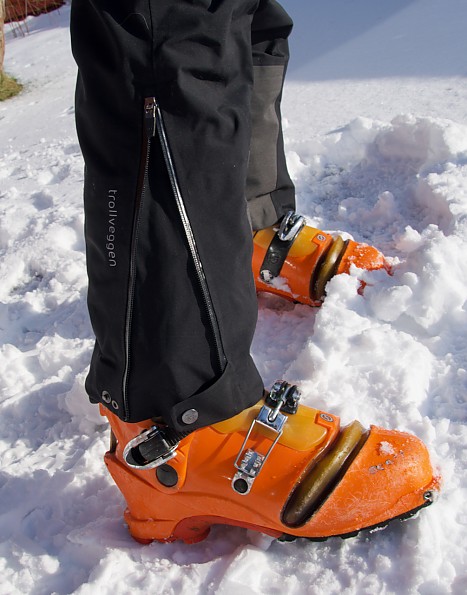 The lower leg has a ca. 30 cm zippered gusset so that it can be opened up to fit over a randonee or telemark ski boot, or closed down for mountaineering and similar boots with smaller ankles. A tab with snap secures it in both positions. It can be drawn tight with a slidelock on an anchored shock cord hidden inside, and a pair of grommets provide for a heel cord.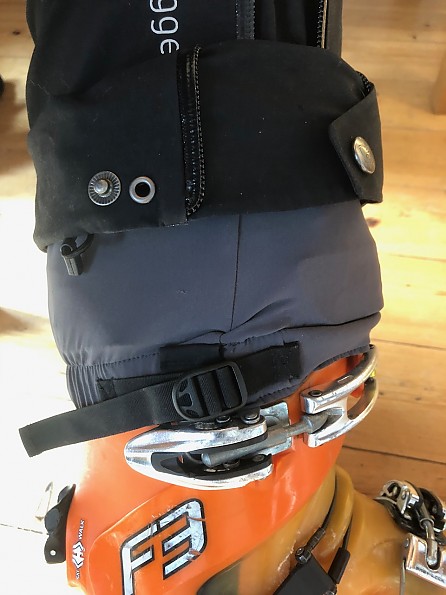 The Trollveggen bibs have an internal gaiter that can be sealed over the tops of boots to keep the snow out. Norrøna's current web description says that the gaiters can be zipped off, but mine (from December 2019) are permanent. The gaiters have a wide elastic band with bands of sticky silicone on the boot side, a lace hook, and grommets for adding a heel cord if needed. It can be taken in about 2.5 cm (1 in) with an adjustable strap. With the gusset zipper open both the outer leg and gaiter fit nicely over the top of my rando boots, with the boot ankle cuff loosely buckled for climbing. The elastic band on the gaiter will stay in place if I just pull it over the boot's power strap, allowing access to all three buckles.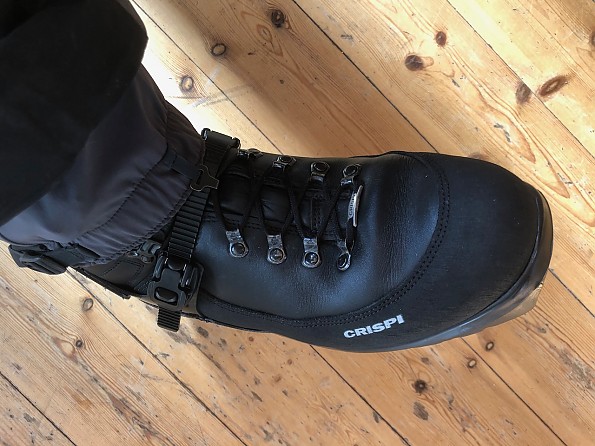 Despite the legs being a little short on me, the gaiter also works nicely with my backcountry ski boots, where the front hook helps keep it down in front and the top band of the boot's plastic cuff over the heel gives the elastic band something to grab onto in back. With my mountaineering boots, however, I would have to install a heel cord to make sure the gaiter stays down, but this might not be so necessary if the legs were a better fit.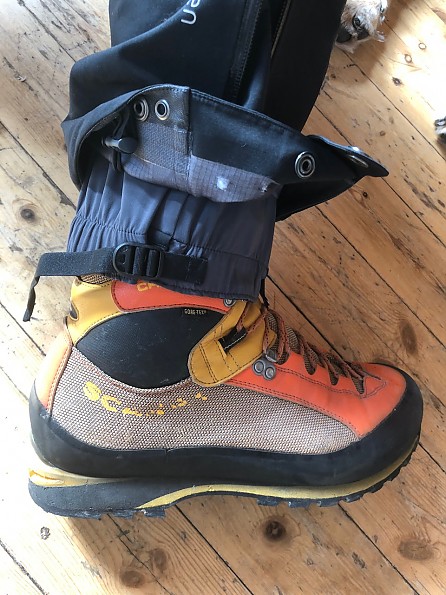 Durability
Norrøna and Gore-Tex both promise that the GT Pro fabric is highly abrasion resistant. That's ultimately a relative concept, and only long term use—and maybe comparison with reasonable alternatives—can vindicate the claim. It seems that reinforcement patches on the knees have gone out of fashion, perhaps because they stiffen the legs and start to feel restrictive. So far I don't see any ski edge cuts or abraded areas on the Vectran inside ankle wedges.
Conclusion and Best Use
I look forward to many ski-summits and hit-to-hut tours in these bibs over the coming years, in weather ranging from winter sun and storm to spring slush and rain, maybe including an occasional class 4 scramble to get to a top. They should be able to handle it all in comfort. Although I am not an ice or mixed climber, those are among the intended uses and I expect they would perform well. I don't see using these bibs anywhere far away from snow. I suppose I may muddy the ankles on one or another late season approach, but for summer hikes I'll be in light hiking pants with light rain pants for foul weather, and save the bibs for when I really need them.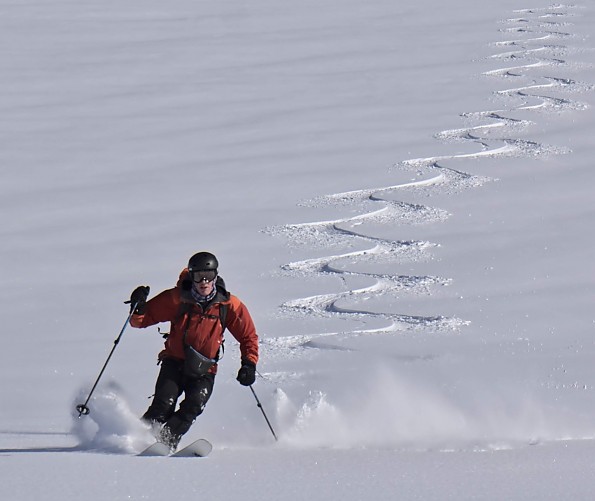 Experience
I have around 40 seasons of backcountry skiing in my resume, and have tried and worn out all kinds of outerwear, but I think these are my first shell bibs. I have been using them on ski mountaineering trips for about three months now, in falling and blowing snow, powder, and some corn snow conditions.
Source: bought it new
Price Paid: NOK 4999 (about $500) including 25% VAT

Your Review
Where to Buy
Help support this site by making your next gear purchase through one of the links above. Click a link, buy what you need, and the seller will contribute a portion of the purchase price to support Trailspace's independent gear reviews.
You May Like
Specs
Price
MSRP: $549.00
Current Retail: $699.00
Historic Range: $649.00-$699.00

Weight
648 g

Fabric
GORE-TEX Pro, Oeko-Tex Certified Fabric, Bluesign Certified Fabric

Materials
More than 50% of the synthetic fibers in this product are recycled.

Waterproof
min. 28,000 mm

Breathablility
High, down to 9 RET

Windproofness
100%

Recently on Trailspace