Northstar Canoes Clamp-On Tandem Yoke with CVCA Pads

#9 in Paddling Accessories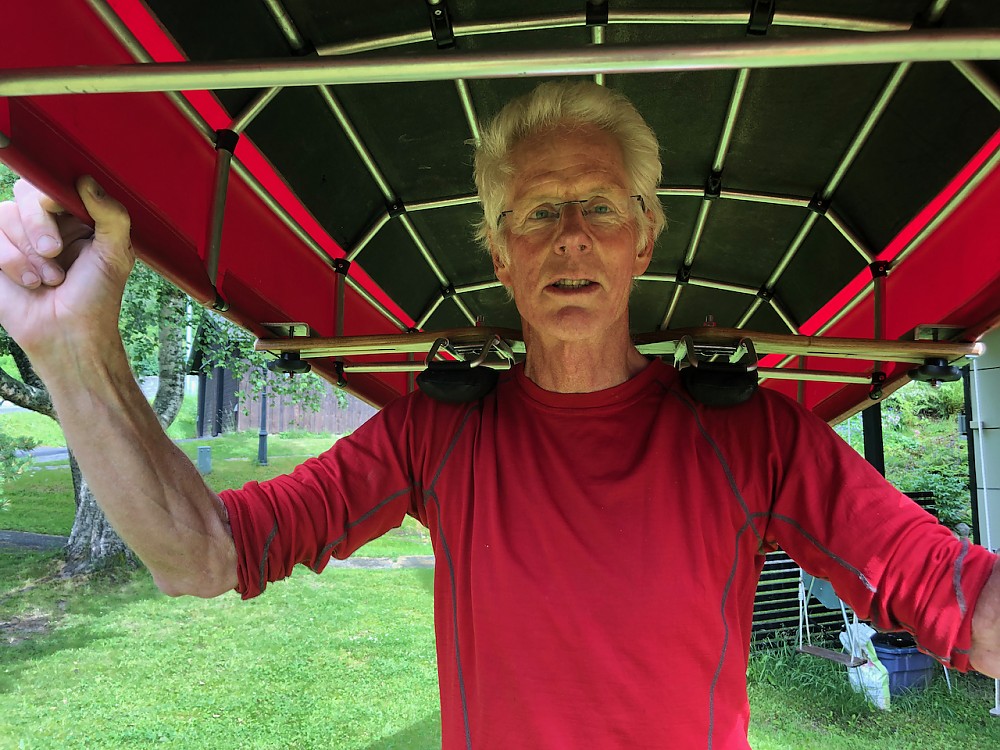 Specs
Price
MSRP: $170.00
Reviewers Paid: $170.00

Fits
most tandems canoes and wider solos, from 28″ to 37″ beams

Materials
Angled aluminum attachment clamps

Reviews
1

review

5-star:

0

4-star:

1

3-star:

0

2-star:

0

1-star:

0
A well-made, clamp-on canoe yoke with comfy wrap-around shoulder pads. Adapts well to Ally folding canoes.
Pros
Adapts to canoes with 28- to 27-inch beams
Works with Ally folding canoes
Springy, wraparound CVCA shoulder pads
Cons
Clamp slot not finished, could soak up water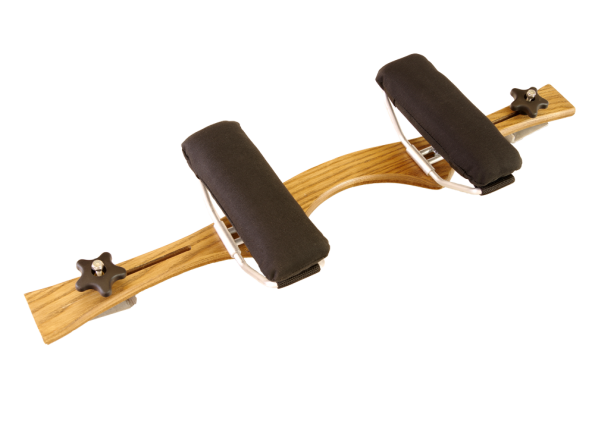 Back when I was young and foolish, I would portage our 60+ pound Old Town Penobscot canoe, often with paddles and lifejackets lashed inside, over rough terrain and distance sometimes up to 2.5 km / 1.5 mi, using just the unadorned, slightly off-center yoke that it came with. You can rest assured I took a few breaks along the way. But I'm older and wiser and I guess a bit wealthier now and have moved up to a 17 foot Ally folding canoe weighing in at 20.5 kg / 45.2 lbs., in the same general weight class as Kevlar canoes.
But one of the deficiencies of the generally admirable Ally folding canoes is that the manufacturer doesn't provide any kind of yoke option. Norwegian locals like the adventurer Lars Monsen just balance the canoe on a life jacket on the head and stumble onward. I'm not that tough (anymore). For our ten-day trip in Quetico a couple years ago, I made my own yoke out of a piece of pine I had laying around the shop, but it wasn't strong enough and broke on the first day out.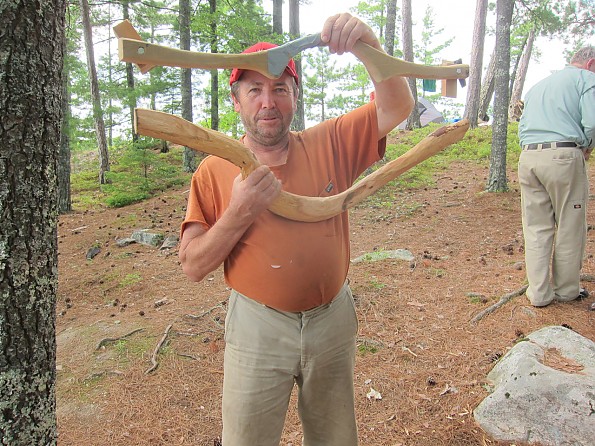 Fortunately, our "ship's carpenter" Henry was able to whip up an improvised yoke out of a twisted piece of driftwood that got me through the rest of the trip.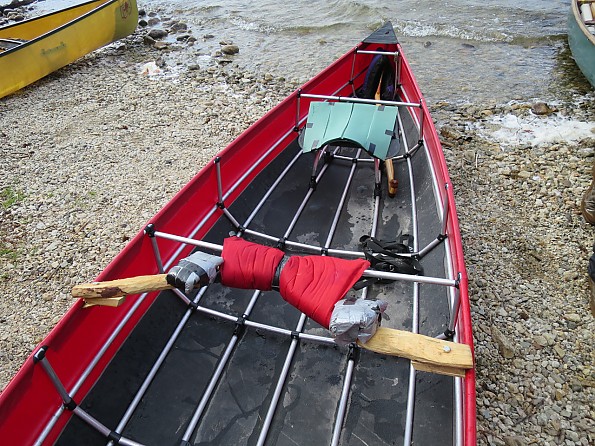 In advance of our Swedish boundary waters trip this summer, I searched the web for Scandinavian and British retailers willing to sell me a more professional replacement, maybe just a standard yoke that I could adapt myself, but came up empty handed. Fortunately, we had some Vermont friends with deep canoe experience coming to join us, and so prevailed upon them to help us find something suitable. And they sure did!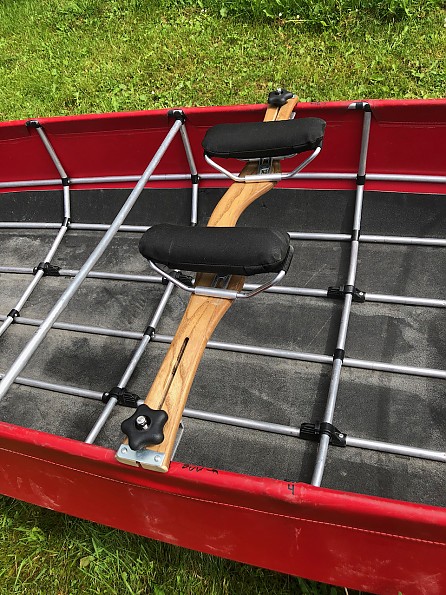 Northstar makes what look to be some mighty fine canoes, and in the accessories department offer clamp-on adjustable length yokes at different levels of price and comfort, from plain wooden yokes to models with your choice of shoulder pads. We decided to go all-in and get the top-of-the-line model with wrap-around pads on aluminum armatures made by another company, Chosen Valley Canoe Accessories (hence CVCA). Good choice. Between the light weight of the Ally canoe and the comfort of the Northstar yoke, I have never portaged a canoe as easily as on this last trip.
The yoke is carved out of ash, about 1.5 cm / 0.6 in thick. The tandem model will fit canoes with 28 to 37 inch (71 to 94 cm) beams. The aluminum clamps with stainless steel bolts slide in slots routed through the yoke, with knobs on locking nuts for quick mounting and removal. I didn't want the flared ends hanging out over the gunwales where they might catch a paddle or fishing pole while paddling, passing trees while portaging, or maybe clothing or flesh while handling the canoe, so I cut the yoke down to 85 cm, the width of the gunwales, and bridged the open slots with metal plates. When finishing the cut ends with urethane I noticed that the insides of the slots were unfinished and might soak up water, so I worked some urethane into those as well. The bolts are a bit tight in the slots but can still be adjusted as needed.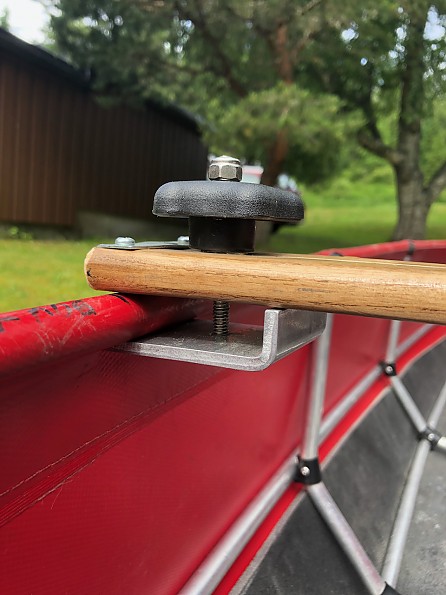 The L-shaped clamps work well with the gunwale tubes of the ally canoe. The hull fabric has enough give to allow the free end of the clamp to close on the full diameter of the tube. Because the folding canoe can flex, they have to be cranked about as tight as I can get them to prevent the yoke from popping off when heaving up on to the shoulders.
The shoulder pads can be adjusted back and forth about 5 cm/ 2" on each side to accommodate different shoulder widths, and they can also be angled to maximize comfort.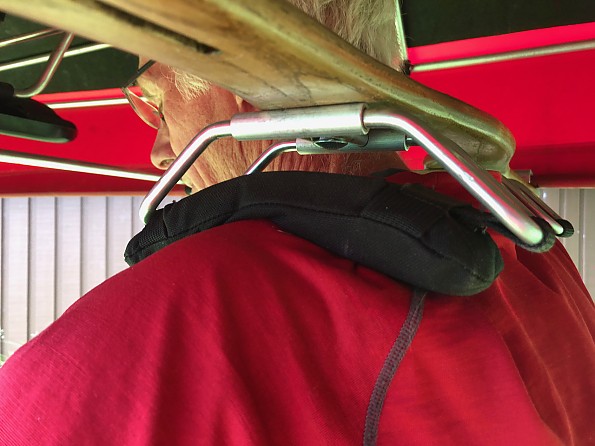 For now I have them riding just inside the highest part of my shoulder bones and angled straight ahead, which has been comfortable enough on the longer portages but can maybe be improved with trial and error. For that I'd rather have wing nuts than the hex nuts that they come with. The metal dents the wood a bit when they are cranked down tight. The aluminum armature  allows the pads to curve comfortably over the shoulders. The whole system is a big improvement over a traditional, plain wooden yoke. I've never used a dished yoke to see how that feels, but now I don't have to!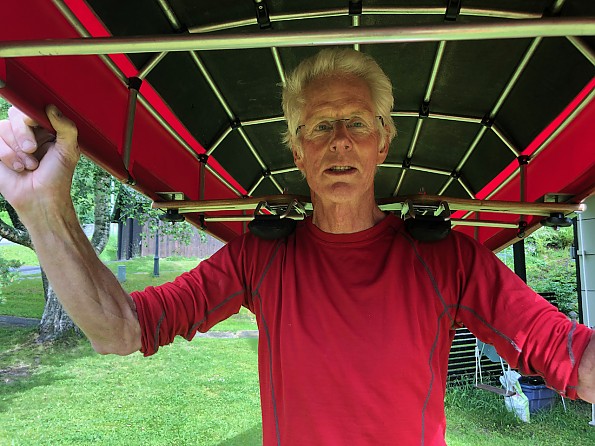 My cut-to-length version weighs just over 1 kg / 2.2 lbs, well worth the extra weight for the portaging comfort. On the Swedish boundary waters trip, we doubled or at least 1.5ed all the portages, with only three or four that were long enough to require a shoulder carry, whereon we just swapped the yoke between the two canoes. We camped for two nights at a site right at one end of one of the longer portages, and there met a few other canoeists coming through. When I showed our yoke to a Norwegian couple that were preparing to do a head-carry, the male member of the team, who seemed never to have seen a yoke before, exclaimed "That is brilliant!". When I first came to Norway to backcountry ski in 1984, nobody was using climbing skins, but now they are ubiquitous. Maybe canoe yokes are next!
Experience
So far I have only used the Northstar yoke on two different Ally canoes on a 9-day trip in the Swedish boundary waters, over three or four portages of around 400-900 meters, plus a lot of practice thigh-flips to see what it takes to get it up on my shoulders. I've lugged and cursed at canoes since a group of friends gave us a 60-pound Royalex boat as a wedding present in 1986, on numerous Vermont and Adirondack and a few Canadian trips. Our much lighter Ally folding canoe came into sporadic service in 2012.
Source: bought it new
Price Paid: $170

You May Like
Recently on Trailspace