Bergans Ally 17 Flatwater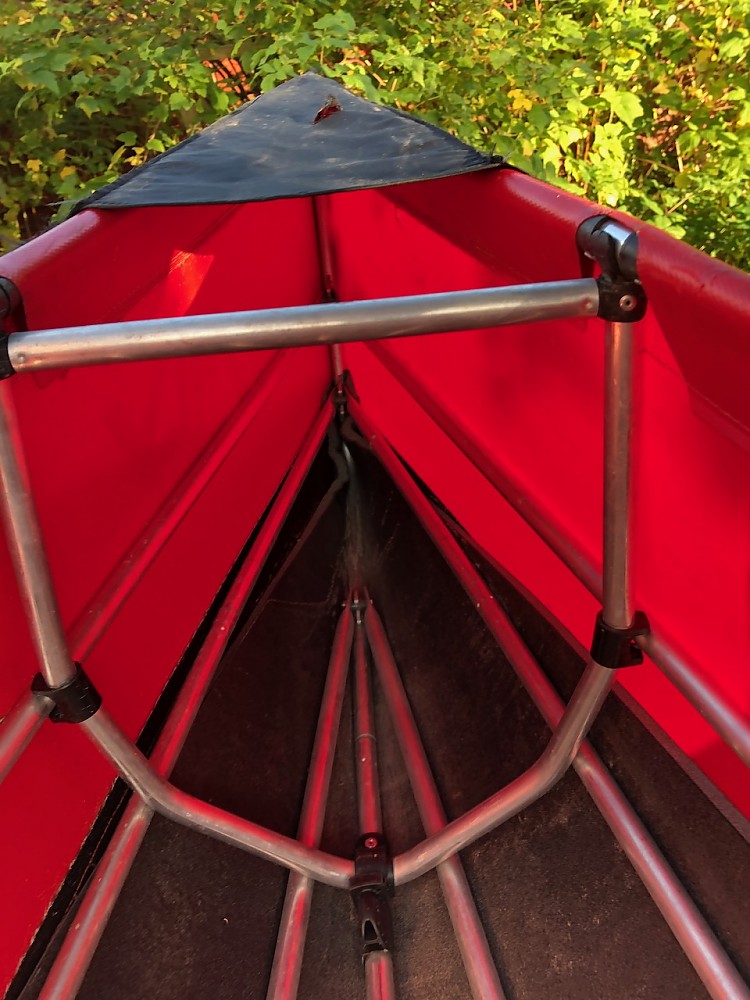 A lightweight, sturdy folding canoe that performs well on flat-, quick-, and easy whitewater. Packs down small enough to take on a plane as special luggage. Will take a moderate beating and is readily repairable with hull patches and a full range of spare parts. You're on your own if you want to add a yoke for portaging.
Pros
Efficient flatwater performance in a very lightweight, foldable design
Durable PVC coated skin and aluminum frame with tough nylon joints
Reasonably durable for a folder
Multipurpose floor mat provides skin tensioning, flotation, knee padding, and insulation
Skin on frame is very quiet on the water
Cons
Hard plastic seats need extra padding
Assembly requires time, experience, and a rubber mallet
No yoke option (build your own)
Lukewarm customer service as of 2020
(Disorganized web site, unclear about availability)

When we moved to Norway from Vermont way back in 2002, we loaded up a shipping container with a substantial proportion of our worldly belongings mounded up at one end, and our six-year-old Subaru wagon (the Vermont State Car!) with our two single kayaks on top strapped down at the other. One thing that didn't fit in was our tried-and-true Old Town Penobscot 16.5 canoe, a wedding present from a big group of outdoor-minded friends. That old boat had seen a lot of paddle-and-portage in the Adirondacks and Canada, a lot of it with two young girls between the thwarts.
We really weren't sure how long we'd end up staying in Norway, and all those fjords and islands looked great for kayaking, but we didn't foresee any great opportunities for the kind of family-friendly, lake-to-lake canoeing and camping we had done in the Adirondacks. So, we loaned our canoe for the duration to our friends Matt and Pennie (companions on our 2014 JMT and 2019 Iceland/Hornstrandir hikes). After 10 years in Norway we finally sold our house in Vermont and just gave the canoe to Matt and Pennie.
Leaving us canoeless. And it turns out that there are some good canoe routes in Norway, and canoeing is one activity that my wife and I can do at exactly the same speed, with some camping luxury thrown in to boot. So with the windfall from the house sale I proposed that we go big and invest in a Bergans Ally folding canoe. Although the green DR (downiver) models with tumblehome and recurved stems are more popular here in Norway, we have found that running whitewater together causes undue marital stress and so decided to defy local custom and go with the (Old Town Penobscot-like) 17-foot flatwater model.
The comments in this review about design, materials and assembly should also apply to other Ally models. We have used it intermittently in Norway, and in 2016 we took advantage of its foldability and flew it over the puddle to join a group of friends on a 10-day trip in Quetico. After a satisfying trip on a nearby lake and river last month, I finally feel ready to post a review.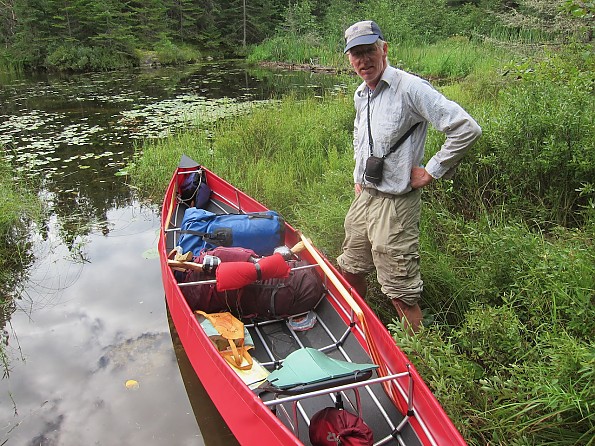 Design and structure (and weight)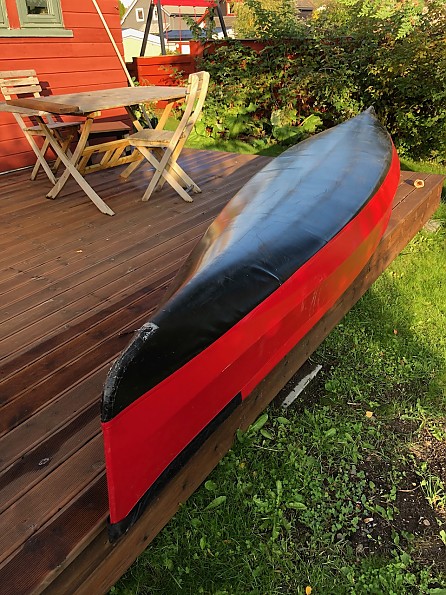 The hull of this boat is very much like our old Penobscot: shallow arch profile, symmetrical ends, straight keel, straight sides, slight forward stems, 5.15 m / 16' 11" length, 90 cm / 35" beam, 34 cm / 13." deep. The skin is a tough PVC-coated fabric, extra thick and smooth on the bottom where it counts.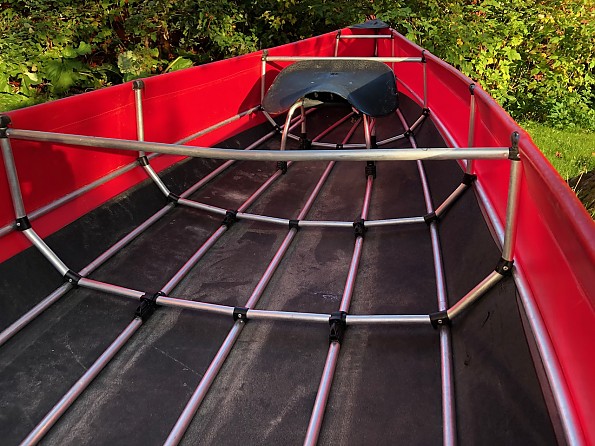 The stringers, ribs, and stems are 6082-T6 aluminum tubing, joined together by tough molded nylon fittings, with a snap-lock mechanism on the floor joints.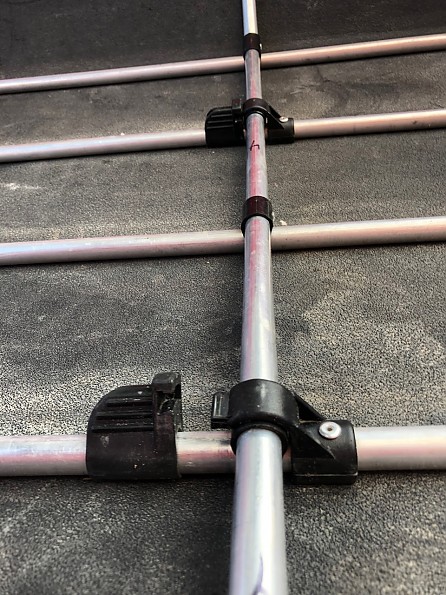 Rather than shock cord as in tent poles, the stringers use spring-tensioned, braided wire cables to keep parts together and aid assembly. There is a single keel tube, two separate gunwale tubes, and paired, conjoined tubes on the floor and a sort of chine below the waterline. The curved stem and stern pieces connect to the keel tube and have a sort of v-fitting on top that connects the gunwale tubes, with welded, notched fittings to fit the bolted-together ends of the paired tubes.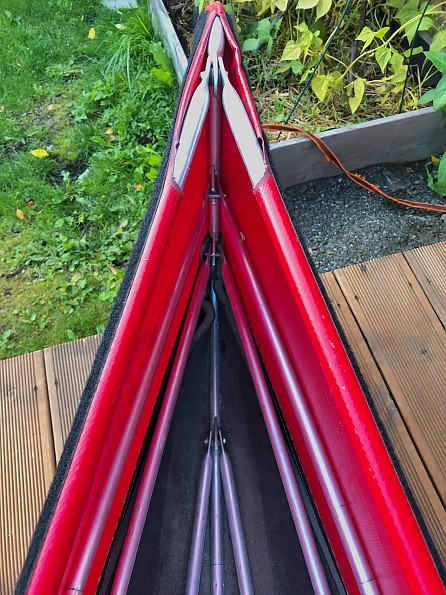 Our 17-footer has 8 ribs. Five have thwarts between the gunwales to provide structural integrity, located at center, behind each paddler, and in bow and stern. The other four ribs are open on top to give room for legs and gear. Some of the shorter models have 7 ribs and do not have a thwart behind the rear paddler, allowing a little more flexibility in seat positioning.
A 2 cm / ¾" thick, dual-density foam mat fills in between the skeleton and skin on the bottom of the canoe, providing both reliable flotation in the event of swamping or capsizing and a means of tightening the skin when putting the boat together. The tough, non-slip outer layer on the user side provides a durable floor that is still soft on the knees, while the softer underside rounds out the edges over the bottom stringers and gives some cushioning against rocks and shore gravel. As a bonus, the foam floor offers some insulation in cold water.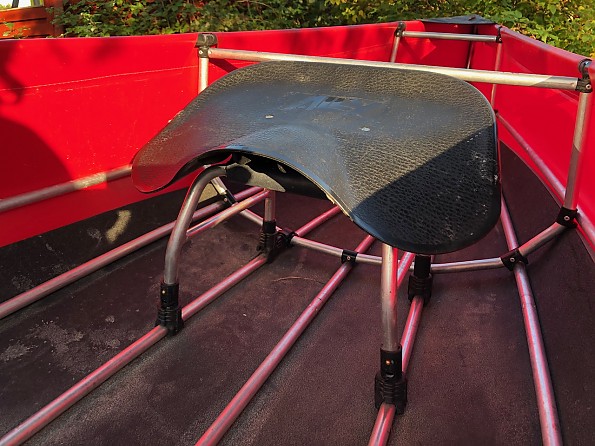 The molded, hard plastic seats are supported by welded aluminum frames that attach securely to the bottom stringers. They really are hard plastic and get uncomfortable pretty quickly. We have been using simple inflatable seat pads, but I probably ought to get around to cutting and gluing some closed cell foam on there for a more permanent solution.
The seat angle can be quickly adjusted for kneeling or sitting via a pair of knurled knobs on the underside. The height can be adjusted over a range of about 5 cm /  2"  in via sliding fittings with spring clips. The seats can also be moved fore and aft a bit to help avoid encountering ribs with knees and feet while kneeling, and the width of the frames can be adjusted to fit the spacing of the stringers. In the default position up against the rib, my feet end up uncomfortably hooked over the rib.
I can remedy this by moving the seat forward about 10 cm (4"), which puts my toes against the rib behind the seat and knees just about in contact with the next rib forward, where I might bump and bruise if things get rough. It's on my to-do list to come up with cut short lengths of pipe insulation to put over one or the other rib to help get comfortable.
Bow and stern are covered by short lengths of nylon fabric, attached by Velcro strips, to cover the stem-gunwale joint and help keep splashes out.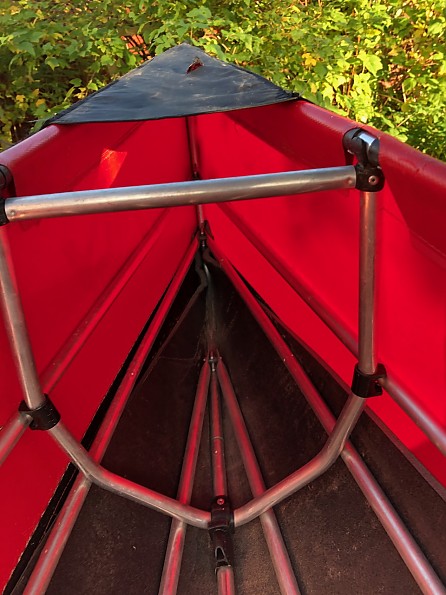 One of the substantial charms of this boat is its weight. Bergans claims a weight of 20.5 kg / 45.2 lbs, in the same weight class as a similar-sized Kevlar canoe. I stepped on a bathroom scale with the boat on my shoulder and found that was pretty much spot on. This boat is laughably light compared to our old Royalex boat.
Bergans rates its total carrying capacity at 390 kg / 860 pounds. We tend to keep our gear light for portaging and so probably had well under 45 kg / 100 pounds plus maybe 130 kilos / 285 pounds combined body weight on our 10 day trip and so were nowhere near that limit.
Putting it together and packing it up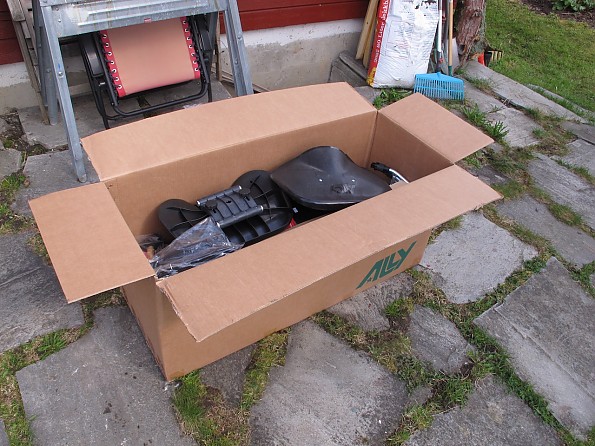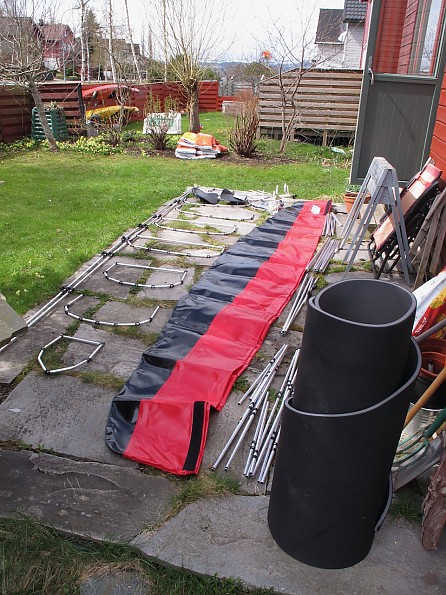 Bergans gives assembly about 30 minutes at best, and I guess an experienced team in a hurry could do that. It requires bare hands, an alert mind, and one tool: a rubber mallet, used to tap the ribs into place and supplied with every boat. If you want all the details, Bergans' 8-minute video is worth thousands of words:
I can put it together solo in something over an hour. One of the hardest steps is the first—sliding the gunwale stringers into their sleeves, because they tend to hang on every opening as you push them through; best to have an extra pair of hands for at least that step. It can be a bit tricky to get the foam mat centered and get it to stay that way. When you first put the keel stringer in it bows way up and it seems there's no way it's going to fit. But as you add the other stringers and the first few ribs it always starts to come together.
As the video shows, installing the ribs requires the rubber mallet that comes with the boat. It also requires close attention and fiddling to make sure the stringers end up in the right place on the first few ribs, another place where an extra pair of hands really helps. That tap-in fit of the ribs really tightens up the skin so there's some real satisfaction as the last rib goes into place.
Given the assembly time and effort, we tend to leave it assembled and car top it during the summer, although if we were driving far we'd probably choose to take it apart and put it inside. I have unfulfilled dreams of taking it on the train to points north and using local transport to get on and off the water, allowing for point-to-point trips without a car shuttle.
It's a serious challenge to reduce this boat to some minimum volume for travel, largely because of the bulky foam mat and seats. Bergans sells a huge 225 L dry bag with shoulder straps designed to swallow the whole enchilada. It looks modest enough in a stand-alone photo, but this borrowed image gives an impression of its real size: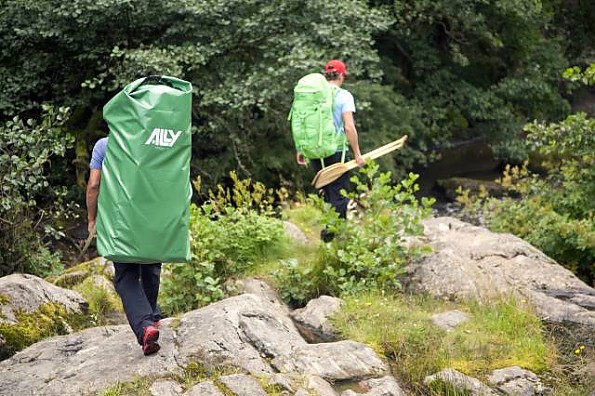 Note that the paddles, and probably life jackets, aren't in there.
On our 2016 trip to Quetico I managed to get the rib bundle, folded up hull, stems, and seats along with life jackets and other extras to fill in the gaps, into an oversized dry bag that we used for our camping gear on the trip. The stringers fold down into a bundle about 1 m / 3.x1' long and 30 cm / 1' in diameter.
With a lot of trial and error I managed to roll the mat up tight enough to fit into one end of a ski bag, with the stringer bundle on the other end and paddles alongside, again with other gear to fill up gaps. The result was not petite, but we got it there. At least it doesn't weigh all that much.
No yoke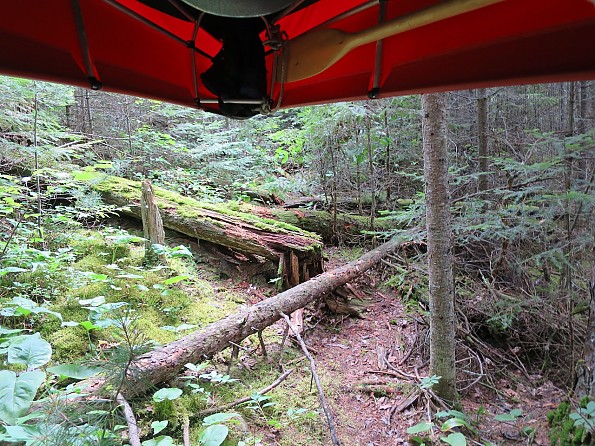 A boat this light almost begs to be used on extended paddle and portage trips. In my younger days I lugged the 60+ pound Penobscot over rocky portages as long as 2 km / 1.5 mi. I was never very happy about that and would be really loath to do it now. Oddly, Bergans has never offered any kind of yoke for this boat! They used to sell a pack frame with extensions that would clamp on to the gunwales, which looked okay, but they don't even sell that anymore (I asked). I'd rather just have a conventional yoke anyway.
The center thwart is a little too far off the center of gravity to use with simple shoulder pads, and ours is already slightly bent from sitting on it and so would have to reinforced somehow anyway.
For our Quetico trip I shaped a yoke out of a piece of wood I had lying around the shop and worked out a way to clamp it to the gunwales, but it was softwood and broke partway through the trip.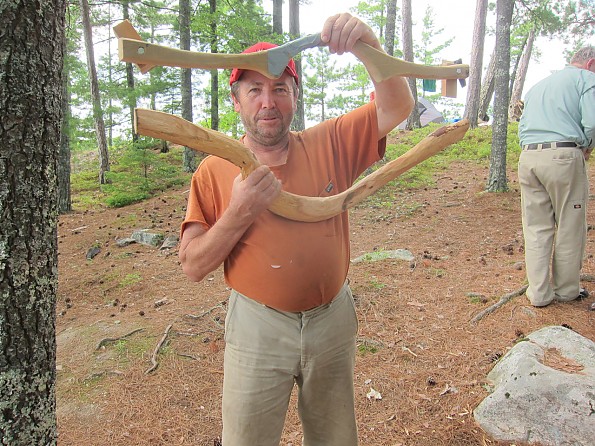 Our ship's carpenter Henry cobbled up a replacement out of a bent tree root that got me somewhat uncomfortably through the rest of the trip.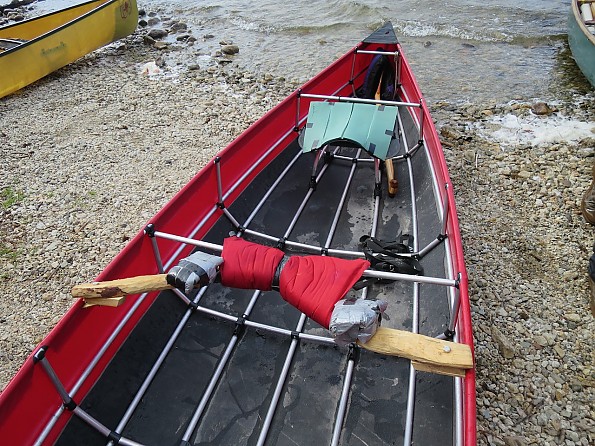 Another item on my to-do list for this boat is to buy a decent hardwood yoke and figure out a way to attach it. But, c'mon Bergans! Minus one star just for not providing for this most basic need.
Performance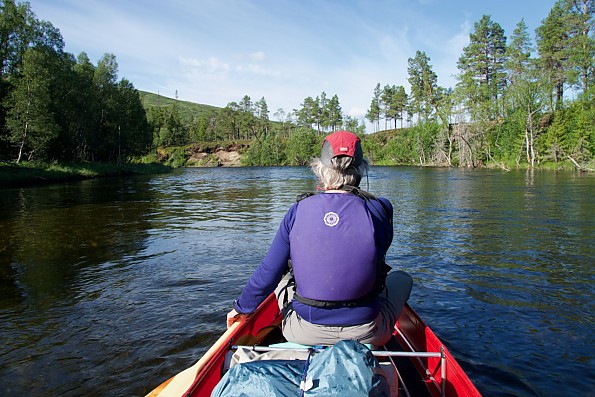 We are mainly flatwater paddlers but not shy about running some riffles if they get in our way. Our Ally feels light and fast when lightly loaded out on the lake, and maneuvers well enough around the river bends. Despite its skin-on-frame construction, it handles "just like a regular canoe", very much like the old Penobscot, not surprising given the very similar hull design.
Like other skin-on-frame boats, Allys will flex a little, noticeably when going over waves. Some people argue that this is a performance advantage, somehow making the hull a little more efficient. I don't know about that, but I find the slight flex mildly pleasurable, maybe kind of like shock absorbers on a bike? It does, however, make it desirable to unload the boat even for short two-person carries.
One quiet pleasure is that this boat is literally quiet—the soft sides don't make any of the clunking and thunking noises that you can get with a hardshell canoe. I like to fool around with what I call "Indian paddling", feathering and keeping the blade in the water on the forward stroke, trying to be as quiet as possible. This boat makes that a little more possible.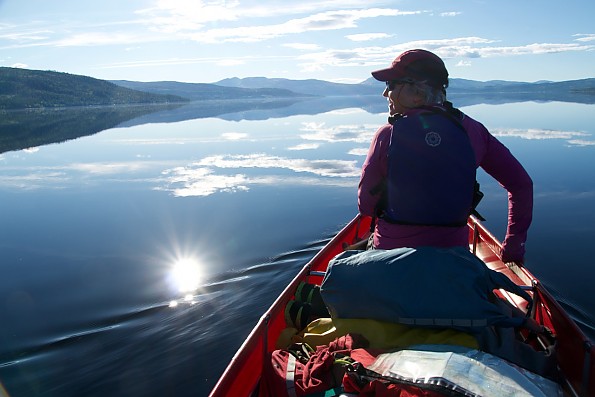 Durability
This is the big worry. The skin-on-frame build seems and is more fragile than a hard shell, but maybe not as much as you would think. It's not hard to find videos and reports of the downriver Ally models being used in some pretty big whitewater, but presumably not the shallow, rocky kind you might take a plastic boat over.
The skin can potentially puncture or tear, aluminum tubing can bend or crack, and the plastic joints, tough as they are, can also break. But the skin is also easily patched, temporarily with duct tape and more permanently with glued-on patches or strips. The boat comes with a basic hull repair kit. All of the hard parts are more or less easily replaceable, and Bergans sells them all separately.
The extra tough bottom of the skin on our boat has held up well over countless gravel beach and rocky ledge landings and the occasional encounter with a shallow submerged rock. The exception is at the hard bend on the stems, which is now pretty roughed up but still otherwise sound. We put some gorilla tape over it to keep going, but I'll get out the repair kit and put some strips over it one of these days.
We have considered adding some full-length keel stripping, but so far it seems quite unnecessary as we're just not seeing that much wear on the keel or even the chines, I think because the soft give of the foam mat helps the hull absorb some insult.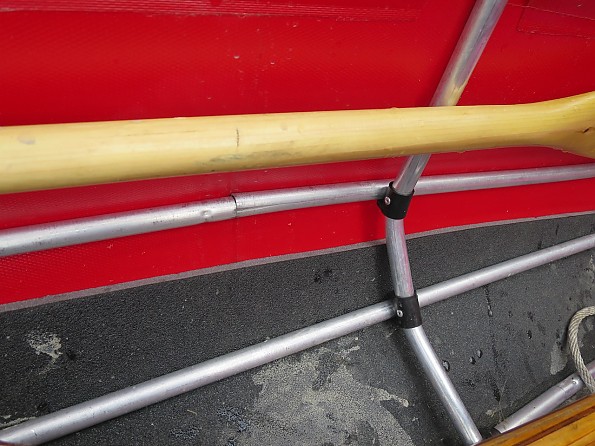 Partway through the Quetico trip I noticed a cracked stringer at one of the joints, probably from a hard emergency drop when I stumbled on one of the portages. It was not mission critical, so we were able to finish the trip without worrying about it too much. I contacted Bergans when we got back to Norway, and to their credit they sent me an entire new paired stringer no charge. In an email exchange on the issue, I also received some minimal instructions for disassembling a stringer to replace a single tube, but I haven't tried that yet. It would be nice to have more detailed instructions or even a video on that one.
The thwart on the middle rib is bent slightly, probably due to one or the other of us sitting on it, but still fully functional.
We also broke one of the plastic foot attachments on one of the seats. Again not mission critical because that part has an outer sliding sleeve that helps keep the foot on the tube. The replacement part will cost me 20 kroner, a little more than $2 at today's exchange rate.
Web site, accessories, service, and availability
Bergans' web pages for the Ally canoes are kind of a mess. On the Norwegian language pages, the different models are supposed to be accessed by a pulldown menu. The "Allround" (downriver) page presents exactly one model, the 15-footer. The "Flatt vann" (flatwater) page offers exactly zero options. I can get more complete and better Norwegian language information about these canoes on the web sites of several Norwegian physical and online retailers. The English language pages have the same problems. Bergans has not responded to a query about current availability of models other then the 15 footer.
The good news is that Bergans offers direct sale of spare parts at mostly reasonable prices, but the offerings seem to be somewhat selective and seem to be pretty well randomized on the web page so you have to know what you're looking for. If I go to the spare parts page for the 17-footer, I see stringers, a new skin, and floor mat for my 17-footer, but ribs and stems are nowhere to be seen. I found some of the ribs ribs but no stems on the unsorted main spare parts page. The more universal plastic parts are readily available on the main spare parts page. I don't think it's fair to reduce my score for this canoe because of a chaotic web page, and it may be the canoe sales are a small part of Bergans'  business, but if you're going to do it, do it right!
As seen in the assembly video above, Bergans seems to make spray decks for some if not all Ally models, but none currently appear on the web site, although the associated spray skirts and mounting parts are there. As a primarily flatwater paddler, I don't see much of a need for that myself. The combination map case and accessory pocket, designed to hang along the side of the canoe, has appeal but we haven't tried it yet. We'll consider the expedition repair kit, with lots of hull material and glue, pole sleeves for temporary repair, and a selection of extra plastic parts, if we ever go on that Arctic dream trip, but for now the repair kit that came with the boat is good enough.
A few months ago I asked about a seat back and net pocket that were described in the instruction manual, along with a question about availability of a yoke and the old pack frame. I was rather tersely informed these items were not available. Some of my other questions went unanswered. This experience left me with the impression that Bergans, or at least the person currently responsible for Ally, isn't much interested in customer service.
Bergans does seem to offer mail order direct sales in the US. Amazon has a "currently unavailable" page for the 15.5 foot downriver canoe only. The Canadian retailer Western Canoe Kayak has 5 models. So far I have not located any other North American retailers. They are likely being outsold by the similar and less expensive but considerably heavier Pakboats, originally American but as of 2020 made in Germany.
Last words
On the whole, this boat is a pleasure to paddle. Whatever extra time it takes to put it together at the beginning of a trip is well-balanced by light weight and fleet performance. We've only really begun to realize its possibilities and hope to launch it on Scandinavian and other waters for years to come (if only we could get our rowdy dog to settle down…). The lack of a yoke option and lukewarm customer support (although they did give me a replacement stringer for free) are puzzling, but shouldn't be a show-stopper for anyone looking for a boat that fills the lightweight, stowable, and flyable niche.
As a somewhat specialized and expensive option, it's probably not going to be a first choice for beginning paddlers, but handles as well as "real" canoe in the hands of of intermediate to expert paddlers. And I suppose if you live in NYC or Boston it could be a great way to get out on the Hudson or Charles, not to mention longer getaways, without taking up too much space in an apartment!
Background
So far we have used our Ally on day trips and a couple of long weekend trips in mid-Norway, and a 10-day lake-to-lake circuit in Quetico Provincial Park. Before moving to Norway we did a lot of canoeing in Vermont and the Adirondacks with occasional forays into nearby Canada. It's worth noting that Lars Monsen used an Ally for the summer legs of his 2.5-year, solo west-east crossing of northern Canada, and Cecilie Skog and Rune Gjeldnes used Allys in a summer crossing of the Arctic ocean, often dragging them over the ice, but failed to get very close to the pole. They also see regular use on Arctic rivers.
Source: bought it new
Price Paid: About NOK 12,000 (ca. $1,300)

Your Review
Where to Buy
Help support this site by making your next gear purchase through one of the links above. Click a link, buy what you need, and the seller will contribute a portion of the purchase price to support Trailspace's independent gear reviews.
You May Like