Northwest Territory Family Cabin 8-Person Tent 14' x 14'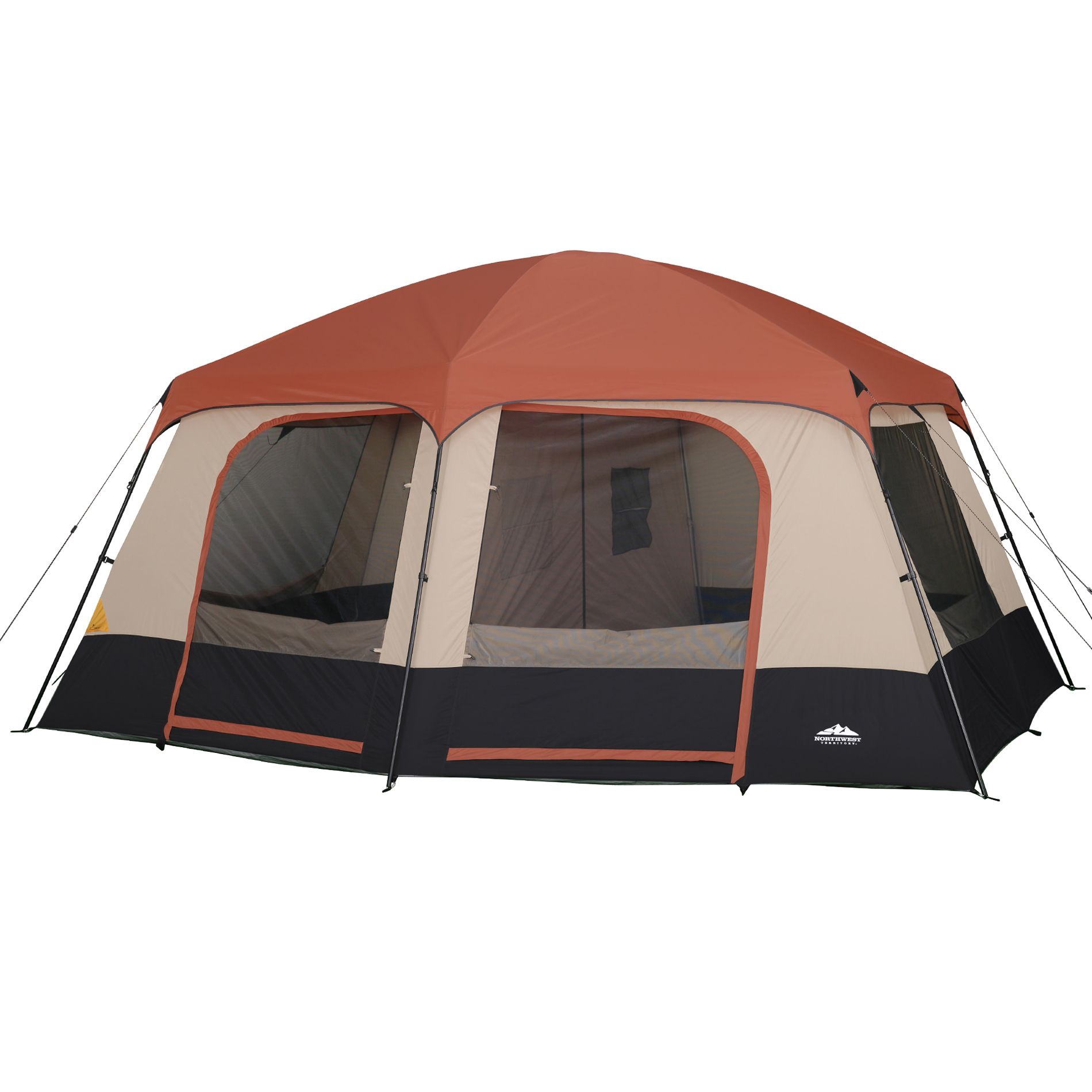 Specs
Price
MSRP: $169.99
Reviewers Paid: $79.99-$190.00

Reviews
15

reviews

5-star:

2

4-star:

1

3-star:

2

2-star:

1

1-star:

9
I had my tent for 10 years. If I could find another one I would. Best tent I've every owned. Big nice divider in the center.
Pros
Cabin tent you can stand in the center and sides.
Can fit two big queen mattresses with room to spare.
Sturdy
Have camped through rain and storms no problem only had to respray it after a few years
Excellent product. I just love this tent. the pole holder came off after 10 years. It could have been resewn.
Experience
Camping
Source: bought it new

Nice picture on package, but poor quality on materials and craftsmanship. Metal clips that hold tent to poles break easily. Not worthy of your time or money.
Pros
Nice deceptive picture on package.
Cons
Worst material and craftsmanship seen.
Source: bought it new
Price Paid: $190

DO NOT BUY NORTHWEST TERRITORY TENTS.
Cons
Second time using this tent it rained. And I mean it rained inside the tent!
We set up camp at Rocky Mountain East Portal, expected rain one night, dug a trench around the elevated pad we had pitched the tent on, and it did rain. This tent did not perform in the rain, it leaked at every zipper, the entire width of each of the two front doors, the entire length of each side windows, it leaked all across the back of the tent, water came thru the center of the fly, over a dozen spots, even where there were no seams.
Oh by the way this all happened thru the night. We had water everywhere. If we did not have enough towels around the perimeter, we would have had our own little pond. So the next morning we broke it down and did the right thing, WE PUT IT IN THE DUMPSTER.
We will go back to our Big Agnes tent, smaller, but we know it will hold up in a rainstorm. NOTE: We have been camping for many years. This was a mistake of a purchase and money down the toilet.
Experience
Been camping over 40 years.
Source: bought it new
Price Paid: Cash

I bought this tent with my dad, hoping it would be an awesome tent, but I was wrong. I opened it and it came with no instructions on how to fix it up, and there were parts that were broken so I couldn't even put it together. It was a waste of time and was very unreliable!!!!
Pros
Nice picture of the tent on the bag.
Source: bought it new

Used two times and the zipper broke and can't seem to find a part or even get any help finding one. Does great in the rain and is good quality BESIDES THE ZIPPER. Super upset.
Pros
Big inside
Easy to set up
Didn't get wet
The setup for the tent is awesome. I did it with my girlfriend within 15 minutes. Did awesome in the rain which we had for 11 days straight—nothing got wet inside the tent!
THERE IS A LOT OF ROOM. We had two queen size double high air mattresses and 1 twin kid one! Plus 4 people and all their luggage.
The zipper is the only bad part. It gets stuck to the flap that covers it and jams and breaks. It broke the first days we put it up.. HORRIBLE.
Source: bought it new
Price Paid: $189

Love this tent. Hate that the zippers and hooks are corroding and falling apart. They should be made of something besides what they are made of. Awesome concept otherwise.
Pros
Big and easy to put up and take down. Love it!
Cons
All zippers and metal hooks are corroding and breaking even though I put it up dry and aired out
This tent is easy to set up and take down. Packs up nicely! Big plus there! Plenty of room. Tall enough for my tall boyfriend!
Love this tent. Trying to repair the breaking hooks and preserve the zippers. Don't want to lose this awesome tent.
Source: bought it new
Price Paid: $190

Bought this tent/cabin a couple of years ago — 14 by 14 with utility room. Nice tent but getting parts for is impossible. I need a frame for it. The other one was damaged in a storm.
It's a real nice cabin, plenty of room, didn't leak, simple to put up, 3 kids room for them and a room for me and the wife. Just wish I could get a frame for it, cost quite a bit.
Source: bought it used

I purchased this tent 2 years ago, only using it 3 times. The first time we set it up, the rain sheet didn't fit, it was too small by 1 1/2 inches so we had to tie it. Other than that we had a great weekend.
The second time however, it rained and the rain cover leaked and it pooled water over the door area, we had the tension cords on as well- that didn't stop the pooling of water. The windows leaked as well as the door, some of the seams leaked too. A friend suggested that I put that "camp dry" on it. She had to do it to one of her tents that she bought. So I treated it with camp dry.
Used the tent a third time and again it leaked, even worse this time. After camping the third time and got it home, re-set up the tent to make sure it dried out good. A nasty thunderstorm came up and ripped it out of the ground...twisted the frame and ripped up the tent..
will not be buying any tents by Northwest Territory again.
I don't like to waste 200+ dollars on something that isn't going to last.

Design: cabin
Sleeps: 6+
Ease of Setup: very difficult
Weight: 50lbs
Price Paid: $179.99

I purchased this tent about two years ago and LOVE IT!!. There are five in my family and we have plenty of room. I put two queen size air mattress and one twin size air mattress in this tent and still have room to move in it. I love the screen room that it has.
I have had no problems with leaks at all never put any sealant on it. I did have one of the poles that run lenght ways break over the weekend, but it was left unattended at a camp for over four days. I need information about ordering the pole. Does anyone have the information for Northwest Territory?

Design: three room warm weather tent
Sleeps: 6+
Ease of Setup: moderate
Weight: unknown

I bought this tent at K-Mart to take on a family outing. I was very impressed by the way it looked and the size plus it had that neat screened in area where you could easily sit during rains. I took it home and inventoried the parts in the backyard (always doing this before heading to the woods!)...well several pieces were broke and two were misssing...the inventory sheet had a big note saying...DO NOT RETURN THIS TO THE RETAIL STORE...CALL US...
So I did just that...explained my situation...they wanted me to crawl in the tent and and find a serial # on a tag...I tried but to no avail...mind you..I can't set the tent up because pieces are missing...after 5 minutes of doing this I asked myself WHY AM I DOING THIS?...the first call was friendly...the second call was firm...and the third call was extremely neutral...I felt I was getting nowhere and finally took the tent back to K_Mart for a refund...
I would NEVER buy this brand name again. Their customer service department was a waste of time...I eventually ended up at Dick's Sporting Goods and bought a nice Eureka...everything was there and it set up easily...hope this helps! This is the first review I have written for any product but I didn't want someone else getting ripped off like I felt I did.
Design: Cabin Vacation #3 2006 Model
Sleeps: 6+
Ease of Setup: difficult
Weight: 15 lbs.
Price Paid: $179.99

I bought this tent and 2005 Memorial Day weekend I spent four days and three nights in it. I had no problems at all and I am trying to find another one to purchase. It is the only tent I have found with a shower already attached. Please contact me because I need another one. I'll be using it four more times this summer and I need an extra.
The only thing I would change is to make shower attachment zip to main tent on the floor level. So you can keep the tent side open without allowing any animals or reptiles in between the tent door and shower doors.
I love this tent! I camped at Ginne Springs and had many requests on where I got it.
Design: three room comfort cabin with utility room
Sleeps: 6+
Ease of Setup: easy
Weight: 40 to 50 pounds
Price Paid: $79.99

We used our tent maybe two times and the seams ripped. Then there was a rainstorm and the plastic pieces that hold the poles bent and now the tent is useless.
Design: 14 'x 14' cabin cottage
Sleeps: 6+
Ease of Setup: definetly need 2 people for setup
Weight: 40 - 50 lbs. with poles

I also thought this was an awesome tent. Like others after a bad rainstorm, even with a tarp strapped in the trees to help protect the tent, it proved to be a very unstable tent. A little rain and a light windstorm broke up poles and tent.
Sleeps: 6+
Price Paid: $179.99

This tent was nice when I first got it, but it could not hold up to a little rain and it is falling apart after less than a year.
I was very unimpressed with the quality of this tent. Within three days the zippers broke, a hole formed in the bottom, the tent teated, etc. I will not buy any products from this company.
Ease of Setup: easy
Price Paid: $189.99

You May Like
Recently on Trailspace