Northwest Territory Sierra Dome Backpack Tent 9' x 7'

(10)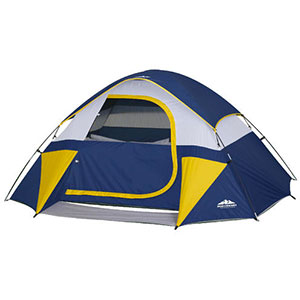 Specs
Price
MSRP: $34.99
Reviewers Paid: $25.00-$50.00

Reviews
10

reviews

5-star:

1

4-star:

4

3-star:

1

2-star:

2

1-star:

2
I use it for travel camping with two or three night stays per camp. The first trip included some rain with much water intrusion. After seam sealing everything at home, all went well until the first rain this year—about 8 to 10 oz. of water from all sides. Not pleasant!!

Also the "fly" arch support broke at the center junction and I would like a replacement, but where?
Pros
Compactness
Shoe port
Mud mat
Cons
Not water resistant enough
I use it in spite of difficulties.
Source: bought it new
Price Paid: about $38 in 2014 at Kmart.

This tent for the price you pay, will be what you get, but indeed for just camping it out, use for one man, is heaven sent. About six to eight pounds, with a ceiling of forty six inches in height allows for sitting up to change. Nine feet by seven feet allows for one person to throw a sleeping back into it with their gear too. Slightly crammed for two but still okay.

Rainfly is pretty much a stretch top and hook on, but also able to be tied down. Recommended for fall, spring, and summer. But not something for winter, but might work.
Pros
Room
Ceiling height
Affordable
Mud flap to take off shoes
Side opening for slipping shoes inside tent
Cons
Small rainfly for top, but still decent
Tarp style ground floor for tent
Zippers need to take time to open tent
This tent I bought when it was on clearance at Kmart. Tent was brand new, the red one of course, bought it for an event with the VDF or Virginia Defense Force.
At first I was skeptical of the durability, size, and weight. Weight was expected, size for one man truly awesome and worth the price. Not sure I would use it for a four-season tent, but awesome for three.
The size shoe locker entrance, ceiling height, and space with a mudflap make this an awesome tent for the go-to on camping trips. Tested it out in windy weather, while the top fluttered up and down probably due to wind direction held up well.  
Putting it together can be simple with the exception of the roof pole on the front, otherwise excellent tent. Rainfly is small, but does the job for what you need in the end. 
I recommend this tent if you can find it and try it out for backyard, weekend, or even some minor trail camping.
Great tent for one person. For two slightly crammed, but for three a major NO NO.  
Source: bought it new
Price Paid: $34

Held up in a storm that was raining 2 inches an hour for a whole night.
Pros
For two people with a pretty decent amount of gear it is roomy.
Came factory weather resistant.
Holds up in strong winds.
Well ventilated.
Rain fly does its job well.
I got this tent for a week of camping with my buddy. Four days in my camping trip one night at 11pm until 12 pm the next day it rains 2 inches an hour with 20mph winds. No rain came it at all.
The only drawback and I knew better was to let anything touch the walls of the tent. Well the foot of my sleeping bag was wet because it was drawing the moisture of the rain. There were no puddles or seam leackage in the tent. We did not seal the tent.
Very good tent in my opinion and my buddy's too. It held up for us.
Source: bought it new
Price Paid: 42.99

I bought this tent about 15 yrs ago because my married daughter's tent poles were not packed. I was sleeping in an RV at the time. Then my husband became too ill for camping and driving the RV, so I took to the tent on subsequent outings.
I love my cozy little tent, which has held up just fine. (The quality must have been better 15 years ago!) Then my grandkids "helped" me take down the tent and broke a couple of poles. 
I bought a bigger tent last year and didn't like it at all. I'm ordering new tent poles!
Source: bought it new
Price Paid: Under $50

Bought this one several years ago, can't remember when. However, I have used this one for my two boys and myself on trips lasting several days at a time.
The tent is manageable for the weight and packing. The setup is minimal and dis-assembly is quick.
When inclement weather hit, this tent performed with no leaks. You do have to seal the tent as is the case with all tents. Heavy winds did not blow it around, even with no stakes attached.
I do not have any concerns or complaints regarding this tent. It is still in service in the car camping side of my outdoor adventures.
So go out and get you a low cost quick setup tent that doesn't have to cost you an arm and a leg, but does what a tent should do - keeps you dry and warm.
Price Paid: $28.95

I think that anyone who is considering buying this tent should just save up a little extra money and buy a better quality tent. I have used this tent 3 times, 1 on a dry night and 2 times in a light rain. On both nights that it rained the tent floor was covered in water in no time. Not a quality product.
Design: free standing
Sleeps: 4
Ease of Setup: easy

I bought this tent on-sale at Kmart for $25 + 2.99 for a one year warranty in case I broke it for some odd reason.
I was impressed that the rain fly was taped.
Second the floor is a one piece tarp so that is pretty durable- I still used a ground sheet.
Before I set it up I flipped the tent upside down and used a silicone on the corners pushing it into the seams.
Than a set the tent up which was easy and sealed the inside of the tent. I used a Coleman liquid seam sealer and a silicone sealer in the tight corners. I did also seal the outside were the black and gray meet because the rain fly just covers the mesh and I could see that being a point of entry for rain- i pretty much sealed the whole tent inside or out depending on what i thought was best.
All stitching is folded and double stitched- which is a nice bonus.
The poles fiber glass and shock corded- shitty factory stakes as usually however, they are fine as it is a dome and the stakes just provide added stability.
I made a ground sheet out of a sheet of plastic I cut the plastic between the door and wear the mud mat is but made sure that those two points on the corner were covered by the ground sheet- I feel is you do not cut out were the mud mat is by the door because there is a gap water will pool there and go under the tent and not the ground sheet.
I took this tent to Vermont for three night for days- and it rained two nights. I used this tent for storage- as i could never get my girlfriend in a tent this small. It housed three coolers and food. After it rained a had about three drops a water along the back were i did not seal. There was some water below the coolers however- i think it's just from the cooler. : )
I think this is a good tent if you are experienced tent camper- it is not a tent you buy last minute and go into the woods with. I have several expensive tents $400+ and they require sealing too.
For a couple of bucks and some time to do the required sealing and ground sheet- I think you will have a good tent- I know I do!
Design: Dome will freestand but reccomend stake down
Sleeps: 2
Ease of Setup: Easy
Weight: Feels like nothing
Price Paid: $25 + 2.99 for warranty

This is not a bad tent. I went camping with my brother and has family. My normal tent had been used a lot, and much of it two weeks at a time. It had seen better days, so I wanted a cheap tent for just myself this trip. It's a far cry from my old cabin tent, but this tent went up easy. As long as you are careful putting it up, and don't get heavy rain or winds.
This should do nicely; this is roomy for one or a couple. This is a cheap tent, but will do for anyone just needing one for few weekends or for kids. You're not going to get a great tent this cheap, but you will get by with this one like I did. Even my old cabin tent leaked if it rained too long, but you know what, we remember them leaky days best. Sitting in the tent saying, "Oh No, if it gets much wetter in here we will have to bail out."
With big smiles on our faces, it made us get much closer then ever before. When it stopped we got out, and did stuff together even more then. With a much better feeling that we had, just been through some thing that made us get closer to each other. It was the hardest part of camping, but also it was the part, that made us feel that we could get through anything almost. Just thinking about it, I get a big smile on my face.
If you don't want to get wet at all, rent a cabin or get a camper. I'm just about ready for anything when I go camping, that is part of camping to me dealing with the harder stuff. The last 2-week camping trip I was on, the last 6 days it rained off and on the whole 6 days. One day before we were to leave to go home, they told the last few people left yet. That we had to leave before dark, as it rained so much that the whole campground would be flooded a foot or more by night. They were right, it was flooded a foot and 1/2 that very night, but we left as we were told and were at home that night in bed.
I noticed tents are not made that good anymore, putting sealant on the seams and waterpoofing them before camping is a must. Even then you cannot be sure it will not leak, taking and having the stuff to take care of problems as they come up is a must. Give some thought to how you will deal with problems, and take the stuff needed to deal with them as room lets you. To me that is 1/2 the fun, knowing that and when a problem does comes up, being able to smile and say, "yep I thought of that," and fix the problem. If plan A doesn't work, go to plan B and even plan C if you need to. And have fun. That is what it's all about, isn't it.
Design: dome
Ease of Setup: nice to setup
Weight: not much
Price Paid: $35

Horrible tent.
I bought it for camping in the backyard and it wasn't even good enough for that. The stiching was done poorly and the design was poor. The stitching is stitched too loosely, if you pull at the seam it would fall out.
The zipper cuff didn't cover the zipper too well, it cut off about a cm. before the other cuff at the bottom of the cuff there was a small hole on each side of the door.
The rain fly barely covered the mesh on the roof (it was about 2 inchs bigger than the mesh). The only thing I can't complain about is the free tent light.
Well you get what you pay for. i would suggest getting a Coleman or Eureka! for a couple more bucks.
I would not recommend this tent to anyone.
PS. it even had a satisaction guaranteed or your money back on the box.
Design: dome
Sleeps: 6+
Ease of Setup: easy
Weight: 15 lbs
Price Paid: $50

I bought this tent because I went camping and forgot my tent poles (the kids had stored them separately after I let them use my other tent, grrrr....). Anyway, I ran to the local K-Mart and bought this. Had little choice.
Anyway, for $50, not a bad deal, but the tent left a lot to be desired. A little bit more quality would have made this a pretty good deal.
To say it sleeps four is an overstatement. I have slept three people and we were all touching the material at some point, which led to moisture problems.
The tent itself goes up in a standard 2 pole X style. You need one person to hold the pole in on one side while you bend and force the other side of the pole onto the pin.
Since I bought the tent, I used for 2 seasons, and here's my analysis.
Pros:
For the price, what do you expect?
Easy to setup with a buddy.
In good weather it has lots of mesh to stare at the stars.
Lightweight, easy to move, even when set-up.
Cons:
I found the rainfly worked better without the poles in it. Just drape it over the tent and clip on.
The windows don't zip up. So unless you drape the rainfly on it, you will get cold. If only they made the windows zip, this would make up for a lot of my negative feelings about this tent.
The poles are flimsy, but again, for $50, what do you expect?
This brand is typical Northwest brand stuff. Doesn't cost much, because it is cheaply made. If you don't expect it to last, it is not a bad deal. If you are buying a tent to use for foul-weather, or want a quality peice of equipment that is guaranteed to perform, spend some more money and buy a Coleman.
I gave this tent to a buddy who doesn't have any money for equiment after I bought my Coleman Outdoorsman tent. Come to think of it, I also gave him my Northwest Territory stove (awful), and my other camp friend gave him his old Northwest Territory Lantern.
You get what you pay for, and Northwest Territory is pretty much junk! Works, but just barely!
Design: rectangular 2 pole dome tent
Sleeps: 4
Ease of Setup: need 2 people to setup. Easy with 2 people
Weight: 10 lbs-ish
Price Paid: $50-ish

You May Like