Old Town Penobscot 16

The Penobscot 16 has been discontinued. It was replaced by the Old Town Penobscot 164.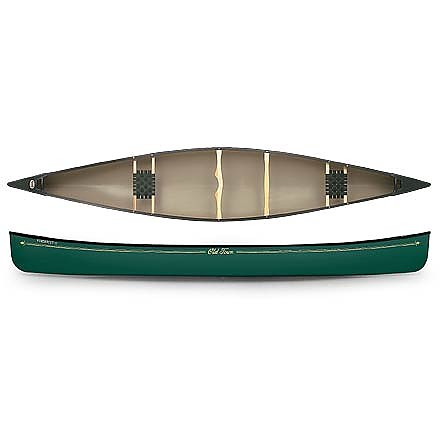 Old Town's Penobscot 16' canoe is a pleasure to paddle. The canoe is a solid performer on all types of water.

With its ability to carry 1,100 lbs., the Penobscot is perfectly suited for long canoe trips. Even though it is 16' and made of Royalex, it is surprisingly light.

This canoe is perfect for those weekend and longer canoe camping trips and for fishing.

I highly recommend this canoe to anyone looking for a stable, well-made, versatile boat.
Pros
Durable
Stable
Can be paddled backwards from the bow seat
Cons
Not as light as fiberglass or kevlar canoes
Deck plates seem a little wimpy
Old Town's Penobscot 16' canoe is a pleasure to paddle. Made of Royalex, the canoe is surprisingly light and extremely durable. Canoes are meant to go where deeper-draft boats cannot. I have taken this canoe in some pretty shallow water and over some submerged branches without putting a scratch in the hull.
It tracks nicely, even in windy conditions paddling solo from the bow seat. The shallow V hull helps provide good initial stability, while secondary stability is great. The webbed seats allow solo paddlers to paddle the canoe backwards from the bow seat, which improves the canoe's trim bow to stern.
With the ability to carry 1,100 lbs, this canoe makes a nice tripping canoe. Go ahead, bring your Bernese Mountain dog along, four-burner gas barbecue grill, and Adirondack chair. This canoe can carry just about anything you can put in it
One nice feature this canoe has is the aluminum gunwales. That also help reduce the overall weight of the canoe.
I use this canoe for fishing lakes and rivers and for camping.
I highly recommend this canoe to anyone who needs a durable canoe for use on all types of water. My aunt had the same boat, and she and I would paddle it off the coast of Maine; it's that stable. This canoe is ideally suited for families or anyone planning an extended paddling trip.
The Penobscot has been Old Town's flagship Royalex canoe for decades. Its durability and design has withstood the test of time.
Source: bought it new
Price Paid: $1,700

A rugged, sturdy, and versatile canoe. Like a brick house this little canoe is a true workhorse and the standard by which other "Expedition" canoes are judged!
Pros
Build quality
Durable
Royalex
Versatile
Load capacity
Responsive
This canoe has become ingrained in my identity. We have been wilderness tripping in this canoe for the last 15 years. We have paddled her throughout long stretches of the Mississippi and its major tributaries, along the shores of Lake Michigan and Superior, in the salty waters of Washington's Pudget Sound, and countless trips through the Boundary Waters and Canada's Quetico Provincial Park. This is the Little Canoe that Could!
She was the perfect choice for the 210-Mile Boarder Route Challenge in 2018. Over the course of this eight-day challenge she experienced several storms with winds of up to 20 miles an hour and waves between 4-5 feet. Because of her stable hull design we never ended up in the drink (which could have been potentially deadly in the conditions we were in).  With enough gear for two people to last eight days she wasn't even close to being fully loaded. Because of this we had enough free-board to prevent waves breaking over our rails and swamping our boat. 
The only complaint here is that she is HEAVY. I was reminded of this as we had to portage her a total of 20 miles (including the nine-mile Grand Portage). Her weight is due to her robust build quality; it's a tradeoff that I will easily take. This canoe has slipped off of my shoulders on a few occasions and has trail blazed many Canadian portages with little more than a scratch. 
I have since her initial purchase laced her, installed painter attachment points, knee pads, keel guards, a kneeling thwart, flotation bags, and a sailing kit. She is truly an Expedition Canoe and I wouldn't dream of taking another canoe into the wilderness.
Source: bought it new
Price Paid: $1200

Versatile and responsive, this canoe is a great all-arounder. Great as a short tripper, on easy to intermediate whitewater, or on flatwater.
Pros
Maneuverable
Durable
Versatile
Straight tracking
I've owned the 16 foot Royalex version of the Penobscot for more than 11 years. This canoe is a great do-everything option. It's reasonably fast and straight-tracking on flatwater. It's stable and responsive on class I and II whitewater, class III perhaps with a skilled paddler.  
I've used this canoe on trips of up to 4 days and it performs great, but the load capacity is really insufficient for anything much longer. While best used as a tandem canoe, you can also paddle solo in the right conditions.  
The little touches on the finishing of this boat make it stand out. For example, the poly decks with molded grab handles are much more comfortable that the wooden handles you'll find on most other boats. Similarly the aluminum gunwales add a little stiffness and reduce squeaking that you may encounter with competitor's canoes. Even the graphics look elegant.
If you're solely going to do long wilderness lake country trips, look elsewhere. If you want a rough-and-tumble river canoe, there are better choices out there. But if you want an excellent general duty canoe that doesn't do anything perfectly, but does everything well, then the Penobscot is a great choice!
Source: bought it new
Price Paid: $1000

Great for beginning as well as experienced paddlers. Does well on lakes and rivers. Large enough to hold plenty of gear.
Pros
Tough
Ease of maneuverability
Stable
Cons
Old Town snap-in middle seat doesn't seem to fit great in this canoe
We got this canoe mainly for lake usage and it is great. Very stable for me and my kids, never feels like it might tip over, even if someone goes for a swim then climbs back in the boat. We've also used it on rivers (Androscoggin) with much success.
Old Town boats are very tough. This has been over many rocks and it still looks great. This boat can easily be portaged by one person. It balances well while being carried and one end can be set down to rest if needed. It is also easy to load and unload to the top of a vehicle, in my opinion.
Disclosure: I work part-time at a sporting goods store that sells Old Town canoes, among other brands.
Source: bought it used
Price Paid: $400

This canoe is a wonderful choice for canoe camping on rivers and small lakes. It's light, rugged, handles well, stable and capable of carrying all your gear.
Pros
Strong
Lightweight
Pleasure to paddle
Cons
The cane seats can wear through over time
I have used the canoe for multiple camping trips. After using a tripper for 25 years, this Old Town was a step up in handling and responsiveness. It is a great canoe by a great company that will give you decades of enjoyment with minimal care.
Source: bought it new
Price Paid: 1400

Good on flat lakes and easy to paddle, but will swamp easily due to the shallow rocker in large standing waves.
Cons
Heavy
Dangerous in large waves.
We rented the canoe and were very happy until we hit some rapids with very large standing waves. The canoe quickly swamped and we were swimming. Friends in a Nova Craft had no problems.  
Source: rented it

The 16 is, IMHO, a better boat than the 17. The latter is an extended version and isn't as handy. The 16 is capable of tripping on lakes and easy rivers, up to Class II. While initially tender, it has good secondary stability. It is arguably one of the fastest Royalex canoes around.
Price Paid: $699

Your Review
You May Like
Specs
Price
Historic Range: $1,041.75-$1,529.93
Reviewers Paid: $400.00-$1,700.00