Old Town Tripper 172

(1)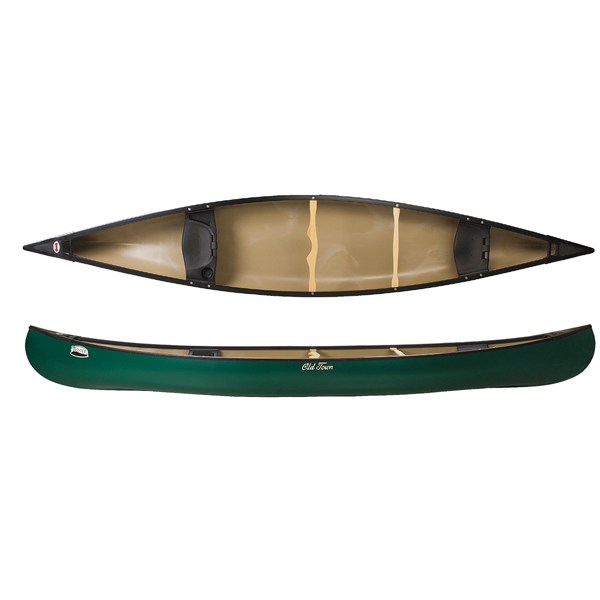 Specs
Price
MSRP: $1,589.99
Historic Range: $1,281.75-$1,439.93

Reviews
Most durable and long lasting canoe I have ever experienced…
Rating:


Source:

Summary
Most durable and long lasting canoe I have ever experienced or heard of.
Pros
Bomb proof
Does well in heavier water
Perfect for long camping trips with family
Good customer service
Cons
Wind can catch it as much as most
hHeavy but comparable to others of its size and durability
No longer produced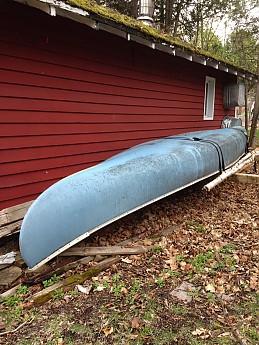 The Old Town Tripper after 40+ years of hard use and still going.
Durability
I grew up in this canoe. My dad purchased it before I was born. It is over 40 years old and has only been kept outside in the elements on the shores of Lake Superior. Harsh conditions to say the least (plenty of sun and sub zero temps). It has been run up on the cobblestone and bed rock basalt coasts all its life and yes the outer layer on one of the noses has worn through, but that only happened after 40 years and it's only a 1.5 inch by 10 inch area that can be easily patched with some kevlar skids. 
Unfortunately record snows came a couple winters ago and the canoe had just been put up on a 4x4 rack where the gunnel only rested on two points. The sidewall under the front set folded a bit and the gunnel which evidently was hard vinyl with a strong aluminum core back in the day shattered in many places but still held together in one piece. The thwarts have also rotted out. 
All of it is fixable, however I am unsure if I will be able to get the remnants of the folding out of the sidewall.  If anyone knows any tricks with the Royalex in this scenario let me know. Our neighbor had an old Grumman on a similar rack and it crumpled way more than the Tripper and of course did not bounce back as much as the Tripper. Wet snow is heavy especially when it gets over 3 feet for long periods of time!
Waves, Rapids, and Tracking
Yes, it has a rocker but my dad bought it for the stability and size for a 4-person family that might use it in wavy situations. It has worked great on the big open lake and even some rivers with class I-II. I hear the Tripper works very well loaded on longer trips with class III. It certainly handles rocks and waves with ease. 
The tracking is not as good as you might get on a boat with a sharper entry and a stiffer bottom with a keel.  However if you have a decent J and a similar C stroke then no worries keeping this guy going strait. Taken it on many long trips without wishing for more tracking. It tracks as well as my Mad River with its V Hull (old V Hull back when they had some actual stiffness). 
The Penobscot might be the better choice if you are concerned about wind but I doubt there is a mind blowing difference. The Penobscot will not be as good in waves and whitewater. It will track better.
Weight and Portaging
It is heavy but for its material and durability it is worth it if you are healthy and under the age of 55. If you plan on never coming in contact with rocks get a boat out of different material which will either be way cheaper or way lighter.
If you want a boat you can possibly pass on to your kids and or beat up on the rocks get the Tripper. You can portage this boat. Dad used to do it all the time for just over 2 miles at the age of 40. I think it is somewhere around 80 lbs? Yes, he was well built and yes, he did take a couple breaks.
Customer Service
Great Customer Service even today after they have been bought out by Johnson Marine. I have called them many times when searching for a used boat on craigslist. So patient, and they know their stuff off the top of their head even about old discontinued models and how they stack up to other models presently made or not. 
They provide lots of great opinions and every time I called I felt like I was talking to an avid canoeist. Still seems like a good company even after being bought out, but unfortunately mainly make 3 ply poly boats now that are of lesser quality by nature of the material.
Comparable Boats
tracks better
does not handle whitewater as well
does not have that safe initial stable feeling that the Tripper has (for those of you with one or more kids!)  Tripper is definitely a better boat if you have kids.  The Penobscot would be fine but you will be more relaxed in the Tripper, and might have more width for kids to sit side by side?
carries less but could still do a long trip with one small kid and gear
comparable or maybe slightly better in whitewater
Where to Buy
Help support this site by making your next gear purchase through one of the links above. Click a link, buy what you need, and the seller will contribute a portion of the purchase price to support Trailspace's independent gear reviews.