One Sport Moraine

One Sport is no longer in business, and the Moraine has been discontinued. If you're looking for something new, check out the best backpacking boots for 2023.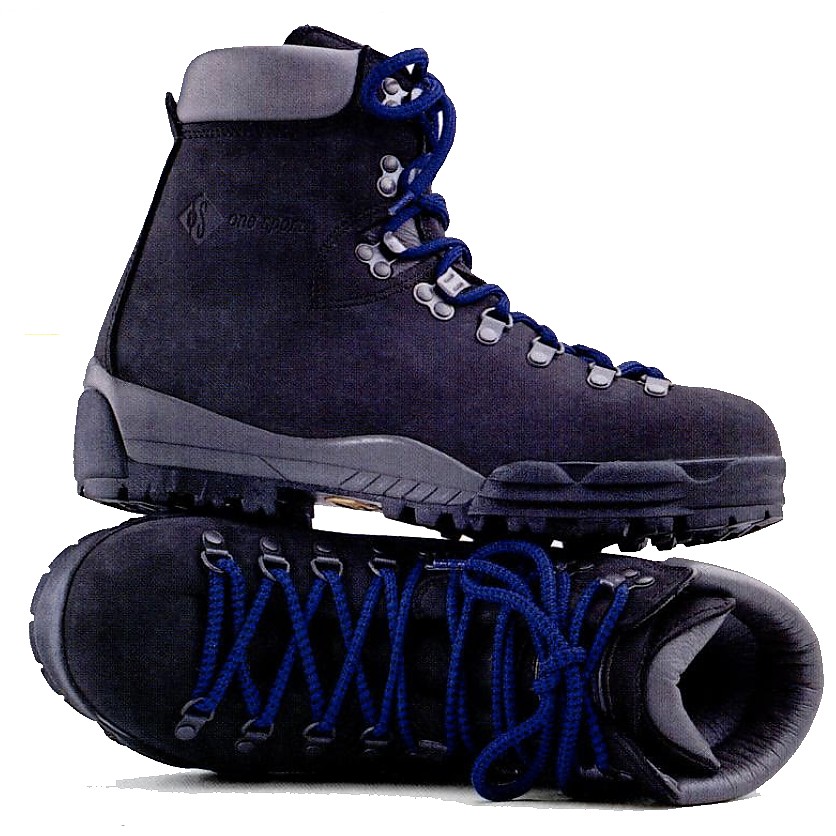 Pros
Comfortable boot with an average break-in period
I've owned mine since 1994 and they have held up until lately when the rand is starting to pull away from the boot. That's 25 years later! Ya gotta look after your boots.
Cons
Toe box is a bit small (sloapped) so my toes get cold easily.
No room for thicker wool socks, just makes it worse because of cramped up toes unable to move.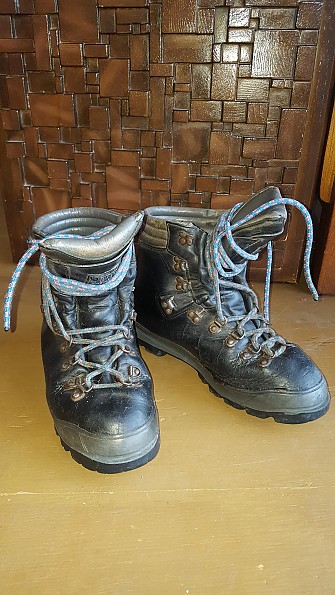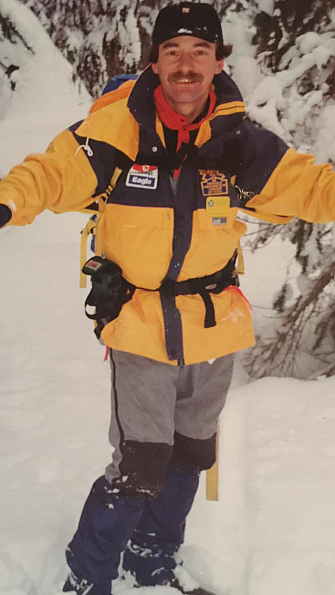 I used them in the Canadian Rockies while working on heli-portable seismic operations and they took a lot of abuse.
I did a really good goop job to all the seams and rand the same day I bought them and put the snow seal to them. Cleaned and re-snow sealed them every day I had a chance to. I had to get the rand repaired in a few spots, just lately (December 2018).
They are only used for light hiking these days, but have been very good to me.
Background
Owned and have used them for 25 years.
Source: bought it new
Price Paid: Around 340 dollars

The comment mentioned by "World Traveler" on this site prompted me to write. For starters, I absolutely agree that Asolo makes excellent hiking/backpacking boots (I have owned 2 pairs).
However, I am currently on my first pair of One Sport Moraines and they are every bit as awesome as any of the 2 pair of Asolos that I've worn. As of this writing (12-25-97), I have owned my Moraines for almost 2 years now and have never had the slightest problem with them. The soles on my Moraines haven't even thought about seperating from the uppers. So far, my Moraines have been subjected to various hiking/backpacking trips for 3 months over the summer of 1996 in Yosemite, and for 3 months this past summer in Sequoia N.P. (including a 22 mile round-trip day hike of Mt. Whitney this past August 1997).
I have heard and read comments about One Sport Moraines coming apart, but most of the problems were from older model Moraines (when they were first out on the market). Like I said, I have never had any problems with mine and they're 1996 models.
Another thing I also agree on with "World Traveler," is that, the break-in period for the Moraines is very long compared to a lot of other boots out there on the market. Backpacker Magazine even stated that. I don't know exactly, but I would say that it took a good 2-3 months before mine started to feel half-way comfortable.
The bottom line: YES, I would definitely recommend the Moraines, but make sure your getting a new up-to-date version. A lot of literature you may read will state the Moraines as being "A medium weight hiking boot." I would not completely agree with that. Most people out there who are even vaguely familiar with hiking/backpacking have probably heard of the Vasque Sundowner. I would call the Sundowners a classic example of a medium weight boot (as was my old Asolo AFX 555's). The One Sport Moraines are quite a bit stiffer, and more of a heavier weight than boots like the Vasque Sundowners, so be sure that a boot that heavy is what you really want.
Materials: Leather boot
Use: Day hiking to backpacking
Break-in Period: A LONG time
Weight: About 3 lbs. / pair
Price Paid: About $200

Version reviewed: Classic
My two cents after reading a recent bad review of these boots: Great, great boots!
I've also owned a pair for a little over 5 years and basically used them exclusivly off-trail (geological field work in the Wind River Mts., WY and lava plateaus of SE OR/Northern NV) with about 20-50 lbs of pack wt (rocks). Not sure of the exact mileage (minmal est. might be ~700-1000 mi) and I've had them resoled three times (I'm hard on boots), but until this past summer, the leather was wonderful! The last resole I had a rand on the front of the boot put on (to protect what little leather was remaining on the toes) so they kind of look like the new AT.
Anyway, walking all over very, very sharp basaltic lava flows and basically being on rock all the time, has a tendency to tear up a boot. Yes, the sides and toes have become very scarred, but all along, the leather held up fine (I have crappy ankles, so support is crucial).
My only complaint would be the soles (original and new), but the rock and my body tag team them pretty good, and basically they have no longevity (good traction though!). So, now that the leather has become noticably softer (and are again in need of another re-sole job after two months of lava traversing this summer), I'm going to updgrade and get a pair or Moraine ATs.
Also, I've not really had any problems to speak of with Montrail's customer service, or other shoes (love the Vitesse trail-hiker)!
Materials: Leather
Use: rough/off trail
Break-in Period: minimal
Weight: about 3.5 lbs?
Price Paid: ~$190

I used them only a few times for backpacking and they seemed to be okay. Didn't hike for a while and then used them for a day trip on non-rough terrain and the upper separated from the bottoms! One boot went first and then on the same trip the 2nd one went. Had to use electrical tape to get through the day.
Apparently the glue does not hold the boots together. Would never buy this brand again. These were not cheap boots either.
Pros
Comfortable with almost no intial break-in required
Cons
Impossible to seal against water
Piss-poor construction
Way too expensive
Poor warranty service
Worst boots ever.
I got mine on the AT, sealed them as recommended, and they proceeded to keep my feet wet anytime there was the slightest rain on the trail, or even too much dew on the brush. The nubuck uppers should be marketed as sponges.
Started falling apart after 200-300 miles, and had almost totally delaminated after 600-700. If I remember right, I had to use duct tape to hold the soles on for the last 100 miles or so.
Boots had a lifetime guarantee (no exclusions/conditions), so I sent them back, and they did send another pair. These made it through the rest of hike, but had already started do delaminate as well.
After the hike I contacted One Sport again, and after an acrimonious debate on what lifetime guarantee with no conditions meant, they agreed to repair the boots this time. The repair lasted about a year with non-hiking/casual use, and of course they fell apart again.
At this point, I was just glad to be done with their crappy product.
Background
Long time backpacker and AT thru-hiker.
Source: bought it new
Price Paid: 200$

This is an update to an earlier review of mine on these boots.
I have now owned them over 2.5 yrs and have had the uppers re-glued to the sole plate to stop leaking. As I was returning from a snowshoeing trip I noticed that both heel rands are now completely unattached from the uppers (the shoe straps did NOT even touch that part of the boots - I checked). They are only being held on by a narrow strip of glue at the bottom edge.
My previosu (and probably future!) boots were Danner Mtn. Lights - I had them 8 yrs. and only replaced them because I outgrew them. And I didn't take nearly as good of care of them as I have of these Morraines.
The real shame is that One Sport has a superbly designed boot here - if they could just get them to hold together! From all of the posts I have read on their customer service - and my own experience - it lacks a lot too. I think I'll spend my next boot money with a company that a) knows how to finish a product, b) understands the real meaning of standing behind their product, and c) realizes that $180 bucks doesn't just slide out of most folks' wallet.
Adios, One Sport!
Materials: Leather
Use: rough trail/heavy pack
Break-in Period: very little if any
Weight: 3.5 lbs
Price Paid: $180

I sadly had to pitch my 18-year-old Moraines the other day. I resoled them twice. They took me to the Alps, Dolomites, Canadian Rockies, the Needles, the Tetons, Himalayas, Apalachians, the West Coast Trail, the list goes on.. Countless climbing adventures.

The rubber between the sole and the boot just disintegrated. Best hiking boots I have owned, they owed me nothing.

To the person who bought them in 2011, they were a 14 year old boot if the were branded One Sport.

Source: bought it new

Many people seem to love these boots, and with good reason. Yes, for me, there was no break-in period. Sure, the leather goes soft very fast, and they are darn heavy, but I kept them in good condition and they lasted long enough to be worthwhile.
If you have the option (I bought them years ago, and I don't know if it still is) do NOT get nubuck. Someone really made a mistake when they came up with the idea that nubuck is a good finish in hiking boots. Get the things near water, not even in it, but nearby and they turn to jello - cold jello. I guess if I were starving, I'd rather have these boots around than others (they'd be easier to eat).
Treat them with any type of waterproofing concoction you like, and do it often, and they stay dry. Next time you have the option, try a beeswax/Nikwax/meltedIceBags mix, It seemed to work for me when I was running out of Nikwax.
I still like to use them for quick conditioning day trips, the weight is perfect for leg-strengthening, and without a heavy pack, they can really grip.
Materials: Leather
Use: Rough Trail w/mid-weight pack
Break-in Period: Wonderfully Short!!!
Weight: HEAVY, unfortunately
Price Paid: about $200

Version reviewed: AT & Classic
I have owned three pairs of the One Sport Moraine Boot. I must say that these boots appeared to be well built but in time they all fell apart. Eyelets pulled out, rands became unglued and the outer soles delaminated completely. I originally only intended on buying one pair but with my continued complaints to One Sport's customer service I ended up with three pairs before I finally called it quits.
I would never buy another pair of any boots from Montrail/One Sport and I tell this story to everyone I know who in contemplating the purchase of an expensive backpacking boot. I have to admit that I chose this particular boot on the recommendation of "Backpacker" magazine. Based on this experience I would never value their gear testing results without some personal verification. For me, this was an expensive and disappointing lesson to learn.
My personal belief is that there are alot of manufacturers in the outdoor gear business that make poor equipment but have great marketing skills. One Sport has been added to that list.
Materials: LEATHER
Use: Long Distance Backpacking
Break-in Period: longer than the boot lasts
Weight: ?
Price Paid: $225

I initially loved these boots. Very comfortable and good support. However, I have had trouble with the rand and now the sole seperating from the boot. I get wet feet, which we all know is no fun.
This is after five years (1994 models). For the first two years they had heay use (3 months every day) and there after moderate use (a few weeks a year). I have taken good care of them, following instructions etc. but they have come apart. The toe rand started to come off in the first year.
So comfort and support wise these are great boots. The durability of the boot I would have to question. I specifically bought expensive boots to get a high quality long lasting product. It seems that they have not lived up to this expectation
If considering the Moraine I would strongly recommend checking with One Sport (now Montrail) to see if they have improved the glueing and if they will guarantee the product.
Materials: Leather
Use: variety - from good trail to rough trail with heavy backback
Break-in Period: about a week
Weight: 1 Kg
Price Paid: $260 (Can)

HEAVY boots, but excellent leather. That 2.8 Nubuck keeps looking good under constant abuse, and it repels water better than any other pair of boots I've owned. On every hike where I've encountered rain, I've noticed that everyone else's boots let in the moisture long before the One Sports even began to feel damp.
The Vibram soles are tough and sticky. They grip well on any surface, mud, water, dust...
One very minor problem: after about 300 miles the toe rand on one boot began to come loose. I repaired it with a shot of Barge cement held in place overnight with a tourniquet around the entire sole, and it never came loose again.
The BIG BUMMER is that I outgrew the darn things! At 40 my feet actually grew a full half size and now my toes push against the ends of the boots on downhills. Like a fool, I bought a pair of Vasque Sundowners to replace them. Did someone say major mistake?
Materials: Leather
Use: rought trail/off trail w/heavy pack
Break-in Period: a hundred miles
Weight: about 4 lbs.
Price Paid: about $200

While I have seen many complaints here about these boots, I personally have found none better. I am a professional survey archaeologist and walk from dusk until dawn during usually eight months out of the year. I personally cover a 100-acre plot of land and walk a 30-meter transect, and that is for 10 days in a row. I then wear them as my only pair of non-dress shoes during days off, and during the non-field saeson. I still have the original pair that I bought new in 1992 (that is 12 years old).
A friend bought the same. Anyone that downgrades these boots obviously couldn't or didn't treat them as recommended. If you use stains, wax, or polish you are not doing it right. All that these boots need it to be worn, and wear they will, like no other boot I have ever owned. All I have ever done with them is changed the laces five times since they were new.
Materials: Leather
Use: Professional Archaeologist
Break-in Period: walked in them from day one, no break in required.
Weight: unknown
Price Paid: $225

One Sport Moraines are the worst!!! hiking boots I have ever purchased.
For one thing, it took me 3 !!! months to break them in, 3 months of torture on my feet as the Morraines have a narrow toe-box. The break-in period was agony!!!
Secondly, after 6 months of average wear the damn things were falling apart. The glue One Sport uses is crap!!! After a few momnths the rubber rand becomes seperated from the leather uppers and water from melting snow leaks in the boot.
Also the lining in the heel on the inside of the boots rubs off leaving a hole which digs into your heel damaging your socks and causing blisters.
Don't buy these boots !!!!
Backpacker Magazine must be taking pay-olla from One Sport to have called these the best backpacking boots on the market.
You want an excellent boot?
Buy Asolo. They have excellent customer service and Asolo's are the best damn hiking boot company on the market.
Materials: leather with rubber rands
Use: rough trail w/heavy pack, snow with crampons
Break-in Period: 3 months
Price Paid: $209

I entered a review for the Asolo Globaline Latitudes awhile ago. Since then they were stolen, and I was in the market for some new boots. After reading a Backpacker magazine review, I decided on the Moraines. I have not been disappointed
These boots KICK THE GLOBALINE'S ASS. Though the weatherproofing is about the same, they are more comfortable then the globalines after wear, and do not show as much wear. The sole is the best part. The vibram sole is noticeably superior to the Globaline's, which was sometimes too big and clunky off the trail. (i know i am just repeating what was said in Backpacker, but it's true)
If you are in the market for some new boots, BUY THE MORAINES.
You will thank me. I promise.
P.S. I think that the boots may have changed, considering some of the other reviews here. Be sure to get the newest version.
Materials: leather
Use: rough/no trail w/ heavy pack
Break-in Period: walk around for a couple days, you'll be fine
Weight: 3 lbs maybe?
Price Paid: $200

I purchased my boots about four or five years ago. Since then have used them for a variety of uses, summer and winter activities, but not too frequently. These boots had been pretty reliable until my recent trip to the Grand Canyon.
On the second day of a four-day hike through the Grand Canyon... Imagine being in the Grand Canyon in August loaded with a pack, when suddenly both boot soles began peeling off. Here I thought these boots were made to take anything. Not so!
I had to take the cords from my stuff sacks and tie them around the boots to hold the soles on. Not too stable when hiking on some of the trails.
Needless to say, I can't recommend these boots. I am hoping to find a way to contact the company for replacement/repair. I will let them decide the ending to this story.
Materials: Leather
Use: trails, w/ & w/out pack
Break-in Period: fairly short considering full leather
Price Paid: $180

IF you have W-I-D-E feet, you will love these boots ... people with narrow feet go away and leave these gems for those of us that need them.... Most boots I wear are a size 8 1/2 - 9 ... My morraines are 7 1/2's and I love them. Granted I did return my first pair, but the was simply due to sloppy glueing of the plastic rand ... essentially air was leaking in and out of the boot near the heel. I know, 'what a baby' , but YOU hike in puddles then stand around ... wet midsoles make for an unhappy camper. Moral? Listen for a tell-tale squeaking or hissing when you step from one foot to the other... My new pair are fine.
One concern? The boots are cambrelle-lined and wick well, but the insoles are cotton-frock covered...! Someone wasn't thinking there! It takes almost 2 hours to dry out the insoles.... hmmmmmmmmmmmmmmmm. Outdoor Rec Rules
Materials: Leather
Use: Off-trail, Med. and w/o pack
Break-in Period: very minimal, perhaps one week tops
Weight: ?
Price Paid: $286 (CDN)

Version reviewed: Classic
These boots suck. I have had them for five years and put maybe 14 days on them. The leather is too soft--better suited for women's gloves. The sole is too tame--I get better traction from my Smartwools. I feel like I am lacing burritos on my feet every time I put these "boots" on. Marketing is everything for this company, and I fell for it. Not next time. Looking to purchase Tecnica Vetta II or Garmont Rebel or Vasque Apex.
I currently have a pair of Sundowners and have never had them resoled (boots are seven years old). I use SnowSeal every year and these boots are perfect! Not high enough for rough off-trail hiking with a pack, but good for anything less than that. Montrail now owns OneSport and they have no cust. svc.
Stay away from the Moraine/Moraine AT. They are CRAP!!
Materials: crappy leather
Use: supposed to be rough/off-trail
Break-in Period: about two minutes
Weight: (?)
Price Paid: $210

First of all, these are the older One Sport boots, which I LOVED DEARLY, until the last hike when the sole (last and all) decided to separate from the upper! These boots have been my best friend on countless trails for years with ZERO blisters. 25 miles of High Sierras right out of the box.
Now I'm heart broken. My best friend may have to retire if I can't find someone to rebuild the bottoms. I think the ozone ate away the heel cups as the sole is still attached to it. Most everything I've read says the newer ones aren't as good. Better to stick with a sewn welt for serious hikes or suffer the same fate—at least I was only miles from my truck—or carry shoe goo!
End of the love affair!
Price Paid: $129 on sale

My pair of One Sport Moraines were fairly good boots that required about 1 week to break in. I was pleased with them until after a little over 1 year and 500 miles of hiking when the soles of both boots separated from the leather uppers on both toe sections. I returned them to One Sport who claimed that this was normal wear. The complete separation of the sole from the upper on both boots was not caused by normal wear, but by inferior design or manufacturing.
Nevertheless, One Sport refused to honor their warranty and would not give me a new pair or reimburse me for the boots.
I DO NOT RECOMMEND THESE BOOTS OR ONE SPORT!!!
Materials: leather
Use: moderate trail with 40 lb. pack
Break-in Period: 1 week
Weight: 4 lbs.
Price Paid: $200

I have now owned these boots for five years. I have taken "fairly" good care not to destroy them. Two years ago I had them professionally resoled and the soles are solid now (Cost $65, Dave Page Cobbler in Seattle). The uppers have really lost much of their support and look really beat. They're still good for mid weight hikes, but not like they once were. And now that they've gotten soft, I'd say that they're way to heavy for the wimpy support. Having said that, they still work for me, and I bet it will be a few more years of 4 day trips into the Rockies before I look for another boot.
Materials: Leather Hiking Boot
Use: Mid-weight Hiker
Break-in Period: about 2 months
Weight: 3.5lbs
Price Paid: $205 (in 1995)

My Moraines are two years old now, but I have only been able to hike about 300 miles in them. Sooooo I am a little disappointed that the gluing between the soles and uppers has begun to deteriorate already. This has led to water leaking in -- slowly -- just where the boot creases on the inner side if the boot next to the ball of my foot. The boots have always been well-maintained /cleaned. Not a huge deal for an otherwise very comfortable, tough boot -- but hard to swallow for the bucks involved! I hate having to wonder if they will leak or de-sole in mid-hike on me now...
Materials: Leather with glued Vibram sole
Use: Rough trail
Break-in Period: ~25-30 miles
Weight: 3.5 lbs
Price Paid: $180

At first i liked this boot a lot. It fit well, was tough, and waterproof. Recently they've become unwaterproof. I put three coats of Nikwax on and the darn things still get soaked. I, unlike some others, haven't had the delamination problems. They do give tons of support, and I appreciate their overall toughness. I think since Montrail has taken over they have fixed the delamination problems. Now I think it is an excellent boot, but two minor problems remain (for me anyway); they are pretty heavy, and they tread isn't very deep. Other than that, i'd say the new Montrail ones are very good. Try 'em on though.
Materials: leather
Use: any
Break-in Period: 1-2 short hikes
Weight: 3 lbs 4 oz.
Price Paid: $200

I have had these boots for about a year and a half and they are already starting to fall apart. The uppers have begun to seperate from sole. Because of this they leak at the bottom. The glue the used is crap and it dosen't hold the leather to the soles. When I first got them the where great but after a little while their quality rapidly goes down. The uppers also broke down after a relitively short time and they are not to supportive any more. I think I am either going to get a new pair of LaSportivas or Garmonts
Materials: Leather
Use: Rough/Off trail w/ heavy pack
Break-in Period: ??
Price Paid: $205

I am very disapointed with the performance of these boots.
The leather was growing mold after three days of trekking and rivers crossing in the Malaysia tropical rain forest. After six days the sole is falling out. There was no ill-treatment to the boot except I was walking in the water all the time with 55 lbs load. No drying near camp fire or under the sun either. Few weeks later I brough it out for a day trip and discovered that the sole material is also disintegrating. The metal boot lace eyelets is now completely rusted. What a disappointment for a $180 boots.
Materials: Leather
Use: rough trail w /heavy pack
Break-in Period: < 1 week
Weight: 3 ib?
Price Paid: $180

PROS:
Fits almost everyone -- roomy foot, snug heel.
Absolute best cushy midsole I've seen.
Easy to sell at the outdoor shop I work at since Backpacker magazine loves them.
CONS:
Not as waterproof as Backpacker would have you believe.
Takes forever to dry.
Clunky and awkward in broken terrain.
Toe gusset breaks in to press down on the top of your toes. BIG PROBLEM.
Collapse under many strap-on crampons. (Softer upper than it looks.)
Yes, the warranty folks at One Sport are not the most generous on the planet. They're good folks, though.
Materials: leather
Use: mid-heavy backpacking
Break-in Period: 30 wet miles
Weight: 4 lbs on a scale
Price Paid: $200

The One Sport Moraine is an extremely comfortable boot. I own a paire of the moraine classics and have hiked the entire Adirondack 46 with them. The quality of the soles could be improved. The lamanation has come apart several times. I temperarily fix them often with boot glue but it comes apart after a few trips. I think that the comfort of the boot helps make up for the quality. You can hike 18 miles in these boots and look forward to wearing them the next day.
Materials: Leather
Use: Heavy backpacking
Break-in Period: Month
Price Paid: $220

I have used these boots for about 4 years. They have performed well. I hike on trail and off trail usually with a moderate to heavy pack. Since I live in Southern Oregon, the boots get wet alot. They started to leak and I found that they were beginning to come un-glued. I sent them back to One Sport (now Montrail). They arrived back in about three weeks. The company had sent them to a cobbler who re-glued the boots. They seem to be fine now.
Materials: Leather
Use: Rough Trail
Break-in Period: Not much
Weight: 3.5 pounds
Price Paid: $180

i had written earlier about problems with my boots in the Grand Canyon. well, i finally contacted montrail (the new one sport people) and they were quite accomodating. they couldn't replace the old boots due to their age, but offered to fix them or give me a deal on some new ones. i opted for new boots after considering the improvements. the montrail moraine ATs are much stiffer, more compact and better fitting.
Materials: leather
Use: rough trails w/wout pack
Break-in Period: not long
Price Paid: $180

Since so many people have written about how lousy their moraines are, on this page, I felt it was necessary to set the record straight. The One Sport Moraine is the best boot you can buy, end of story. I have done some extensive extended trips in mine, and they have help up remarkably. Everyone I've ever met with a pair lauds them to the stars. They are truly remarkable boots.
Materials: Leather
Use: rough trails
Break-in Period: 1-2 weeks
Weight: 3.5lbs
Price Paid: $195

This is the boot that put One Sport on the map. I purchased these boots because in the store, they were the most comfortable. On the trail, they have performed above expectation. They required no break-in period whatsoever, and even though they are technically only a 3-season boot, they served me well on a 3-day winter snowshoeing expedition. I highly recommend these boots.
Materials: Full Grain Leather
Use: Rough Trail, Mid-weight to Heavy Pack
Break-in Period: None
Weight: Approx. 4 lb.
Price Paid: $180

I have had nothing but trouble with these boots! I've worn them about 60 miles on about 3 trips over varying terrain. They have given me blisters on both heels every time! I have taken them back to where I purchased them, and they said that they have returned many of what they have sold to the manufacturer.
Materials: Leather
Use: rough trail
Break-in Period: ?
Weight: ?
Price Paid: $180

I bought the Morraines three years ago and still wear them almost every day. They have been the most comfortable and longest wearing boot I have ever owned. The sole has just started to pull away from the uppers--I wish I could get another three years out of them.
Materials: leather
Use: camping,hikking
Break-in Period: 5 minutes
Weight: 3-ish
Price Paid: $180

Your Review
You May Like
Specs
Men's
Price
Reviewers Paid: $129.00-$340.00

Recently on Trailspace