Specs
Price
MSRP: $49.00
Historic Range: $49.00

Reviews
1

review

5-star:

0

4-star:

1

3-star:

0

2-star:

0

1-star:

0
A folding knife option for outdoors folks who want some of the efficiency of a larger, fixed blade knife in a folding package with hook blade, fire starter, and emergency whistle thrown in for good measure.
Pros
Sharp, quality knife from reputable maker
Materials used minimize maintenance in the field
Excellent value for multiple tools in a single package
Great cutting and fire-making option
Cons
Size may be awkward for some (esp. those with small hands)
Knife handle may irritate hand during prolonged use
Rubber handle grew a bit slick when wet
FEATURES & OPERATION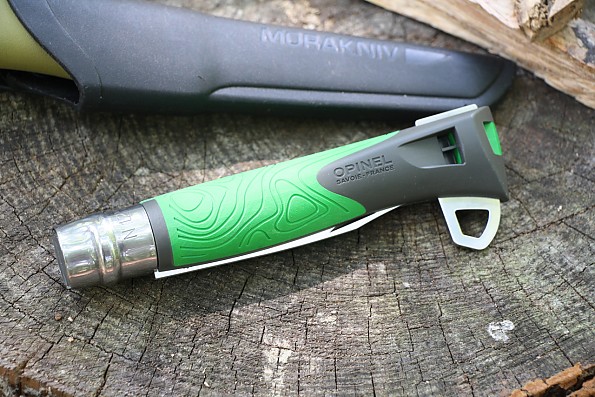 According to Opinel's literature on its new offering, the No. 12 Explore is a knife intended for "outdoor enthusiasts" for use during activities such as "camping & hiking, hunting, fishing," and "exploration." Elsewhere Opinel labels it as being suitable for bushcraft, which makes sense as its dimensions roughly accord with the general recommendations of fixed blade bushcraft knives. The larger blade size of the Opinel No. 12 Explore allows one to work more efficiently when undertaking certain tasks, territory often occupied by similarly sized fixed blade knives such as the Mora Companion.
Available in green or orange, the knife, which weighs 5.5 oz/156 g and measures 6 in/16 cm closed (10 in/26 cm when open), features a 4 in/10 cm modified Sandvik 12C27 stainless steel blade with a gently sloping clip point tip.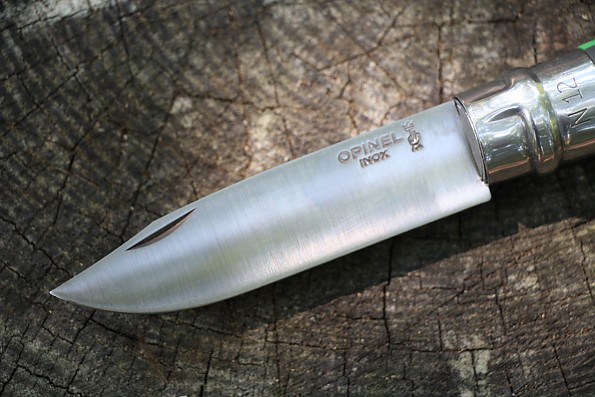 The stainless steel is a practical, low-maintenance choice for a knife intended for outdoor use, and Sandvik 12C27 is a reputable steel known as a very pure alloy. A fingernail groove facilitates opening the blade, which features a full flat grind, tapering from the spine all the way to the cutting edge. It came razor sharp out of the package.
The knife features Opinel's familiar Virobloc, a double safety ring that--when rotated with knife open or closed--either locks the blade open or secures the blade in closed position. In the first image below, the Virobloc is unlocked to permit the blade being opened; in the second image, it is locked to prevent the blade from being opened.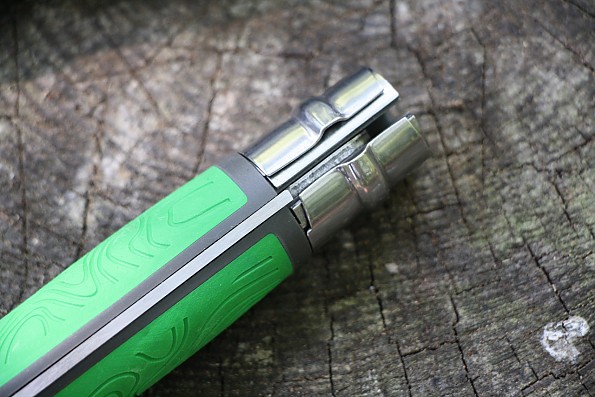 What separates the No. 12 Explore from other Opinel knives are the remaining features: a fiberglass-reinforced polyamide handle (replacing the beechwood commonly seen on many Opinels) covered with textured, soft rubber for superior grip; a 110 dB pealess whistle in the end of the knife; a hook blade (gut hook) that slides out of the handle, and a fire starter (a ferrocerium rod) that locks into the end of the knife.
The fire starter functions as a switch, too: when pressed upwards, the fire starter releases the hook blade, allowing the hook blade to emerge from one side of the knife (first image, below) or--when slid in the opposite direction--allowing a lanyard loop to emerge from the other side (second image, below); these are just different ends of the same piece of metal.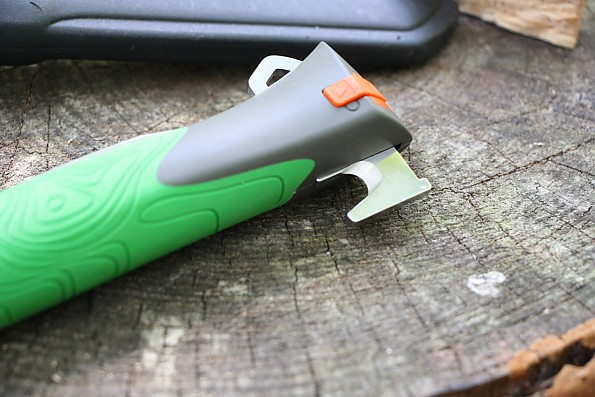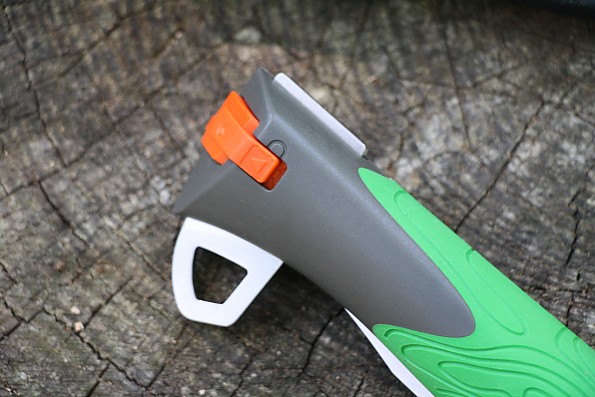 To remove the fire starter, one centers the lanyard loop/hook blade in the middle of the handle, which releases the fire starter. To reverse this process, one pushes the fire starter back into handle, then slides the lanyard loop/hook blade left or right before pushing the fire starter the rest of the way into the handle. This locks this blade in either lanyard loop or hook blade position, depending on one's preference.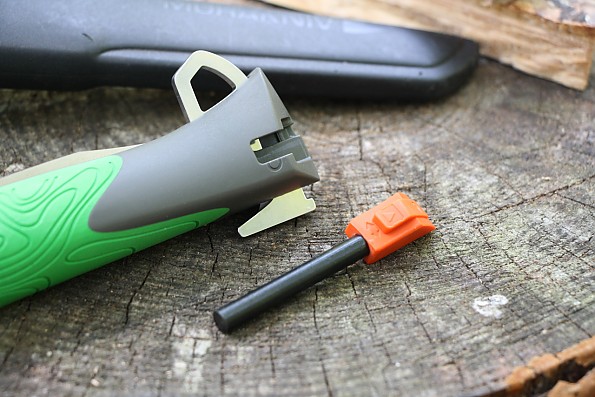 When being transported, the fire starter secures the hook blade within the handle, just as the Virobloc locks the knife blade securely in closed position.
The quality of materials is good. The knife has a pleasing heft and a satisfying tightness of moving parts out of the box, suggesting precise tolerances of manufacturing. These yield with use to become more easy to move, but there is no disconcerting looseness such as what one may find with more cheaply made knives.
All told, the features of this knife at its approximately USD $50 price point make it worthy of consideration.
TESTING & OBSERVATIONS
I carried the No. 12 Explore with me for two months, carrying it both at home and around town as well as on trips into the wilderness. I used it whenever a suitable opportunity arose--to cut, carve, and shape materials, to process food, and to start fires. I even experimented a little with using it to split wood with a baton. I used it in dry conditions as well as in wet conditions.
Main Blade
The main blade of the No. 12 Explore excels at most cutting tasks. A handful of cuts sharpened sticks into stakes. A few quick cuts notched stakes to receive cords. Limbing green branches for S'mores sticks was smooth and rapid. The handle is oversized with plenty of room between the Virobloc and the lanyard loop to allow my large-sized hand to grip the knife securely. Because it fills the hand, significant pressure can be applied when cutting using a forehand grip, certainly more so than with smaller folding knives.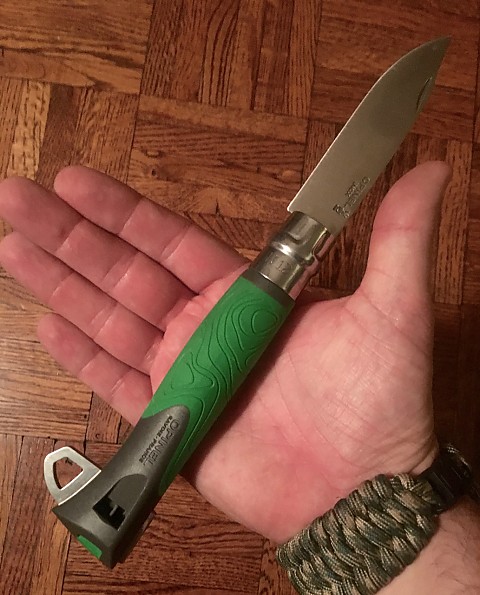 The flat-ground blade slices cleanly and effortlessly through green wood and shaves thick curls or chunks from dried wood. The large grip encourages controlled cuts during operations such as notching while the sizable handle offers a surprising amount of leverage for a folding knife. 
To test the knife as a potential hunting tool, I used it to trim and dice chicken breasts for dinner one night. The knife moved cleanly through the raw meat, slicing it into pieces without effort. The curved belly of the blade under the point forced me to pull up on the handle of the knife to finish cuts, unlike the continuous flat edge of a chef's knife, but this is not a defect of the No. 12 Explore; it is simply a feature of this particular blade shape. The bottom line is that it trimmed and processed meat easily.
I experimented cautiously with batonning wood, using a wooden baton to tap the knife through thin kindling to split it. This is a common use of bushcraft knives, but one not recommended with folding knives. The Virobloc held the knife open as I batonned it, but it slipped a bit with each blow. Retightening it, I finished batonning a few pieces of 1.5 in/ 3.8 cm willow successfully. The No. 12 Explore could be used for this in an emergency (if getting to the dry center of the wood were essential for emergency fire-building, for instance), but this action was clearly beyond the intended use of the knife (see video, below).
Hook Blade (Gut Hook)
I did not wish to kill an animal simply to test the gut hook, so instead I used the gut hook as one might use a similarly shaped a seat belt cutter to cut 550 paracord. The hook cut through this durable cord fairly cleanly, but it was also clear that this blade is not as sharp as the main blade. I would imagine, though, that it would be fine for opening animal skins. The hook has no sharp edges other than the protected blade, so it could be controlled easily to avoid damaging underlying tissue while slicing open animal skin.
Lanyard Loop
There isn't much to be said of the lanyard loop: it is sufficiently large enough to accommodate a paracord lanyard or perhaps even a mini-carabiner to clip the knife onto the outside of a bag. However, because the lanyard loop disappears inside the handle when the hook blade is deployed, any lanyard or connection device must be removed prior to this operation.
This isn't really an issue: I found myself opening the gut hook only for testing purposes. Presumably, one might use it as a gut hook in the field, but for most other operations, the lanyard could remain in place. The lanyard loop is large enough to accommodate a paracord lanyard while the fire starter is being removed, a nice feature since I found myself more often using the fire starter than the hook blade.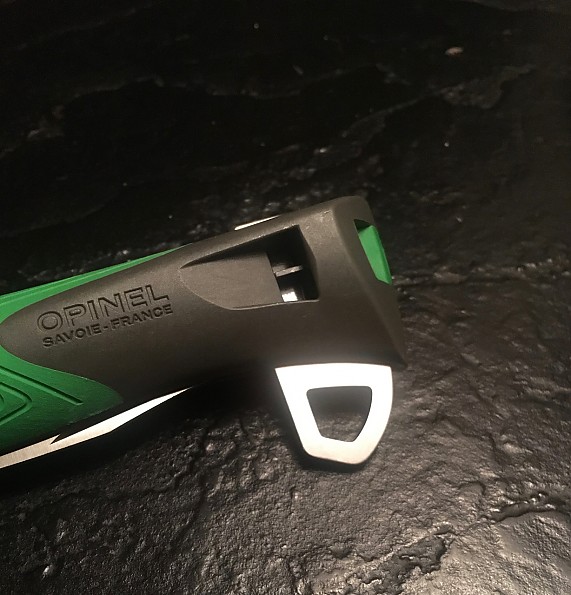 Fire Starter
I was skeptical of the fire starter at first. When removed from the knife's handle for use, it measures just 2.75 in/7 cm in length. My skepticism arose from wondering if the tool was long enough to permit me a solid grip when trying to start a fire. The open and locked spine of the knife blade provides the striking tool. The spine is beveled to 90˚ to send sparks flying from the ferrocerium rod or to function as a scraper. I found that it worked well to scrape the outer bark off of branches before carving.
In practice, the little ferrocerium rod worked well. I started many fires with it, even using it at times to start my gas grill at home when my igniter died. It readily ignites such tinders as fatwood scrapings, petroleum-jelly-soaked cotton balls, and fine wood curls. The fire starter throws a nice shower of sparks, but that also means that the knife spine chews up the rod fairly quickly. I assume Opinel does produce or will produce replacement fire starters for this knife; otherwise, this will be a long-term limitation of the knife's utility.
One might wonder if there is risk of the fire starter falling out of the knife. Seemingly no. I certainly had no issues with it. Because the fire starter works in conjunction with the lanyard loop/hook blade, it snaps into place. Releasing it requires simultaneous movement of the lanyard loop/hook blade and the movement of the fire starter, and this need for simultaneous motions works to preserve both blade and fire starter. Kudos to Opinel for simple, clever, functional design.
Note: A fellow Review Corps member (KiwiKlimber) asked me how the fire starter would work with heavy gloves on. While I am confident the simple operation would allow one to release the fire starter with gloves on, managing the relatively small fire steel might prove tricky as the gloves might "swallow" the length of the rod in their bulk. I would not rely on this as my only means of fire starting if conditions forced me to wear gloves continuously. Certainly, if one could remove bulky gloves for long enough to start a fire, one would be fine, but I'd favor a larger (probably separate) fire steel for greater ease of handling if forced to keep bulky gloves on. That said, once the blade of the knife is deployed, the oversized handle would be a boon for a glove-wearing user, providing ample handle length to accommodate a large hand sheathed in a bulky glove. Gloved use of this knife, then, has pros and cons.
Whistle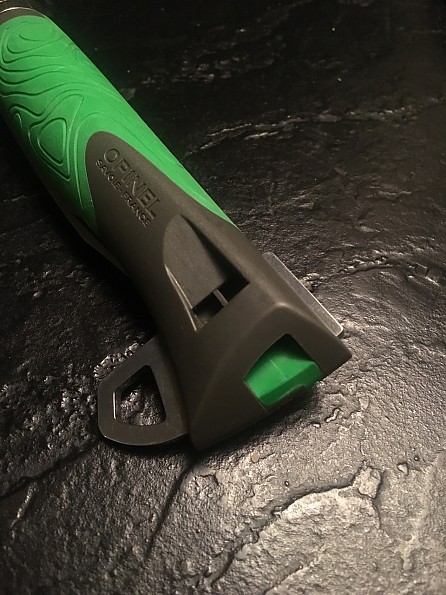 The whistle included in the end of the knife is a nice feature. Because it is pealess and made of weather-resistant materials, it will function in a wide range of temperatures without jamming (as a whistle with a pea might) or breaking. It also cannot be overblown.
Finally, because it is part of a sizable knife, it is less likely to be lost than a standalone whistle might be. The whistle works easily and loudly. An app on my phone (Decibel 10th) measured the volume. Opinel rates it at 110 dB; my reading was 101 dB. For perspective, normal conversation is about 60-70 dB. The bottom line is that the note of the whistle is clearly audible and loud, quite capable of securing attention.
Drawbacks
There are relatively few drawbacks to this knife. While cutting is largely smooth and easy owing to the knife grind and sharp edge, I did notice that the groove that houses the blade when folded became a source of minor discomfort as my hand shifted location on the grip due to use. I did not experience blistering, but I could readily see this being a possibility during really extended use.
This textured rubber grip, cleverly patterned to resemble mountain contour lines, offers good stability for cutting operations. I did notice that when the rubber becomes wet, it can become a bit slick, a drawback. I never experienced loss of control under these circumstances, but I noticed my own heightened awareness of this factor and was accordingly more careful during wet-handle use.
Finally, there is one drawback that will affect only some users: if you employ a chest-lever grip, your palm or even wrist will likely close on the projecting lanyard loop at the end of the knife, preventing you from exerting full force on this power stroke cutting technique.
CONCLUSIONS
I was intrigued by this offering because it seemed a departure from the elegant simplicity of quality knives for which Opinel has been known since 1890. One of my favorite knives is my Opinel No. 8, which has a single blade and a plain beechwood handle. Would the No. 12 Explore, which seemed to be an ambitious departure from Opinel's familiar and well-loved norm, succeed as a multifunction option?
I'm happy to report that it does. The key is that Opinel has not overly designed the knife: it retains the familiar Virobloc lock and blade, but adds usable features that function with similar simplicity. It is made of quality materials, and these materials have been designed for outdoor use. This is something Opinel has done before in its Outdoors series of knives, but here they come into their own by being mated to very functional additional features.
The considerable size generally works in favor of the knife, though it is much larger than your average pocket knife. The large handle provides leverage and control when in use, but it also means that this is not a low-profile option for pocket carry. I much preferred having it attached to a daypack or bag, though I did carry it in my pocket, too.
The blade is of a useful size, composed of an excellent steel, and it comes very sharp. It requires minimal maintenance to maintain or to return to a sharp condition if dulled somewhat by use (stropping does wonders). The gut hook will appeal to some users, who will find it useful; the fire starter likely to attract more frequent use. The whistle is a comforting and useful safety option the presence of which means one less thing to carry on one's person--it minimizes exertion (breath) while maximizing impact (volume).
No, the No. 12 Explore will not do all of the hard work of a similarly sized fixed blade, but that isn't its purpose. What it does offer is a unique all-in-one package of well-conceived, useful tools.
For whom is this knife intended? I have to agree with Opinel's description--it might suit campers, hikers, hunters, fishermen, and explorers seeking a combination of tools in a single package. I could easily see reaching for this for day hikes, hunting trips, or backpacking treks. Indeed, I did: I'm especially partial to it as a one-tool option for fire building or stove lighting, not unlike the Light My Fire Swedish FireKnife (but with more features, albeit at a higher cost).
Overall, the Opinel No. 12 Explore provides a quality product with simple but solid features at a reasonable price.
Source: received for testing via the Trailspace Review Corps (Sample provided by Opinel for testing and review)

You May Like
Recently on Trailspace