Opinel No. 8 Folding Knife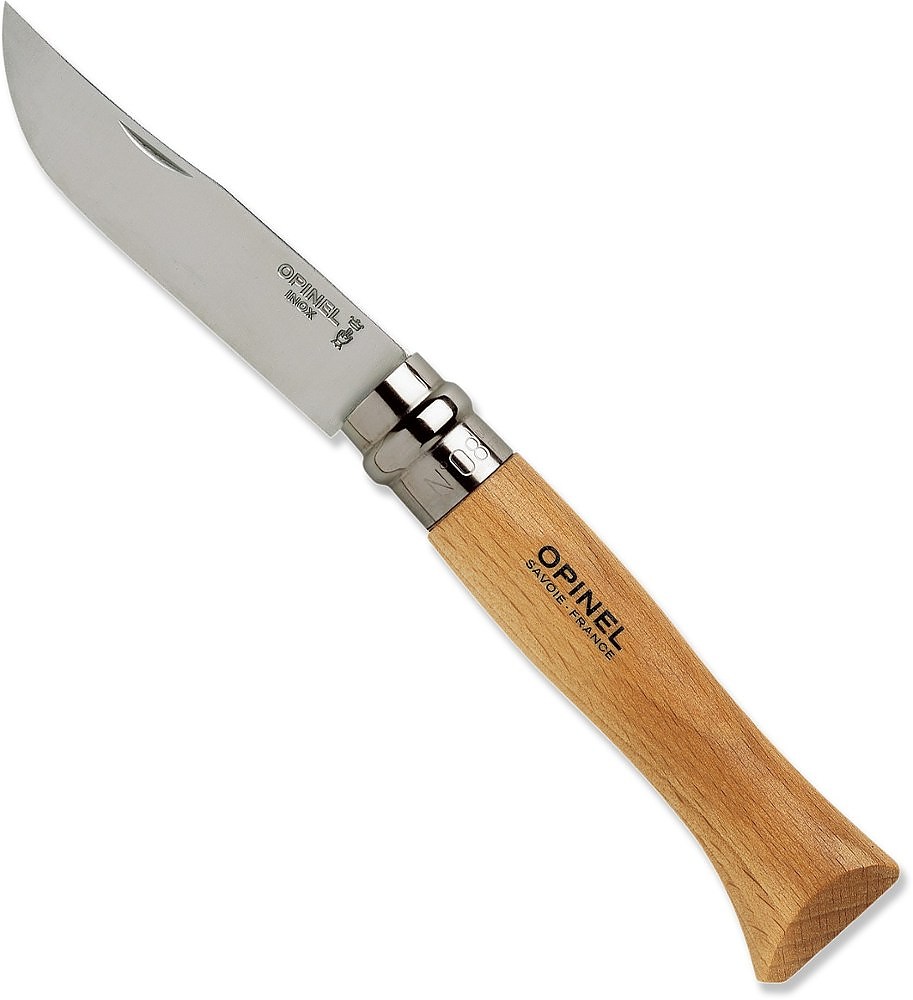 In the 1980s, Opinel folding knives were a camping store fad in North America, and I fell for them hook line and sinker. Since then, I've always had at least one. While Opinel's U.S. distribution has been spotty through the years, Coghlan's, the Canadian supplier of small camping gear has offered them, blister packed on their familiar green cardboard.
Opinels, whether sold by Opinel or Coghlan's, are inexpensive workhorses and because they don't cost a mint, if your knife gets lost or beat up, it's not the end of the world. But the main reason I like them are: 1) they're made from uncommonly good steel and take a great edge, and 2) they're pretty -- not menacing like the "tactical" knives you see in stores now.
The basic single blade knife is available in many sizes from key-ring version to large enough to carve a turkey. They're made differently than standard folding knives in that there is no spring to snap the blade open and closed. The blade flops around, but has a rotating lock that holds the blade firmly open for use, or closed for storage. 
Not having a spring takes a little getting used to, but you won't miss it for long, as the blade's lock ring is really slick. The handle is made from a single piece of hardwood with a groove cut down the center to store the blade. 
Most Opinel handles are varnished beechwood, but more decorative variations are painted, or made using exotic wood, such as olive, walnut or bubinga. Some Opinels have a loop of cord or leather lace to hang off a belt loop or lanyard, but most do not. Sorry, no thumb stud. It generally takes two hands to open this knife, so it would be a poor choice for a one-armed camper.  All other users should be able to open this knife with little difficulty.
The number 8 is sized about right for an adult, my kids have the smaller number 7s. Models are available with blades made of stainless steel (marked INOX), or carbon steel. The carbon steel blades hold an edge better than stainless blades and are easier to sharpen. The carbon blades, however, will rust if not dried immediately after getting wet. 
Either blade holds an edge much better than a Swiss Army knife. Some tactical knives may use fancier alloys that hold an edge better than an Opinel, but I bet you can't buy them for $12 (the cost of a typical Opinel).
Knife collectors love to hate Opinels and make a lot of noise on the internet about their many perceived faults. This snobbery is nothing unique: if you ride a $4,000 bicycle, you're probably too cool for someone who rides a $1,200 bicycle. If you have a gold trimmed Mont Blanc pen in your shirt pocket, you probably hate Bic ballpoints. 
It's the same with knife collectors. Opinels are cheap and utilitarian, so the guys who treat their knives like jewelry don't see much to like. This is not your problem. Used sensibly, an Opinel will serve you well for a long time.
In the United States, you can find Opinels in some camping stores packaged and sold by Coghlans.  Otherwise, go to Amazon or www.opiknife.com. I have no connection to Opinel, Coghlans, or their dealers. I just like the knives.
Have fun!
Price Paid: $12

Version reviewed: carbon
All around a great knife, simple and nice to look at.
Pros
High carbon blade is easily sharpened
Simple design
Low price
Cons
Blade requires oil to prevent rust
The knife is easy to open—not as easy as some, it does require two hands. Its simple design is what makes this knife so appealing and nice to look at, it has a very pretty real wooden handle and is simple to unlock and lock with a collar that turns to lock the blade open or closed. 
These famous peasant knives from France have a single high-carbon steel blade that folds into a hardwood handle (Beechwood I think). Being a high carbon blade it holds its edge longer and is easier to sharpen but requires maintenance.
The blade does require oil or it will rust, so make sure to dry the blade after each use and if it's humid outside always keep it oiled with food grade mineral oil. This knife is a great utility knife. It's pretty good at everything and it's a total workhorse.
The best part is the price, I paid $20 Canadian (around $12 U.S.) from a store in Toronto called Lee Valley Tools (they ship to the States). The price is the bonus. You don't have to worry about losing or breaking the knife. It would still be a great knife at double the cost.
Source: bought it new
Price Paid: $20 Canadian

Version reviewed: stainless steel
Great knife. Super sharp and affordable.
Pros
Sharp blade out of the box
High quality
Simple design
Sharp spine
Cons
Wood handle swells with moisture
I have the stainless version of the Opinel no.8. I have since acquired other knives better suited for tougher tasks, but this stays in my pack. The knife was very sharp out of the box, and after sharpening it for the first time it retained a shaving-sharp edge.
I mostly use this for food prep nowadays, but it could very well be used as an all-around knife. The spine of the blade has a sharp grind, which is great for striking ferro rods. Stainless steel isn't great for this, but it still works, and the carbon steel version should be great for starting fires.
I try to focus my reviews on functionality, but you can't talk about this knife without mentioning its looks. It's absolutely beautiful. I'm a product designer and ocassionally carry this around the shop, and other designers always fall in love with it. People find it hard to believe it's so cheap, too.
Highly recommended piece of gear. If you like knives, you need to have an Opinel in your collection.
Source: bought it new
Price Paid: $18 USD

It's also an historical knife and the type dates back to at least the Civil War. I've used mine for Civil War and 1916 Punitive Expedition living history.
Pros
As stated by other reviewers
Cons
None that I can think of.
It's a good knife to have and I also carry one in my ground-pounder search and rescue pack.
Source: bought it new
Price Paid: $8 in the 1980s

Pretty hard to beat for backpacking.
Pros
Very light
Very sharp
Very easy to sharpen
These are famous for a reason. Sharp, cheap, very light, locks well, long enough to get to the bottom of a peanut butter jar. Just let it darken but scrape off any obvious rust. 
Note: this is not some Finnish survival fixed blade. It's a lightweight backpacker's knife. Doesn't mean you can't skin a deer with it, but be realistic.
Experience
It's been my backpacking knife since the '80s.
Source: bought it new
Price Paid: 6 for my first one I think. 14 for the current?

Your Review
Where to Buy
Help support this site by making your next gear purchase through one of the links above. Click a link, buy what you need, and the seller will contribute a portion of the purchase price to support Trailspace's independent gear reviews.
You May Like
Specs
Price
Current Retail: $10.00-$19.00
Historic Range: $10.00-$149.95
Reviewers Paid: $12.00-$18.00

Recently on Trailspace