Opinel No. 9 Folding Knife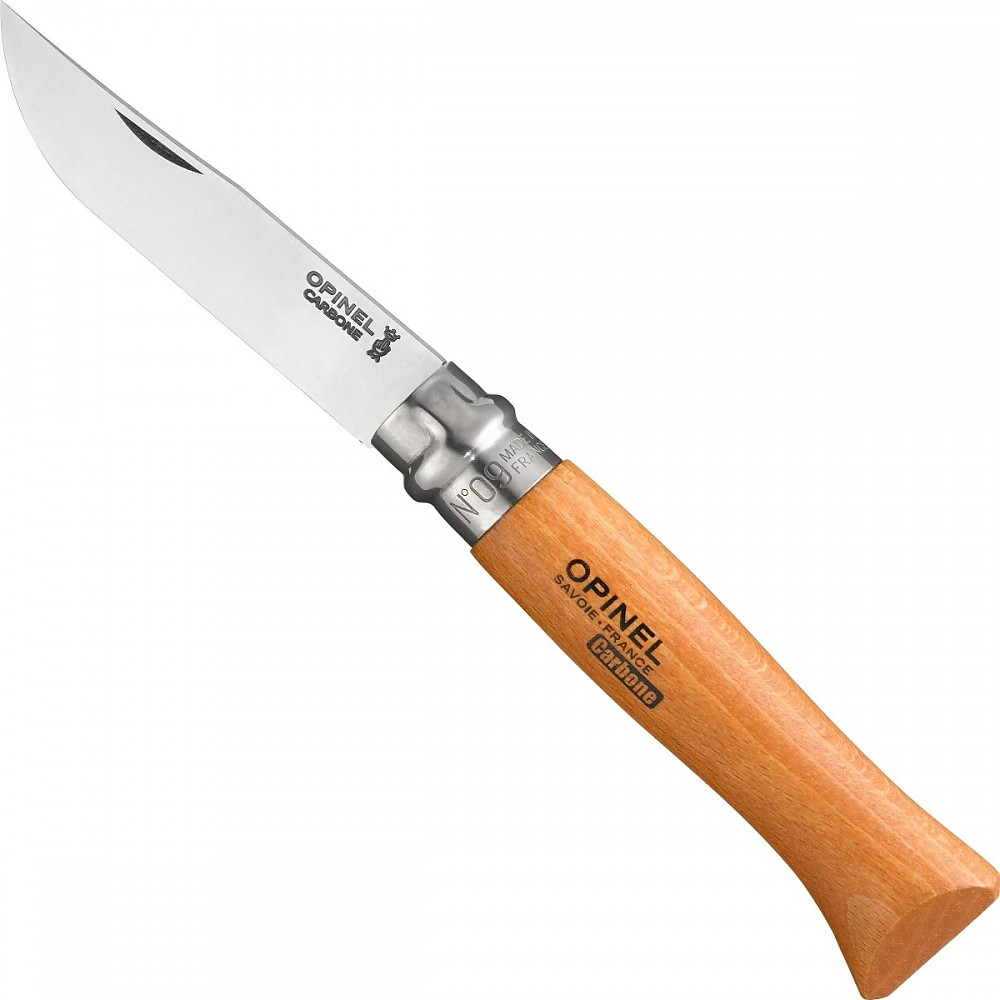 Version reviewed: carbon
The Opinel No. 9 is a highly utilitarian, customizable knife that is perfect for the camper, hiker, hunter, backwoods cook, and farmer alike.
Pros
Inexpensive, high-quality outdoor tool!
Cons
An archaic locking system on an even older folder platform works very well, but is not for the reckless individual.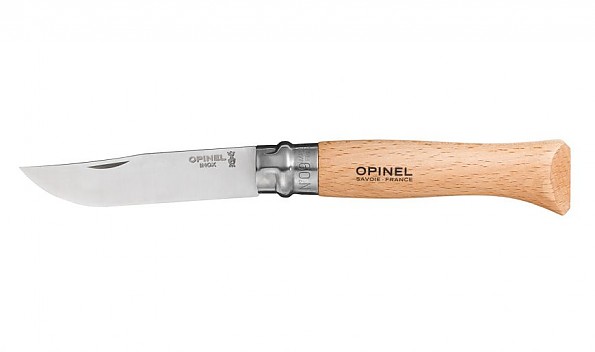 Opinel has been making the same pocket knives with very few changes since 1890. It is a testament to the design that it has not only been around that long, but is one of the most popular knives in the world. The No. 8 is the most popular, but I am a fan of the No. 9 because that extra centimeter in the blade and the handle make it ideal for a man's hands.
The Opinel No. 9 comes in two different steel options: Inox (stainless) and Carbone (carbon). Personally, I prefer non-stainless, high-carbon steels in a knife because of the greater utilitarian properties and they aren't so brittle as stainless blades are. However, I do realize that I am in the minority.
The Carbone blade is made from XC90 steel. It is a French steel that averages about 0.86% carbon. It is similar in characteristics to 1085. This is a steel that has decent wear resistance, is easily sharpenable, not brittle, and is quite flexible. The carbon content is high enough that sparks can be produced when striking the spine with flint or quartz. On the flip side, it won't hold an edge like its stainless counterpart and will easily tarnish when coming in contact with moisture or acidic foods. 


The No. 9 is a little too big for comfortable pocket carry for me, but it rides easily on a backpack belt in the leather sheath that I made for it.
The blade profile is one of the strongest contributions to the knife's usefulness. Its official blade profile is of Turkish origin, called yataghan. This is a kind of a bolo-type shape, but is very slight; it seems more like just a straight profile to me. It has a hollow grind and is sharp enough for general use right out of the box.
Unlike many contemporary outdoor or "survival" knives are like these days, the blade is quite thin. This thin blade makes the blade quite flexible, especially with the carbon steel. The blade is flexible enough to fillet a fish or thinly slice tomatoes, yet durable enough to carve feather sticks for a fire.

The sharp, thin blade on the Opinel will shave feather sticks like a champ. Notice the patina on the blade. I stuck it in an orange overnight to etch a pattern on the blade. 
The 90° spine makes good use of the back of the blade. This sharp spine is great for peeling vegetables, creating tinder by scraping wood, and will strike a ferro rod like the great god Zeus throwing a thunderbolt.
The locking mechanism is archaic, but solid as can be. Unlike modern locking mechanisms on knives, it does not lock automatically. If you forget to turn the lock there's a good chance that you will cut your own fingers if you are holding the knife wrong. Alternatively, the lock can lock the blade closed and kind of piss you off if you forget it's locked closed when you go to open it.
The handle comes in different wood varieties, but the most common is beech. The handle is warm, natural, and sustainable. The wood handle also makes it customizable. All my Opinel knives spend an hour with me in the garage with a file, some sandpaper, and some oil and wax for a custom fit to my hand. Beautiful!
Combine all of these wonderful features with a price tag under $18 US delivered to your door and it becomes not only a great knife, but it becomes a knife that you can try without making your wallet cry too hard.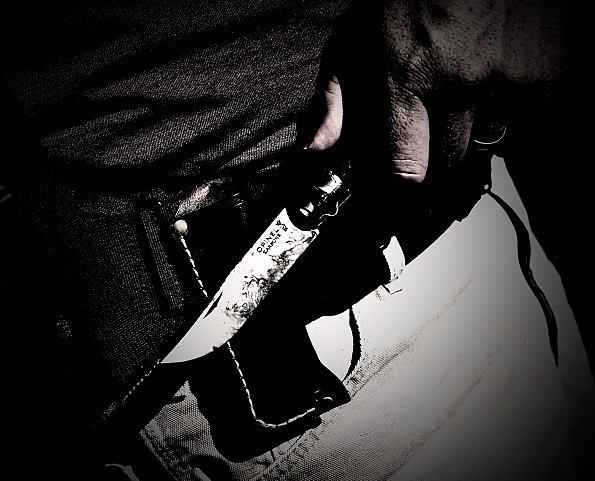 Experience
I have owned this knife for three years. I have used it on the trail, camping, hunting, and around the yard and home. I have carried and used numerous knives of all shapes and sizes. The Opinel No. 9, along with any new knife that I get, I use it for at least a year on a regular basis in order to get a really good idea of its strengths and weaknesses.
Source: bought it new
Price Paid: $8 on sale. $18 normally.

Version reviewed: Stainless Steel
The proven simple and dependable design for over 100+ years.
Pros
Extremely light
Very sharp
Simple straightforward design
Cons
Handle and the pivoting joint are both wood and susceptible to shrinkage and expansion
No pouch or sheath
I purchased the #9 model from its indigenous country, France, during a conference meeting I was attending. I have known the knife for some time and wanted to add one into my gear arsenal. The sizes vary from ridiculously small to unnecessarily large. I picked the #9, a little bit larger than the popular #7 or #8.
The first thing noticeable is the fact that it is light, almost feather-like. For those of you minimalist guys, I can definitely suggest this one for the job. The manufacturer offer many of the sizes in both stainless steel, aka inox on the blade, and carbon steel. Carbon is the one produced for a long time. They have then added the stainless steel blade, as well.
Stainless is the one I prefer, but I know lots of people specifically select the carbon due to fact that after using the blade every now and then, the blade, because of the high carbon content inside, starts blackening, giving the knife a character. Well not me, I like everything shiny. I just do not know what kind of steel they use, but there is one thing for sure, that it is sharp, sharp enough to shave a good strip of hair from your arm, right out of the box.
The blade is opened using both hands, it is one 16th of an inch thick, the point is very needle like. Right where the pivoting occurs, when the blade is straightened, there is a rotating jacket, locking the blade both while open and close.
I watched some reviews on Youtube before buying. They were saying there is no other knife on the planet which can beat this one on cost/performance effectiveness. I do not know about that one, but if what you are after is a no-frills, simple knife which can do the primitive to moderate knife work, this might be it. I just liked it.       
Source: bought it new
Price Paid: $10

Version reviewed: carbon
Size matters. A hand-sized handle with a longer blade to retain its edge with usage.
Pros
Razor sharp
Very easy to sharpen
A sharp square spine
Long enough for food prep
Cons
None if you use it within its capabilities
Take care of the carbon or it will rust
Been using a #8 stainless steel and a #7 carbon for well on 40 years. I purchased the #9 carbon because I wanted the bigger handle and the better edge holding of the carbon.
The extra length in the handle and blade makes this a field knife, and I do not need to carry another knife backpacking.
Experience
Been using field knives for a long time.
This knife bumps off my Mora Scandi for backpacking.
Source: bought it new

Your Review
Where to Buy
Help support this site by making your next gear purchase through one of the links above. Click a link, buy what you need, and the seller will contribute a portion of the purchase price to support Trailspace's independent gear reviews.
You May Like
Specs
Price
MSRP: $19.00
Current Retail: $19.00
Historic Range: $15.95-$19.00
Reviewers Paid: $10.00

Weight
2.0 oz

Blade Length
3.51 in

Dimensions
8.18 x 1.25 x 1 in open

Blade Material
XC90 Carbon Steel or 12c27 Stainless

Recently on Trailspace