Optimus No. 00

#6 in Liquid Fuel Stoves
The No. 00 has been discontinued. If you're looking for something new, check out the best liquid fuel stoves for 2023.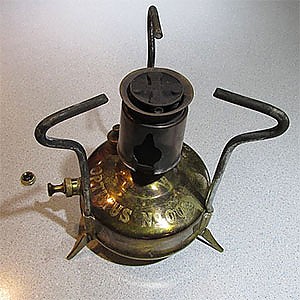 An heirloom product, not a disposable gadget.
Pros
Reliable
Rebuildable
Tough and extremely high quality construction
Cons
Needs to be assembled before use
Heavier than modern alternatives
No built-in wind break
In the 1980s, I was working as an Outdoor Pursuits instructor, introducing English kids to camping, caving, canoeing and climbing...the four Cs. In our somewhat untidy depot, I found a cupboard full of broken Optimus stoves, most of which were 30-40 year-old 00s.  I scavenged through this wreckage and built myself a dented but serviceable stove and found a tin, with a lid still attached.
This stove has been used extensively in the intervening decades in all seasons and all over the UK. It takes a few minutes to put together and a certain basic knack must be acquired to light it. Once this has been achieved, you have a partner to provide refreshment and sustenance before and after your outdoor exertions.
It will boil water quickly, but also cook your eggs without burning. You need to protect it from the wind, with a screen or sheltered setup spot. A simple tinfoil contraption will work as well as anything you might buy.
An 00 is probably a bit bulky and heavy for solo camping, but is ideal for group activities or base camp/ car-based excursions. Mine had a long life before I put it together and has given me a load more memories—all of them positive.  It has never failed to operate, in alpine cold or on a sunny beach. There is little to go wrong and washers/gaskets are cheap.
A wonderful, heritage design and build, which will probably have another hundred years of stories to tell with the barest of maintenance. Highly recommended.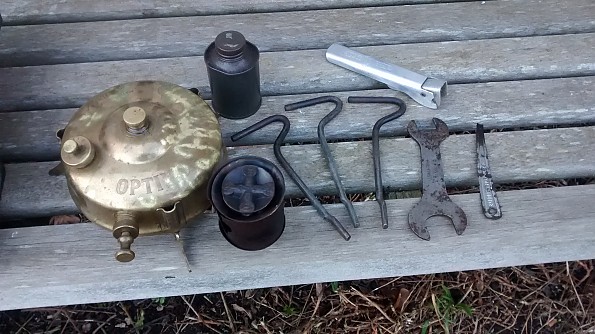 Experience
Owned the model for 39 years. Also own and use an 8R and a Svea and have a half-pint Optimus on my work bench. First started cooking in the wild in 1968, with my local Scout troop. Never stopped.
Source: built from scrap parts.

Built like a tank...indestructible, one burner camp stove yet simple to use.
Kerosine ONLY.......Do not use gasoline.
Tippy if heavy items on cooktop, due to smaller tripod base.
As with most stoves, use on a firm, flat surface.
Pros
Ease of use
Compact
Rugged
Very reliable
Cons
DO NOT USE GASOLINE!
Somewhat tippy due to a smaller tripod base/use on flat surface.
Burn time with filled tank (1 pint....do not overfill) about 2 hours


Purchased this little gem while in the Peace Corps (British Honduras '76-'78) and used it daily for my entire two-year tour. Today, while preparing for our retirement backpack trip, I added fresh kero and primed it with isopropyl alcohol to preheat the burner.....FIRED RIGHT UP after sitting unused after 40 years!!!!! This incredible little one burner brass stove out-cooks most modern stoves. Once fully warmed up and pressurized, it will boil 1 quart of water in 3-4 minutes.
Beware: slightly top heavy if using heavy cookware as tripod base is "smallish"! If you can find one on eBay buy it! Rebuild kits are available but unnecessary. 
I look forward to many more years of trail camping/cooking using this great little workhorse. 
Source: bought it new
Price Paid: In 1976, $35 (US)

Your Review
You May Like
Specs
| | |
| --- | --- |
| Price | Reviewers Paid: $35.00 |
Recently on Trailspace