Optimus Nova+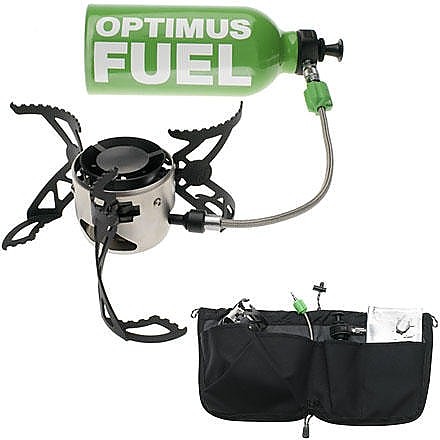 A superb stove, probably the best currently available on the market.
I began serious backpacking in the 1960s using the Optimus SVEA 123 stove. While that was, and is, a very functional piece of equipment, I wanted something that would give me greater efficiency in terms of lighter weight and a controllable flame. In the mid 1970s I discovered the new MSR 9a stove and was hooked by its efficiency, durability and field maintainability. I only retired that original MSR stove in 2005 and it had broken down for the first time then when the original fuel intake hose had finally rotted into pieces.
After initial experience with the MSR 9a I got the complete series of their liquid fueled stoves and was always satisfied with their product until they were initially purchased by REI. Beginning with that time the quality of their stoves considerably declined with manufacturing and design problems showing up in areas such as faulty welds on the body of the stove and plastic pumps that would disassemble while in use or would easily break. I think MSR must have been making more money from selling repair/parts kits than from selling the stoves themselves. A general dissatisfaction with the current list of MSR stove offerings sent me on a search again for another lightweight backpacking stove.
After a somewhat methodical search I decided on the original Optimus (then called Brunton in the US) Nova stove. It had a sturdy metal pump, the stove itself was extremely compact but sturdy, was stable and would hold large/heavy pots, was multifuel, and was field maintainable. I purchased the stove and a field maintenance kit and have since used it something more than 500 days in the field, both summer and winter and from below sea level (Death Valley) to over 9000 feet in the Rocky Mountains. I've always been extremely pleased with its fast/easy startup and excellent performance and have never had to use the field maintenance kit. I was consequently very happy to learn that an improved version, the Nova+, was now available but was somewhat disconcerted to learn from reading a previous review that at least some of the early Nova+ stoves suffered from some quality control issues. Based on my long and happy relationship with the previous version of the Nova stove I decided to buy a Nova+ and test is myself.
I'm delighted to say that whatever quality issues may have afflicted the initial production run of the Nova+ stoves have been completely laid to rest. My Nova+ stove is perfect in form, fit and finish. The pump and stove are still all metal (it's hard to tell from some illustrations because some of the metal is colored black.) The burner cup has a minor redesign which apparently assists preheating during adverse conditions, the filter on the fuel intake line of the pump is much more sturdy, a windscreen is now included with the stove and the hose that connects the fuel bottle with the stove now acts as a fuel control valve (rotate the fuel line to increase/decrease fuel flow) which allows you to securely wrap the stove/pots with the windscreen and still control the stove flame without opening the windscreen and without heating a separate burner control valve which used to be located attached to the stove and therefore inside the windscreen. A maintenance tool and small package of repair parts accompany the stove as well as a 34 page operations and maintenance manual. A 16 ounce fuel bottle and a carrying bag is included as well.
I strongly recommend this stove based on my experiences over 40 years of using backpacking stoves in the field.
Price Paid: $149.95 US

This stove had a pulsing behavior to the flame that we couldn't do anything with on a 70 mile backpacking trip for our whole crew at Philmont (around 8000 ft). It seemed to be worse when the fuel bottle wasn't full.
Luckily we had two stoves, the other one was a MSR Dragonfly which in my opinion worked the best of the two.
I might also add that this stove had only been used once before our trip and the fuel was new!
Price Paid: $159

I can neither recommend this stove, nor completely pan it. However, I must sadly say it was a disappointment relative to my good old SVEA 123. It is compact and fairly well engineered. It is without a doubt, the best stove out there for flame control (i.e. it simmers like no other). H
owever, the manufacturing is a little weak (I bought two stoves, both had manufacturing issues). On both, the stove body was warped from the manufacturing process. Additionally, on both the metal legs did not flushly contact the ground (i.e. the foot of each leg was slightly off angle). It's a beautiful stove, but the manufacturing quality took away from the aesthetics and function.
More importantly, the flame control is VERY sticky. The design would probably be better if they just had the flame control AND valve at the bottle. By twisting the entire tube the stove wants to flop around too much. Better to just have the valve control at the bottle and have a small lag in the flame control. They are so close to building the best stove out there, but just miss the mark on the manufacturing quality and placement of the valve. It's a shame.
I have an Optimus camping stove 35 years old and it still works as new. I still have it. When I bought a newer Coleman stove I tossed it after two years, the thing was dangerous. Now I bought a new more comfortable stove; Optimus again and now in its third year still extremely happy with it.
Pros
Ease of use
Quick to light
Cons
Stopping the flow by turning the bottle often takes too long or just doesn't work, so I just close all the valves, but not too tight!
Regulating the flame is not as precise as with gas because to simmer it would start to smoke.
Needs some maintenance, but is not really a problem.
The pump could have a little better internal design. It sometimes doesn't feel like you're getting pressure in.
I have an Optimus camping stove 35 years old and it still works as new. I still have it. When I bought a newer Coleman stove I tossed it after two years, the thing was dangerous. Now I bought a new more comfortable stove; Optimus again and now in its third year still extremely happy with it. I immediately bought the spare parts kit as well just to be equipped.
Starting it with opening the fuel lines a bit after you pumped the bottle under pressure is very easy and fast, although it smokes somewhat. I have used alcohol, but that is not really hot enough and takes longer. Burning kerosine is the best and cleanest if you can't buy special camp stove fuel, then regular fuel, and last diesel fuel. This will turn all your pots black and I didn't fancy it much, but when I ran out fuel I could use my diesel fuel out of a canister for my car.
I use mine inside a square backing pan or tray to protect against spills, because I use the stove in my small mini camper van, and here in the house—I have no kitchen—I use it on a table so for safety. I am quite comfortable with this apparatus.
It stands solid with even larger pans, although the trick with pans with handles is to have the handle above one of its holders... but the stove is low enough so it does not become top heavy or dangerous.
Optimus now has one that you can use with gas canisters as well, and I would love that one, but then I have to sell this one first.
Source: bought it new
Price Paid: ???

Very easy to use. Very polyvalent. Well built.
Pros
Ease of use
Polyvalent
Sturdy
Very well built product. Will work in all weather. Been using mine for 2 years now. Good cooking surface.
I just wish that the hose could be removable for more convenient storage. It needs regular maintenance. Other than that this product is very close to perfection.
Source: bought it new

This stove is not reliable. It will break after 3 - 4 uses.
My wife is on an 8-week research trip in the Mojave desert with this stove. The pump fell apart after 3 uses leaving her unable to cook food.
I drove 1100 miles to bring a replacement stove to her, and the next AM we started to cook some eggs and the new stove failed. The hose that delivers the fuel was somehow plunged. I was using new fuel and brand new fuel cans.
DO NOT buy this stove. It will fail. Look at MSR stoves. 
Source: bought it new
Price Paid: $150

Optimus Nova Plus
I did a lot of research before I bought this stove.
I have been a Whisperlite International MSR user for years. It was dependable and good and burned everything except water. I needed a stove that could simmer because I like to carry Asian rice to cook on the trail. The research narrowed the choice between the MSR Dragonfly and the Optimus Nova Plus.
I went to the store with the intention to buy the dragonfly, had it in my hand and was on the way to the register. Then I thought, let's take a look at this thing. I went back to the clueless salesperson and asked him to open it up for me. The thing is HUGE. By the time I got it back it the box I was sold on the online only Optimus. The dragonfly is noted for sounding like a freight train and would never fit into my backpack without getting bent.
I was worried about not finding repair parts at the critical moment but went ahead with the Optimus.
It is fantastic. I have used it a few times so far and it has some great features. All metal pump, automatic depressurization system (no gas smell on your hands when you remove the pump) great control on flame intensity, compact, neat looking, and cooks rice without burning. If you compare the detailed specs on with other brands you will see that it can boil as fast as the best and uses less fuel than almost every other stove.
It has one major flaw.
The quick disconnect between the stove and the pump uses an o-ring wears out very quickly. When it wears out you leak gas about 6 inches from the flame and you take your life in your hands. I was shocked to see the grey-blue colored o-ring cut to tatters the first time I used the stove. The minor repair kit that comes with the stove had a second o-ring but that looked tattered after 2 more uses. The extensive maintenance kit also only has one replacement o-ring.
I did some measuring and bought all the o-rings that were similar in size and found that the o-ring made out of Viton in the "-005" size in the right one to fit and work with white gas (naptha). The Viton material is much tougher that the flimsy grey-blue o-ring that comes with the stove. I found an ebay store called oringsandmore , he has a website of the same name that I am not allowed to spell out, who sells fifty of them for less than 2 dollars. Be careful of o-rings at Lowes that are designed to work with water. Even though the stove is made in Sweden the metric sized o-rings that I tried leaked.
With my 49 remaining o-rings in my pack I am all ready to go with what I think is the best backpacking stove on the market that can simmer.
My smartest backpacking tip: Buy the RuffWear Palisade backpacks for your dogs. Take pounds out of your pack and put it on the dogs where it belongs.
I got this stove due to critical acclaim, which, in retrospect, reflected one time use, and not a long term study.

I have had two problems with this stove, both of which I've resolved with the help of Optimus customer service and my own ingenuity.

1) The quick connect feature on the pump side shreds the O-ring on the fuel line side of the quick connect. No matter how careful you are when attaching the pump and fuel line, this will eventually get you before 10 uses. This leads to fuel leakage at the quick connect. I have had two replacement pumps and they all do this. The machining on the pump quick connect valve is just too sharp for the o-ring material, which is exceptionally soft.

I have resolved this issue myself by replacing the o-ring with a more durable one from my local hardware store. It's held up for 10 uses so far, which is 5 more than the oem o-ring before it. Cheap fix, and you don't have to drop the $15 on the official replacement kit.

2) Of the original and replacement stoves, both have a "pulsing" behavior to the flame that I cannot correlate with anything. Most recently I have fully disassembled and thoroughly cleaned the entire product. Upon reassembly the pulsing seems to have disappeared, but I have only used it 5 times since. I imagine this pulsing behavior affects the power output.

Optimus has been very quick in their response and warranty replacements. I complement them on this, though it does indicate that they have some serious QC issues with this product.

This thing has a steep learning curve, and I would characterize it as temperamental. But, after 4 months of playing with it I seem to have gotten it to function consistently. And, yes, it simmers nicely.
Price Paid: $94.50

This is a great stove as far as liquid, multi-fuel stoves go. Let me start by saying I own this stove and the JetBoil cooking system, which is a butane canister stove.
With that said, I think that a stove like the Nova+ is a specialty item. Specifically, it is a stove that is for use in cold weather (below freezing) or high-altitude (and cold) trips.
The stove itself works great: it is reliable, stable, great flame control, and it works with just about any liquid fuel that burns (white gas, kerosene, auto fuel, jet fuel, and diesel oil. So, if you need to cook in the cold, or if you travel into area where canister of isobutane are not available, then by all means get this stove.
If what you need is a stove to work for three-season use, and you can carry enough fuel with you, then I think that a canister stove, such as the JetBoil, is easier to use. As a comparison, I took about 12 minutes to unpack, set up, prime, light, and boil water on the Nova+. I was able to do the same thing with the JetBoil in about 4 minutes.
On the other end, with a canister stove, you can put it away in less than a minute, while the Nova+ takes more time to pack up. Of course, in an alpine environment, the JetBoil isn't going to perform reliably, so the Nova+ would be the only option.
As far as liquid fuel stoves go, this one is amazing. It has superb flame control; you actually can simmer. It is not too loud, and the flip over bottle switch allows you to burn off the excess fuel in the tube, which minimizes or eliminates fuel spill. The stove is easy to prime and light, and is very stable.
The only tiny thing I don't like about the stove is that the legs are hard to open and close, and the windscreen does not quite fit into the carrying pouch. These are minor thing, and not really worth worrying about.
One final note: the stove is more expensive than the competing MSR Whisperlite International, but it comes with the fuel pump, which you have to buy separately with the MSR. Also, it burns more types of fuel, and it has much better simmer control than the MSR.
Bottom line: if you need a liquid fuel stove this is the best one out there and well worth the money.
Price Paid: $119.99

Your Review
Where to Buy
Help support this site by making your next gear purchase through one of the links above. Click a link, buy what you need, and the seller will contribute a portion of the purchase price to support Trailspace's independent gear reviews.
You May Like
Specs
Price
Historic Range: $118.74-$159.95
Reviewers Paid: $94.50-$159.00

EUR 159,95

Recently on Trailspace