Optimus Titanium Folding Spork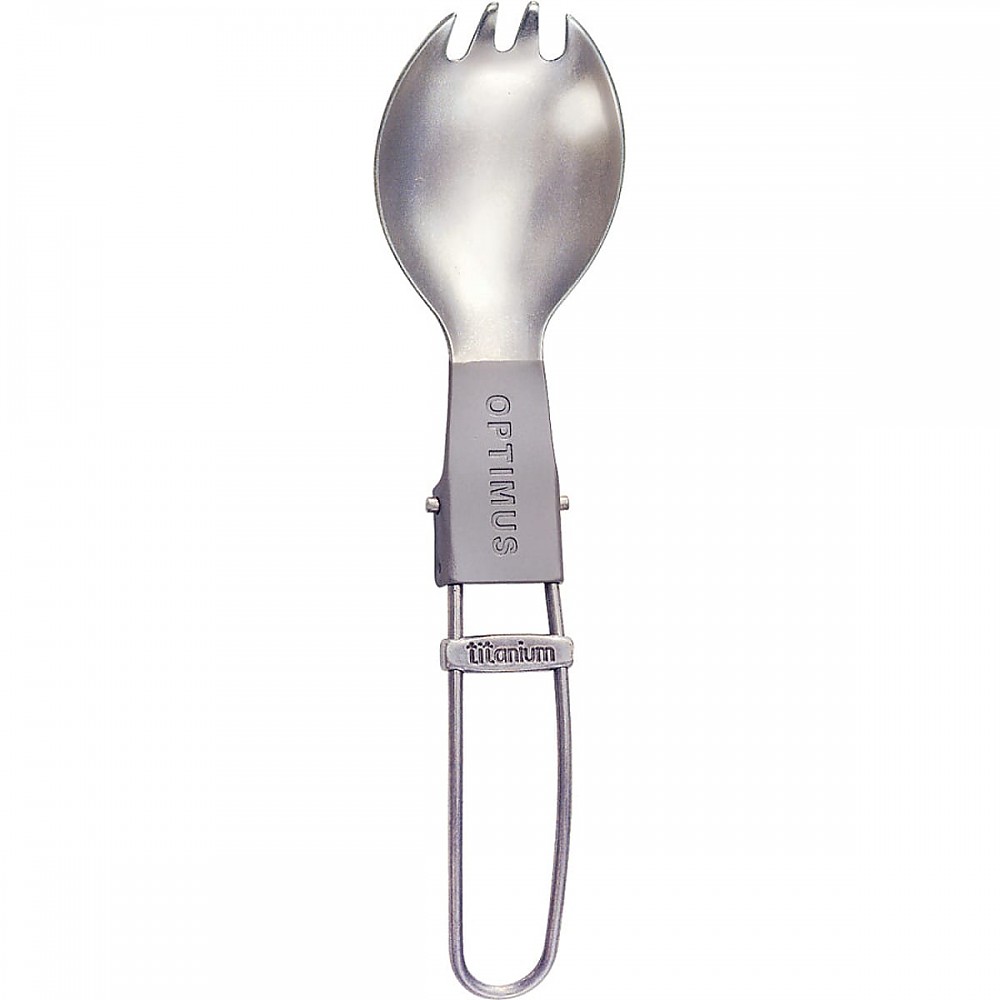 An overpriced trinket that is too small for practical use and prone to collapse or fall apart with little provocation.
Cons
Small size
Actually heavier than cheaper alternatives
Expensive, for a spoon
Three moving parts
Prone to collapse
I'm not really a gear head. (Cue quiet snickering.) In fact, I like to think I've never bought a piece of gear I didn't need. (Barely contained laughter.) OK so maybe I have bought an item or two on impulse. And regretted it.
Case in point: The Optimus Titanium Folding Spork (OTFS). My wife and I were in NYC, of all places, and wandered into a gear store to see what was up—trips to the US are an opportunity to save a little money, but only if we buy stuff that we really need. I'm sure we got a few necessities, but in the shopping fever we dropped a couple different titanium folding spoons into the cart. They would help us lighten up for our next backpacking trip! Good stocking stuffers!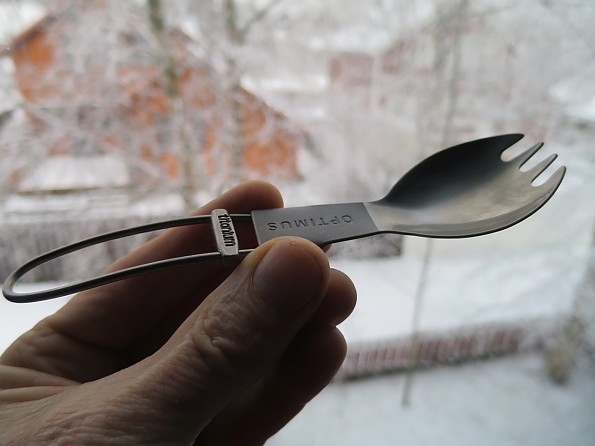 The OTFS was one of them. It didn't take long, probably the first use, to identify its flaws. It's really short, no good for stirring food in a tall, cook-system type pot, or for eating an FD meal out of the bag. Here it is compared to a (somewhat better) Soto Pocket Spork and standard and long el cheapo Delrin spoons.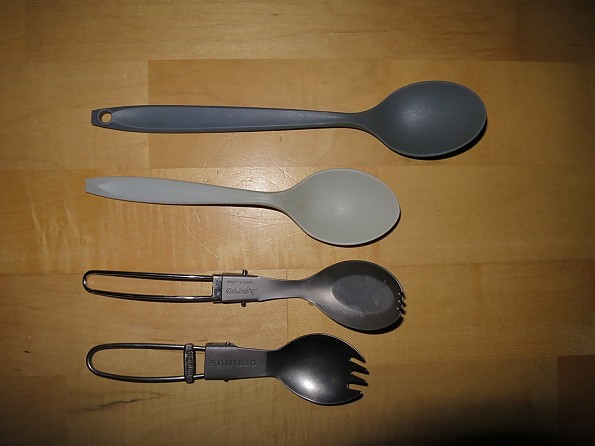 The tines are useless—the fork end of a two-ended spork is much better for spinning noodles or spearing the good bits.
The bowl of the spoon is rather small so that it might take twice as many hand to mouth movements, as compared, say, to a proper soup spoon, to polish off any given meal, burning up precious energy.
It locks in open position via a sliding locking bar on the wire handle, but that is easy to knock loose so the spork is prone to collapse at critical moments.

Furthermore, if you slide the locking bar a little too far up the other way, it pinches the free ends of the wire inward so that they come out of the holes in the head and the whole thing falls apart.
And it actually weighs more than either of the plastic spoons, 19g for the OTFS vs. 12 and 15g for the sort and long plastic models, respectively. It also costs 3 to 5 times more than a plastic spoon.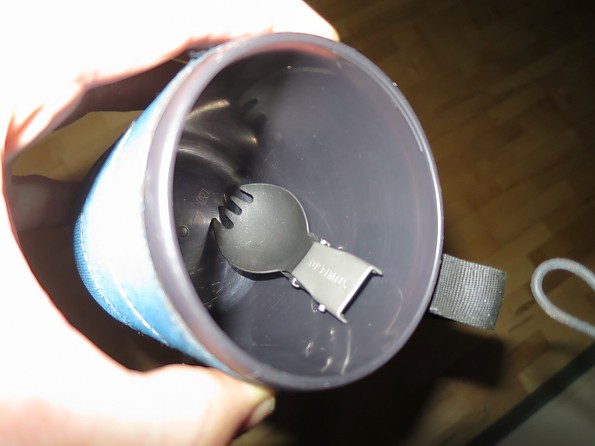 Its one redeeming quality is that it folds down small enough to stash in a 12 oz mug. Longer conventional spoons require a different storage solution. I'd rather live with that than a pricey spoon that is too small for actual eating.
Background
Used it a couple times, enough to know I didn't like it.
Source: bought it new
Price Paid: About $15 too much

Light multipurpose eating utensil, but watch the lock.
Pros
Light, good for backpacking
Big bowl
Unbreakable
Cons
Unreliable lock on handle
Tines are pretty much worthless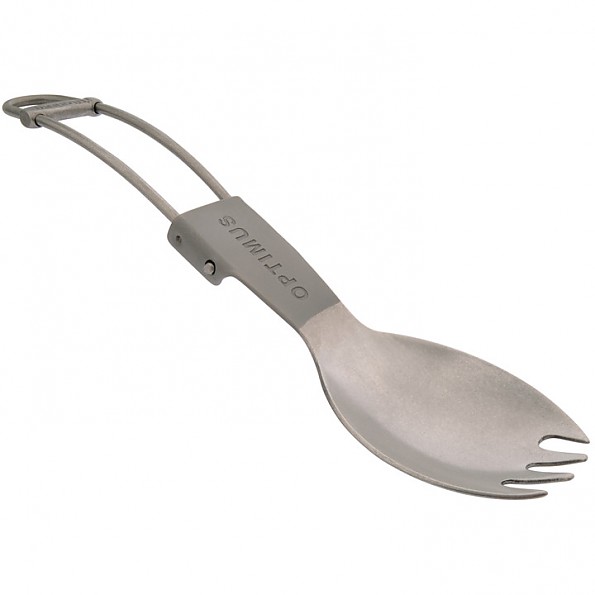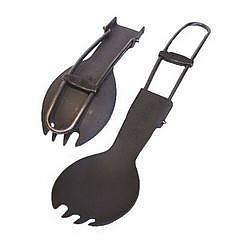 I've had one of these for a couple of years. Take a stove, the Optimus Spork and a dehydrated meal, and you're pretty much set for dinner. The handle folds into the spoon bowl, and it fits nicely into a pocket. I usually put it in between the pots in my Trangias, or just tuck it inside my cup. 
To lock the handle, a small metal clip slides into place pushing the handle out. While it holds fairly well, the lock can occasionally slip back. If it does, the bowl can flip up, so keep an eye on it. 
Good things: 
The bowl is fairly large,

 so you can actually eat soup or stew with it without feeling frustrated.

Only 18 gms, and very compact when folded. 

Because it's metal, you can use the edge to cut some softer foods. 
Bad things:
Unreliable 

lock.

Fork tines aren't very pointy. Don't count on being able to stab anything with them.  
PS: Is there really a difference between a Spork and a Foon?
Source: bought it new
Price Paid: $10

Amazing spork in most regards, some flaws. Still gets five stars because this spork has been with me for so long.
Pros
Work of art
Perfect size
Perfect weight
Good spoon-to-fork ratio (also not a joke)
Cons
Folds in the wrong direction and collapses
I have had this spork for 10 years (no joke), and I love it dearly, but my god does the fold need to go in the other direction.
It was perfect for a few years, but I guess with time or just using it as a multi-purpose tool around the camp, the strength of the connection between handle and spork has failed, and it collapses on itself. All the time.
I am extremely stubborn so I still use it and rave about it to strangers and family alike because aside from this huge flaw it's a gem.
Background
Ten years of ownership, West Coast Trail, Nootka Trail, Killarney Provincial Park, North Coast Trail, Strathcona Park, Cape Scott Trail, Juan de Fuca trail, many many many other day trips and camping trips.
Source: received it as a personal gift

I originally bought the Optimus Spork because it could fold and would fit inside my Snow Peak cook set. At the store the design seemed really sturdy and I was sure that it would be an awesome addition to my gear collection.
Pros:
Small size
Lightweight
Folding capability
Cons:
Folding capability
The only real con with this spork is that it can and sometimes does fold in half while you are cooking. It becomes a pain in the a** anytime you try to stir anything thick. It folds in half, you get food all over your fingers, you almost knock the stove over. It's just a bad deal all together.
This utensil is great for eating, and only that. I would probably buy this again, just not as a cooking utensil.

Price Paid: $15

Titanium metal for light weight and straight. A little longer than the MSR folding spork I have.
Pros
Lightweight
A little long reach
Stronger than plastic
Cons
Doesn't stay folded in place well
The little longer reach helped with the Mountain House bags, just a little bit. Cleaning it was easy. And the titanium is know to last. And for six buck at a used gear shop I'm happy.
Source: bought it used
Price Paid: $6

This folding titanium spork is my go to utensil in the backcountry. I thought it was flimsy at first, until I realized it locks into place with the sliding toggle (open and closed).
Weighs nothing, strong, and it folds up so it will fit in any solo cookware set. I use it to cook as well as to eat.
Price Paid: $12

Your Review
Where to Buy
Help support this site by making your next gear purchase through one of the links above. Click a link, buy what you need, and the seller will contribute a portion of the purchase price to support Trailspace's independent gear reviews.
You May Like
Specs
Price
Historic Range: $9.99-$14.95
Reviewers Paid: $6.00-$15.00

Recently on Trailspace