Orange Mud HydraQuiver Single Barrel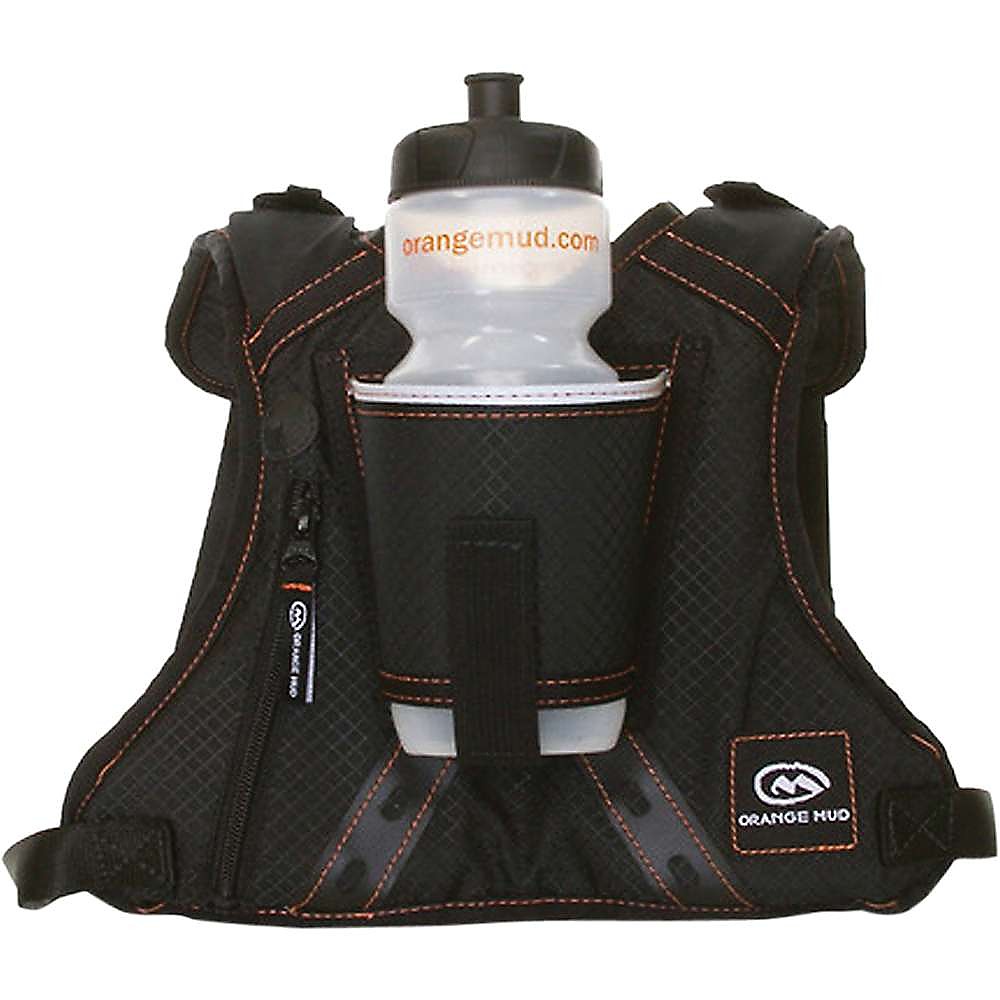 The Orange Mud HydraQuiver is good for anyone wanting a simple, stable, hands-free hydration solution and small pack for trail running or any physical activity requiring only a few essential items while moving. This is a solid product and I've enjoyed using it.
Pros
Stable design
Ease of water bottle access
Excellent anti-microbial treatment
Adjustable in fit and bottle size
Cons
Zippered carry compartment gets wet
Long adjuster straps require securing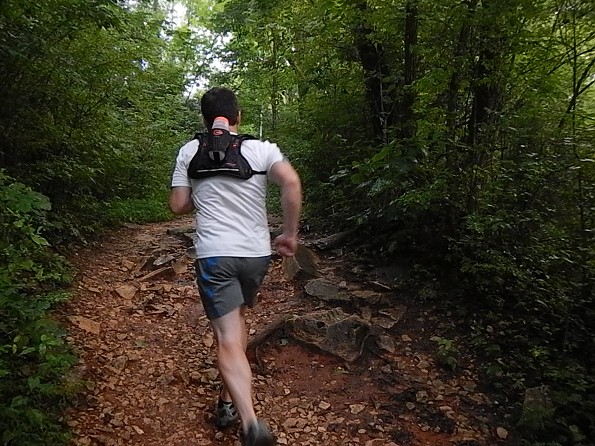 About me:
I'm an avid backpacker (see my profile and trip reports tab) but I have also been trail running for many years; I usually run between one and two hours at a time, covering anywhere between 6 and 12 miles (depending on terrain difficulty, elevation changes, etc. ).
I've been carrying my ID cards, cell phone, keys and sometimes a water bottle in my hands while doing so. I've tried running with a traditional daypack with less than desirable results. So when I saw this item available to test for Trailspace I was quite intrigued.
About the product:
The Orange Mud HydraQuiver 2013 is made in the USA, holds a water bottle, has a double-zippered pocket for small items (including a key fob) as well as shoulder mesh pockets (intended for access to gel or energy snacks while in motion).
It's made of nylon and weighs about 12.2 ounces with the included bottle.
The capacity is listed as 54 cubic inches. I contacted the manufacturer and they stated that the 54 cubic inches measurement includes the zippered pockets, shoulder pockets, and bottle holder sleeve.
The bottle holder is adjustable and will fit various size bottles within the diameter of the sleeve. However, if you want to be able to remove the bottle while running you shouldn't use a bottle so wide that it gets stuck in the holder sleeve. (a standard Nalgene is too wide to push beyond the mouth of the funnel)
The back padding is thick and treated with an anti-microbial coating. (Aegis –check out this link) 
The product is one-size-fits-all with adjustable shoulder straps.
Fit:
This product fits me quite well. I'm 5'7", about 160 lbs. I'm not sure if this data helps anyone but my chest measurement is 42 inches.
I did find that over tightening the straps could cause the thinner under strap to dig in to my underarms uncomfortably; but I also found over tightening wasn't necessary. The design of the product allows for a stable ride with a snug (but not tight) adjustment.
I found the back padding to be more than adequate and really comfortable.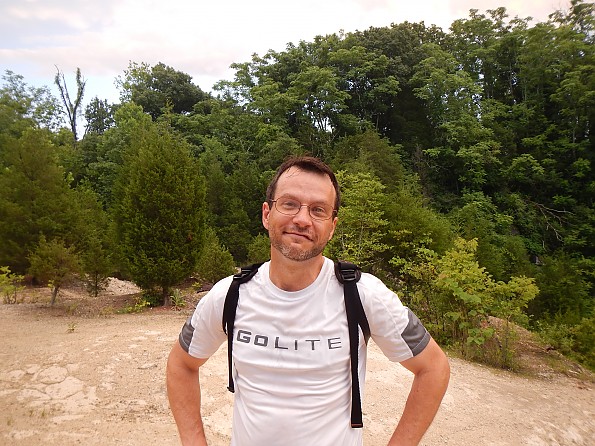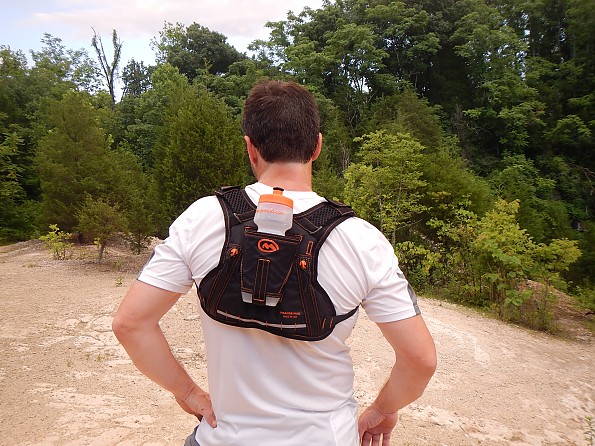 Manufacturer claims:
"Thick foam back panel provides ample support"
I found this was indeed the case. The back panel is more than capable of supporting whatever you could reasonably carry with this pack.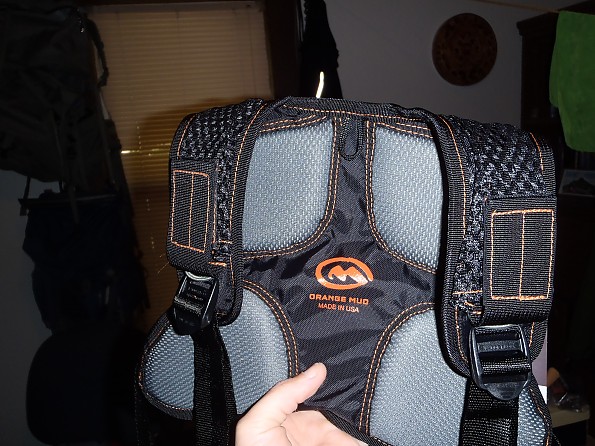 " air channels provide maximum breathability"
The breathability was very good; although honestly, it's hard to quantify this objectively. I mean, I get really hot and sweaty when I run and the area of my body that this product covers is very small.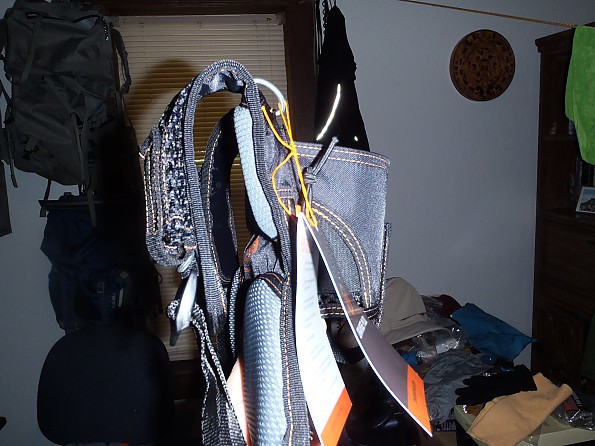 "no bouncing"
I agree. No matter what I was or wasn't carrying in the pack it was stable at all times. It performed well in this regard.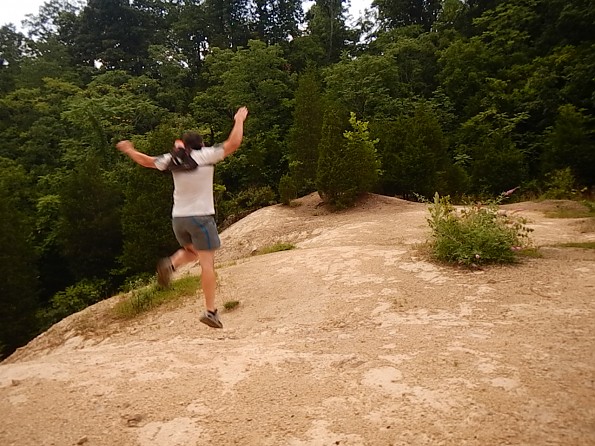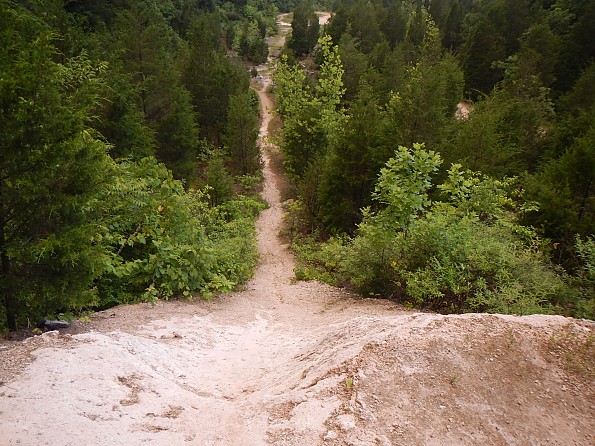 "no sloshing"
I understood this to be in comparison to larger reservoir type systems such as bladders. Technically, once you drink half the water in the bottle of course you will hear sloshing given that the water bottle is so close to your head.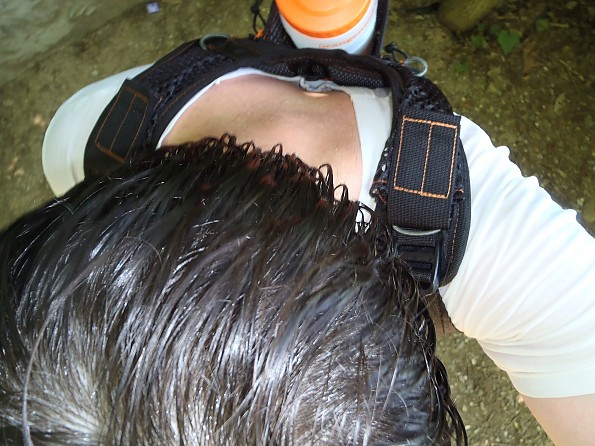 "easy water bottle access"
This is true; I had no issues at all retrieving or storing the bottle while running. I really liked this feature; it was cool how easy it was to put the bottle back in the holder. I thought it would be difficult but the wide mouth of the holder is an easy target to hit blind.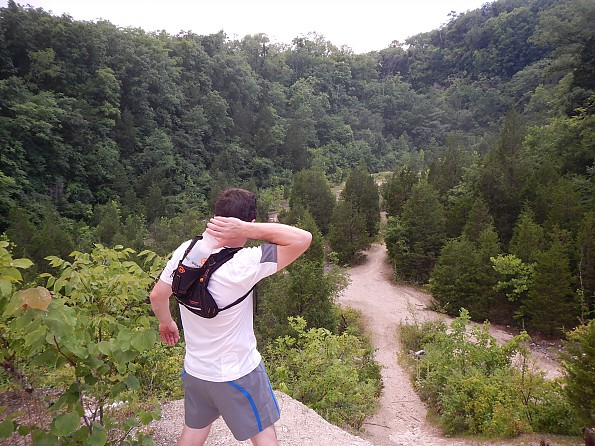 "secure storage for smartphone, mp3, tape deck"
Tape deck? (heh, heh)
 The storage area is surprisingly roomy. And I would agree that it's secure in the sense that the zipper stays shut and things won't fall out or move around a lot. But to me, keeping your smart phone secure includes keeping it dry. I don't know if this is possible but it would be nice if the zippered carry compartment could be made to stay dry.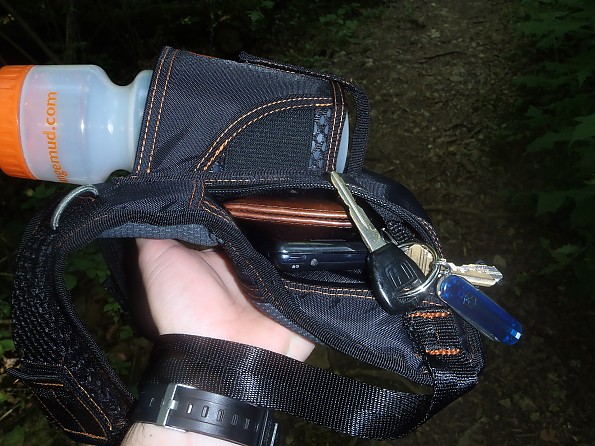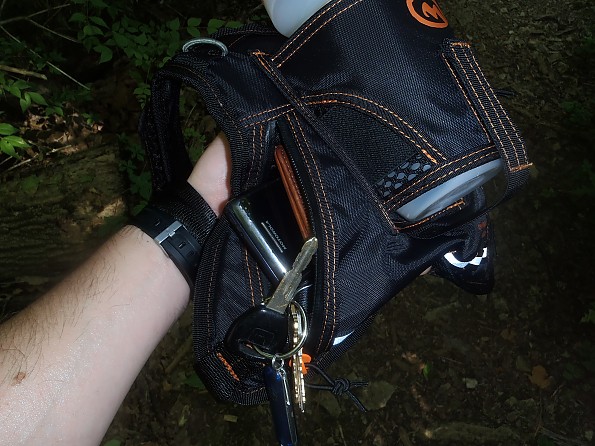 Close up of shoulder pockets with D size battery for scale: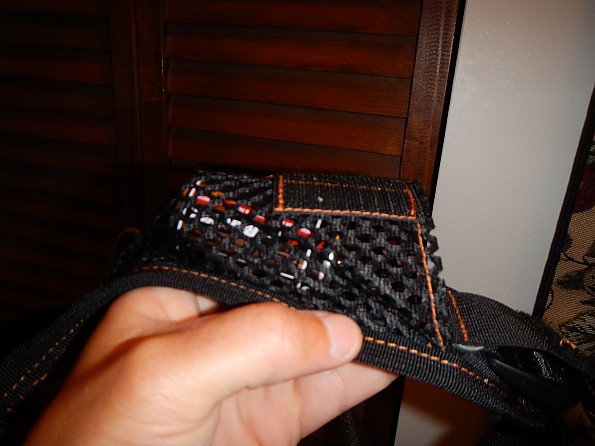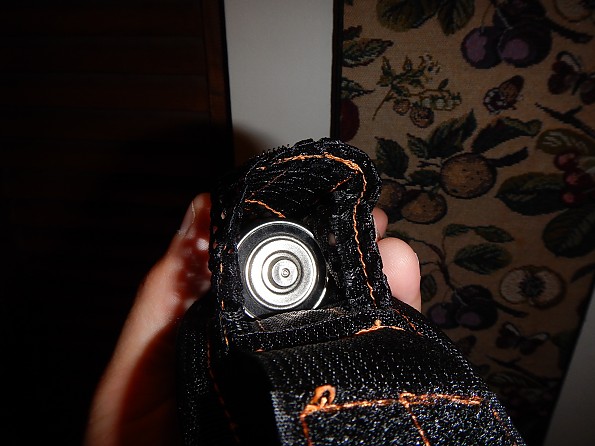 Testing notes: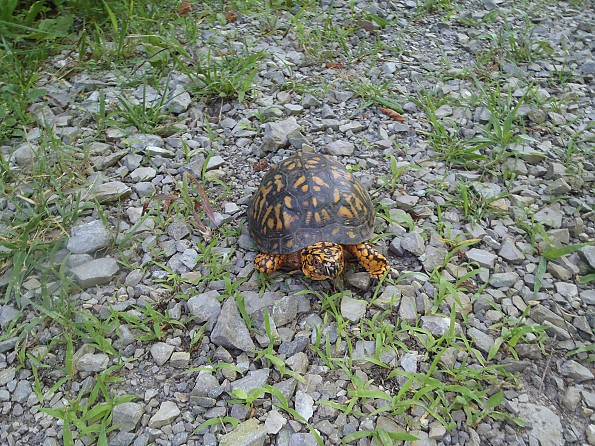 The first person to see me in the Orange Mud HydraQuiver was suitably orange and seemed to really dig the look.
I've used this pack for 8 trail runs varying in duration from one to two hours. I do most of my trail running in a local wildlife management area on multi-use single track trails. The terrain included dirt trails, gravel paths, grassy areas, streams to jump, rocks to avoid, blow-downs to navigate and hills to scamper up and down.
My first run was a one hour and 25 minute trail-run and I stuffed my wallet, smartphone, keys and camera in the zippered pocket. I also filled up the water bottle with cold water. Having never worn a quiver type carrier, I paid special attention to the feel of it in motion. There is nothing that clips or straps over the top of the water bottle; I was initially worried that the bottle might come out when jumping streams and ducking branches but was pleasantly surprised by how stable it was. The funnel shaped sleeve is a clever design.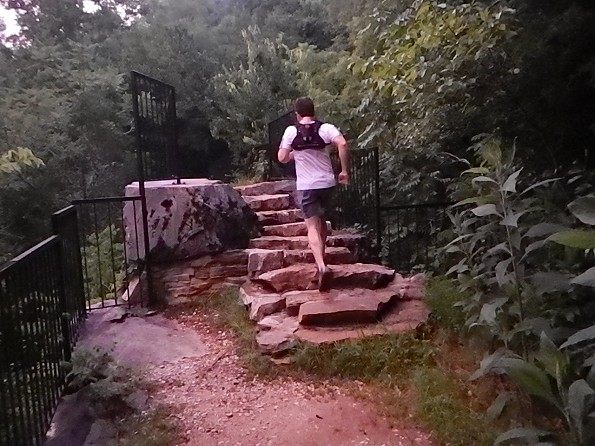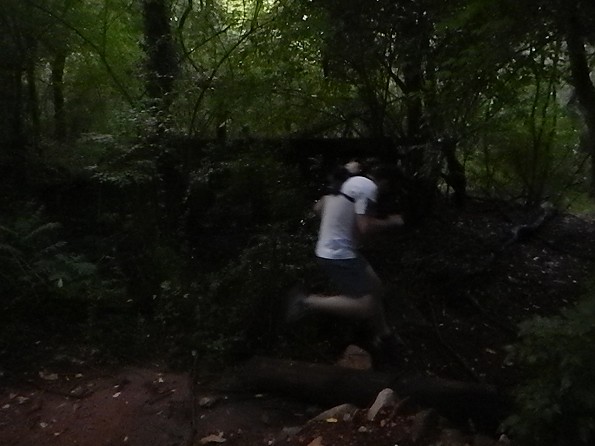 But also on this first run I discovered that when I pulled by small items out of the pack they were all wet. (Including my Smartphone, yikes, luckily no damage although it did trip the water sensor in the battery cover).  I could not tell if the wetness was due to my sweat soaking through or condensation from the cold water. This was easily remedied later by simply placing my phone and wallet in a plastic bag before putting them in the pack but it would be nice to have a waterproof/ condensation proof compartment.
On subsequent runs I became aware of and slightly annoyed by the long straps that flop around when running. I suppose a bigger person would not have as much excess strap as me but I have to either hold on to them or do something with them. I've been stuffing them in the shoulder pockets as I usually don't use those pockets. An improvement would be a way to secure those straps after cinching. (This is a really minor quibble, but had to be dealt with in my case.)
Another feature that strangely isn't listed at all on the website product page (but is listed on the information card that came affixed to the pack) is the Aegis anti-microbial treatment. It works like a champ! After each use I hang this pack on a chair at home and let it dry inside the house. It dries overnight and has no noticeable odor at all. That is impressive.
For me this product has really increased my range because without a carrying system I'm far less likely to take water with me on a run. And thereby, my fun quotient is increased because I can try new areas and trails with more confidence from having water with me.
I've really enjoyed using the HydraQuiver and look forward to many long runs in my future!
Many thanks to Orange Mud and Trailspace for this testing opportunity!
Source: received for testing via the Trailspace Review Corps (Sample provided by Orange Mud for testing and review)

Your Review
Where to Buy
Help support this site by making your next gear purchase through one of the links above. Click a link, buy what you need, and the seller will contribute a portion of the purchase price to support Trailspace's independent gear reviews.
You May Like
Specs
Price
MSRP: $84.95
Historic Range: $23.99-$84.95

Recently on Trailspace