Osprey Aura 50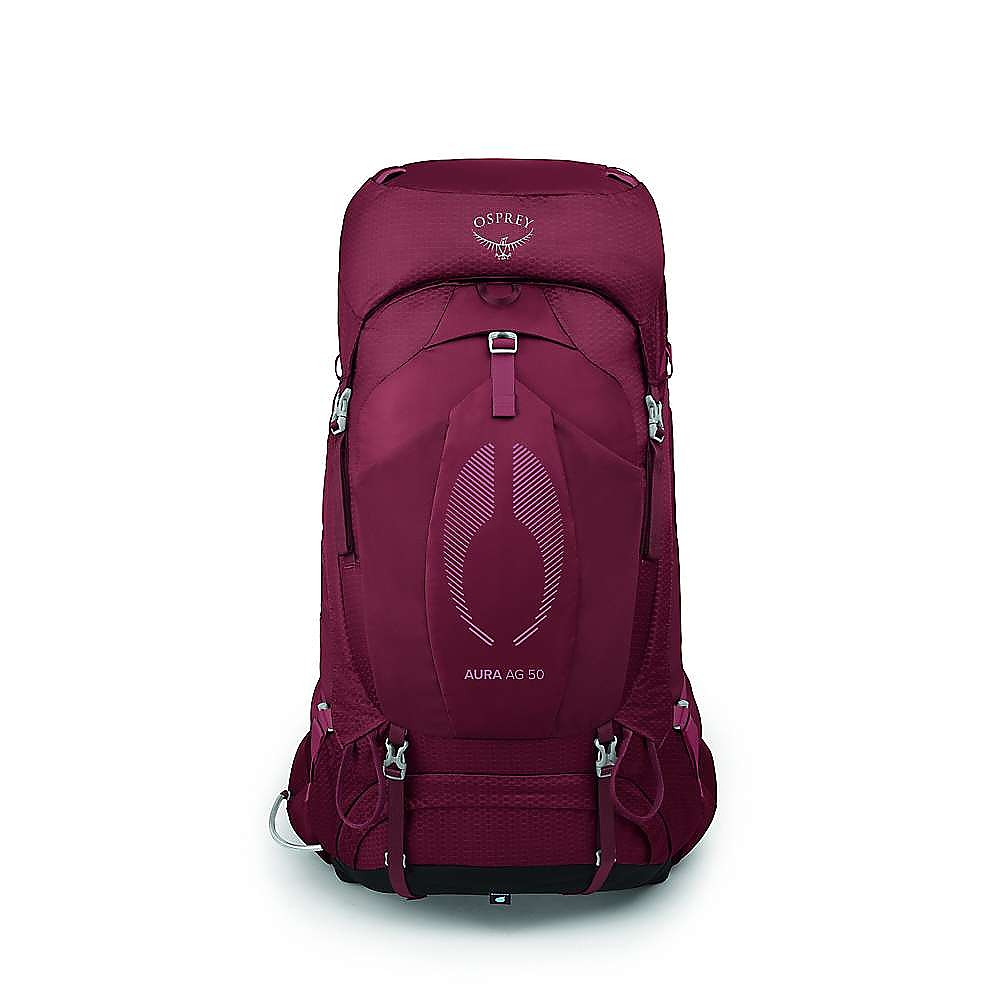 This pack made me miserable! After using this pack, I'll never be buying Osprey packs again. The Aura 50 I bought at REI was of poor quality, but I also think their packs are not suited to my body type.
I'm somewhat new to backpacking, and I've been on about five two-night back country trips so far. I appreciate lightweight gear (I now use a GoLite pack) and moderate comfort. My boyfriend and I went on a two-night weekend trip near Tahoe. Fifteen minutes into the trip, my brand-new backpack's main shoulder strap snapped in half; it was only loaded with 25lbs! We were able to secure it with a little bungee cord, and I was debating whether to just exchange it for a new one when I got home, or try a different pack altogether.
The next day, I realized there was no way I would be getting a replacement Aura 50: I was in near-excruciating pain from the way the bottom of the pack rested on my hips. For ventilation, the back arches away from your back. But it was this feature that was causing all the weight of the pack to be heavily concentrated in two areas: my shoulders (which were doing fine) and my hips. I had blisters and faint bruises on my hips, and had to switch packs with my boyfriend for the rest of the trip (he didn't have trouble with it, but did notice how it distributed a lot of the weight on the hips/lower back). I had been fitted for the pack by an REI sales rep, so I know I got the proper fit. However, I am very thin (5'8", 120lbs, shorter torso), and it may be that someone of a more average weight with more natural padding wouldn't have an issue with this pack. But if you have a small frame, I would not recommend this pack at all.
So the comfort of this pack is questionable. I also doubt the quality of the seams, since mine snapped in half before its very first excursion. Apart from these two issues, however, the pack was fine. It's lightweight. The ventilation feature does keep your back from getting too sweaty. It has just the right amount of pockets, including one mesh pocket on each hip belt, which I loved. It was easy to load and highly adjustable, and the shoulder straps and hip belt were nicely padded. There wasn't too much jostling, even when we made our way down a treacherous, rocky slope.
Bottom line: if you're thin, go with a different pack! And if you often have trouble finding a pack that's comfortable for your lower back/sacrum, I imagine this would be a bad choice for you also.
I recommend the GoLite Jam -- it's ultralite and super comfy!
Design: Top-loading internal frame
Size: M, 3,000 cubic inches
Max. Load Carried: 25lbs.
Height of Owner: 5'8"

My best experience with this pack was -- having an extremely experienced salesperson fit the pack on me.
My worst experience -- having to pay $250 for a poor quality pack and a company that doesn't stand by their product.
I purchased an Osprey, Aura 50L women's hiking pack at a local outfitter store in Victoria, BC, and used it for two weeks while I travelled in Peru (no hiking only travel). When I returned home, I noticed the material covering the frame was worn and beginning to fray. I returned the pack to the store of purchase and they sent it back to the manufacturer.
After 6 six weeks, I contacted the store of purchase and they informed me that Osprey wanted to wait until the frame poked trough the material before a replacement was made. Lucky me... Needless to say, I strongly suggest that if you want to avoid irritation, aggrevation and the feeling of being ripped off DO NOT purchase an Osprey Aura 50L. Life is way tooooooo short.
Price Paid: $246.39 CAD

I bought this pack for my first backpacking experience.  I have nothing to compare it to, other than hiking w/out anything on my back. I had an REI employee help me w/ trying on packs and identifying how they are suppose to fit.  This pack seemed the most comfortable to me in the store. 
My backpacking trip was a one-night, 10 mi round trip experience (not a big one). I didn't experience any rubs, chaffing or unexpected soreness from the pack. I am quite happy w/ how this pack felt. 
My only complaint is that I am still undecided w/ how best to carry my sleeping bag as there just doesn't seem to be a great place for it.
Otherwise, I am very happy w/ my purchase and see many years of use coming from it.
Price Paid: $200

I needed a solid mid-size pack for my wife that could suffice for 3-to-5 day treks and carry a comfortable load in the process. The Aura seems to get good reviews, and it also happened to be the best-fitting among those she tried on.
Although lightweight, the support system is excellent for a pack on the minimalist side of things. On a recent trip to Big Bend, where hiking in all of your water is a necessity, we definitely pushed the limits of this pack...and it handled admirably.
If you go to the Osprey site, they show max weight hauling comfort to be 40lbs. And we found this to be a correct assessment in the field. On the first day, her pack was probably pushing just over 40 lbs, and the left shoulder strap started to chafe a bit. But when we lightened the load to 35-40lbs, those problems were non-existent. So methinks as long as you don't go over 40 lbs, this pack will work just fine for you.
The pockets and pouches on the back are especially nice touches for pack organization, particularly if you are a woman that doesn't just want to throw all of her stuff in the main compartment! :)
About the only thing I can complain about is the lack of a sleeping bag pouch at the bottom. But then for a pack only 50L in size, that may be asking for too much.
If you need to carry more weight OR are looking for that sleeping back compartment, try the Aura 65. It's rated to carry about 10 lbs more than the 50.
With care, I expect this pack to give us a long number of years of successful hiking.
Design: Top-Loading Internal
Size: 50L
Number of Pockets: 3
Max. Load Carried: About 44 lbs
Height of Owner: 5' 7''
Price Paid: $150 (plus tax)

The Aura is a great pack to carry and it looks cool. The mesh back panel kept my back dry and cool while trekking uphill. Super-stable to carry, and comfortable enough for trail running!

This pack has all the organization that i have ever wanted from my backpack, and it looks stylish, as well. Really nice color choices! I have used Osprey daypacks for years, and love the fit and design, so I was pleased to find this new weekend pack design. It works perfectly for ultralight backpacking, and this 3 pound aura pack is made with durable materials, unlike most of the other ultra light packs that I considered.
The various pockets are placed very conveniently, and i stashed a first aid kit, a 22 ounce gore-tex jacket, gaiters, gloves, and lunch in the two huge zippered side pockets! My digital camera fit in one of the hip belt pockets for easy access, and my sunscreen, lip balm and anti-bug juice fit into the other one.
I use a compression sack for my 2 pound sleeping bag, and have to push it past the curve of the back panel so it can sit at the bottom of the pack, but it does fit and carries well. I could fit everything I needed for a rainy weekend in the high country. I really like this pack.
Design: internal frame, top loader, with lots of zippered pockets
Size: 3000-ish cubic inches
Number of Pockets: 7
Max. Load Carried: 29 pounds
Height of Owner: 5'4"
Price Paid: $199

My wife used this backpack for two seasons. It was a good bag, bit on the small end though for me. Often when we went camping together I was the one carrying most of the gear since she ran out of space. 
It had great support and alot of fun features, but it is too big for overnighters and not quite enough for something over 3 days.
Price Paid: ?

Your Review
Where to Buy
Help support this site by making your next gear purchase through one of the links above. Click a link, buy what you need, and the seller will contribute a portion of the purchase price to support Trailspace's independent gear reviews.
You May Like
Specs
small
medium
large
Price
MSRP: $199.00
Current Retail: $315.00
Historic Range: $34.95-$315.00
Reviewers Paid: $150.00-$200.00

Weight
3 lb / 3 oz / 1.45 kg
3 lb / 7 oz / 1.54 kg
3 lb / 10 oz / 1.64 kg
Capacity
2800 cu in / 47 L
3000 cu in / 50 L
3200 cu in / 53 L
Recently on Trailspace