Osprey Hydraulics 3L Reservoir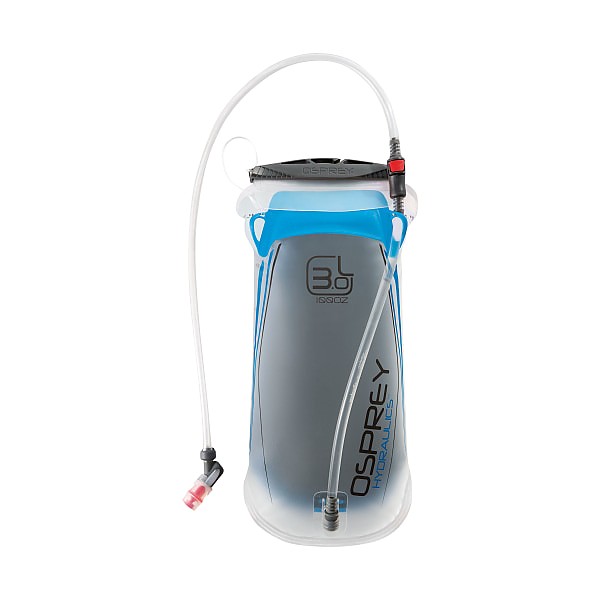 Well designed, highly functional system that works in more than just Osprey backpacks!
Multiple use options. Be sure to consider this AWESOME system as you compare options.
And, for some, there's a learning curve.
Pros
Well designed & quite durable
Best bite value action for flow and swivel rotation for shut off
Innovative carrying handle
Innovative upright pack support system (stiff backing and cord support)
Super handy magnet chest strap keeper for quick access when hiking
Options for winter/no-freeze use
Wide access cap, enables ice filling, easy emptying & cleaning
New plastics used in bag have NO PLASTIC TASTE
Replacement parts (bite valves, magnets, hoses) available
Bag marked for filling volumes and it's shockingly accurate!
Plastic bladder stays flexible on cold snowshoeing trips
In the 'on' position, can't explode if left in the sun, or taken from high altitude to sea level, or sat upon (bite valve will leak over pressure)
Comes in a few sizes up to 3 Liters (suggest go large, can fill less and keep options)
Cons
Magnet chrome surfaces too thin, corrodes off with long term use, especially for us saltier folk
Only comes in one color (but hey it's water blue!)
Hose might explode off if drastically change external pressure with bite valve on/off set to 'off' ... aka no more jumping on your pack to stuff more in.
Increased water self hydration results in increased side trips into the bushes
Some self learning on how to best use system, can occur (see bottom review section, for effect of misguided water)
It so easy to drink water quickly that one may need to learn to pace one's self
3 Liter System that I use has added an accessory insulated hose (photo left) for winter use, which provides an extra backup bite valve (photo bottom -- note my winter hose bite value does not have a magnet).  The system pictured has been used weekly for about 3 years on 3-6 hr most typically mountain hikes and snowshoeing).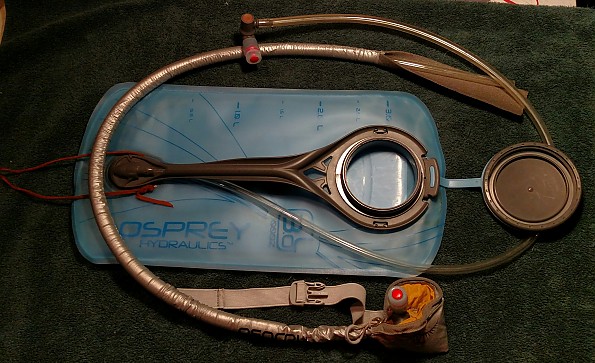 Insulated winter hose has zip cover and alternate clip system, not using a magnet, but rather hanging from the clip (photo center, a backpack chest clip is also provided with the winter hose).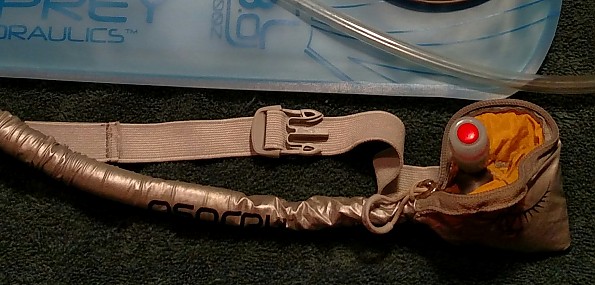 We hike nearly every weekend, on long day hikes, often with Meetup hiking clubs. I discovered that I often wasn't drinking enough water because others had hydration packs and I was using water bottles (they hydrate as they go and didn't stop to drink much!).
Many wear Osprey backpacks and had their Hydraulics Reservoirs, which they swear by (rather than at). I had used bladder systems years ago and really disliked the plastic flavor. Having been convinced by others that things might be different now, my wife and I picked up a 2L & 3L systems for our Gregory 40L backpacks.  They fit perfectly in the internal water sleeve!
Good news is that plastics have changed, there is no plastic taste now. And I'm drinking much more water now, even when hiking alone. And I'm surprised how much better I feel on the trail now, less fatigue afterwards, and recovery by the next day is faster too! We often do two hikes now when we have 3-day weekends. Yeah … water is magic!
The design is for the most part FANTASTIC. The handle gives excellent hold and balance in filling it. The stiff card sleeve which backs the bladder allows it to free stand well and not foldup so not pulling on the hose or needing adjustment to flow well as it empties.
The bite value is UTTERLY AWESOME. No leakage yet after two years of use (just like new). You can get a trickle to gushing water torrent at will, based on how hard you bite. I really like the magnets that stick the valve at chest level onto backpack cross strap. This makes it easy to find the value and place it where you expect to find it.  The value also swivel rotates to act as shut off value. 
Osprey bite valve has a large area to provide water quickly and seals well becoming dripless.  I have to see if there are clear rubber bite value gaskets, we finally bit through one last week, after 3 yr use).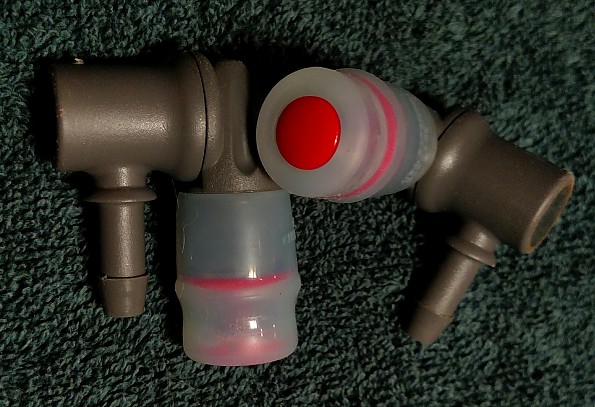 On/Off valve rotates 360° with two on and off positions each, 90° away from each other (on photo left & off photo right -- the second setting is 180 degrees rotated from these positions).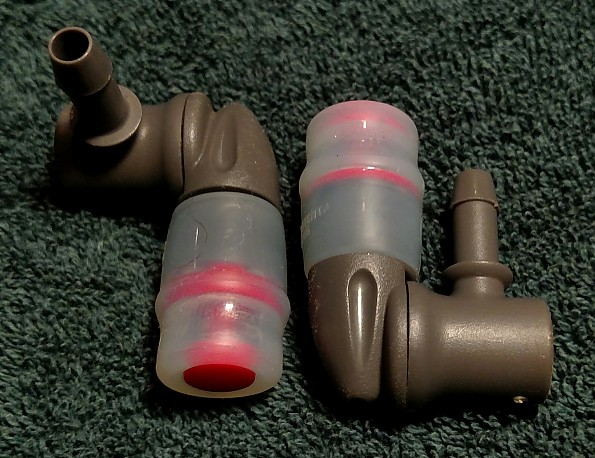 Winter versus Regular Bite Valves shown winter valve closed (photo top) and regular valve opened (photo bottom).  If Osprey provided a magnet with the winter valve then I would have a year round backup magnet.   I suspect that they were concerned about the extra combined weight with hose not working well with the magnet.  Until the corroding magnet problem is solved one could use the winter bite valve year round to avoid any potential of rust staining light colored clothing or packs.
Fill Cap.  I really like the very large water fill cap. You can easily fill or clean the unit inside. We also purchased the silver winter tube insulator system, which works well while snowshoeing to stop the tube and bite value from building up ice. Buy the 3L, you can put less in it, but have the potential for more.
Fill cap opening is well ... huge for quick filling, adding ice cubes, cleaning and drying.  And it has an excellent gasketed seal.  When you get the bladder assembly, there is a cord around this housing to clip and suspend the system in typical backpacks!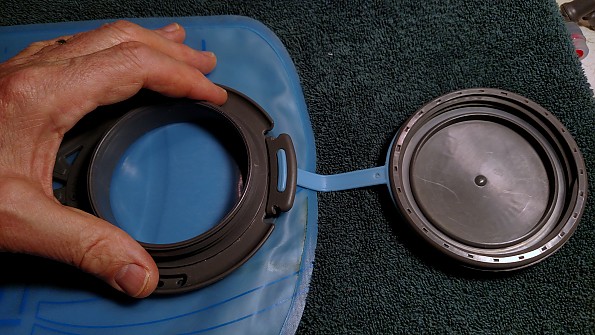 Trail Suggestion: It is useful to carry an extra throwaway plastic water bottle (e.g., 0.5 to 1 Liter) so that you have a backup water supply. It's very hard to know just how much water you have left within a the bladder hidden in a backpack! Being easy to drink, you will likely drink more than you think.  One can also use the extra bottle to mix electrolyte drinks on the fly at the halfway point of the hike when you better understand your water needs for the day.  It is also useful to gift ill-prepared, waterless fellow hikers.
TOTALLY AWESOME SYSTEM FEATURE:  it is ICE CUBE COMPATIBLE!!  That large bladder cap allows you to load the bladder with ice cubes. If I use extra backup clothes to insulate the bladder, I have icy cold water all hike long, even on 95 degree summer days!!  With three trays of ice in 3L bladder, I've seen ice after 10 hours combined driving and hike. It also adds a light cooling effect to my back, in spite of my web suspended pack.
Warning: load appropriate ice level!  This summer I completely filled my unit full with party ice then added water to the 3 liter level on a hot day.  Even 5 hours later there was so much ice still in the bladder (half full still) that I did not have enough drinking water. I removed the clothes insulation, but it still melted too slowly in my backpack.
Other Use Cautions: 
Cross threading.  You have to make sure that the large bladder filling cap is not cross threaded while mounting, or it will not seal well, and slowly leak water into your pack as you ride in the car or hike (voice of experience). The solution to this is as you close the cap. Just compress the stiff folded cap connector strap as you tighten the cap with your finger or thumb, so that the cap has no sideways tension on it.
Breakage. 
Hose attachment.  When pulling off the hose off the bladder base, make sure that you carefully support the attachment nipple to the bag.  We apparently torqued one base and the plastic plate where the hose attaches later leaked.  It was replaced on warranty. 
Bite Valve.  Another hiker told us that they torque rotated a bite valve and it broke in half.  I'd suggest then symmetrically putting pressure on the valve as you rotate it, and carry a backup bite valve.
Wish Osprey would improve: The major thing I don't like about the system is the magnet's metal chrome finish design. The chrome corrodes off, especially for salty old me (but not my Wife) and gets looking rusty.  Her's is starting to pit with corrosion too.  The rusty metal stays magnetic and still works the same, but could stain clothing on a rainy day.  One can buy a replacement kit with bite value, magnet, and strap mount disc at a low cost, and I highly suggest it if you use this for every hike as we do.
My bite valve magnet (photo left) compared to my Wife's (photo right).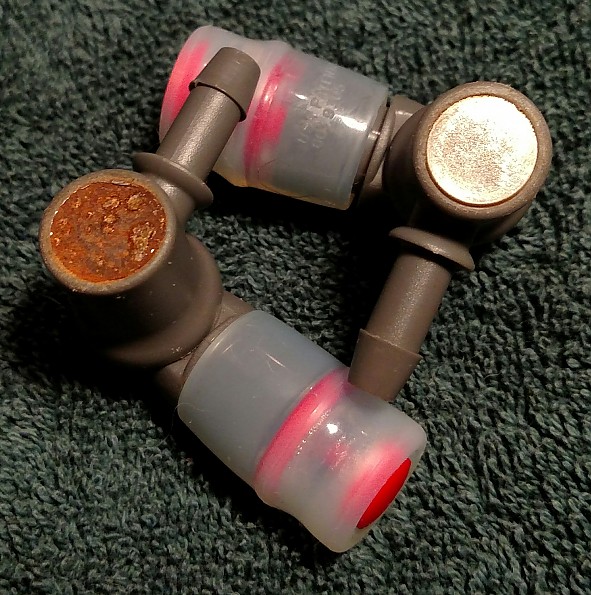 My Wife and I,  as well as many hiking friends in the Meetup hiking clubs we often trek with, highly recommend this reservoir system.  I mostly see folks buying the 2 or 3 liter systems.  
Dual Osprey Hydraulics Reservoirs in action, both equipped with the winter hose accessory on a snowshoeing trip in Eastern Washington.  Note how the backpack's chest strap attaches to the winter clip, with yet another color coordinated strap, to the reflective silver insulation covered hoses.  Cool!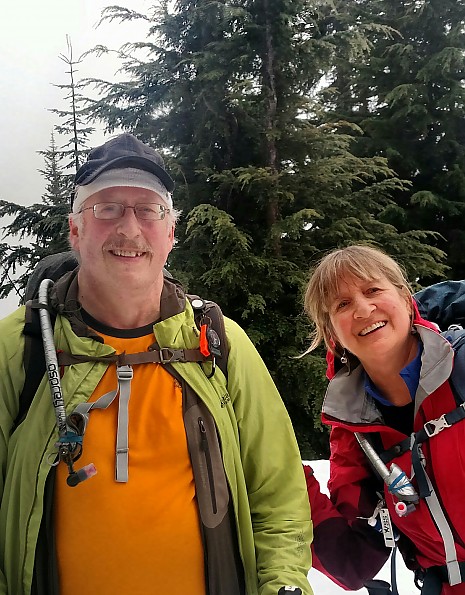 Unless it is very cold (was a balmy 20 F here), these hikers rubber banded their color coded bite valve zip cover pouches to one side, out of the way, so as to not have to work a little harder to get water.  The male of the pair has left his round summer magnet attachment plate mounted to the pack chest strap (photo, strap detail right).  In this way he does not lose the magnet over the winter and have to buy another (sometimes pays to be lazy).  His bite valve is in the 'on' 90 degree off hose axis direction to better aim the bite zone at that mouth, as he lifts the hose (one handed action sufficient).  The exposed hose length is strategically set to make it easy, even for him, to find his mouth.  
Reality Check.  Both of the human system users pictured learned that, when in a hurry filling water bladders, cross threading bladder fill caps (on separate days) can result in a 2.5 - 5% water soaking of the inside of a their backpack (1-2 liters of water in a 40 liter pack).  And furthermore that the very same misguided water can then soak the rug and/or couch cushion beneath in a typical time share rental unit.  They commented that they were lucky to not have placed colored or nutrient-rich performance modifiers in the indicated hydration systems (3 & 2 liter, respectively).
This same elevated (mountain) trip resulted in the pair buying a Subaru to get into places like this again in the future (daily chain playing, with a Prius in the snow, on a get away vacation, isn't always fun as it sounds).  And it can result in more spontaneous side trips into the bush.  At least they weren't thirsty! 
Post Use Care Suggestions.
Empty bladder, hang, and dry immediately upon returning home from an outting.  
Use plain tap water and no soap that might bind to plastic and later flavor your use experience.
I think there is a cleaning brush available for the bladder, but using only water in our systems, we haven't needed it yet.
Towel wicking overnight helps remove remaining moisture from the bladder (see system dryer photo below).

Remove the bite valve from the hose and make sure to leave it in the open position, rotate and shake to remove internal water, storing tip down so no water stays accumulated therein.

Store hanging up and away from curious household pets with sharp claws and teeth.

If sterilization needed to kill scummy microbes within system producing 'flavors' from improper drying / storage, rinsing with hydrogen peroxide, rubbing alcohol, or vodka might work.  (When in Mexico Tequila can be purchased inexpensively in bulk  to be used in the system for this purpose and also for filtered Margarita dispensing, as a post exercise recovery trick.)

Be sure to rinse stored systems before using again to remove any hidding dust, pet fur, or insects.
Quasi-Professional Drying & Storage Unit accepting up to 4 bladders (2 & 3 liter shown here), performing the critical towel wicking step, while suspending them away from local cats.  Takes zero floor space and is hidden behind a door.  It also accepts other exercise equipment of many kinds (skis not recommended).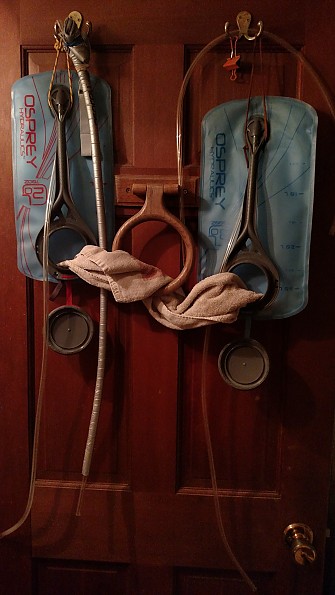 Source: bought it new
Price Paid: List price minus REI member rebate.

A decent reservoir, with a couple glaring flaws.
Pros
Anti-microbial materials
Ease of use
Cons
Complicated "upgrades" prone to failure
I picked this up two years ago as a replacement for another reservoir that had, through my own poor habits, gone moldy. This bag has anti-microbial materials in its construction, so I have nothing to worry about there. In fact, after the first couple uses there hasn't even been any plastic taste to speak of, even if I occasionally forget to empty the bladder for a week or so. It's a decent bit of kit, and the 3L size is excellent for longer dayhikes and hot conditions.
I purchased it, however, with reservations. It has two innovations that struck me as being potentially problematic. 
The first is the closure. Rather than a screw-on cap, the bladder has a folding flap of bag-material secured by a plastic slider. Constantly folding even rubber over and over seems to me like a recipe for structural failure. So far it's been fine. My reservations on this count have been unfounded in two years. But I still have to wonder if this will last compared to our other bladder, a 12-year old Camelbak. We'll see.
The second innovation is a cut-out in the middle of the tube. It is meant to make it easier to remove the bladder from your pack without having to snake the tube in and out every single time you refill your bladder. In this respect, it is in fact a solid upgrade; the convenience is real. However, it only works so long as the o-ring and plastic release parts remain intact. And the more often one uses this feature, the more wear, obviously. It only required two years of weekly use for this part to fail. And worse, it failed during my first overnight trip of the year, soaking a good portion of my equipment before I reached camp.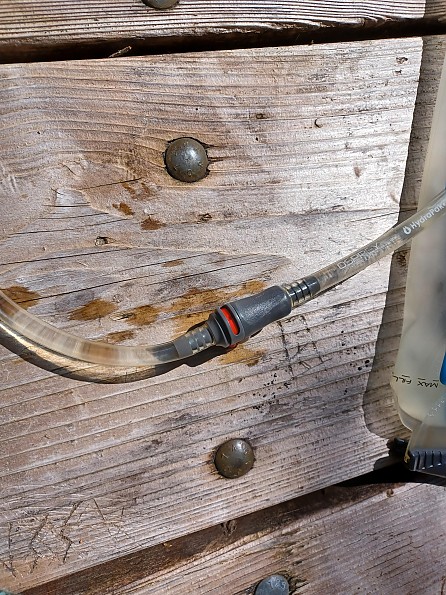 The bite valve also started leaking on this same trip, and the lock-out stopped working at the same time. Cascading failure! Yikes.
I have replaced the tube and the bite valve with some after-market replacement pieces, as they are the only real weak points so far. The bladder itself seems to be solid. I guess we'll see what the next few years hold in terms of continued durability. 
Experience
Decades of hiking and backpacking. We only had canteens back in the old days, like it or lump it. I've used Camelbak and MSR bladders with varying success rates and failures, and this was my first foray into Osprey.
Source: bought it new
Price Paid: $45

A great reservoir! And easy maintenance.
Pros
Design
Maintenance
Durability
Here is another great product by Osprey! This product comes in both 2L and 3L, mine of which being the 3L, and it is held well, and offers plenty of water for the backcountry. I've had a few reservoirs, and this one is my favorite to date.  
It fits into multiple packs well, even at 3Ls.  Including a Talon 22, which is not the largest pack, but 3L is held just fine; as well as my Kid Carrier by a different brand (which I was a little leery of the fit, but no worries).  
The main reason I wanted to write a review is how easy this is to maintain, and manage even with issues. I was on the trail, and having issue flow. After inspection, I realized a few small pebbles had gotten into the bite valve. I stopped, and was able to address the issue easily. Everything came apart easily, and was cleaned out even more so. I was back on the trail and enjoying my hike in no time.
I highly recommend this reservoir. 
Source: bought it new
Price Paid: ~$30

Your Review
Where to Buy
Help support this site by making your next gear purchase through one of the links above. Click a link, buy what you need, and the seller will contribute a portion of the purchase price to support Trailspace's independent gear reviews.
You May Like
Specs
Price
MSRP: $45.00
Current Retail: $25.50-$55.00
Historic Range: $24.93-$55.00
Reviewers Paid: $30.00-$45.00

Volume
100 cu in / 3L

Dimensions
15 x 7 x 3 in

Weight
0.68 lbs

Recently on Trailspace