Osprey Kestrel 38

This is just about the perfect pack for me. As an archaeologist who does field survey walking and excavation in Asia, this pack has served my needs perfectly. Yes, it is slightly over the size regulations for acceptable carry-on luggage, but if it isn't bulging out of the seams, then you will be able to get on with most carriers (I still haven't had to have my Kestrel 38 checked in).
The pack is comfortable, fits everything I need and is generally well designed. I'm not fond of packs with the trampoline style back air circulation system. The places I go to are very windy, so I don't want my back exposed to too much cold air and I also find that type of system awkward for packing some of my large rectangular essentials: laptop, folders and sketchpad. The Kestrel 38's air cooling system is flatter and seems to keep me cool in warmer climates and won't expose my back too much when its cold.
I'm tempted to give this pack a 5/5 rating, but there are a couple of small gripes. I would make two adjustments to the design (at least for my use of the pack):
1) An internal zip to separate the main and bottom section. Because I also use this pack as a day pack and I carry a fair amount of books, I don't like having to reach right down to the bottom of my pack to organise the items within. Yes, it has a useful bottom zip, but that is only good for accessing the items at the bottom of the pack and not for organising the entire contents of the pack. Because I find that this missing feature hinders me on a daily basis, I will attempt to sew in my own canvas zip compartment (if anyone has had experience with this in the past, please reply to this post - any pointers would be useful!)
2) I rarely use water bladders, so the external water bladder compartment is not necessary. I would have preferred to have this on the INSIDE of the pack so that I could use it as a laptop holder instead. Because it is located on the outside of the pack, it would not provide the computer with enough weather protection and it is impossible to fit a 15" laptop in the 'sleeve'.
Despite my two suggestions to change the design of the pack, I am very happy with it and I have no regrets in purchasing it. It is extremely reliable and I find it suits my relatively small (male) frame of 5'9". I went for the S/M size and lengthened the harness - it's a perfect fit. 
Price Paid: $115

A high-quality pack rich in features that melds comfort, function, and style.
Pros
Functional
Versatile
Comfortable
Cons
Less than optimum access to water bottles
The Osprey Kestrel 38 is my go-to pack for its versatility and functionality.
I'm typically a budget shopper for gear and don't feel it necessary to pay for a "name." But there are some things I won't skimp on; namely boots and packs. And when you purchase an Osprey, and their killer lifetime guarantee, you can be confident that the "name" is backed up by performance.
I'm a four-season day hiker and I find the Kestrel 38 to be great in the summer when I'm not carrying as much gear due to the innovative compression straps that allow two-way versatility. Two pockets on the top lid (not floating) are ample sized with a key fob included. The "rip and stick" back panel allows you to dial in the perfect torso fit and the molded foam back panel has never delivered anything less than a comfortable ride.
The Kestrel 38 also has a separate sleeping bag compartment and sleeping pad straps, which makes it a nice choice for a light overnighter. I've gone out for as long as three days with the ample opportunities to strap gear to the pack. The integrated rain cover is a nice touch as is  the smart and functional "stow and go" trekking pole feature.
My only complaint would be the side mesh pockets which, while functional, don't allow you to access a bottle easily without taking off the pack. While it is hydration bladder compatible I prefer bottles. But in all honesty I've learned that sometimes it's good to stop, take off the pack, sit, and drink. Sometimes a built-in break isn't a bad thing.
The last thing that any hiker or backpacker wants is to have their most important gear let them down at an inopportune time. I've never felt anything less than confident with my Kestrel and can highly recommend this product to anyone who demands quality in their gear.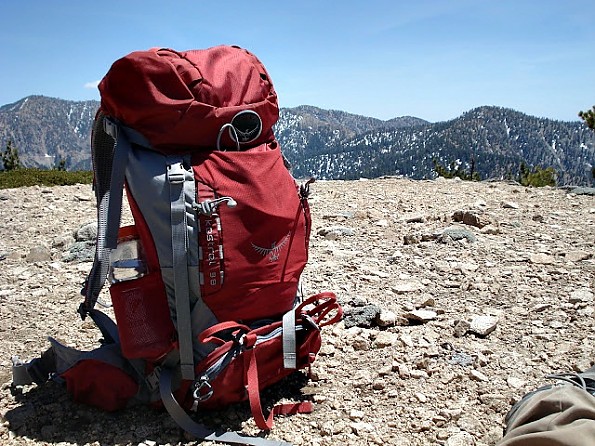 Source: bought it new
Price Paid: $130

Last year I made the choice to go light, not to be confused with ultralight, and started the process of buying lightweight gear. A new pack was on that list and I was having a hard time making a choice. I borrowed a few different packs from friends, GoLite and Gossamer brands, also tried Gregorys and BD.
Then I used the Kestrel 38 and found the one that works for me. Though a little heavy compared to the more ultralight models out there this thing is way more comfortable than any of them. Weight is important but if your pack does not ride well nor carry your load in comfort what good is it. Remember I am not a sub 10lb packer. More in the 15lb to 20lb class. Like shoes if this pack fits you it will join your gear.
This is my second Osprey and if they keep up the good work not my last. Five stars for comfort, quality and features.

Update: September 16, 2009
Every time I think I have my gear all sorted out and just the way I like it something changes that picture. I have been using the BD Speed 40l for light backpacking for up to 3 or 4 days but never cared for the lack of ventilation against my back. Decided to try the Osprey Kestrel 38.
Stunning is all i can say. Yes its weight is a little over a pound more but it is both much more comfortable and feature rich than the BD. Granted i still use the BD for climbs and skiing but for anything that calls for hiking light weight in comfort the Osprey can not be beat.
Very adjustable and nice features for stashing jackets and granola bars, pockets in the hip belt. If this pack fits you i would highly recommend it.

Design: top and bottom load access
Size: 38 liter medium large
Number of Pockets: 5
Max. Load Carried: 25lbs
Height of Owner: 5ft 10in
Price Paid: $109

Love this pack! Best for hiker/mountaineer/camper on a 1- or 2-day excursion. Excellent support throughout having everything from very low to overstuffed volumes. I have a history of sore back, and this served well with no backache after over 3,000 feet elevation of cumulative hiking.
Pros
Great anatomical fit
Size is ideal for 24 hr + hike
Stylish look
Lifetime guarantee
Maintains structural integrity even with low volume packing
Cons
Conifer Green color was more subdued that pictured
Hip buckle broke on slamming it in a car door (more my fault than the bag)
I recently went on a 24-hour jaunt up three peaks in the Catskill Mountains, and the Kestrel 38 was ideal. It was a winter hike with temperature ranges from 18 degrees and windy, to 40 degrees and sunny calm. So, I needed a variety of layers, including both crampons and snowshoes.  
All day I was in and out of this bag, and it was a breeze. Easy on and easy off, it was a perfect blend of efficient sizing and comfort on my back. Key feature: the comfortable hip belt was key as I definitely overstuffed this sucker and needed to properly distribute the weight to my hips.  
Well done, Osprey!
Source: bought it new
Price Paid: $160

Love this pack. Fits me very well. Tough as nails. I've used it for skiing/snowshoeing day trips, 1-2 night backpacking trips, and hut trips. It's 3 years old now and probably 150 days of use.
Great pack, fits well, carries a lot of weight comfortably.  The straps are in all the right places (though they are a little long).  Just the right number of pockets.  the trekking pole stow system works well.
I find the bottle sleeves on the sides to be too tight (this is true on every osprey pack i have (4))
My only complaint is that a hydration bladder causes the back panel to bulge but i rarely use a bladder so that's ok by me.
And Osprey's guarantee is really good.  I accidentally kicked the pack while wearing my snowshoes and tore part of the waist strap.  They fixed it quickly and shipped it back to me for free.
If Osprey made a 65 liter version I'd buy it!
Source: bought it new

I had a small Karrimore daysack which was very good for the one off day trip from the car, however i realised for longer trips i needed a stronger, bigger bag.
I settled on the Osprey Kestral.... this is probably the best piece of outdoor equipment i have ever purchased. I had a full bag whilst climbing Scafell Pike recently and did not even notice the bag was on my back, the straps are comfortable and there is a front pocket for the map as well as two side pockets for bottles etc...
The bag also has a rainproof cover which unzips from a hidden area of the bag, is also has a zip at the bottom of the bag so you can easily pull out items from the base of the bag instead of digging down from the top.
If you need a day sack that is reliable and plain awesome then you must buy this bag because it simply is the best on the market for its size.
Size: 38 Litres
Height of Owner: 6 ft 4 In
Price Paid: £79

That's my favorite pack. It's lightwheight, durable, and extremly comfy. I use it for almost everything, overnight hikes, crag days, travels... Its small volume helps me to carry only the things that I really need.
Pros
Lightweight
Large enough for overnight hikes
Cons
The elastic bands loses its elasticity pretty quick...
I'm 188Cm 75Kg and the m/l fits perfect.
I'm using it for 2 years everyday and besides dirt, it's good as new.
Source: bought it new
Price Paid: $180

Great overnight pack!
I just started going ultra light with the purchase of new Clark Jungle Hammock and wanted to downsize on the pack also. This is a really comfortable and breathable pack and is great for overnight hikes.
Price Paid: $110

I tried a buddy of mine's on an overnighter. Not even sure why this pack is in their line-up. At 3 lbs 5 oz it is a POUND heavier than the Exos, not as feature rich nor nearly as comfortable. My buddy went and bought an Exos 46 after trying my new one (switched from an Atmos 50 & 65). We don't always need the room, but the compression system is so good on this pack that it gets small and "tighter" than the Kestrel 38.
Design: Internal Frame Day Pack
Size: Medium
Number of Pockets: 5
Max. Load Carried: 15 lbs
Height of Owner: 5' 6"
Price Paid: $130

Love this pack! Tons of capacity, incredibly comfortable, built-in raincover, and a host of really practical, thought-through features. Particularly like the stow-on-the-go hiking pole loops.
The perfect day pack. 
Your Review
Where to Buy
Help support this site by making your next gear purchase through one of the links above. Click a link, buy what you need, and the seller will contribute a portion of the purchase price to support Trailspace's independent gear reviews.
You May Like
Specs
s/m
m/l
Price
MSRP: $139.00
Current Retail: $199.95-$200.00
Historic Range: $78.38-$200.00
Reviewers Paid: $109.00-$180.00

Weight
3 lb 3 oz / 1.46 kg
3 lb 6 oz / 1.53 kg
Capacity
2200 cu in / 36 L
2300 cu in / 38 L
Recently on Trailspace