Osprey Stratos 40

Top 25 in men's Overnight Packs
The Stratos 40 has been discontinued. If you're looking for something new, check out the best overnight packs for 2021.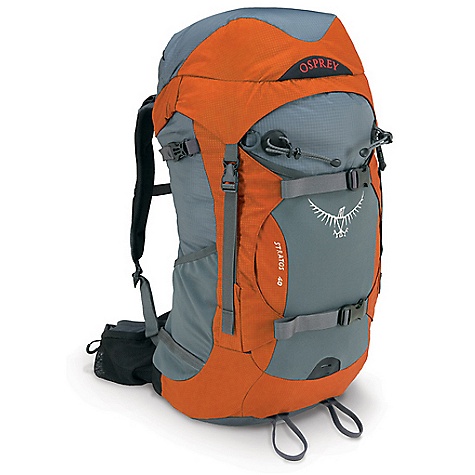 Specs
Price
Historic Range: $103.95-$149.00
Reviewers Paid: $100.00-$140.00

Reviews
8

reviews

5-star:

7

4-star:

0

3-star:

1

2-star:

0

1-star:

0
The pack has been excellent during a couple of two week vacations through Costa Rica and Australia and a month long trip through Western Europe. Great travel pack! Top loaded but the side zipper allows you to access content packed in the middle without having to repack.
I allowed my buddy to take the pack with him to Southeast Asia and upon his return he immediately purchased the Stratos 40 for his trip to China. I can't wait to use it for my 40 night trip through Central America this summer.
After each trip I take the pack to the cleaners and wash it in cold water.
Price Paid: $100

I had this pack for a short time. Don't get me wrong, Osprey makes Awesome packs. but this pack really serves no purpose in their line up. My main complaints are the poor compression scheme, no sleeping pad straps at the bottom and Man is it heavy for an "Over night" pack, 3 lbs 14 oz, are you kidding me?
I have an Exos 46 now, which has more features, a better back panel and is 1 pound 9 oz lighter!
Design: internal Frame day Pack
Size: medium
Number of Pockets: 4
Max. Load Carried: 20 lbs
Height of Owner: 5' 6"
Price Paid: $130

Just finished a 4 night backpack trip and the bag was awesome. I'm doing hammock camping and this pack carried everything I needed (food, water, clothes, etc) for the five days. The others that were with me were amazed at how well it functioned. I lead a group of teens backpacking every year and have tried many different backpacks, this one has been the best by far.
Design: Internal
Size: Medium
Max. Load Carried: 35 lbs
Height of Owner: 5' 6''
Price Paid: $125

This pack is the bomb! I have always heard great things about Osprey packs, and I finally have to agree with what I have heard. I bought this pack for weekend and week long hiking trips and it fits all my needs. I keep the weight right around 25 pounds and it carries and fits wonderful.
If you want a pack that doesn't pull to much on shoulders and doesn't bear down on the hips, this pack is for you. It has the perfect balance between hips and shoulder and has never shown signs of sagging or pulling backwards on long hikes. Other packs that I have used in the past have never quit fit as well as the Osprey 40 pack and it truly fits like a glove.
The water bladder sits on the outside right behind your back and you can easily see it and get to it for refills during the day. No more digging inside of the pack trying to see how much water you have left, along with no worries of a bladder breaking inside your pack. Pockets on the hip belt are great and hold the right amount daily supplies.
This pack does weigh a little more than some others on the market, but with a fit like that it's well worth the weight.
Max. Load Carried: 25
Height of Owner: 5'4"
Price Paid: $100

After searching quite some time for a "perfect pack" I do believe I've found it! I am a pretty big guy (36" waist) and had a problem finding a smaller capacity pack (under 3000 cu in.) that would fit me right.
The Stratos feels great. When loaded under 20 lbs., I can hardly tell it is on my back. The bladder/ water bottle pockets can actually be used (unlike other osprey packs). The back ventilation works perfectly, even with a hydration bladder!
For up to 4 day excursions a better pack does not exist...will be getting another before they stop making em!
Design: top loading internal
Size: 2400 cu. in.
Number of Pockets: 4
Max. Load Carried: 25 lbs.
Height of Owner: 5'9"
Price Paid: $135

I have been looking for this pack for 2 years. I own an Arc'teryx Bora 80 that I absolutely love, and was waiting for them to come out with a pack that I could take to the crags and pack rock rack +gear for the day/overnight, plus a pack to take on overnight alpine trips, and finally, the same pack needed to function as my backcountry snowboard pack.
This has it all. Even though the compression straps are not designed for it, they hold a snowboard as well as (if not better than, because of their distance apart) than a pack by Burton or the like that has rubber reinforced board loops. Having two options for tightening down (for either a full pack or a not-so-full load) is a huge plus, so you're not left with a board flopping around when hiking up with minimal gear.
This pack is great medium sized pack with all the bells and whistles (literally, a rescue whistle in the sternum strap). Pockets on the hipbelt are nice, but not incredibly practical for winter as they are made from mesh. Still will work for things you don't mind getting wet.
Design: Top loading internal
Size: 2400 ci
Number of Pockets: 5
Max. Load Carried: 25-20lbs
Height of Owner: 5'11"
Price Paid: $120

Another great pack by Osprey; lightweight and comfortable. I bought this pack for lightweight backpacking (weekend trips) and traveling. It has had no problems taking a beating under rugged conditions and has carried the weight very well even when overpacked with 35+ pounds. This pack is simple but does not sacrifice many great features such as a small mesh pocket in the brain, or an emergency whistle on the chest strap. All and all a well thought out product by Osprey.
Design: Top-loading internal
Max. Load Carried: 40lbs
Height of Owner: 5'9"
Price Paid: $140

I'm impressed by the design and construction of this pack. I bought it for day/weekend hikes and trips; plus, I wanted a pack that I could use for travel.
The Stratos 40 meets my requirements. It weighs in under 3 pounds, but still feels like it is a sturdy pack. The frame distributes the weight very well. The straps are intuitive and easy to adjust quickly. The front straps (hip, breast, and shoulder strap) are easy to adjust on the fly while you're wearing the pack. It can manage a bulky load well, while being able to comfortably accommodate a small load (the straps are well arranged to minimize its size).
You can manage 30-35 lbs. with the pack, but it isn't perfectly comfortable. I walked around a city for 5-6 hours with 30-35 lbs. of weight and I was a bit sore, though the straps are new and I am a little out practice. It is definitely more comfortable for long periods when it is in the 20-30 lbs. range.
One downside is that the water bottle slots won't accommodate larger Nalgene bottles, and the main compartment will consume the water bottle space if you don't pack carefully.
A big plus for me was that I could fit it into the overhead of a 737 with the top adjacent to the door (oriented depth-wise). The pack wasn't completely full, but it could be pretty close to full and still fit.
I'd highly recommend the pack. If you need something that will regularly carry 30-35 lbs., I would recommend something in the 45-50L capacity range. However, if you only rarely need to pack heavily then this pack will be perfect for you.
Design: Top-Loading Internal with side zipper access
Size: Medium: 2400 Cubic Inches / 40 liters
Number of Pockets: 2 mesh (on hip), 1 top (with an inner mesh pocket inside), 1 back (no zipper, just a flap on the outside of the main comparment) can be used for hydration, + main comparment (with access to hollow back area for winter hydration storage).
Max. Load Carried: 30-35 lbs.
Height of Owner: 5'8"
Price Paid: $122

You May Like
Recently on Trailspace