Osprey Xena 85

The Xena 85 has been discontinued. If you're looking for something new, check out the best expedition packs for 2023.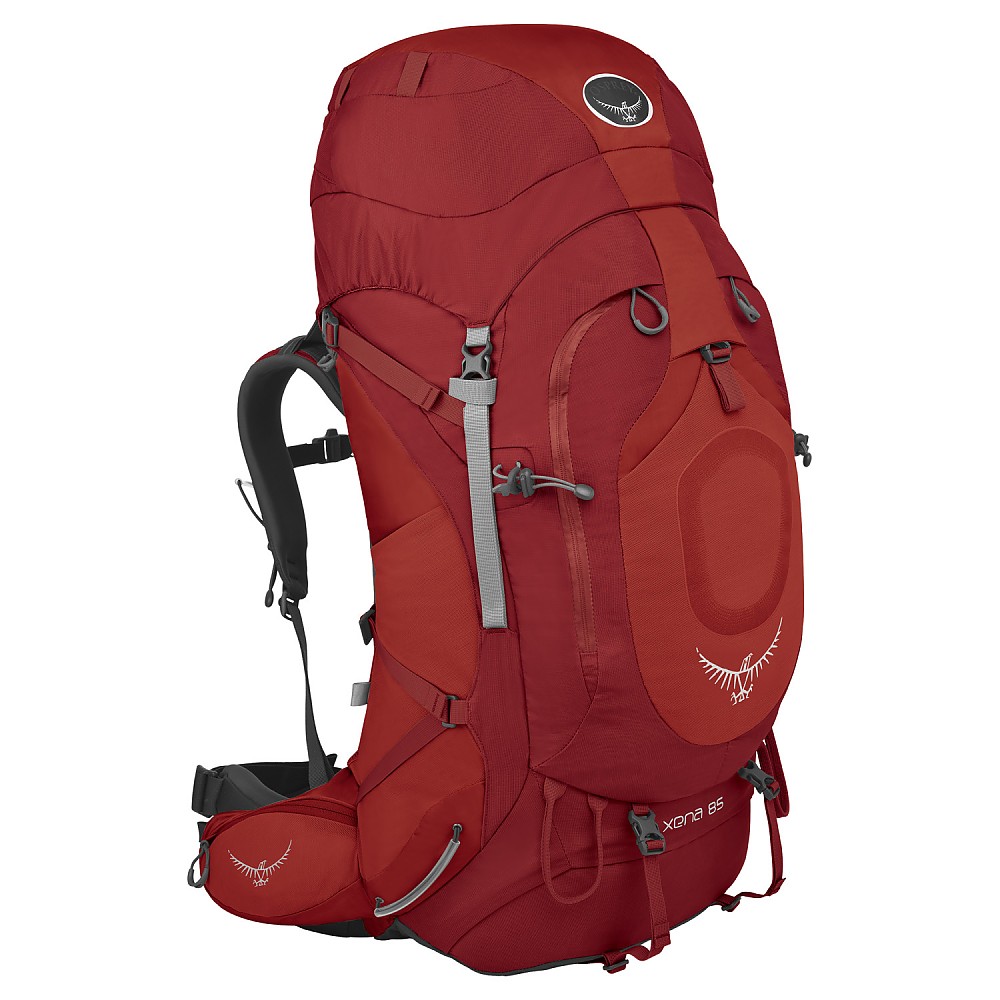 Solid, heavy-duty, high-capacity pack, with thick, comfortable padding, great for any longer backpacking or mountaineering trips. This pack is a beast — it's built to last! Highly adjustable back fits your spine length perfectly.
Pros
Strong, durable pack — a real workhorse
Built to carry large, heavy loads
Highly adjustable to different torso lengths
Thick padding on hips and shoulder straps
Cons
Price (so expensive!)
May not fit as well on some body types
True to Osprey packs, this packs offers a solid and comfortable frame. I've found the padding on the hip and shoulder pads to be much thicker than my old Osprey Aura 65 (bought in 2007, retired in 2015).
I tested the Xena 85 recently on a 4-day, 28mi. backpacking trip on Isle Royale National Park, and was impressed with this pack's performance. It carried ~45-50lbs. of gear really well, and offered enough comfort to keep from rubbing. Because it's an 85L, it's also great for long winter backpacking/ski trips, where you may need to carry more gear.
Fit/Comfort/Ride
I'm 5'4", but ordered a medium, as my back sits right on the 16" line. The one issue that may be a problem for taller and more slender people is that the medium has a larger-sized hip belt, that may be too big, and cause the weight to ride more on the shoulders instead of the hips.
On the other hand, if you're curvier, the hip belt should fit fine, and is super-padded, making it a much more comfortable pack than most I've tried. Also curvy women can rejoice, the chest strap will accommodate a DD cup, because as all us curvy gals know, it's terribly awkward and uncomfortable when the chest strap is just too small to fit over a big chest.
The shoulder straps are highly adjustable and are essentially velcroed into place. They are attached to a large back piece that can slide-adjust inside a pocket in the back to give you a perfect fit for your spine. I was initially slightly skeptical about the velcro's durability and performance under a large load, but I had no issues with it and no amount of weight in the pack influenced the back support/shoulder strap positioning.  
This pack may not have the best of ventilation, but it has always been pretty cold when I'm using it, so it's hard to say. I mostly use this as a winter mountaineering pack, so that's not as big of an issue for me, but it could edge on the hotter side for middle-of-summer use. Because it is built to carry heavy loads, it sits closer to your back. Will it make you hotter? Probably, but it will also be a lot more comfortable and healthier on your back to carry the weight next to your spine.
One thing that should be noted is that while this pack carries excellently for heavy/large loads, it's much clunkier for light loads. I used it a few times for carrying out my sport climbing gear to the crags, and when there's not much weight in it, the top of the frame/pack tends to sit in an awkward position against your neck and head. Once you have about 30lbs in it, it rides great.
Capacity/Accessibility/Features
The 85L advertising seems accurate enough. I had no issues fitting four days' worth of backpacking gear into this pack and still had nothing tied on to the outside. 
The pack offers a bottom zipper for quick access to things at the bottom of your pack (a.k.a. sleeping bag and whatever small things fall to the bottom of my bag). The top compartment is a drawstring close. Given the pack is 85L, it's great to be able to access both the top and bottom, as pulling EVERYTHING out of the top if you need something on the bottom would be a tad inconvenient.  
There's two zipper compartment, one on either side, that are great for storing small things like water filters, first aid kits, etc., that you may want quicker access to. Also, the top of the bag has two zipper pockets (which I LOVE, as I put everything important — camera, phone, keys, map, snacks, compass etc. in the very top pockets). Like many packs, this can detach and be used as a little to-go pack.
Another thing I like about this pack is that the "Camelbak"/water bladder pocket is on the outside of the main compartment, right behind the main back-piece, making it easier to access if you need to refill it mid-hike, and also keeping it right next against your body heat (which for all you winter hikers, means it helps keep your water-bladder from freezing!). I use a 3L Camelback, and don't even feel it through the padded back piece. For you anti-Camelbackers, there are two side pockets for regular waterbottles.
Quality
I'm a firm believer in the Osprey pack. Though pricey, Osprey really stands by their gear! My last Osprey pack lasted ~9 years, traveling thru a myriad of airports, going on a number of long backpack trips, and being used almost half the days of every year as my go-to field pack, while doing wildlife biological monitoring work. It withstood the abuse of cross-country trekking through thick brush, dense forest, rocky mountains, endless thorns, heavy loads, all types of weather, being horribly overstuffed to the point I'm surprised the seams didn't burst, having sharp, metal animal traps tied to the outside, etc. and the main reason I retired it was because the padding was so beaten down in the arms and hips that it was starting to rub under heavy loads.
Also, one of the zippers started to break on the front of the pack (bear in mind, I frequently OVERSTUFFED the pack). For anyone who is moderately outdoorsy and treats their gear right, these packs will basically last your life. For someone routinely putting it through its paces on a daily basis, it'll still last you close to a decade. After 6 years of owning the pack, I had one end of the chest harness rip off, and all I did was email Osprey about the issue, along with a photo, and within two weeks they had mailed me a new chest harness. 
A lot of places will even do custom fitting/pad-molding to make them ride even more comfortable on you specifically. 
Bottom line: I love this pack for long backpack trips and heavy loads, and I'm hoping it'll last me a good 20 years.
Best advice: We are all built differently. While I strongly recommend this pack, it's always advisable to try it on in a store before buying it. You should weigh it down appropriately so that you know how it will ride on you!
-Erin Marie
Wildlife biologist, traveler, and Colorado-mountain gal.
Source: bought via a "pro deal"
Price Paid: maybe around $250-280

A fantastic extended trip and mountaineering pack that can be customized to fit your body specifically! Plenty of space, pockets, and straps to accommodate all of your gear!
Pros
Hip belt can be molded to fit your hips (REI has the molders at the store)
Pockets on hip belts (great for tissue, chapstick, etc)
Deep and stretchy pockets on the outside (won't take away space from inside of pack)
Has bottom and side access zippers
Cons
Not for an ultralighter (the pack itself is about 5 lbs.)
The fit of this pack can work for any body shape and size. Osprey designed the pack so that the straps, hip belt, and torso length can all be adjusted and switched out (for example, you can buy a medium pack, adjust the torso length, trade out the hip strap for a small, and so on).  
The other great thing about Osprey is that the hip belt can be molded to fit your hips, specifically (example, REI has the molding machine at the store). 
From the cool Cascades to the warm and toasty Sierra Nevadas, I have been able to use this pack without overheating, regardless of the weather!
Throughout my backpacking life, I started out with an old REI Traverse pack and thought up all the ways I would change it so that it would have pockets in all the right places and different straps, and so on. This Osprey pack seemed to read my mind, because every single pocket and strap I dreamed up for my old pack was on the Xena 85. 
This backpack can fit an incredible amount of gear inside, and can be adjusted to spread your gear throughout the length of the pack, rather than all just falling to the bottom, if you have much less gear than the space offers.  
To give you an idea of the capacity of the pack, I was able to fit an 11.5 liter bear vault into the pack sideways, and could still fit all the rest of my gear inside, too! There are side access zippers, and a bottom access pocket, as well, which is a separate cargo space for things like sleeping bags (this pocket can also be accessed by the main part of the pack, too—there is a removable flap that separates the bottom cargo from the rest of the pack).  
There are three stretchy mesh-like pockets on the outside (one on the front, and one on either side) and they are able to stretch away from the pack, rather than pushing into the inside space when holding a Nalgene or other such things. I was slightly worried about the material of these stretchy mesh pockets, at first, but they have not been handled in any delicate fashion, and they are still as good as new!
I am more than impressed with this product, and know that it will be my go-to pack for all of my long trips to come! 
Source: bought it new
Price Paid: $340

Your Review
You May Like
Specs
Price
Historic Range: $179.73-$380.00
Reviewers Paid: $340.00

Recently on Trailspace