Alacer Emergen-C

#4 in Drinks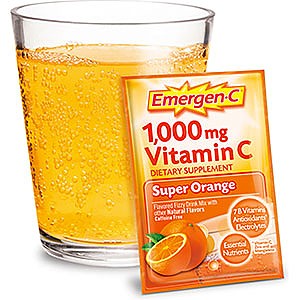 Who could have guessed that this well known Vitamin C source and cold remedy would make a super electrolyte and restorative drink for hikers? I've taken this on and off for decades as a pick-me-up to ward off getting sick when run down.

It is sold as an immune system builder. After running out of our standard electrolyte mix for bicycling that we had been using up for hiking, I tried this by chance. And I quickly found that it worked even better for me than just electrolytes for energy recovery and restoration, and I hope, staying healthy after exertion.
Pros
Long term trusted health product
Formulation quite equivalent to better known electrolyte mixes
Adds Vitamin C and vitamins for immune boost and energy production
Individually packaged portions with long shelf life
Inexpensive and easy to carry, dissolve and if you wish give to fellow hikers (make friends, influence hike directions ....)
Low calorie, no artificial sweeteners (enough sugars and organic acids to boost adsorption and action)
Quite cost effective
Specialty formulations available for increased antioxidants, other nutrients and/or medicinal factors
Cons
Packaging to discard (tradeoff for freshness and safety)
You have to get over the fact that not all the mineral dissolve, but some rather suspend
So many flavors, can make it hard to chose!
Less cost effective if you buy and store the multiple flavors
Not as energizing as Zipfizz, but that's good at times
Commercial Product Description
Dietary Supplement. Super energy booster. 1000 mg Vitamin C as 7 mineral ascorbates. 32 Mineral complexes. B Vitamins. Emergen-C is so much more than just Vitamin C! The foundation of Emergen-C is built on seven mineral ascorbates. These mineral ascorbates of potassium, calcium, magnesium, manganese, sodium, chromium & zinc provide your body with 1,000 mg of vital, life-sustaining Vitamin C in a non-acidic, stomach-friendly formula. Unlike ordinary Vitamin C supplements, Emergen-C also has a total of 32 active mineral complexes along with key B Vitamins. All combined, Emergen-C is a potent blend of antioxidants, vitamins, minerals and other micronutrients that support healthy metabolic function, boost your immunity & give you a burst of non-caffeinated energy. Spring: Emergen-C can put an extra spring in your step with the natural energy boost of Vitamins B1, B2, B3, B6, and B12. Summer: When temperatures rise, drinking Emergen-C's electrolyte-enhanced formula, with 32 mineral complexes, can help replenish critical fluids and minerals lost through perspiration. Fall/Winter: Emergen-C supports a healthy immune system with 1,000 mg of Vitamin C, zinc, and 32 minerals complexes. (These statements have not been evaluated by the Food and Drug Administration. This product is not intended to diagnose, treat, cure, or prevent any disease.) Made in the USA.
The Review
Zipfizz, previously reviewed here on Trailspace, is an effective energy booster during a hike.  However, after a hike, I need recovery, not extended push, which would wear me out.
So, I started looking into alternatives.  We had some bicycling electrolyte bulk concentrate that I'd been using.  It was dissolved poorly and did not taste that good. I tried Gatorade concentrate next. That didn't work very well and tended to give me an acid stomach!
By chance, I had a few of the Emergen-C packets still around after last years cold season. So I tried them after a few hikes, and they worked great! Later I went to a couple large chain supplement stores to look into electrolyte mix choices. Wow! One can get lost there comparing all of them. Many had very similar ingredients to each other, especially with the critical salts and minerals.
Costco sells a cost effective, 3 flavor pack of Emergen-C, even the colors look Energetic!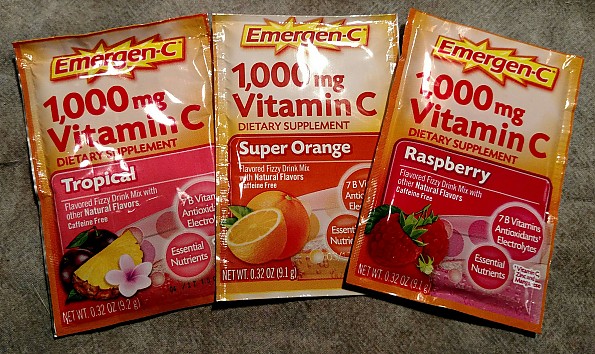 I noticed one electrolyte mix was from Alacer, the maker of Emergen-C.  Both products were in the Super Supplements store I was at, and so I compared ingredients. They were about the same! Except Emergen-C added Vitamin C, some B vitamins and cofactors useful for energy production (the immune system requires abundant energy to run effectively).
Caffeine free and it makes a zesty fizzing effect for mouth intrigue
I showed the store merchant both products, told him I wanted electrolytes for hiking recovery. In comparing them he was visibly surprised by the similar formulation and said "Wow, I'd take Emergen-C, because the other vitamins, factors, and the little bit of sugars present will actually help it work better".
So if you want strictly electrolyte minerals, don't use Emergen-C. If you want to add energy assist, immune building, and help against getting run down and potentially sick (which all sounds good to me!) try this.
Super Orange flavor Ingredients (my camera photo)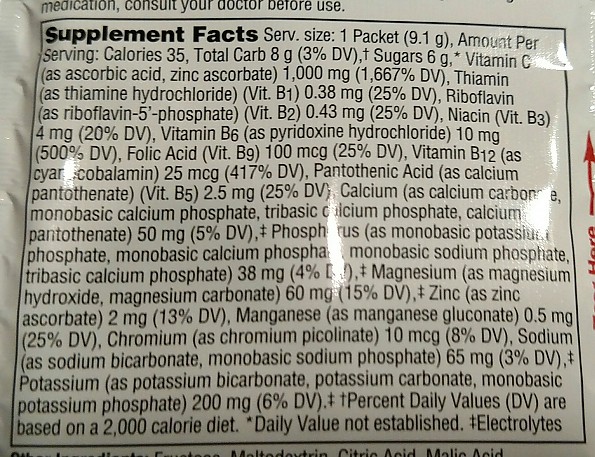 Interested? Okay, take a plunge test!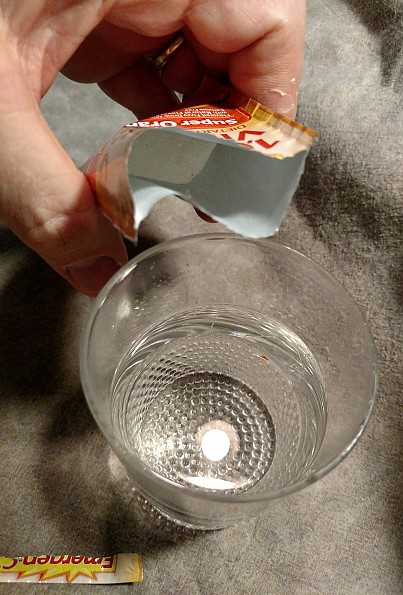 Committal step ... no going back now!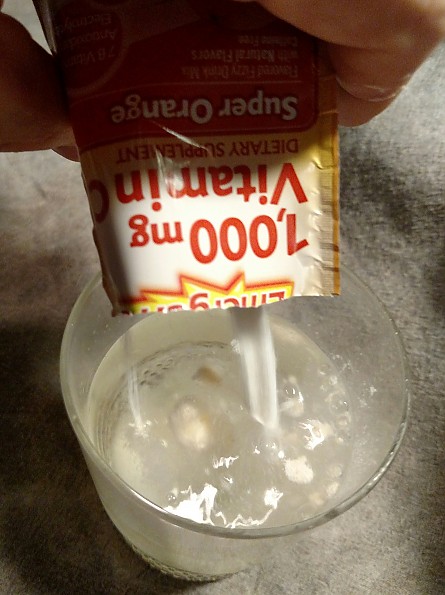 ... later still ...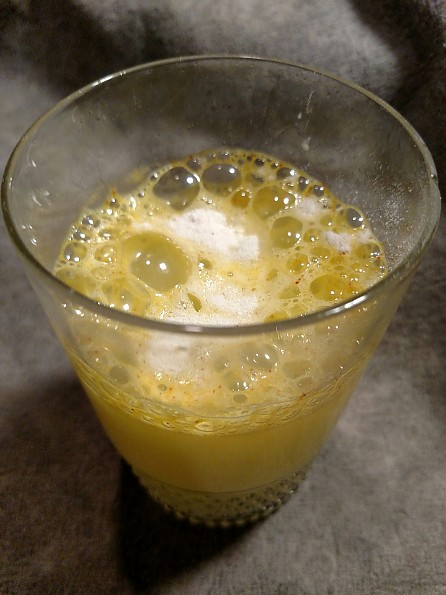 Ta-Da! ... I can drink it!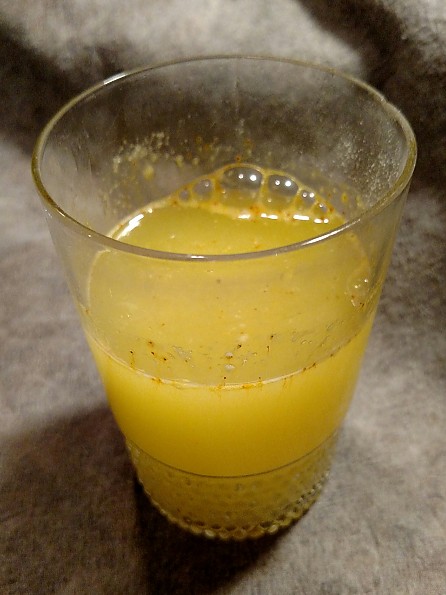 My post-hike recovery starts in the car at the trailhead, as I open and pour an Emergen-C packet into a water bottle and sip it. I've learned to carry an extra pouch or two for a friend or two needing a lift. They will likely already have a water bottle in hand. Great way to get to know fellow Meetup hiker friends better as you get hydrated together (sounds illegal)! And then there is that building up good karma effect ...
Try as I may it's hard, even for me, to lose the packet when it is attached! l like this drink at half strength, using one packet per 16 fl oz water. Thus, my deluded diluted method also gives me options of adding two packets and splitting it @1x with another ... or hoarding the zesty mix all for me!  I can also make a 2 packet mixed (flavor) drink. Oh, the endless possibilities ... for 'recovery' sake! 
Let's go Tropical Punch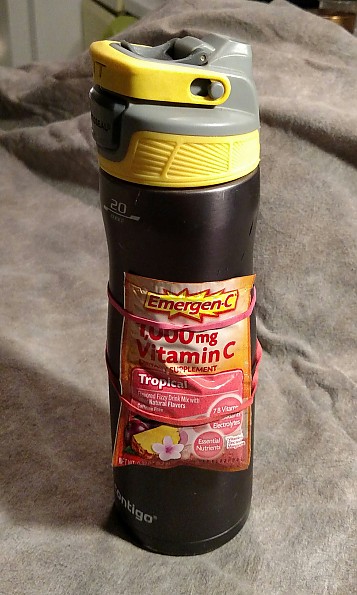 Good news, I can (and do) drink and drive with this beverage. I can legally have it in an open container, in my vehicle, be it a car, bicycle, kayak, snow gondola, or snowshoes. And these tiny bubbles do not go to my head. But they sure do help it feel good.
Source: bought it new
Price Paid: $0.22 each, at Costco as 90 packets (30 ea of 3 flavors for $19.99)

Your Review
Where to Buy
Help support this site by making your next gear purchase through one of the links above. Click a link, buy what you need, and the seller will contribute a portion of the purchase price to support Trailspace's independent gear reviews.
You May Like