Ambronite

Top 25 in Drinks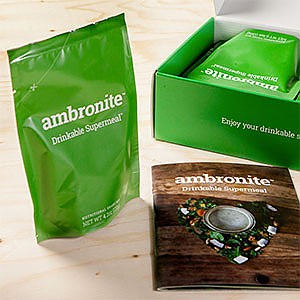 Warning: This brand is known to engage in fraudulent review activities.
Reviews
1

review

5-star:

0

4-star:

1

3-star:

0

2-star:

0

1-star:

0
IN PROGRESS - NOT FINAL

Ambronite; the soylent based super-meal that can run a person to the next meal or through that next workout and is drunken from a bottle. The Drink is composed of all organic and whole foods resourced and developed into Ambronite in Finland. The mix is considered all vegan and nutritious, and on the companies website it claims to be a meal substitute and supplement that can be made by the busiest silicon valley for weeks at a time, to the occasional trail snack for the weekend hiker.

After acting as a lunch substitute I would not be against drinking it again (and will).
Pros
Nutrient dense meal supplement
All that is needed is 550ml of (cold) water and the packet (ease of deployment)
All Vegan, Organic, And Whole Foods
Very good source of proteins
Cons
Organic/Raw taste that some my not be keen on
Slight "baby formula" smell
Not a lot of calories (500 kcal per meal) and may not sustain continuous activity
Fairly expensive at 10 usd per meal
Low calorie to weight ratio (~142g/500kcal)
The Abronite super-meal arrived in a small box upon my doorstep, and I carried it to work with me the same day. Near lunch time I cracked open the package and emptied its contents into an old Nalgene. The powered smelled faintly of oats or protein. I proceeded to add in 550ml of water to the powder, foreseeing myself doing the same thing on a trail one day down the road, and sealed the lid.
After that I was simply able to shake the container until it appeared as though the powder had diluted totally into the water. I expect to repeat this process on the trail quite easily, walking along with a bottle in my hands. After that I quickly set the liquid down the hatch. The cold mass moving down my throat at first felt somewhat uncomfortable, but I quickly came to like the taste.
Packaging and Preparation:   
Taste: An oat like to nutty mixture with accents of spinach or minerals at the ends. Lukewarm temperature close to that of water with its slick feel. Texture of loose porridge.  In anticipation of the meal I read consumer review and general thought of the product.
One of the things being contested the most was the taste. Some called it a delicious meal while others called it a sour slurry. Each person is entitled to their own taste, but I would believe that if you already make your diet one of whole foods and educated choice, you are likely to find this no more unappealing than a smoothie or recovery shake.
I would conclude that nearing the end of the bottle, the actual smell rising from the surface began to put me off if anything, having an aroma of baby formula, while the taste remained pleasant. I would conclude that this being used on a daily or meal to meal basis would be difficult as it does little to simulate or satisfy the hunger the mind experiences mentally. The taste could likely be adapted or improved by mixing this in with another food or smoothie base, or replacing a majority of the water with orange juice. 
Satiety: 

Not Finished
Source: received it as a sample, freebie, or prize (Ambronite )

You May Like
Recently on Trailspace